5-Ingredient Paleo Ranch Dressing [VIDEO]
jump to recipe
This Paleo Ranch Dressing is dairy free, contains no junky oils, and comes together in minutes with only 5 ingredients!
Every person has their condiment of choice. Some people like to drown each bite of their eggs and steak in ketchup. Others, like my sweet boyfriend Austin, like to slather everything from our morning frittatas to his evening pizza in Tabasco. There's the mustard people, the Sriracha people, the mayo people, and the apple cider vinegar people. While I enjoy all those fabulous sauces from time to time, there's one condiment that is MINE. I am a banner-waving, button-wearing, proud ranch dressing enthusiast.
Store-bought ranch dressing is full of vegetable oil (we know to avoid because of rancidity and an unbalanced Omega-6/Omega-3 profile), sugar, and nonfat buttermilk. While grabbing a bottle of the famous vegetable dippable is easy and appealing, I'm here to tell you that you CAN make it from home and that it's easy. as. pie.
Easier than pie, actually. Pie is not always very easy – especially if you're a nervous baker like me.
Because I know we don't all have hours to spend in the kitchen, I have worked to find a Paleo ranch dressing recipe that is as simple as possible, healthful, and still hits the spot. I worked my recipe down to just 5 ingredients and about 10 minutes. That's it!
My recipe starts with a basic Paleo-friendly mayo and then after a few additional ingredients, transforms into luscious Paleo ranch dressing.
Crack one large (ideally, room temperature) egg into a food processor or blender. Add about 2 Tbl of (again, ideally room temperature) lemon juice. I usually just ballpark the 2 Tbl with one large lemon. Then add 1/2 tsp of kosher or sea salt. Blend the egg, lemon juice, and salt together until they're well combined.
While store-bought mayo is usually made with canola or vegetable oil, we're going to make ours with olive oil. I strongly recommend you hunt down some of this "light tasting" olive oil. The normal extra virgin olive oil will give your sauce a strong olive taste.
Side-note: beware of the store-bought mayo that says "made with olive oil." While there might be a splash of olive oil somewhere in the jar, they're still made with canola. Sneaky marketing!
Because I'm a messy cook, I like to use fun kitchen tools like funnels to help keep my workspace less tragic. Measure out 1.5 cups of the light-tasting olive oil, turn your food processor or blender ON, and then SLOWLY drizzle in the oil. We want to add it as slowly as possible so that we can create thick immersion. This should take about 2 minutes.
After you've added all your oil, turn the food processor off and check out your hard work! Perfect consistency.
Spoon your mayo into separate bowl. Add 1 Tbl of dried dill. And then 2 more Tbl of fresh lemon juice (or just another large lemon).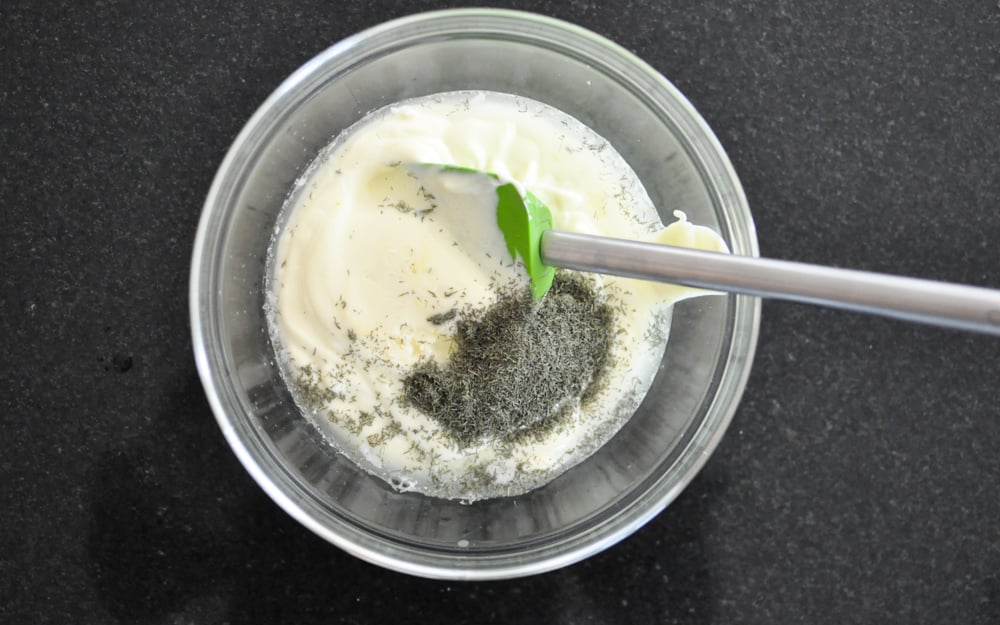 That's it! If you want to get fancier, you can add a few Tbl of freshly chopped parsley, a clove of garlic, and some fresh chives. I think it tastes marvelous as is, though. Give it a good stir and you are finished!
When I've got a batch of this goodness in my fridge, I'll dip almost anything in it. That being said, it does go really well with crunchy vegetables, chicken fingers, and Paleo-friendly pizza.
Print
5-Ingredient Paleo Ranch Dressing
Author:
Prep Time:

10 minutes

Total Time:

10 minutes

Yield:

2 cups

1

x
1

egg, room temperature

4

Tbl lemon juice

1/2 tsp

kosher salt

1 1/2 cups

"light-tasting" olive oil

1

Tbl dried dill
Instructions
Blend egg, 2 Tbl of the lemon juice, and salt in your food processor or blender.
With the blender ON, drizzle in the olive oil as slowly as possible.
Pour into separate bowl and stir in the rest of the lemon juice and dill.
Enjoy! This will keep covered in the refrigerator for about one week.