Best of Black Friday & Cyber Monday 2019
jump to recipe
It's that time of year again – Black Friday is here! When it comes to Black Friday, people typically fall into either the "love it" or "hate it" camp. Over the last few years, I've started to come around to taking advantage of the Black Friday sales, but I find that the key is to really focus in on the best deals and not get overwhelmed by all the noise. Below you'll find our favorite deals happening today and this weekend, from the companies we love and trust most. Let's dive in!
Cook Once, Eat All Week Cyber Monday Sale
Cook Once, Eat All Week is currently $15.97 on Amazon! This revolutionary meal prep method contains 26 weeks' worth of meals, prep day instructions, and done-for-you shopping lists for the most efficient meal prep ever. If you've tried other meal prep methods and found yourself exhausted from spending hours in the kitchen and bored by your reheated leftovers on Tuesday, this book is for you. With this meal prep method, instead of making a bunch of meals in advance, you'll spend under 90 minutes in the kitchen on Prep Day making a protein, veggie, and starch in bulk that you'll assemble into fresh, flavorful dishes throughout the week in under 30 minutes!
The Deal – Get your copy of Cook Once, Eat All Week for only $15.97! Amazon currently has it on sale for 40% off at $20.97, and will automatically apply an extra $5 off coupon to your cart.
The Dates – Through EOD on 12/2.
Black Friday Skincare Deals
Whether you've been looking to make the switch to safer or you're stocking up on gifts, now's the time to buy from Beautycounter! If you're not sure what to buy, we have a full Beautycounter Holiday Gift Guide to help you out. 
The Deal – Get 15% off site-wide and free shipping for all purchases over $50. Plus, when you buy now you'll get an exclusive deal in December!
The Dates – This deal goes through Monday, December 2nd.
Click HERE to shop!
Primally Pure is another one of our favorite skincare companies! Their products are formulated using high-quality, naturally-sourced, organic ingredients. I personally love their deodorant, body butter, and their new CBD soothing serum.
The Deals:
Primally Pure has a ton of deals going on this weekend!
Now – 12/2: Get 20% off site-wide with the code FEDANDFIT20! Note that the 20% off code cannot be combined with the below offers.
Cyber Monday: Buy one, get one free on ALL kits! Primally Pure's starter, spa, and baby kits make for wonderful holiday gifts, or you can separate them for stocking stuffers.
Now – 12/31: Get 15% off Primally Pure's new Soothing Serum with Full Spectrum CBD when you use the code CBDCASSY at checkout! It is designed to powerfully repair delicate/damaged skin, visibly relieve redness/sensitivity and calm inflammation/acne to create a clear, balanced complexion.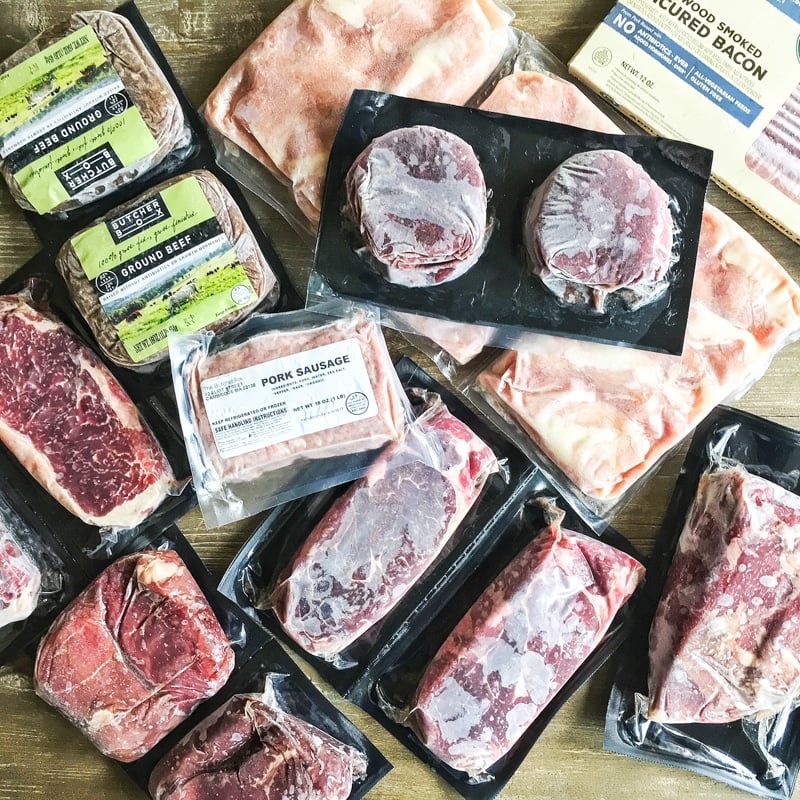 Black Friday Food Deals
We've been fans of ButcherBox for YEARS because there's no easier way to get grass-fed, pasture-raised proteins. ButcherBox does the work of sourcing high-quality, sustainable protein for you and delivers it directly to your door – what's easier than that?
The Deal – Get free bacon for life! When you sign up for a monthly ButcherBox subscription, you'll get a free pack of uncured, hickory-smoked bacon in every pack.
The Dates – This deal goes through EOD December 3rd.
Click HERE to get your free bacon!
If you'd like to learn more about ButcherBox, how they source their proteins, and how the monthly service works, you can find it all in our full ButcherBox Review.
Balanced Bites makes many of our favorite spice blends and pre-made, frozen, nutrient-dense meals that are delivered straight to your door! These meals are SUCH a lifesaver when you're short on time, and would also make a thoughtful gift this holiday season – especially for any new mamas.
Balanced Bites Spices: From Monday, November 25 through Monday, December 2, ALL Balanced Bites Spices are 20% off.
Balanced Bites Meals: From Sunday, November 24 until Saturday, November 30, ALL Balanced Bites Meals are $15 off.
Black Friday Home Deals
Branch Basics
Branch Basics is our go-to for non-toxic cleaning. Their formula cleans like a DREAM and is so easy to use. From a single concentrate, you get an all-purpose cleaner, bathroom cleaner, window cleaner, foaming hand wash, and laundry detergent. This Black Friday weekend they are having their BIGGEST sale of the year!
The Deal: 20% off Starter Kits with code FEDANDFIT
The Dates: November 29th through December 2nd
More Cyber Monday Deals
Amazon Cyber Monday Deals
Below are a few of Amazon's best Cyber Monday deals!
Cyber Monday Deals from Sustainable Companies
Below is a list of deals from some of our favorite sustainable and eco-friendly companies! For more gift ideas, visit our Sustainable Gift Guide.
Cyber Monday Deals on Clothing/Accessories
There are a ton of great deals on clothing and accessories this weekend! Below are a few of our personal favorite Cyber Monday clothing deals/
Cyber Monday Home & Decor Deals
Below are our favorite Cyber Monday home & decor deals!
We will continue updating this list with the latest deals through the end of Cyber Monday, happy shopping!