Crab Stuffed Chicken Breast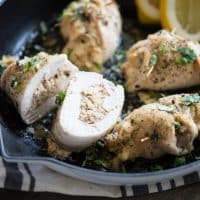 Author:
Prep Time:

10 minutes

Cook Time:

40 minutes

Total Time:

50 minutes

Yield:

2 to 3 servings
Ingredients
2

large chicken breast, butterflied

6.5 ounce

can crab meat, drained

1/4 cup

[url]avocado oil mayo∞http://www.amazon.com/gp/product/B00ZWKI0HI/ref=as_li_qf_sp_asin_il_tl?ie=UTF8&tag=feanfi-20&camp=1789&creative=9325&linkCode=as2&creativeASIN=B00ZWKI0HI&linkId=cce28f282d73f9b323486a876d219fd2 (find a recipe in [url]my book∞https://bit.ly/fedandfitbook)

1 1/2 teaspoons

dried dill, divided

1/2 teaspoon

garlic powder

1 tablespoon

olve oil

1/2 teaspoon

fine sea salt
cracked black pepper to taste
chopped fresh parsley, for garnish
fresh lemon, for garnish
Spread the butterflied chicken breast halves out on a cutting board and, using a meat pounder, pound the chicken until they're of even thickness.
In a small bowl, combine the crab meat, mayo, 1 teaspoon of the dill, and the garlic powder. Mix to combine.
Spoon the crab mix evenly onto the 4 pieces of chicken and roll the chicken around the center. Secure with a toothpick and place in an oven-safe dish or pan.
Drizzle the chicken pieces with the olive oil and then sprinkle the tops with the sea salt, pepper, and remaining dill.
Bake at 350 F for 35 to 40 minutes, or until the tops start to look golden but not burned.
Let the chicken rest for 5 minutes and serve with the parsley and fresh lemon. Enjoy!