Every item on this page was chosen by The Fed & Fit team. The site may earn a commission on some products (read more here).
This gluten-free cinnamon coffee cake is quite possibly the best coffee cake ever! With moist, tender cake, a swirl of cinnamon sugar in the middle, a perfect crumb topping, and a simple drizzle of icing, this is the perfect thing to serve when you want to impress brunch guests.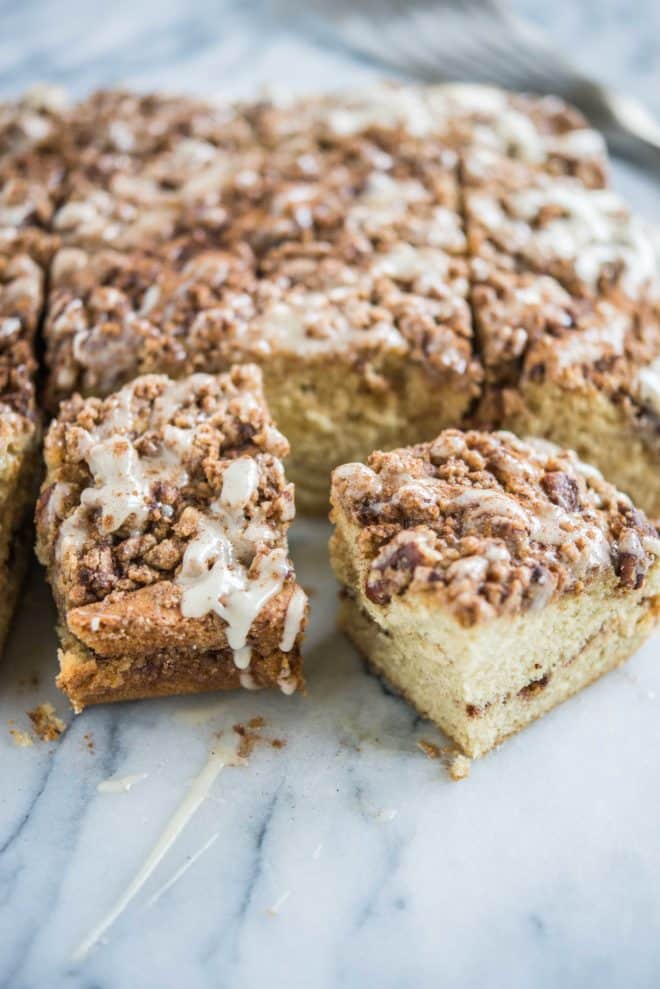 This cinnamon coffee cake is truly the coffee cake of my dreams. I've tested it off and on for the past year, trying to land on just the right recipe – and this one was a winner! As soon as I tasted it, I knew we needed to turn it into a cinnamon roll version to publish for the holidays. Growing up, my mom always made us something special for Christmas morning, and this cinnamon coffee cake absolutely fits the bill for an extra-special breakfast treat.
What is a coffee cake?
Coffee cake is a breakfast cake that gets its name because it is normally served alongside coffee – not because it has coffee in it. It is very similar in texture to a muffin but is baked into a cake instead of individual servings. It is also usually topped with some type of crumb topping, like the cinnamon streusel topping you see here! Crumb cake is also very similar to coffee cake but has a solid layer of crumb on top rather than crumbly streusel.
What makes this gluten-free coffee cake recipe the best-ever?
There are a few things that set this coffee cake apart from others, gluten-free or not! Let's talk about it:
The Cake: First things first, the cake base of this recipe is moist, tender, and not too sweet. This lets the other components of the cake really shine! Many times, gluten-free baked goods can be dry, crumbly, and gritty – that's not the case here!
The Cinnamon Sugar Swirl: In the middle of the cake is a simple layer of cinnamon sugar, this ensures that you never get a bite of coffee cake that's lacking in cinnamony goodness.
The Streusel: This was probably the hardest part of the coffee cake to perfect, but it was well worth it! This cinnamon streusel is buttery, perfectly-textured, and will have you going back for "just one more bite" again and again.
The Cinnamon Roll Icing: If you want to take this cinnamon coffee cake to the next level, this icing is the perfect way to finish it off! It gives this coffee cake all the flavor of a cinnamon roll without the work.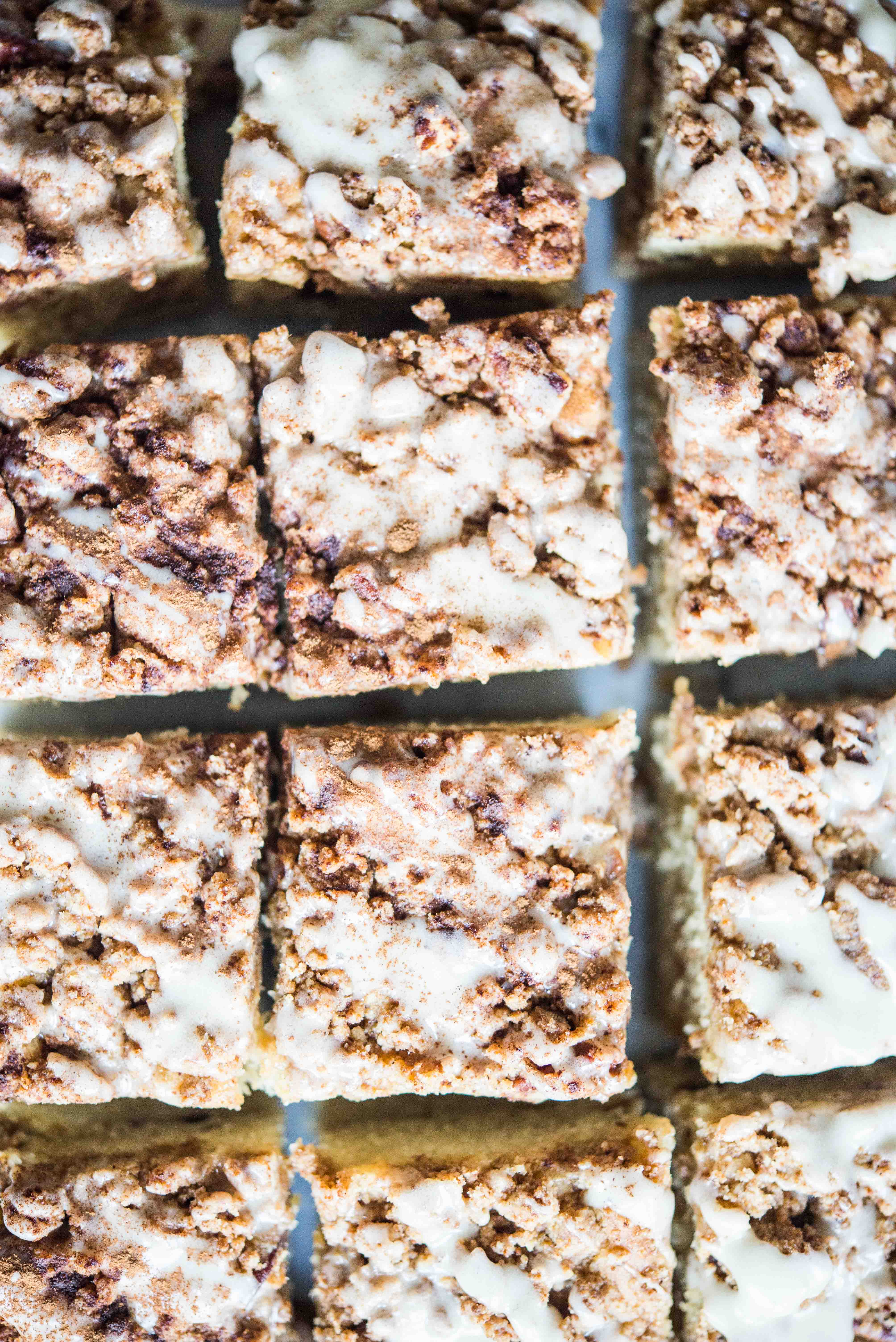 What is the best flour to use for gluten-free coffee cake?
We used King Arthur Measure for Measure for this recipe! This is the flour we use to develop about 95% of our gluten-free baked goods because it is easy to find, affordable, doesn't have a gritty texture, and, of course, makes a delicious end product. If you can't find this flour, though, we've also had great results with Bob's Red Mill 1-to-1. Just be sure that your blend contains xanthan gum, otherwise you'll need to add in a teaspoon.
Tip For Measuring Gluten-Free Flour
Baking can be tricky in that measurements need to be pretty exact in order for your baked good to turn out just right. So, let's chat measuring flour! When it comes to measuring flour, the biggest thing to remember is to NOT pack the flour into the measuring cup. Instead, simply scoop the flour into the cup, and then use a butter knife to flatten the measuring cup and swipe the excess flour off of the top of the measuring cup.
More of our Favorite
Baked Goods
How to Make Gluten-Free Cinnamon Coffee Cake
This coffee cake has a few different components, but don't be intimidated – the process is easier than you think! Plus, if you want to cut out a few steps you can leave off the icing and the cinnamon sugar layer in the middle.
Make the Batter. First, you'll make the cake batter. To keep things simple, we've adjusted this recipe so that you can make the batter in one bowl and you don't even have to use an electric mixer for it! You'll add all the dry ingredients to a bowl, whisk them together, then add in the wet ingredients and stir them until fully combined. The batter will have a thick texture but still be pour easily – which is exactly what we're looking for!
Make the Cinnamon Streusel. Again, we're keeping things simple here by using melted butter instead of softened, so you don't have to spend time working butter into the mixture with your hands. Instead, you'll add all the dry ingredients for the crumble to another bowl, give it a quick whisk, then stir in the butter until it has a crumbly texture. If you find that your mixture is more mushy (say, you can flatten it into the palm of your hand and it sticks together), add more flour 1 teaspoon at a time, until it easily crumbles into a sand-like texture, but still remains some larger clumps.
Assemble the Coffee Cake. Next, you'll grease a 9×9 pan, or line it with parchment paper, then pour in half the cake batter in and spread it evenly. To get the cinnamon sugar swirl, you'll simply sprinkle sugar over top the batter, then sprinkle cinnamon on top of the sugar as evenly as possible. Next, pour the remaining cake batter into the pan and spread it evenly over top. Finally, sprinkle the cinnamon crumble on top of the cake in an even layer.
Bake the Cake. Bake the cake in a 350 F oven for 40-50 minutes, until a toothpick inserted into the center comes out clean.
Make the Icing. Once the coffee cake is done, remove it from the oven and let it cool for at least 30 minutes. Then, simply whisk together the icing ingredients then drizzle it over top. If you find the icing to be too runny, add a bit of extra powdered sugar. If it is too thick, you can easily thin it with a bit more cream!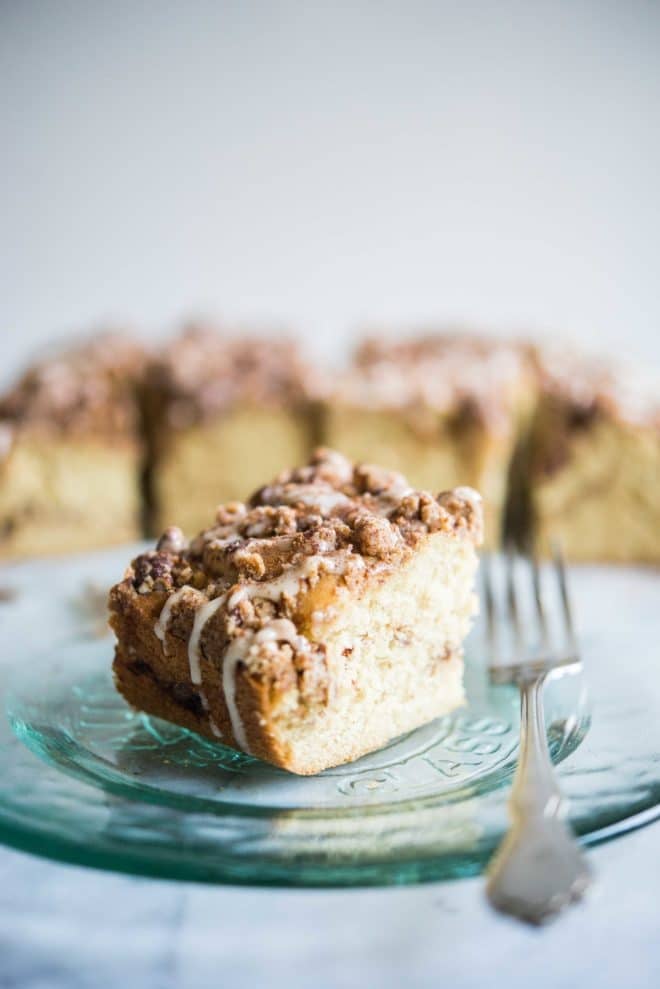 Just for You
Baked Goods
Want more recipe ideas like this?
Easy Cinnamon Coffee Cake Frequently Asked Questions
Q
Can I make this coffee cake dairy-free?
A
Yes! With a few simple swaps, you can easily make this coffee cake dairy-free. For the batter, you can use a neutral oil like coconut oil or avocado oil in place of the butter. For the crumble, you can use your favorite vegan butter substitute or coconut oil. These substitutes may change the crumble a bit. You are looking for a mixture that easily crumbles when you mix it together, but still has some large clumps.
Q
Can this be made egg-free?
A
It can! In fact, we tested a TON of different egg substitutes in several different baked goods, took all kinds of notes, and then laid it all out for you in this super helpful guide to egg-free baking. For cakes and cupcakes, we recommend subbing in plain Greek yogurt (¼ cup of yogurt per egg) – Greek yogurt made for fluffy and slightly crisp on the outside cakes that had a really delicious flavor and held together really well.
Q
Can I make cinnamon coffee cake ahead of time?
A
Yes! This coffee cake can be made ahead of time. I'd recommend making it one day in advance and then storing it in the refrigerator. When you are ready to eat it, you can warm it up in a 350 F oven for 5-10 minutes, or microwave an individual piece for about 20 seconds.
Q
Can I make coffee cake muffins instead?
A
If you're short on time, you can easily turn this cake into coffee cake muffins. It'll make about 18 muffins total, and you'll need to bake them for about 25 minutes in a 350 F oven.
Q
Can you freeze coffee cake?
A
Coffee cake freezes great! You can individually wrap each piece in parchment paper, then place the pieces in a Ziplock bag, label them, and store for up to 4 months in the freezer. You can then reheat it by microwaving an individual piece for about 1 minute or baking in a 350 F oven for 15 minutes.
Instructions
Preheat the oven to 350 F and grease an 9×9 pan or line with parchment paper.

To make the cake, place the flour, baking powder, baking soda, and salt in a large bowl and whisk to combine. Then, add the butter, eggs, vanilla, maple syrup, and milk, and whisk until fully incorporated.

Pour half of the cake batter into the bottom of an 9×9 pan, then sprinkle the 1/3 cup sugar over top, as evenly as possible, followed by the teaspoon of cinnamon. Pour the remaining cake batter over top and spread evenly.

To make the crumble, add the flour, sugar, cinnamon, and chopped pecans to a bowl and whisk to combine. Then, stir in the butter until a crumbly mixture forms.

Sprinkle the cinnamon crumble on top of the coffee cake batter, then bake for 40-50 minutes, until a toothpick inserted into the middle of the cake comes out clean.

While the cake is cooling, whisk together the powdered sugar, vanilla, and cream for the icing, then drizzle over top and serve!
Nutrition Information
Nutrition Facts
Cinnamon Roll Coffee Cake (Gluten-Free)
Amount per Serving
% Daily Value*
* Percent Daily Values are based on a 2000 calorie diet.
Recipe Notes
For a blueberry lemon version: omit the cinnamon sugar layer from the recipe and stir in 2 tablespoons lemon juice, 1 tablespoon lemon zest, and 1 1/4 cups of blueberries to the batter. For the icing, replace the heavy cream with lemon juice.