Make-Ahead Balanced Breakfast Jars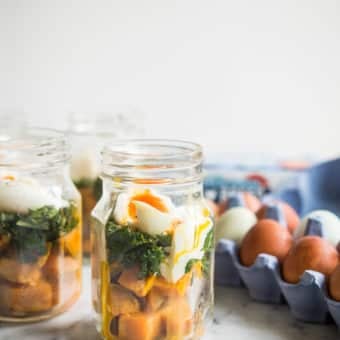 With sweet potatoes, soft-boiled eggs, and kale, you'll look forward to eating these balanced breakfast jars all week long!
Author:
Prep Time:

00:10

Cook Time:

00:45

Total Time:

55 minutes

Yield:

Serves 4

Category:

Breakfast

Method:

Oven

Cuisine:

American
Preheat the oven to 400°F.
Toss the sweet potatoes with the olive oil and salt, then spread out on a rimmed baking sheet.
Bake for 40 to 45 minutes, until browned, then remove from the oven and let cool.
While the potatoes are baking, soft-boil the eggs. Bring about 3 inches of water to a boil in a large pot. Once boiling, take the eggs out of the refrigerator. Using a slotted spoon or fitted strainer basket, carefully place or submerge the eggs in the boiling water. Boil the eggs for 6 to 7 minutes, depending on yolk preference.
While the eggs are boiling, prepare an ice bath by filling a large bowl with at least 5 cups of ice cubes. Add enough water to cover the ice cubes.
Use the slotted spoon (or the strainer basket) to pull the eggs from the boiling water. Immediately place them in the ice bath, making sure that each egg is submerged. Let them sit in the bath for at least 15 minutes.
Melt the butter over medium heat in a large skillet that has a matching lid. Add the kale, toss to coat in the butter, and cover to steam the kale until wilted, about 5 minutes.
Add the lemon juice and salt and stir to combine with the wilted kale, then set aside to cool.
Place the roasted sweet potatoes into four 32-ounce mason jars, top with the lemony kale and a peeled soft-boiled egg. Refrigerate for use later in the week.
To reheat the jars, remove the egg and microwave the kale and sweet potatoes for 45 seconds, then add the egg and microwave for an additional 15 seconds. This will warm the egg without cooking the runny yolk.
Keywords: eggs, kale, sweet potatoes, meal prep, breakfast, make ahead