These almond flour chocolate chip cookies are soft, chewy, and completely addicting! Made with a base of almond flour, cashew butter, and coconut sugar, these better-for-you cookies will satisfy all of your sweet cravings.
I've baked a lot of attempts at Paleo chocolate chip cookies in my life using almost every grain-free flour out there, and I'm excited to say that this version is THE ONE. As soon as I pulled them out of the oven, I did a little dance because I'd never made a better-looking grain-free chocolate chip cookie.
These are so good that they not only passed the test with my picky family (who can all eat gluten), they actually devoured them and asked me to make them more!
Why are these almond flour chocolate chip cookies the best-ever?
The real secret to these cookies is the combination of cashew butter and almond flour. Most of the time, almond flour cookies just don't have the same chewiness present in regular cookies, and they don't rise at all. While they can still be good, you're still totally aware that you're eating a Paleo cookie. That's not the case with this recipe!
The cashew butter base adds a richness to these cookies that helps make them rich and chewy, the almond flour provides a bit of heft, and the bit of arrowroot starch helps make them fluffier and adds to a crisp texture around the edges. The result is soft, chewy cookies that taste just like the classic chewy Chips Ahoy cookies! You can easily take these to a party and no one will question whether they are gluten-free, let alone Paleo.
Here's what one reader had to say about these cookies:
"How does this recipe not have more reviews?! I've tried every grain-free chocolate chip cookie I have come across. This recipe is hands down the best chocolate chip cookie I've tasted to date. And I'm not just comparing grain-free varieties. Out of all chocolate chip cookies ever. You ladies deserve a round of applause!"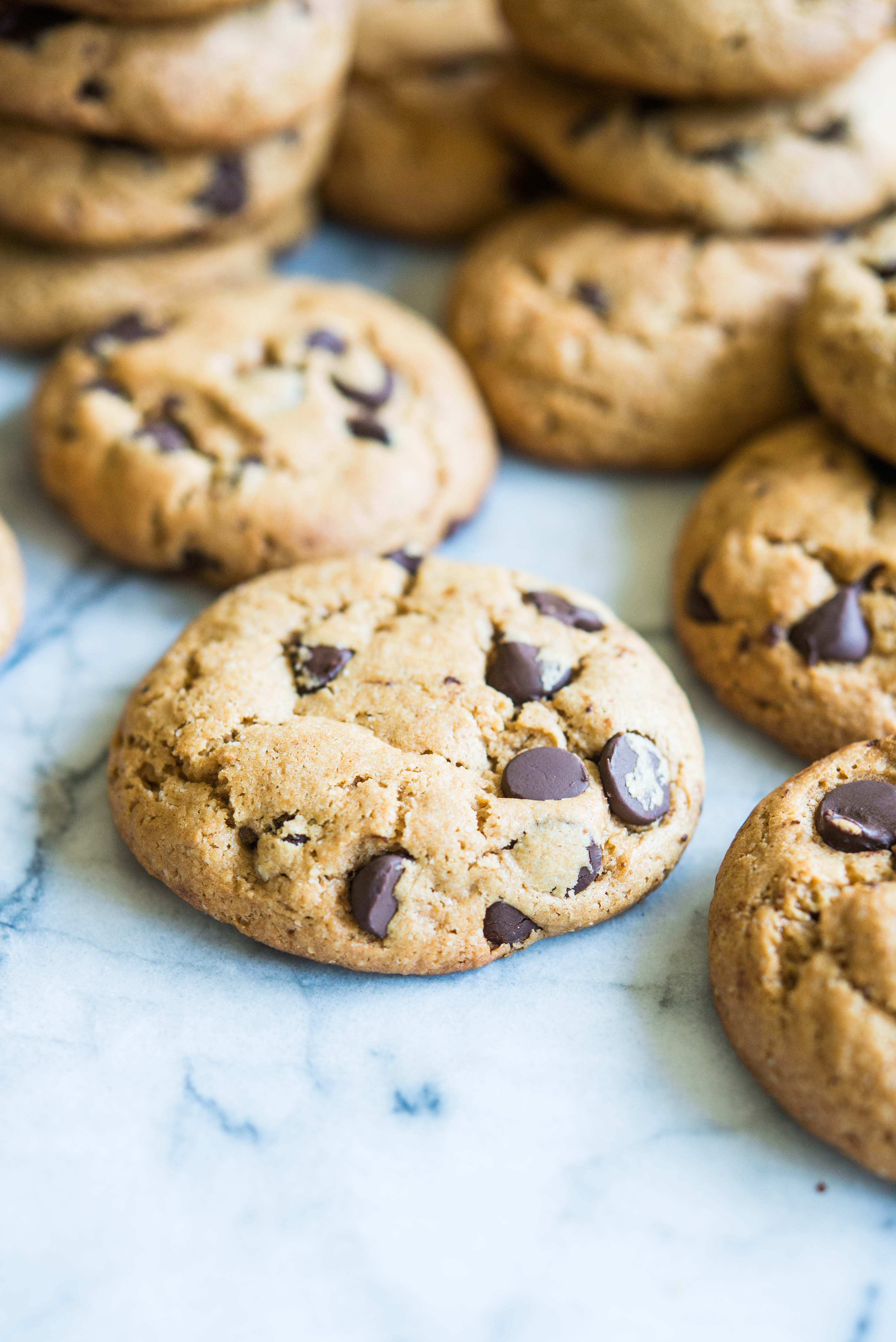 What are the ingredients for these almond flour chocolate chip cookies?
Here's what you're going to need to make these cookies:
Cashew Butter – Cashew butter is the base of these cookies, and really what sets them apart from other Paleo chocolate chip cookies out there. We chose cashew butter over almond butter because of its lighter flavor and creamier consistency. This helps with the light color of the cookies and the moist, chewy consistency.
Almond Flour – Next in the ingredient list is almond flour. The almond flour helps provide some weight to the cookies and keeps them from spreading too much or being too greasy.
Arrowroot Starch – Arrowroot starch helps lighten up the cookies and make them a little bit more tender. You can also substitute tapioca starch for arrowroot!
Coconut Sugar – We chose coconut sugar as the sweetener for these cookies because it is unrefined and the best 1:1 replacement for traditional sugar, plus it lends a bit of the brown sugar flavor classically found in chocolate chip cookies. While we love liquid sweeteners like maple syrup and honey, we found that they introduced too much water into the cookies.
Butter – Just a little bit of butter in this recipe helps make the cookies rich and fluffy. If you're dairy-free, we recommend swapping your favorite vegan butter substitute or ghee.
Eggs – These cookies do require eggs, they help hold the cookies together and create the chewy texture.
Vanilla – Finally, you'll need 2 teaspoons of vanilla extract to add just a bit of classic vanilla flavor to these cookies.
Chocolate Chips – of course, chocolate chips are a must! We personally prefer at least a 60% dark chocolate chip for these cookies.
What is the difference between almond flour and almond meal?
Typically, the brown outer skins of the almonds are removed before they are ground to make almond flour, which is why it is lighter in color than almond meal. Almond flour is also typically more finely ground in comparison to almond meal, which can be a bit more uneven. We recommend using almond flour in this recipe, though almond meal should work in a pinch!
What kind of almond flour should I use?
We really love King Arthur's finely ground almond flour, and that's what we used here. Bob's Red Mill also makes a finely ground almond flour that we like!
Can I make these cookies with coconut flour? Regular flour?
These cookies need to be made with almond flour – coconut, cassava, or other flours cannot be substituted. If you're looking for a nut-free chocolate chip cookie recipe, we recommend these gluten-free chocolate chip cookies.
Can these cookies be made without eggs?
They can! In fact, we tested a TON of different egg substitutes in several different baked goods, took all kinds of notes, and then laid it all out for you in this super helpful guide to egg-free baking. For cookies, we recommend using Bob's Red Mill Egg Replacer – this egg substitute resulted in cookies that were chewy (but still with a nice crunch), perfectly crisp on the outside, and had an *almost* candy-like quality.
Can these chocolate chip cookies be made sugar-free?
Yes! We have tested this recipe using Swerve sugar-free sweetener with good results, but do know that the cookies won't spread as much. We recommend using 3/4 cup of Swerve to substitute for the 1 cup of coconut sugar in this recipe. If using regular erythritol, you can use a 1 to 1 substitution.
How do you make almond flour chocolate chip cookies?
These cookies come together with just a few simple steps:
Combine the dry ingredients. Often times, you'll notice that your almond flour looks a little bit lumpy, so we recommend sifting it for best results. This also keeps any larger-grind pieces of almond flour out of your cookies. You'll add the almond flour to a bowl along with the arrowroot starch, salt, and baking soda, then whisk it to combine and set aside.
Cream the butter and sugar. Just like a traditional cookie recipe, your next step will be to cream the butter and sugar together. First, you'll want to beat the butter with the mixers until it is light and fluffy, then you'll add the coconut sugar and mix until fully incorporated. This step helps make the cookies fluffier by incorporating air into the batter.
Add the eggs, vanilla, and cashew butter. Once you've beaten your coconut sugar and butter, it's time to add in the eggs, vanilla, and cashew butter. Mix these ingredients together until fully incorporated.
Slowly pour the dry ingredients into the wet. Keep beating the wet ingredients while you pour in the flour mixture until you can no longer see any of the flour.
Stir in the chocolate chips. Next, it's time to stir in the chocolate chips until they are fully incorporated.
Refrigerate the dough. At this point, you'll notice that the dough is a bit greasy and may not hold together well. After refrigerating, the dough will be easier to handle, and the refrigeration prevents the cookies from spreading as much.
Bake! Finally, it's time to bake the cookies. Roll the dough into 1-inch balls, then place on a parchment paper-lined baking sheet and bake for 12 minutes at 350°F. Then, let them cool and enjoy!
Why are my almond flour cookies flat?
If you stick with our recipe, you shouldn't end up with flat cookies (this is oftentimes caused by too much butter or too little flour)! If you do, though, chances are that you aren't chilling the cookie dough for long enough. We recommend chilling your dough for at least an hour, but longer if you can!
The other possible cause is that you didn't mix your nut butter well enough. With natural nut butters, the oil rises to the top of the jar of nut butter. You want to make sure to thoroughly mix in the oil or your cookies may become too greasy and spread.
Can these cookies be frozen?
Yes! You can freeze these cookies two ways:
Option 1: Freeze the dough. If you'd like to freeze the dough and bake these fresh, roll the dough into balls as soon as you finish mixing the batter (you can skip the refrigeration step), then place them on a parchment paper-lined baking sheet and freeze for about one to two hours. This ensures that they won't be stuck together. Once they are frozen, you can place them in a Ziploc bag or other container of choice, and bake from frozen when you're ready to eat them! I recommend adding an extra 2-3 minutes to your total cook time if baking from frozen.
Option 2: Freeze fully-baked cookies. You can also fully bake the cookies, let them cool completely, then place in an airtight container and freeze for up to 4 months. To reheat, either leave out an individual cookie at room temperature for about 30-45 minutes or microwave it for 30 seconds.
More Almond Flour Baked Goods
Almond Flour Chocolate Chip Cookies
These almond flour chocolate chip cookies are perfectly soft and chewy, but made with better-for-you ingredients!
Instructions
Preheat the oven to 350°F and line a cookie sheet with parchment paper.

In a medium-sized bowl, whisk together the almond flour, arrowroot, baking powder, baking soda, and sea salt.

In a large bowl, beat the butter and coconut sugar with an electric mixer until fully combined, then add in the cashew butter, eggs, and vanilla, and mix until well incorporated.

Add the flour mixture into the wet mixture 1/2 cup at a time, beating constantly, until fully combined, then stir in the chocolate chips. Refrigerate for at least one hour, or up to overnight.

Scoop the cookies into 1-inch balls and place at least 2 inches apart on the baking sheet.

Cook for 12 minutes, until the cookies are browned on top. Let cool, then store in an airtight container for up to one week.
Recipe Notes
You can also substitute erythritol for coconut sugar in this recipe
For a dairy-free cookie, we recommend substituting ghee or your favorite vegan butter for the butter
Nutrition
Calories:
150
kcal
|
Carbohydrates:
13
g
|
Protein:
3
g
|
Fat:
10
g
|
Saturated Fat:
4
g
|
Polyunsaturated Fat:
1
g
|
Monounsaturated Fat:
3
g
|
Trans Fat:
0.1
g
|
Cholesterol:
14
mg
|
Sodium:
89
mg
|
Potassium:
91
mg
|
Fiber:
1
g
|
Sugar:
6
g
|
Vitamin A:
72
IU
|
Vitamin C:
0.04
mg
|
Calcium:
42
mg
|
Iron:
1
mg