Paleo Fudge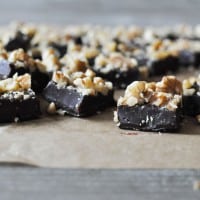 Author:
Prep Time:

3 hours

Cook Time:

20 minutes

Total Time:

3 hours 20 minutes

Yield:

25 pieces
Ingredients
1

stick (8 ounces) grass-fed butter

3/4 cup

maple syrup

1/2 cup

full-fat coconut milk

10 ounces

chocolate chips1 teaspoon vanilla extract

1 cup

walnuts, roughly chopped
In a heavy pot (like enameled cast iron), melt the 1 stick butter over medium heat. When the butter is melted, add the maple syrup and coconut milk. Whisk to combine and continue to stir until the mixture starts to bubble and increase in volume significantly – it will almost double.
At this point, add the chocolate chips and stir over medium heat for about 10-15 minutes, or until it reaches "soft ball" temperature (234 F) on a candy thermometer. Note that as the chocolate reaches temperature, it will start to separate from the butter – this is normal. Once it reaches temperature and cools back down, it will easily come back together into a consistent mixture.
After it reaches temperature, remove from the heat and and continue to stir with either a whisk or spoon until it stops bubbling and the mixture comes back together (it will start to look more like smooth melted fudge). At this point, stir in the vanilla extract.
Lay a piece of parchment paper in either a 9×9 or similarly-sized baking sheet.
Pour the hot fudge into the pan and smooth it out into an even layer. Sprinkle with the chopped walnuts and place in the refrigerator until it hardens for approximately 3 hours or overnight.
Using a sharp knife, cut the fudge into even squares. Wrap up in small bags for gifts or plate to enjoy! Keep stored in the refrigerator if you aren't serving it right away.