Paleo Pumpkin Curry
jump to recipe
This Paleo Pumpkin Curry is the perfect warm, comforting fall dish. The mild pumpkin flavor marries perfectly with the curry powder and will leave you wanting more!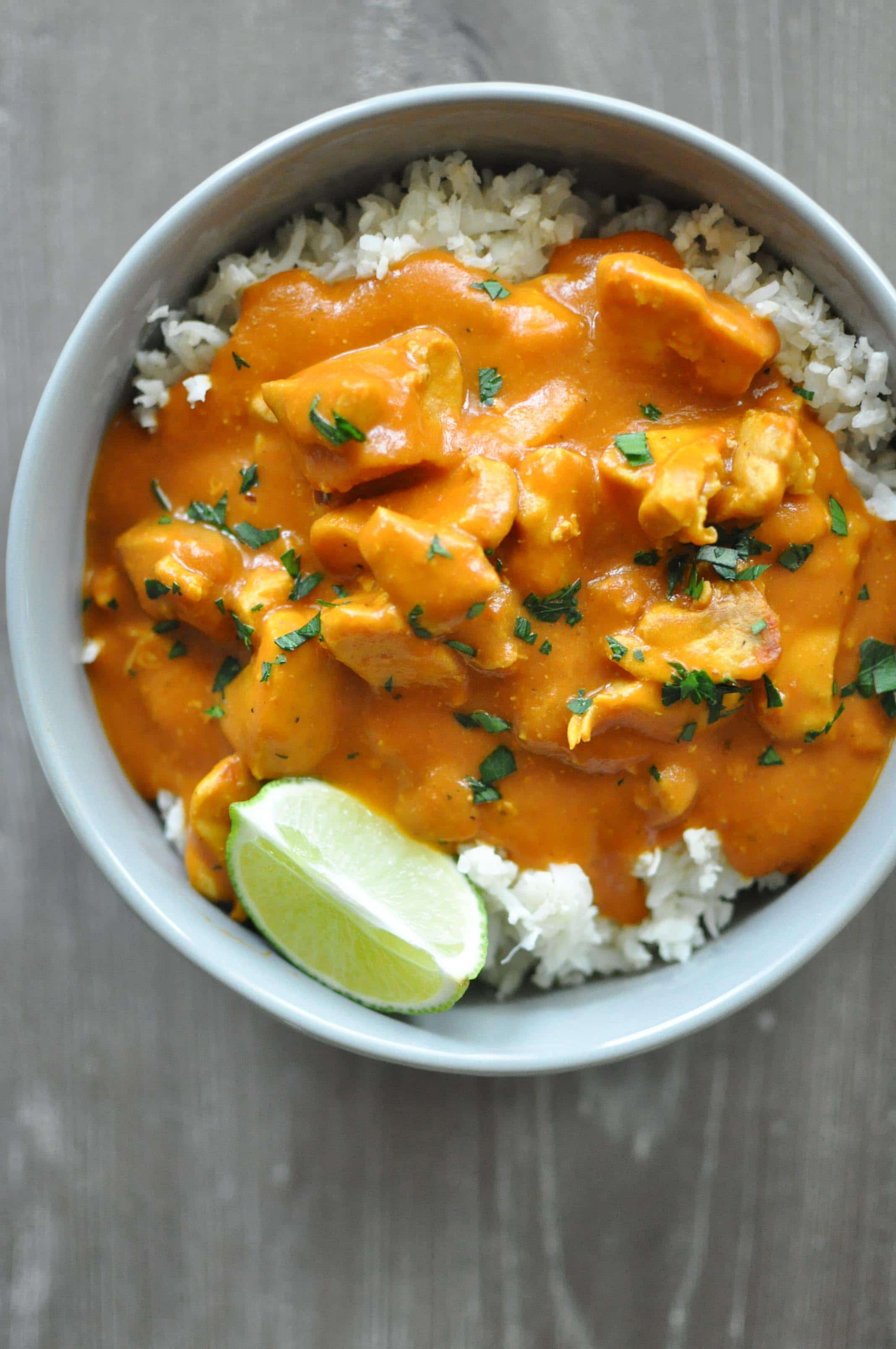 I have a confession. I've "tested" and "tweaked" this recipe about a bagillion times because …well, I wanted to keep eating it. My ever-supportive fiance, Austin, is happy to enjoy whatever I whip up; but he draws a line when I spiral down an obsessive food hole. Though I may enjoy Paleo Meatloaf for breakfast, lunch, dinner, and then breakfast, lunch, dinner, etc., he does not. He's good for two, maybe three leftover meals and then it's time for something new/something Domino's.
Bored taste buds and repeat meals x infinity aside, you know what you can't argue with? Recipe development for the blog. It's for my readers!! Yes, I used you. I used you as an excuse to keep making Paleo pumpkin curry until my skin almost turned orange. Bored taste buds be damned! Mamma wants more curry and I'm going to pretend that I'm testing a different kind of tomato puree, and then a different curry powder …and then maybe a different cut of chicken.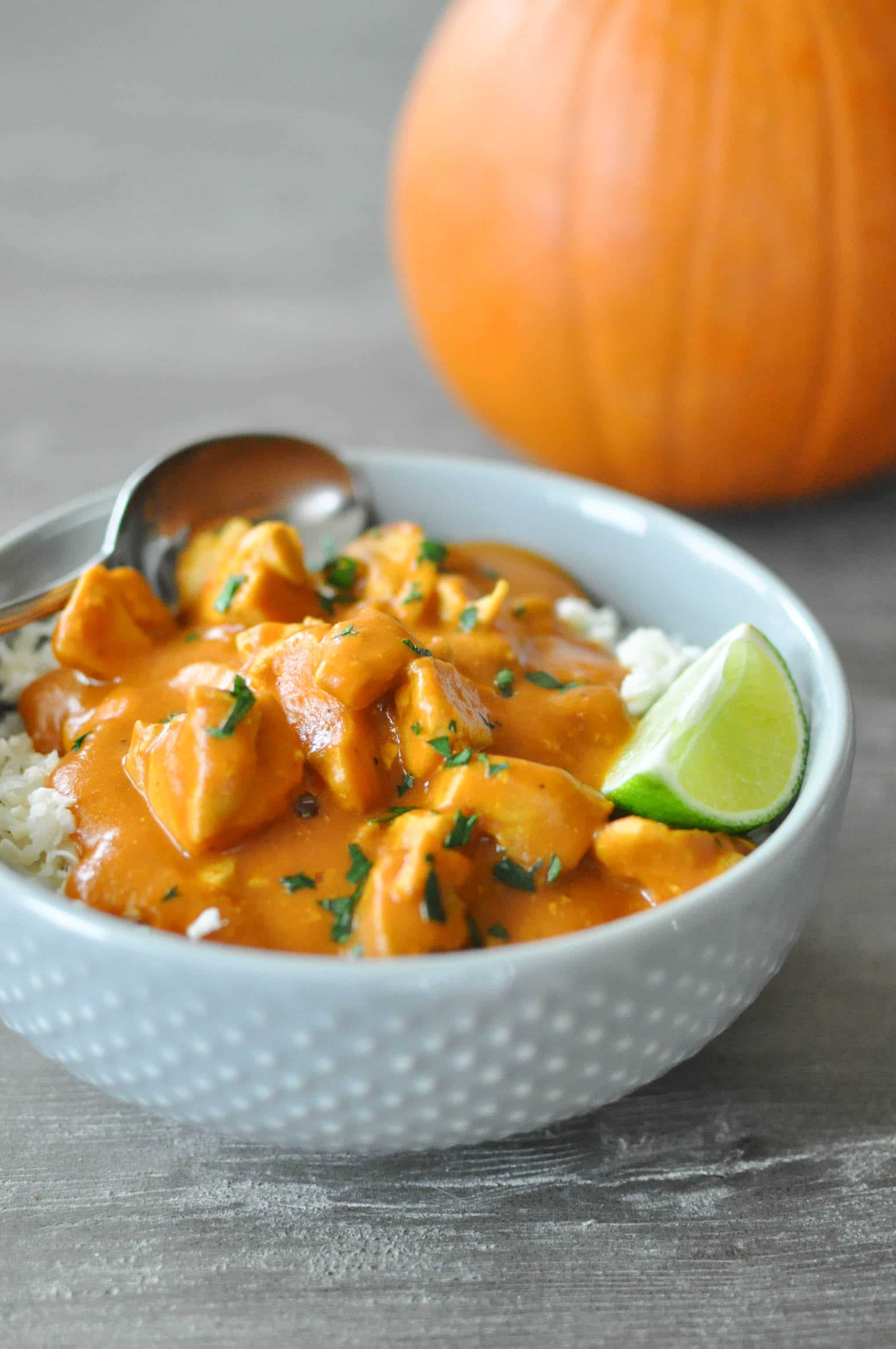 Some good to come out of the umpteen different ways I made this dish? Well, we've sufficiently upped our turmeric intake AND I can officially answer all your questions in the comments about substitutions! Want to know if you can swap generic turmeric for the curry powder? Will it still be delicious if I leave out the tomatoes? Or maybe you're curious about how to make this dish work in a slow cooker? Ask away, my friend. I've got a personally-tested answer waiting for you.
If you haven't gathered from my rambling so far, let me tell you outright that this dish is dang tasty. DANG tasty. It's not overly pumpkin-ey and has just the right amount of curry. I've written the recipe to feed 4-6 people – so, that makes either one awesome family dinner or 2-3 curry-filled days for happy you.
I loved this dish with boneless chicken thighs but you're welcome to use the same cooking instructions below to prep whatever protein your heart desires. Beef? Check! Shrimp? Sounds yummy. Goat? Look at you being all exotic!
What to serve it with? I recommend either some basic cauliflower rice or jasmine rice (if you're looking for more carbs).
Enjoy!
Print
Paleo Pumpkin Curry
Author:
Prep Time:

5 minutes

Cook Time:

25 minutes

Total Time:

30 minutes

Yield:

4-6 servings
Ingredients
2 tablespoons

ghee, grass-fed butter, or EVCO (extra virgin coconut oil)

1 tablespoon

fresh ginger, finely shaved

2

–

3

pounds chicken thighs, cut into

1

" cubes

1/2 teaspoon

plus 1 teaspoon sea salt

1/4 teaspoon

ground black pepper

30 ounces

pumpkin puree (about

3 cups

)

24 ounces

tomato puree or tomato sauce

2 tablespoons

curry powder

13.5 ounces

canned full-fat coconut milk

2

limes, juiced
Instructions
Melt the butter in a large pot or pan. Add the shaved fresh ginger to the hot butter and stir until fragrant – this will take about 2-3 minutes.
Dust the cubbed chicken with 1/2 teaspoon salt and ground pepper. Toss them in the hot, ginger butter and cook until slightly browned on all sides and they're all mostly cooked through.
Add the pumpkin puree, tomato puree, curry powder, and remaining teaspoon of sea salt. Stirl to thoroughly incorporate, cover, and let simmer for 10 minutes.
Just before serving, add the coconut milk and lime juice. Let the curry come back up to temperature then remove from heat.
Serve over cauliflower rice or jasmine rice.