Pot Roast Pasta with Green Magic Sauce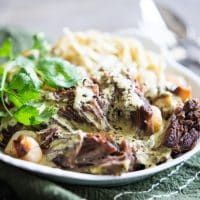 Author:
Cook Time:

1 hour

Total Time:

1 hour

Yield:

10 to 12 servings
Ingredients
1

batch of Instant Pot Pot Roast, slightly shredded

1

pound frozen pearl onions (I found mine at Trader Joe's)

1

head garlic, peeled

3 tablespoons

olive oil, divided

12 ounces

gluten-free spaghetti or other pasta

2 tablespoons

butter

4 ounces

goat cheese

1/2 cup

heavy cream

1

to

2

jalapenos, deseeded

1

head fresh cilantro

2

limes, juiced (about

1/4 cup

)

1 teaspoon

fine sea salt, divided, or to taste
cracked black pepper, to taste
fresh cilantro, for garnish
Prepare the Instant Pot Pot Roast and set aside.
Toss the onions and peeled garlic cloves in 2 tablespoons olive oil then spread out on a rimmed baking sheet. Sprinkle with half of the sea salt and bake at 375 F for 45 minutes, or until they start to brown on top. Remove from oven and set aside once finished.
For the pasta, follow the directions on the packaging to cook. Once cooked, toss with 1 tablespoon olive oil and set aside.
For the sauce, melt the butter in a large skillet with the goat cheese and heavy cream. Whisk to combine and bring to a simmer. In a small blender, blend the jalapenos, cilantro, and lime juice together until smooth (at least 1 full minute). Pour the cilantro mixture into the pan and whisk to combine. Add the 1/2 teaspoon of sea salt, stir, and taste. Add more salt and pepper as you like.
To plate, layer first with the pasta, then the pot roast, then roasted onions/garlic, a generous drizzle of the green magic sauce, a sprinkle of fresh pepper, and fresh sprig of cilantro to finish.
Enjoy!