Every item on this page was chosen by The Fed & Fit team. The site may earn a commission on some products (read more here).
We're kicking off the Cook Once Eat All Week series with this week's meal prep recipes! We're making use of ground beef, baked potatoes, and kale. Get your components prepped so that you can quickly whip up the recipes coming later this week!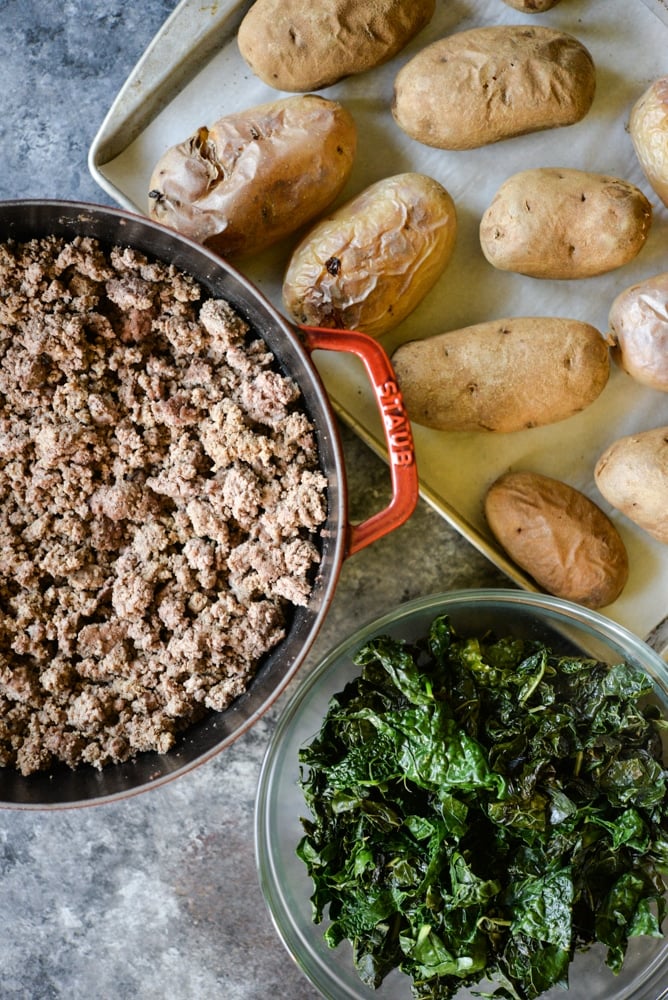 Welcome to Cook Once, Eat All Week! I am SO excited to bring you this entirely FREE, Paleo-friendly meal prep series. In case you'd like a more thorough introduction to Cook Once, Eat All Week, click HERE to read all about it.
Like I mentioned in the linked post above, this series is all about making healthy meal prep EASY. Each Monday, I'm sharing 3 basic meal components that involve very minimal prep (bake the potatoes in bulk, brown the meat, steam the veggies). Then, on Tuesday, Wednesday, and Thursday, I'll be sharing a different meal recipe that makes good use of these already prepped components. Each week will result in a grand total of 10 to 15 servings, to give you a rough idea of how much food to expect if you follow our plan to the letter.
Here this week's schedule:
Note: If you want to get your hands on the complete eBook for this week (which includes shopping lists, a timed meal prep guide, and bonus recipe ideas) click HERE. 
As a Nutrition Consultant, I designed these recipes so that they're not just delicious, but also balanced and nutrient-dense. I'm excited for you to cook alongside us this month and hope that you enjoy the full series!
This week's meal prep couldn't be any more simple. First, we're just going to pop about 5 pounds of potatoes into the oven and bake until they're finished. This amount of potatoes took me about 1.5 hours to bake, so it will vary if you cook more or less. Just give them a pinch with a towel and when they give, they're done.
Next, the ground beef! Simply add 5 (or more, if you need more) pounds of ground beef to a large pot, season with salt + pepper, and cook until browned and crumbly. DONE!
Lastly, de-stem the kale (or just go with the pre-chopped bagged variety, either works) and saute until it's wilted down.
Store all your meal prep components in the refrigerator OR get started on assembling this week's recipes right away (via the eBook)!
Note: if you've enjoyed the Cook Once, Eat All Week series, we've created an entire book with 26 week's worth of healthy meal prep recipes. You can click here to purchase your copy today!
Ingredients
For the Potatoes:5 pounds white potatoes

1

tablespoon

olive oil

For the Ground Beef:5 pounds ground beef

1

teaspoon

sea salt

1/4

teaspoon

ground black pepper

For the Kale:3 heads kale

3

tablespoons

butter

olive oil, or ghee

1/2

teaspoon

sea salt
Instructions
For the Potatoes:
Preheat the oven to 375 F. Rub potatoes with olive oil then place on a large baking sheet and bake at 375 F for 1.5 hours. Let cool, then store in the refrigerator.
For the Ground Beef:
In a large pot over medium heat, add the ground beef and 1 teaspoon of salt and cook for 15-20 minutes, or until fully browned and crumbled. Once cooled, drain the fat and store in the refrigerator.
For the Kale:
Remove kale from the stems and roughly chop.

Add 3 tablespoons butter, olive oil, or ghee, to a large pot that has a matching lid. Add the kale once the butter is melted and toss.

Cover to steam for about 5 to 10 minutes, until wilted. Season with 1/2 teaspoon salt, let cool, then store in the refrigerator.