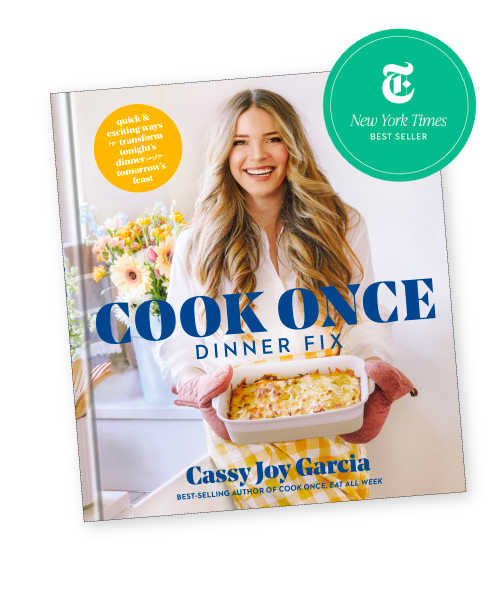 Cook Once, Dinner Fix
Never throw out your leftovers again with these delicious and healthy meals designed to transform into an entirely different dish the next night from best-selling author Cassy Joy Garcia.
As a busy mom of two, Cassy Joy Garcia, the best-selling author of Cook Once, Eat All Week, has limited time to get food on the table. With this book, she shares a fresh approach to preparing dinner in a hurry. These 120 easy, delicious recipes are designed to use the leftovers from one recipe to quickly cook a completely different meal the next day.
While most meal-prep cookbooks require you to plan your entire week ahead of time and spend hours in the kitchen (and a small fortune on groceries), Cook Once Dinner Fix shows you how to utilize the leftovers from one meal to create an entirely new creation for the next. The leftover Roasted Garlic Turkey Breast transforms into Spiced Turkey Potato Soup, and Dry-Rubbed Barbecue Brisket becomes crowd-pleasing Cheesesteak-Stuffed Peppers. No matter your favorite flavor profile or dietary restrictions, this book is packed with recipes the whole family will enjoy.
The Cook Once Dinner Fix solves the "what's for dinner" question without requiring enormous amounts of time, energy, skill, or money. Now dinnertime can be fun, fast, affordable, and sustainable.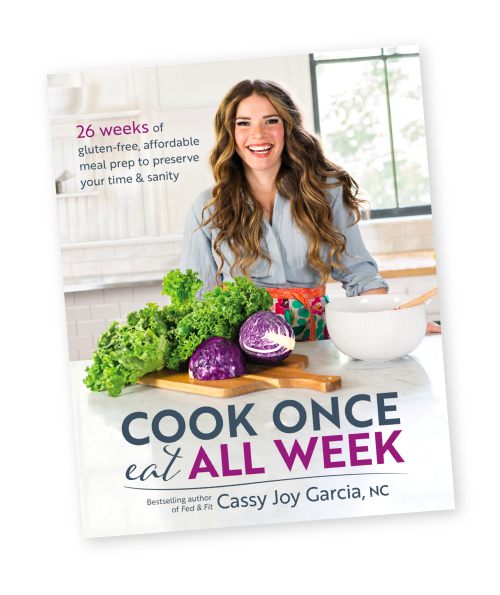 Cook Once, Eat All Week
Cook Once, Eat All Week is a revolutionary way to get a delicious, healthy, and affordable dinner on the table FAST. Author Cassy Joy Garcia will walk you through her tried-and-true method and show you how batch-cooking a few basic components can give you an entire week's worth of dinners with minimal time and effort.
Have you ever tried a meal prep plan before and gotten so excited about having your cooking for the week done ahead of time, only to find yourself totally exhausted after a full day in the kitchen, shocked by your grocery bill, and tired of the same leftovers by Tuesday? Cassy Joy Garcia had been there too. As a busy mom, business owner, and Nutrition Consultant, she needed to get a healthy, affordable, and tasty dinner on the table fast every night, and she knew there had to be a better way to do it.
She finally cracked the code when she discovered that by batch-cooking a protein, starch, and vegetable each week she could easily assemble three fresh, diverse meals in minimal time. After years of her readers asking her for better meal prep strategies and easy recipes, she released 4 weeks of recipes on her blog, Fed and Fit. Since then, tens of thousands of people have made and raved about the series and wanted more!
In this book you'll find 26 weeks of affordable, healthy, delicious meals that your family will love eating. With a Real Food foundation, the weeks in this book aim to support dietary approaches that range from: gluten-free, dairy-free, Paleo, low carb, egg-free, and more.
This book is a must-have for anyone looking for a REAL solution to help them eat healthfully while also saving time and money and loving what they are eating.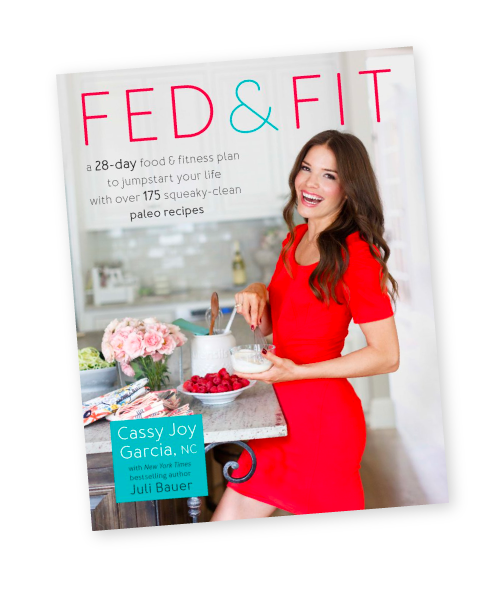 The Fed & Fit Book
Cassy Joy draws from her years of research and experience, to deliver a roadmap to mastering her revolutionary 'Four Pillars of True Health'. With over 175 gluten-free and Paleo-friendly recipes, a 28-day food and fitness plan, portion guides, and program guides, Fed & Fit provides readers a foundation for lasting success. Joy's recipes were hand selected to complement each of 'The Four Pillars' and include step-by-step instructions, full-color photos, and personalized guides to help you achieve your individual wellness goals. Fed & Fit offers meal preparation guides and incorporates practical application tools that are centered around the 'Pillars' to ensure complete success and make transitioning to a healthy lifestyle a positive and rewarding experience. Fed & Fit also features expert techniques and fitness recommendations from New York Times Bestselling author and fitness coach Juli Bauer. Cassy Joy also incorporates detailed advice for parents, students, and professionals that can be tailored specifically to situational needs including shopping lists, stocking your pantry, make-ahead tips, doubling recipes, cooking for just one, and best practices for storage, freezing, and reheating Readers will walk away from Fed & Fit with a new, practical, lasting lease on their healthy lifestyle. They will feel empowered to make positive decisions and confident with a new mastery of obtaining life-long health.