How to Cook Pork Tenderloin in the Oven + 3 Marinades
jump to recipe
Today we're showing you how to cook perfect pork tenderloin in the oven every time, and sharing our 3 favorite marinades! With this guide, you'll never have to sit through a dinner of dried-out, flavorless pork tenderloin again.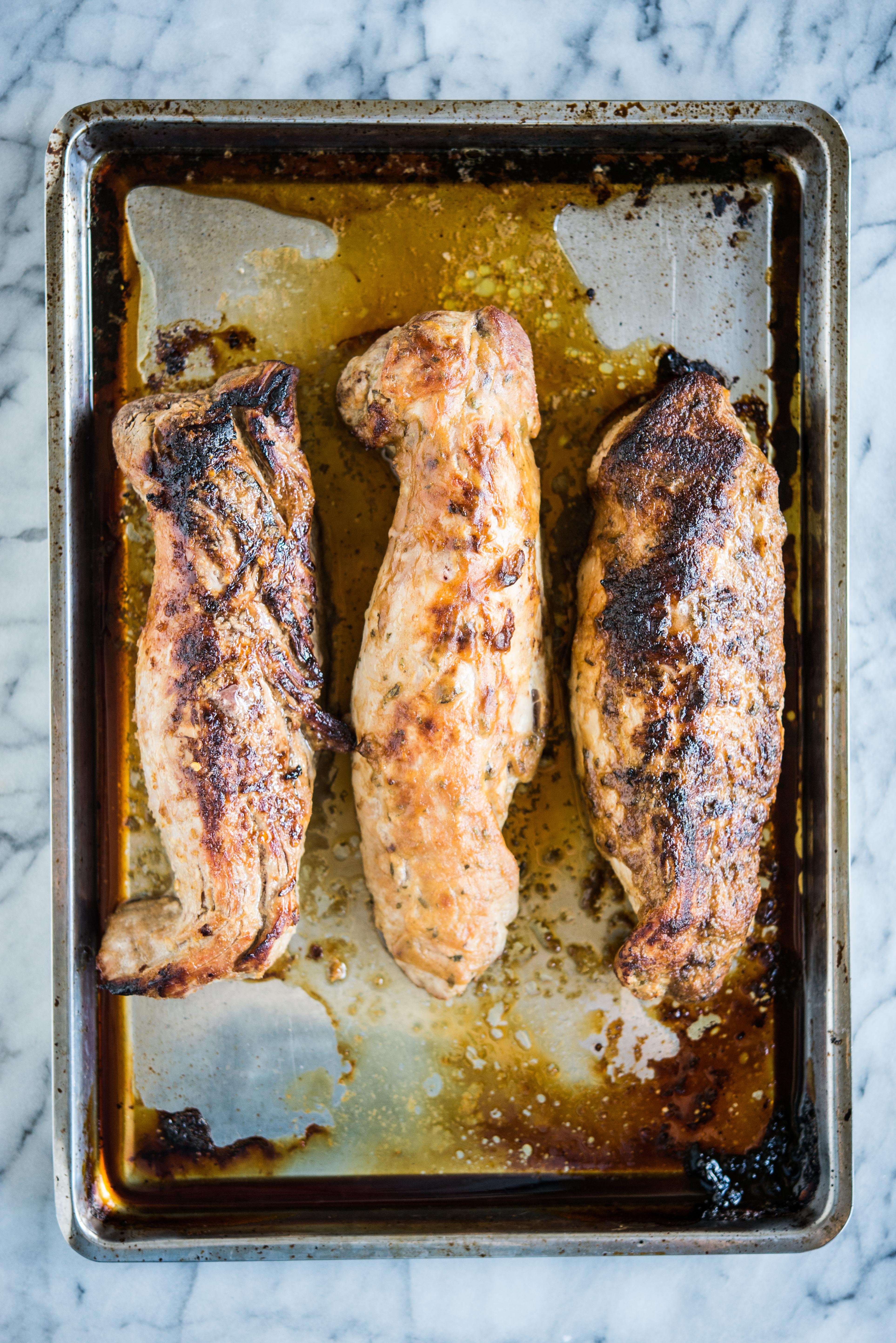 Disclaimer: This post may contain affiliate links. Any purchases made through these links will result in a small commission for me (at no extra cost for you), but all opinions are my own. You can find our full affiliate disclaimer here. 
Pork tenderloin has long been one of my go-to dinners. It's affordable, it cooks up quickly, it tastes great and is perfect for leftovers, and it for some reason feels a little fancier than our typical fare. However, it took me a while before I finally figured out to cook a juicy, flavorful pork tenderloin. Without the right technique, you can easily end up with dried-out, bland pork, but today we'll show you exactly what you need to do to get perfectly-cooked pork tenderloin in the oven every time!
What's the difference between pork loin and pork tenderloin?
First things first, let's clear up a common confusion! While they may sound the same and are actually cut from the same part of the pig, pork loin and pork tenderloin are NOT the same things. Here's a comparison of the two:
Pork loin is a larger cut of meat that is usually sold as a 3-5 pound roast. It is fattier than pork tenderloin, usually comes with a fat cap on top, and can come as either boneless or bone-in. You can find our favorite pork loin recipe here.
Pork tenderloin is a smaller cut of meat that is usually weighs around one pound. The tenderloin is from a muscle that runs along the spine of the pig and isn't used for movement. As a result, it's much more tender than other cuts of meat. Pork tenderloin is also a lean cut of meat and has a very mild flavor.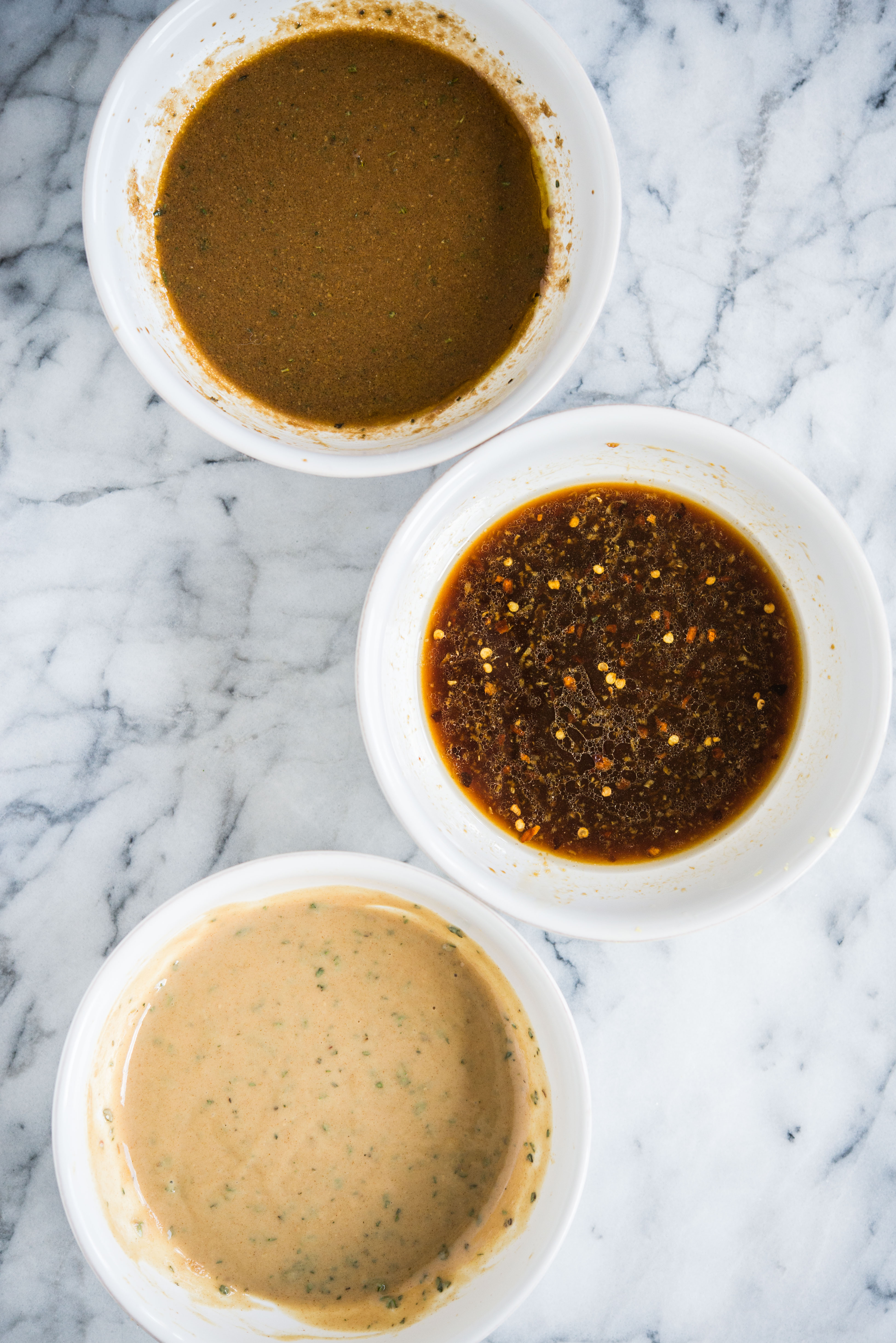 Marinating Pork Tenderloin
As mentioned before, pork tenderloin is a very lean cut of meat – but what exactly does that mean? In addition to being a low-fat choice of protein, it is also very low on flavor. If you want a flavorful pork tenderloin, you're going to have to add in the flavor yourself. The good news is that since it is so mild, pork tenderloin takes on flavor easily – you just have to give it a little time.
What are the best pork tenderloin marinades?
When it comes to marinating your pork tenderloin, you can really use anything! Personally, we like a wet marinade because it is easy to throw together and gets into the pork. Here are our three favorites:
Sesame Ginger. This marinade is great if you want to give your pork tenderloin a bit of Asian flare! For this marinade, we whisk together coconut aminos, fresh ginger, sesame oil, rice wine vinegar, honey, and red pepper flakes.
Balsamic Rosemary. Balsamic pork tenderloin is a classic. This marinade is slightly sweet, tangy, and filled with fresh rosemary flavor. For this one, we combine balsamic vinegar, extra-virgin olive oil, fresh rosemary, dijon mustard, and garlic powder.
Maple Dijon. This marinade is pretty much a universal crowd-pleaser, great for picky kids (or husbands)! In this marinade, we simply combine dijon mustard with maple syrup, apple cider vinegar, and dried thyme.
How long do you marinate pork tenderloin for?
If you're in a rush, we recommend giving your pork tenderloin at least 30 minutes to marinate, and you can help speed up the process by poking a few holes in it with a fork. If you've got extra time though, 4-24 hours is ideal to make sure it really takes on the flavor!
How to Cook Pork Tenderloin in the Oven
While we also love grilling pork tenderloin, today's technique is dedicated to how to cook pork tenderloin in the oven, because it's the most accessible way to do it year-round. Once you have marinated your pork tenderloin, it's time to get cooking! Just follow the steps below to perfect pork tenderloin.
Step 1: Sear the Pork Tenderloin
Our main goals with pork tenderloin are to build flavor and not overcook it. Searing the pork tenderloin goes a long way to building flavor! It browns the pork and caramelizes the marinade, creating a delicious crust on the outside. It also helps lock in the moisture before you bake it.
To sear the pork tenderloin, grab your favorite cast iron, or another heavy-bottomed pan, add about 1/2 tablespoon of oil, and heat it over medium-high heat. Then, take your pork tenderloin and let the excess marinade drip off, then place it in the pan and sear for about 3-4 minutes, until browned. After 3-4 minutes, flip the pork tenderloin over and sear for an additional 3-4 minutes, until browned. While you can sear it on all 4 sides if you'd like, we find that searing on two sides works just fine!
Step 2: Bake the Pork Tenderloin
Now that the pork tenderloin is seared, you can either bake it in the same pan you seared it in, or transfer it to a rimmed baking sheet. Brush the pork tenderloin with additional marinade, then bake in a preheated oven at 425 F for about 15-20 minutes, until the pork reaches a temperature of 145-155 F, then remove it from the oven.
Cooking the pork tenderloin at the high temperature of 425 helps it cook quickly and prevents it from drying out.
Step 3: Rest the Pork Tenderloin
Finally, you'll want to let the pork tenderloin rest for about 8-10 minutes before serving, if you skip this step and cut into it immediately the juices will run out of it and you'll be left with dry pork.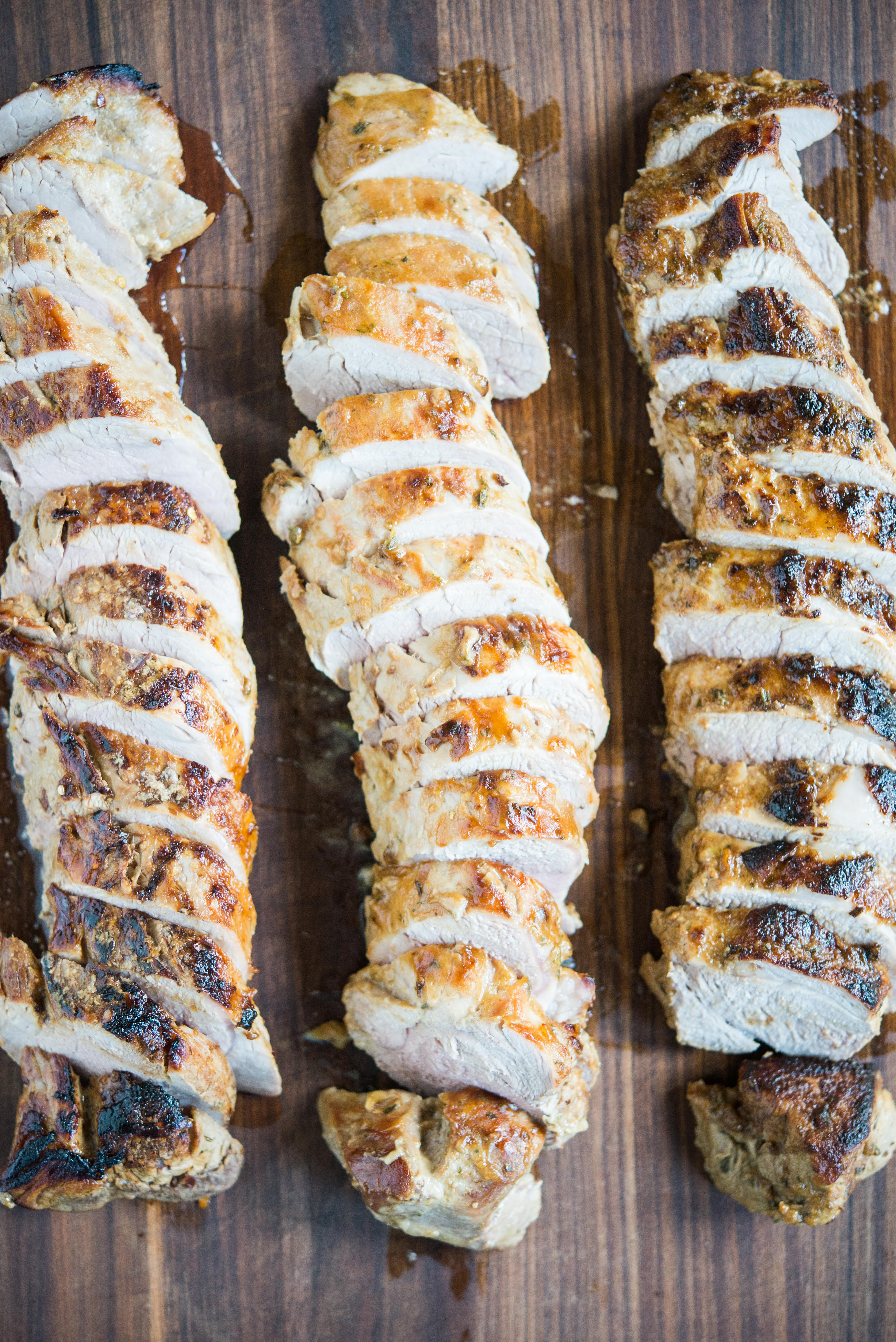 How do you know when pork tenderloin is done?
My #1 tip for cooking perfect pork tenderloin in the oven is to buy a thermometer! Even better, if you can buy an in-oven thermometer that will beep as soon as the pork reaches the desired temperature, you will have perfect pork every time. I frequently use my in-oven thermometer for pork loin and tenderloin, chicken breast, and roasting whole chickens and can't recommend it enough!
You'll know the pork is done when it reaches 145 F. For pork, 145 F is medium-rare. The pork will still be a little bit pink but is totally safe to eat. However, if you want to cook it a little bit more you can go up to 155 F, if desired, but know that the pork will continue to cook a little bit more after being pulled out of the oven.
How can I tell if pork tenderloin is done without a thermometer?
If you don't have a thermometer, follow the recommended cooking time (15-20 minutes), then pull the pork out of the oven and touch the thickest part of it. You can get a good gauge on how done it is by following the finger test – just remember you're looking for medium-rare to medium here! Finally, when you slice into it, the pork should be light pink and very juicy. If it looks undercooked, put it back in the oven for a few minutes.
How to Use Leftover Pork Tenderloin
We love using leftover pork tenderloin because it stays tender even when reheated! Next time you make pork tenderloin, consider making a double batch so you can use the rest for leftovers. Our favorite way to use it is in a stir fry, but you can also season it and use it to make tacos, make fried rice, or thinly slice it for sandwiches (it would be especially perfect in a Cuban sandwich).
We hope this guide to making perfect pork tenderloin inspires you to give pork tenderloin a try!
Print
Perfect Pork Tenderloin with 3 Marinades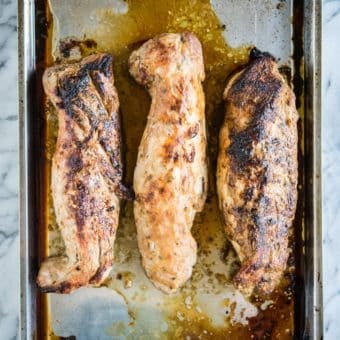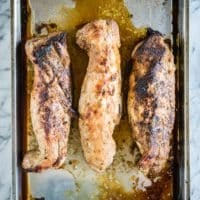 This method will give you perfectly juicy, flavorful pork tenderloin every time!
Author:
Prep Time:

40 minutes

Cook Time:

25 minutes

Total Time:

1 hour 5 minutes

Yield:

Serves 4

Category:

Dinner

Method:

Oven

Cuisine:

American
Ingredients
For the Pork Tenderloin
Balsamic and Rosemary Marinade
Maple Dijon Marinade
Sesame and Ginger Marinade
Instructions
Whisk together the ingredients for the marinade of your choice, then set aside.
Trim the silver skin off of the pork – the silver skin is the white, tough strip of connective tissue that runs about halfway down the pork tenderloin. Once you have removed it, season pork tenderloin with 1/2 teaspoon coarse sea salt and 1/4 teaspoon ground black pepper. Note: if you are using soy sauce for the ginger-sesame marinade, omit the salt.
Pour the marinade over the pork tenderloin. Refrigerate for 30 minutes up to 24 hours.
Preheat the oven to 425 F, then heat a cast iron or another heavy-bottomed skillet over medium-high heat.
Add 1/2 tablespoon olive oil to the pan, then, once hot, remove the pork tenderloin from its marinade and let the excess drip off, then place it in the pan. Cook for 3-4 minutes, until browned, then cook for an additional 3-4 minutes, until browned.
Remove the pork tenderloin from heat, then brush it with additional marinade. Transfer the pan to the oven, or place the pork tenderloin on a rimmed baking sheet, and cook for 15-20 minutes, until the pork has reached an internal temperature of 145 F. The best way to ensure your pork cooks to the perfect temperature is by using an in-oven thermometer, or by pulling it out at the 15 minute mark, checking the temperature, then returning to bake for another 2-3 minutes until it reaches the desired temperature.
Remove from oven, let rest for about 8-10 minutes, then slice and serve!
Keywords: balsamic, herb, dijon, asian, sesame, ginger, easy, oven, healthy