If the thought of making gravy feels a little bit intimidating to you, this complete guide will leave you ready to get in the kitchen and whip up the best turkey gravy your Thanksgiving guests have ever tasted!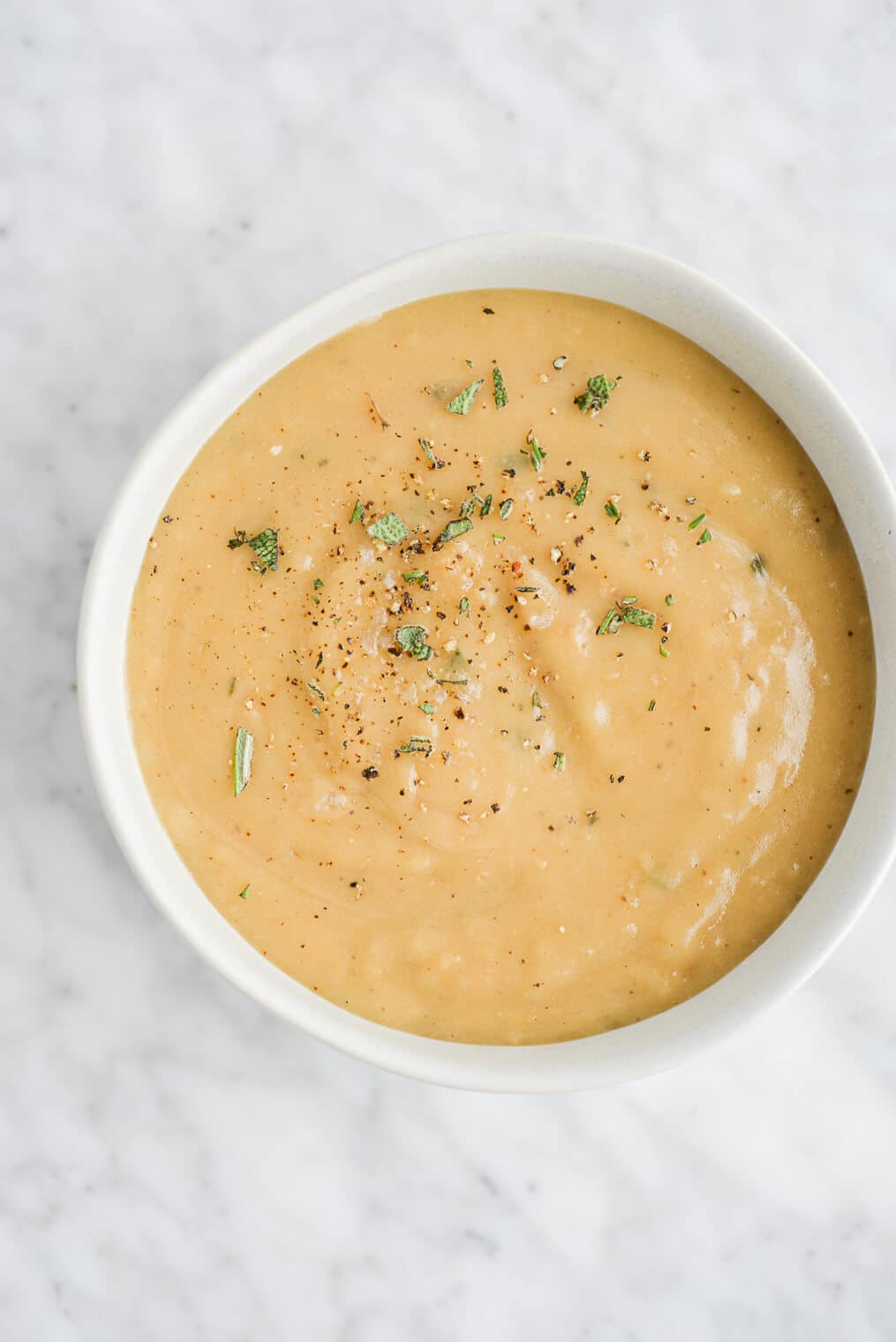 One of my very favorite parts of Thanksgiving dinner has got to be my mom's homemade gravy. It's absolutely delicious all on its own, and when drizzled (okay, fine, poured!) over my turkey, mashed potatoes, and stuffing, these already delicious Thanksgiving dinner components become MAGICAL!
My mom has been making her gravy for years (longer than I've been alive, really), so it's just second nature to her at this point, but if I am ever asked to make the Thanksgiving turkey gravy, I think some real fear would set in, and I'd be wishing that instead of just enjoying my mom's gravy, I'd have watched her make it year after year and written down EVERY SINGLE STEP, MOVE, AND STIR so that I could mimic it! 
No doubt, turkey gravy (from scratch) is intimidating, but this guide on ALL things homemade gravy is bound to help with that! With the help of this comprehensive guide, you'll be dubbed the "gravy chef" in no time. Let's get to it! 
Roux vs. Slurry
Let's get to gravy basics first. What's the difference between a roux (pronounced "roo") and a slurry? Both a roux and a slurry are responsible for thickening gravy, but they do it in very different ways! A roux is created at the start of the gravy cooking process and involves combining equal parts fat (usually butter or and flour in the saucepan that the gravy will be made in, and whisking the two together to cook and build flavor for a few minutes before adding the rest of the gravy ingredients. A slurry (whisked cornstarch and water), on the other hand, is added to the saucepan AFTER the rest of the gravy ingredients are combined, thickening the gravy right at the end of the cooking process. For this recipe, we are using a roux, which is the more traditional method!
Brown Gravy vs. White Gravy
Both brown and white gravy are made with meat drippings (in this case, turkey), but while broth or stock makes up the bulk of brown gravy, milk (or cream) makes up the bulk of white gravy. Because of this, white gravy is typically much heavier and richer than brown gravy.
What is giblet gravy?
First of all, what *are* giblets? Turkey giblets are comprised of the heart, gizzard, liver, and neck of the turkey (you'll find these stuffed into the turkey cavity in a store-bought bird), and giblet gravy is essentially a gravy made up of not only the meat drippings but also the giblets! Giblet gravy is said to be wonderfully flavorful! To make a giblet gravy, you'd first make a stock with the giblets to allow them to cook down, then you'd use the stock to make the gravy, and chop up the giblets and stir them into the gravy before serving.
Best Thickener for Gravy
There are many options for thickening gravy, but we find a flour-based roux to be the most reliable! It creates a smooth, creamy consistency and provides a richness that just cant be beat. For gluten-free gravy, we've had success with King Arthur Measure-for-Measure and Bob's Red Mill 1-to-1, but you can use whatever blend you have on hand!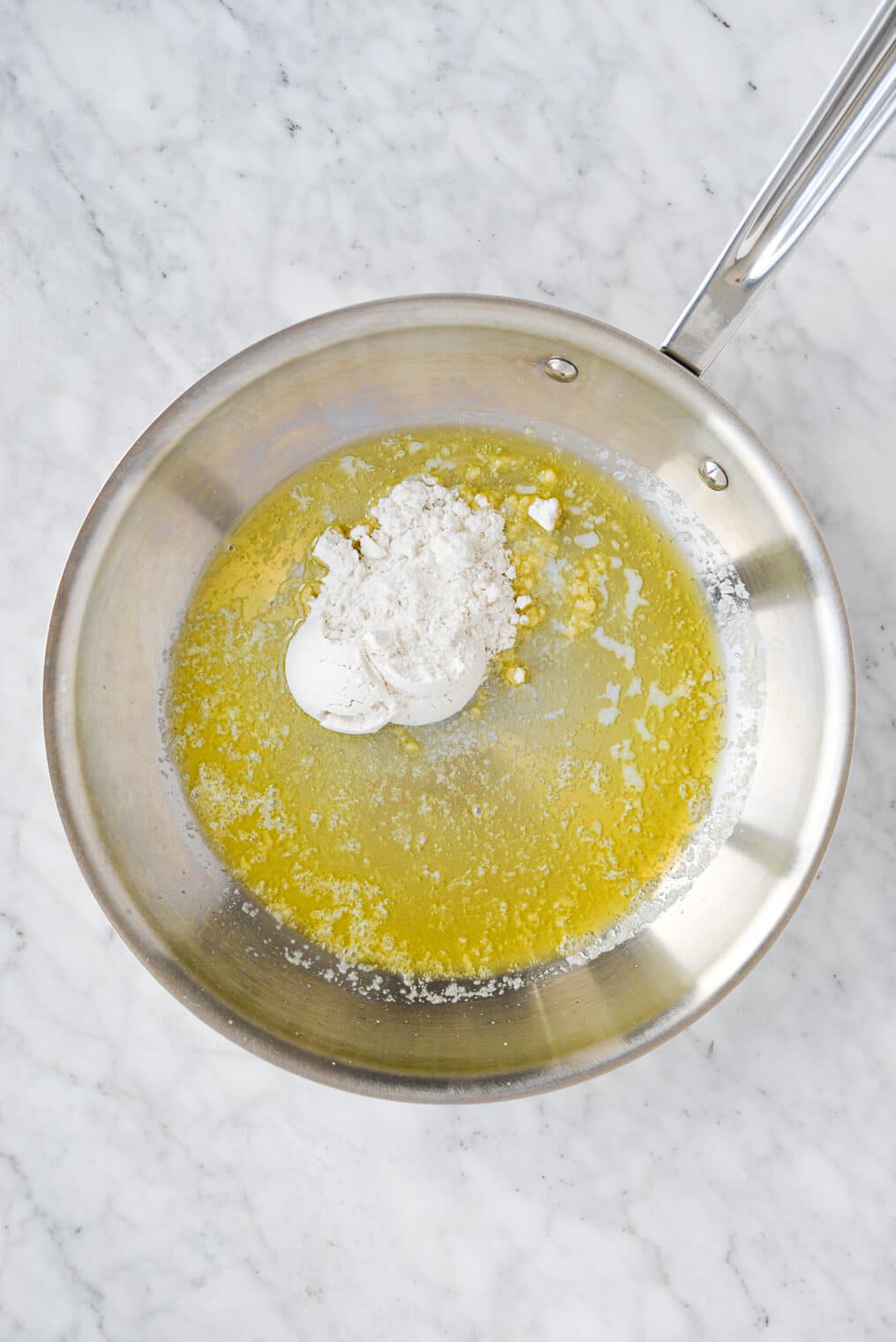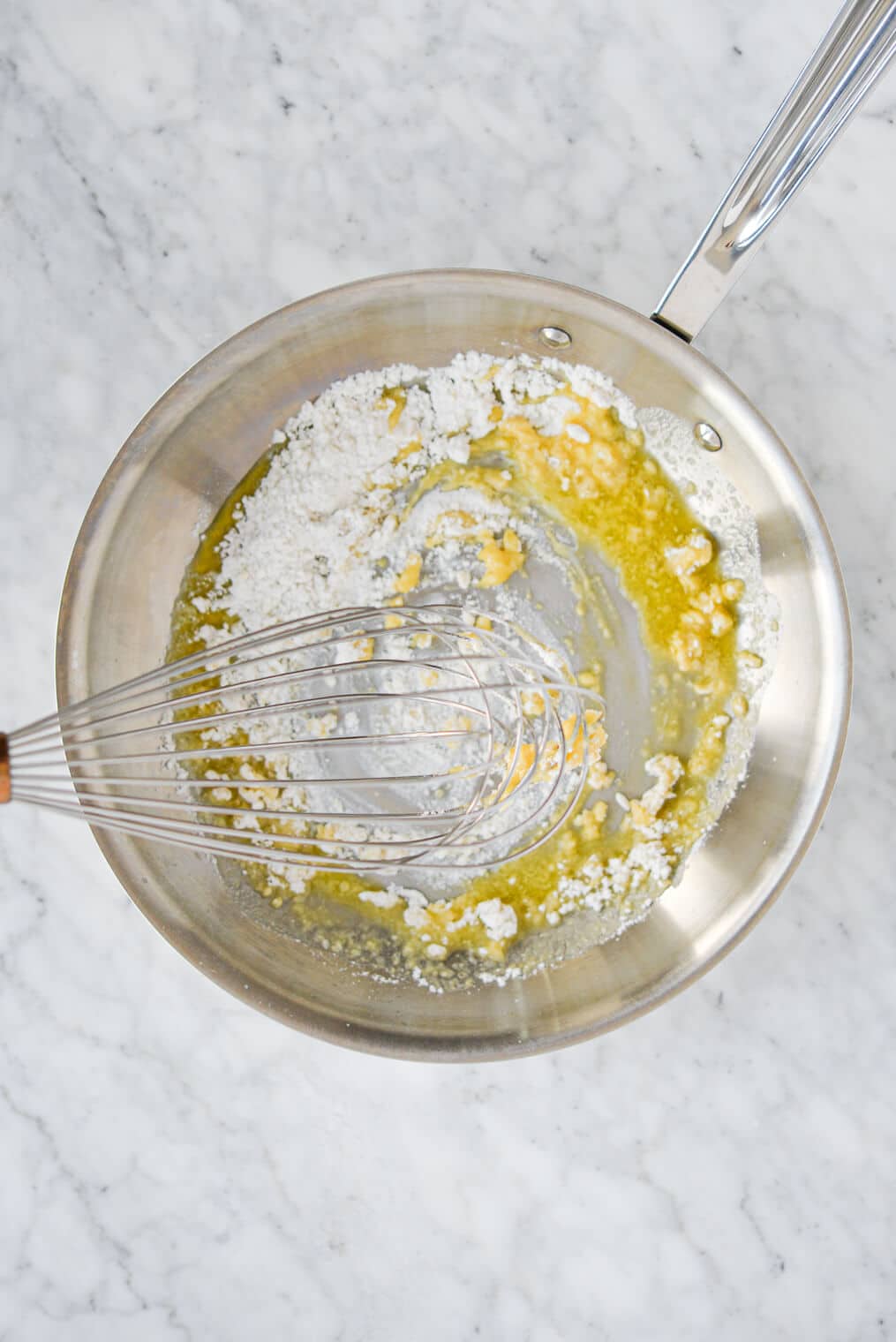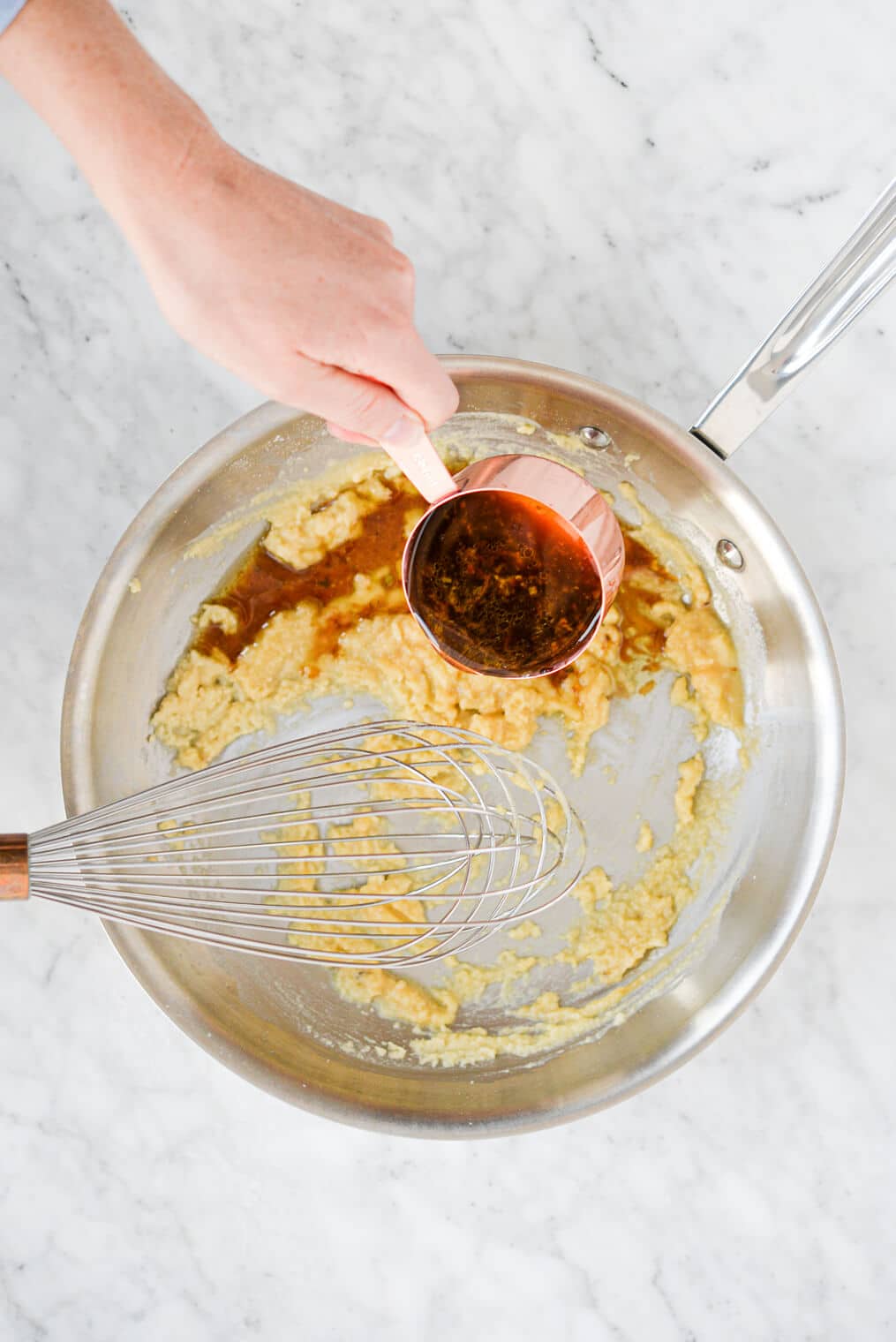 How to Make Gluten-Free Turkey Gravy
To make gravy, you'll need turkey drippings (from the bottom of your roasting pan), turkey broth or stock (chicken broth/stock works too!), a gluten-free cup-for-cup flour, salt, and cracked black pepper.
Make the Roux – add the butter to a medium saucepan over medium heat. Once melted, add the flour, whisk to combine, and let the flour-butter mixture cook for about one minute, until bubbling.
Add the Drippings + Stock – slowly pour the drippings into the butter and flour mixture, whisking constantly to dissolve any lumps, then slowly pour in the turkey stock, again whisking constantly.
Let Cook + Season – let the gravy cook for 3-5 minutes, until thickened and bubbling, and then stir in the salt and pepper and remove the gravy from heat. 
Serve and Enjoy!
Can you make gravy without drippings?
Most of the classic gravy flavor that we know and love comes from the drippings (and sometimes even the giblets), but if you're frying your turkey or leaving out the drippings for another reason, you can still make a really yummy gravy – just know that it may not taste exactly like a gravy made with drippings. To add a layer of flavor to gravy sans drippings, you'll want to start off by browning some finely diced aromatics (think: onion, carrot, celery, and garlic) in a hefty amount of butter (remember, this is what's really creating flavor here) until they're super fragrant. Once you've done that, you'll whisk your flour into the buttery, fragrant, browned aromatics to make a roux and then add in the stock, salt, and pepper.
How do you get the lumps out of gravy?
The key to smooth gravy is to pour the liquid very slowly into the roux and whisk constantly. If you rush the process, you may wind up with lumps! If you do have a few lumps in your gravy though, don't worry. Just keep whisking and most of them should dissolve. If that still isn't doing the trick, you can still save it! Just blend the gravy and add a bit more broth to get to the consistency you like.
How do you thin gravy?
We developed this recipe to make a pretty thick gravy, but if you like yours on the thinner side, simply stir in about 1/2 cup of broth at a time to the gravy until you get to your desired consistency!
Can gravy be made ahead of time?
You can absolutely make your gravy ahead of time (it'll save well in the refrigerator), but many people choose to make it the day of (oftentimes it's one of the very last components ready) since you'll likely need the pan drippings from your turkey to get the gravy going! 
We hope this guide on all things turkey gravy helps you to feel confident in the kitchen this holiday season…you've got this!
Traditional Turkey Gravy (Gluten-Free Option!)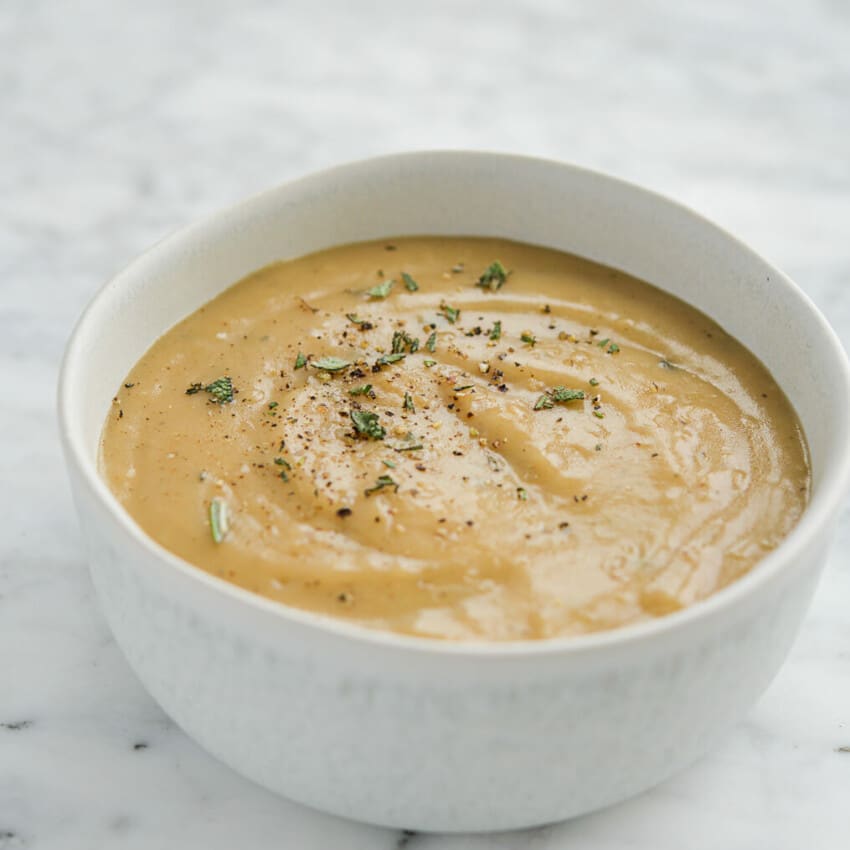 This turkey gravy is thickened with a roux and results in a luscious, creamy, flavorful gravy that you'll want to pour over everything!
Ingredients
3

tablespoons

butter

3

tablespoons

all-purpose flour

we used this one for gluten-free!

1/2

cup

turkey drippings

2

cups

chicken or turkey stock

1

teaspoon

chopped fresh herbs

1/2

teaspoon

salt

1/4

teaspoon

freshly ground black pepper
Instructions
Add the butter to a medium saucepan over medium heat. Once melted, add the flour and whisk to combine. Let cook for about one minute, until bubbling.

Slowly pour the drippings into the butter and flour mixture, whisking constantly to dissolve any lumps, then slowly pour in the stock, again whisking constantly.

Let cook for 3-5 minutes, until thickened and bubbling, then stir in the salt, pepper, and herbs and remove from heat. Serve immediately.
Nutrition
Calories:
70
kcal
|
Carbohydrates:
4
g
|
Protein:
2
g
|
Fat:
5
g
|
Saturated Fat:
3
g
|
Polyunsaturated Fat:
0.3
g
|
Monounsaturated Fat:
1
g
|
Trans Fat:
0.2
g
|
Cholesterol:
13
mg
|
Sodium:
318
mg
|
Potassium:
70
mg
|
Fiber:
0.1
g
|
Sugar:
1
g
|
Vitamin A:
135
IU
|
Vitamin C:
0.1
mg
|
Calcium:
4
mg
|
Iron:
0.3
mg