Hyaluronic acid = moisture! Find out why Beautycounter's Countermatch Intense Moisture Serum, is one of the most moisturizing skincare superheroes you can add to your skincare lineup.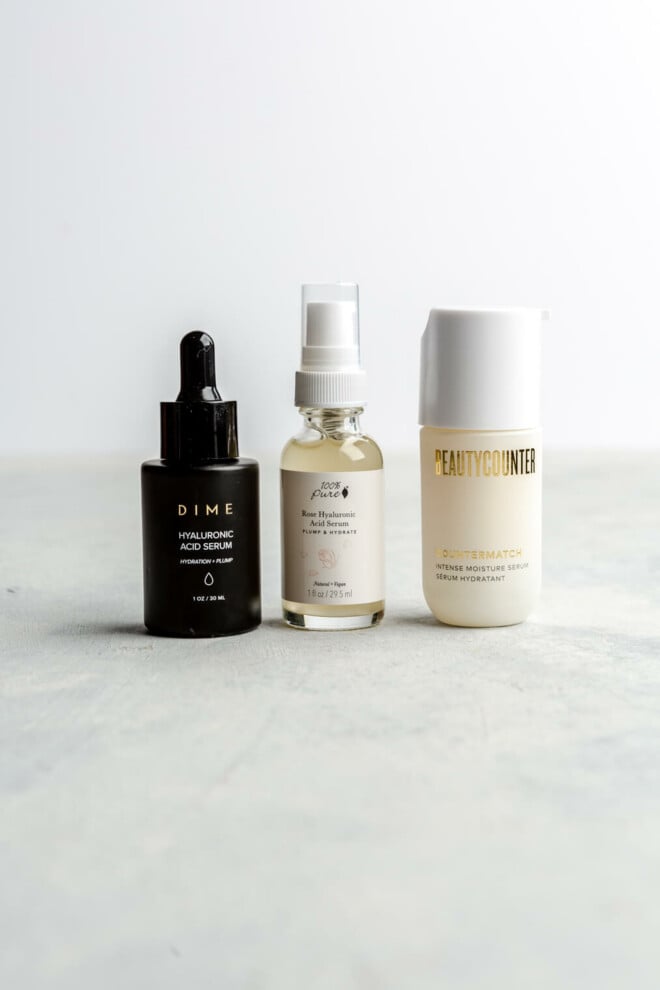 Beautycounter Countermatch Intense Moisture Serum
Hyaluronic acid is known to hold 1,000x its weight in moisture! Because there are countless benefits to having hydrated skin (like anti-aging), using a hyaluronic acid serum on a regular basis can benefit your skin in more ways than one. Let's get started.
What is Beautycounter?
Beautycounter is a skincare company whose purpose is to "formulate, advocate, & educate…beauty products that truly perform while holding (themselves) to unparalleled standards of safety." Beautycounter is dedicated to leaving out over 1,800 harmful ingredients in the formulation of their products and taking the time to third-party test each ingredient.
Why test ingredients? Third-party testing is done to ensure that heavy metals (like those from naturally occurring elements in the earth) and other toxins don't find their way into products. At the end of the day, Beautycounter stands by their mission that "beauty should be good for you."
Why make a swap to safer products?
Whether it's your face lotion or foundation, putting products on your body can have either a positive or negative impact on your health. When our skin absorbs lotion or a serum, the ingredients transfer into the bloodstream. This is why doctors caution women from using retinoids when pregnant – simply putting them on your face can cause them to be absorbed through the bloodstream and could potentially have a negative effect on the unborn baby.
If our bodies are absorbing the ingredients, it's important to find out what ingredients are in our products and how those ingredients impact our health. Here are just a few (out of the 1,800) of the ingredients that Beautycounter does not formulate with:
Formaldehyde: "A known carcinogen that is also linked to asthma, neurotoxicity, and developmental toxicity. Found in shampoo, body wash, bubble bath."
Phthalates: "A class of plasticizing chemicals used to make products more pliable or to make fragrances stick to skin. Phthalates disrupt the endocrine system and may cause birth defects. Found in synthetic fragrance, nail polish, hairspray, and plastic materials."
Synthetic flavor or fragrance: "An engineered scent or flavoring agent that may contain any combination of 3,000-plus stock chemical ingredients, including hormone disruptors and allergens. Found in all types of cosmetics."
Key Ingredients in Countermatch Serum
Hyaluronic Acid: provides and locks in moisture; leaves you with youthful and bouncy skin
Vitamin C: encourages collagen production; brightens the skin
Vitamin E: moisturizes the skin and protects it from the sun
Squalane: reduces redness
Aloe Barbadensis Leaf Juice: soothes and calms the skin
Phytic Acid: an alpha hydroxy acid (AHA), which is an exfoliator. This gentle AHA acts more like an antioxidant than an exfoliator.
What this serum doesn't include:
Mineral oil
Synthetic fragrance
What is hyaluronic acid?
Hyaluronic acid is a polysaccharide (carbohydrate) that our bodies make to keep our joints, skin, and eyes hydrated and working properly. Because of its ability to hold water, hyaluronic acid makes for the perfect ingredient to include in skincare products.
As pointed out by skincarelab.org, the hyaluronic acid used in beauty products is made through a fermentation technique, "a bacterial strain, naturally containing hyaluronic acid, is fermented to yield the perfect molecular weight that is ideal for skincare purposes."
In addition to putting it on your face for its skincare benefits, you can take it internally by drinking bone broth (which contains hyaluronic acid in it) or by eating foods rich in magnesium, which helps to promote the production of hyaluronic acid in our bodies.
What does hyaluronic acid do for your skin?
What can't it do is the question! In addition to keeping your skin extremely hydrated, hyaluronic acid protects your skin from harsh environmental factors, can reduce rosacea, helps soften fine lines and wrinkles over time, and can speed up wound healing. Using hyaluronic acid can also improve the skin's elasticity (think: nice and bouncy skin!). The beauty of hyaluronic acid is that it does so many things and is so gentle, that it can truly benefit and be used by almost all skin types.
Can you use hyaluronic acid every day?
You can! Hyaluronic acid is gentle enough (for most people) to use every day, even up to 2x a day.
Who should use hyaluronic acid?
According to skincarelab.org, because of how gentle it is, hyaluronic acid can typically be used on any skin type, "since hyaluronic acid occurs naturally in the body, it is not harsh, which means that even people with very sensitive and acne-prone skin can use it without worrying about irritation." Anyone looking for extra hydration or anti-aging benefits could especially benefit from a hyaluronic acid serum. "Hyaluronic acid promotes skin cell regeneration through its added hydration and barrier protection. As a result, you will get a vibrant complexion with reduced wrinkles and fine lines. It also minimizes age spots and prevents the appearance of dark spots in the future"(skincarelab.org).
Why Use Vitamin C and Hyaluronic Acid Together
Vitamin C and Hyaluronic Acid make for the perfect duo! As Dermatologist Joshua Zeichner states on healthline.com, "Hyaluronic acid and vitamin C are commonly used together because they complement each other to hydrate, protect, and repair aging skin." While vitamin C can transform the skin with its brightening and collagen-producing benefits, it can also aggravate some skin types. If you are a fan of vitamin C in your skincare routine but find it a little too strong, adding in a hyaluronic acid serum, which nourishes and hydrates, could potentially bring in the perfect balance, helping to protect the skin from vitamin C's strong actives. We love how Beautycounter's Countermatch Intense Moisture Serum includes both vitamin C and hyaluronic acid!
Facial Serum FAQ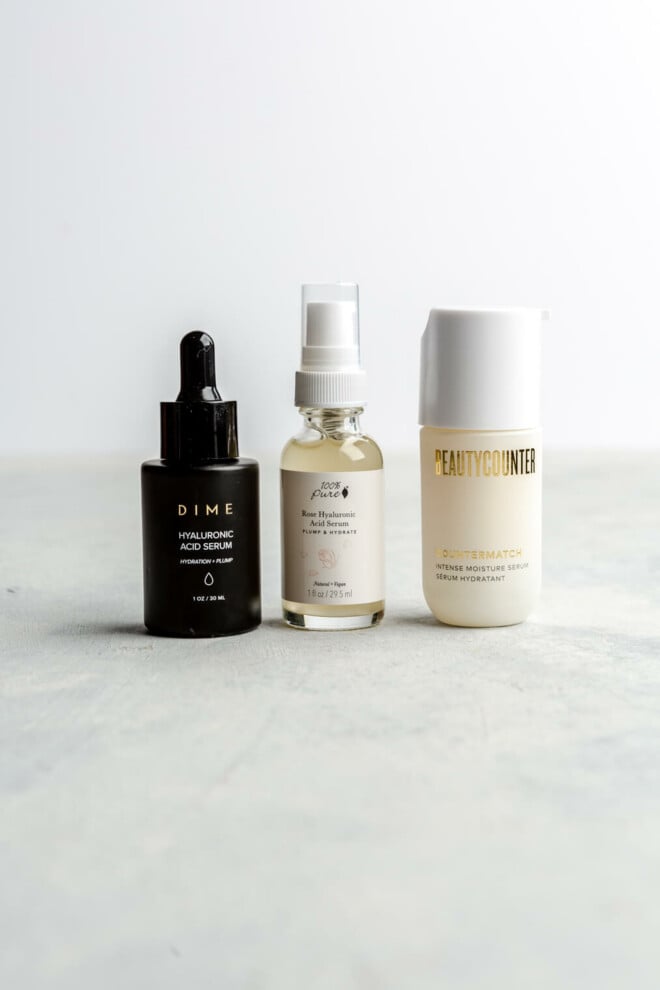 Other Safer Hyaluronic Acid Serums I've Tried
Below, you'll find a couple of other hyaluronic acid serums I've tried and my takeaways for each one!
Includes rose hydrosol and calendula, which both calm the skin and have antibacterial properties.
Smells lovely! The rose hydrosol gives it a gentle rose scent.
Did very well on my skin – I had no breakouts, and it was very nourishing.
Medium price point: $52
Has zero scent.
The consistency/texture is very gel-like.
Made with 4 very simple ingredients.
Not ideal for oily, acne-prone skin. I continued to have a few breakouts when using this serum. Both the Countermatch serum and the 100% Pure serum contain anti-bacterial ingredients so my skin loved them!
Great price point: $30
Sources