Today's What We're Loving is brought to you by Graysen, the Fed & Fit Videographer:
Hey, y'all! Graysen the Fed & Fit videographer here! I am delighted to share with you a few of my favorite things. Self-care, camera things, and family fun – I hope you find this list refreshing and inspiring!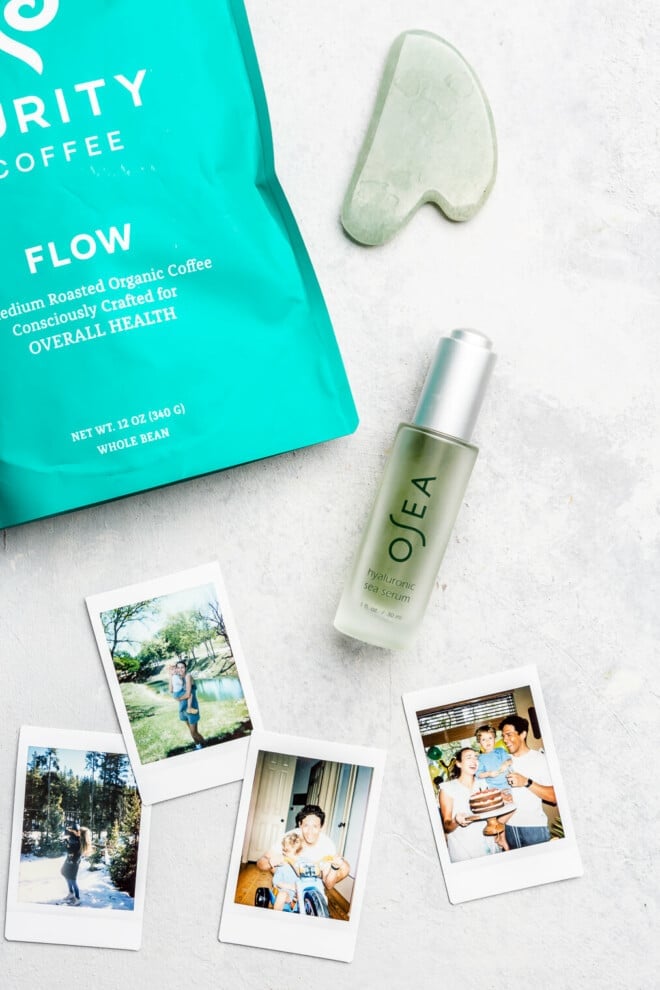 It felt right to start this list like my morning starts – with PANCAKES. Whipping up these organic pancakes is such a victory for my family in the fast-paced morning time. I'll throw in blueberries, bananas, or chocolate chips as a bonus!
My mom is known for creating her own amazing recipes and this pesto is one for the books! Here's what you'll need: garlic cloves, olive oil, sea salt, walnuts, cilantro, and lemon juice. Eat it with chips or drizzle on avocado toast – amazing.
My skin is naturally very dry! I cannot recommend this serum enough. I apply it on my cleansed face before a moisturizer. It's a lightweight serum that helps my moisturizer absorb so well!
Putting away my phone and snapping a photo with our polaroid is not only nostalgic but also a special practice of documenting seasons of life! We brought ours into the delivery room, our kids' birthday parties, and vacations to have tangible keepsakes of precious moments.
I became aware that a lot of store-bought coffee is actually moldy or contains harmful pesticides, so we switched to these organic beans that I love and trust!
Growing up, there was a lot of free-spirited dancing going on in the house. I danced in the living room when tv commercial music came on, my sisters and I would make up dances to Shania Twain, and even now as a 30-year-old, I'm attempting to hip hop dance to make my husband laugh in our living room. I encourage you to invite your kids to join you in your home for a random dance party. The kids might think it's silly, but many times our son looks at us with so much joy, embraces our silliness, and finds his own little rhythm. It's so sweet!
An air purifier always felt like a "one day we'll get a good one" kind of purchase, but after vacuuming dog hair every day and feeling our air quality wasn't the greatest, we finally decided to purchase the Air Doctor. This thing is the real deal in my book! It captures bacteria, viruses, pollen, pet dander, and mold!
I grind my teeth at night and noticed my face sometimes looked a little puffy on one side, so I looked into ways to massage and reduce the puffiness and found the beloved gua sha tool. I learned it also helps with lymphatic drainage and circulation!
I treated myself to one pair of biker shorts from Hatch and they have been the best postpartum purchase yet! High-waisted fit, supportive, and incredibly comfortable.
Dear chocolate-loving friends, please indulge in these chocolate bars. The ingredients are music to our ears, that is, incredibly simple, trustworthy, and without weird, mysterious fillers. I recommend the Salty bar!