Loaded Carnitas Trash Can Lid Nachos
jump to recipe
These sharable loaded carnitas trash can lid nachos made with purple heirloom chips are piled high with slow cooker carnitas, a delicious healthy nacho cheese, fresh jalapenos, sour cream, and so many other bright flavors. Great for game day or a fun night with friends and family!
These nachos rocked my world. The idea for a Paleo-friendly pan of nachos started over lunch with my husband and my parents. I was jotting down notes on the recipes I'd make/photograph to publish while away on book tour and was having trouble deciding on new dishes for the month of September! September (+ other transitioning season months) can be a little tricky as far as recipe inspiration goes. I found myself torn between wanting to publish recipes that take advantage of the last of Summer's vegetable bounty and wanting to publish recipes that highlight the rustic produce of Fall. SO, I turned to my lunch company and asked them to weigh-in. BOTH my husband and my dad exclaimed, "nachos!" The two had just been chatting about college football and they had game day grub on their mind.
I thought it was BRILLIANT. Nachos! Game day foods! Of course!
A proud Texas A&M University graduate, college football season is as much of punctuation in our year as Spring or Winter and what goes better with some Fightin' Texas Aggie Football watching than a BIG party-friendly pan of trash can lid nachos?
Trash can lid nachos were an institution in and of themselves back in my college days. Though I think the restaurant has since closed, I have fond memories of ordering a (literal) trash can lid filled with chips, cheese, and ALL the toppings to share with friends over a frosty brew. Just a short walk from campus, those nachos were such a highlight to my young foodie self.
Though my nachos are served on a sheet pan (opposed to a trash can lid), call for the tastiest Jackson's Honest Purple Heirloom Potato Chips, an EASY slow cooker carnitas, and generous drizzle of my Paleo Nacho Cheese, the feelings evoked from diving into this huge meal with friends around a table are the same.
Remember to make the toppings your own! I have a recipe for a true (and GOOD) Paleo Sour Cream in my 'Fed & Fit' book or you can add the real deal! Top these with what you enjoy most. Though I added avocado, radishes, cilantro, pico de gallo, sour cream, and fresh jalapenos, black olives and pickled jalapenos would also be delicious. Have fun making this dish! Decorating the nachos is almost as fun as eating them.
I hope you love this recipe as much as I do!
Print
Loaded Carnitas Trash Can Lid Nachos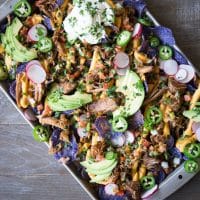 Author:
Prep Time:

15 minutes

Cook Time:

4 to 8 hours (to cook)

Total Time:

0 minute

Yield:

4 to 6 servings
Ingredients
For the carnitas:
2

pounds pork butt, shoulder, tenderloin, or large-cut "carnitas pieces," cut (if not already) into 4 to 5 large chunks

4 tablespoons

grass-fed butter, ghee, or coconut oil, divided

1 tablespoon

fine sea salt, additional to taste

2 teaspoons

chili powder

1 teaspoon

ground cumin

1/2 teaspoon

ground black pepper

2 tablespoons

fresh lime juice, about

1

lime
For the nachos:
1

bag Jackson's Honest Purple Heirloom Potato Chips

1

batch Paleo Nacho Cheese

5

radishes, thinly sliced

1

jalapeno pepper, thinly sliced

1/2 cup

fresh pico de gallo

1/2 cup

sour cream

1

avocado, cut into thin slices

1/4 cup

fresh cilantro, finely chopped
Instructions
For the slow cooker carnitas, set the meat out on a plate while you melt 2 tablespoons of the butter in either the slow cooker insert (over a hot stove) or in a large frying pan.
Sprinkle all sides of the pork with the spice blend and then add to the hot melted butter. Sear on all sides for about 4 minutes over high heat, or until a brown crust starts to form (but before it burns).
If cooking in the slow cooker insert, transfer the insert to the slow cooker, cover, and cook on low for 8 hours or on high for 4 hours.
If cooking in a pan, transfer the browned pork (and all juices) to the slow cooker and follow the same timing instructions.
Once the carnitas is done, shred them with a fork and melt the remaining 2 tablespoons of butter in a large frying pan. Add the shredded pork to the pan and cook until the moisture has mostly evaporated off and the pork has started to crisp. Season with the lime juice and additional sea salt to taste.
To assemble the nachos, spread the chips out on the sheet pan. Top with the carnitas, nacho cheese, and remaining toppings.
Enjoy right away!
Notes
Instant Pot Version:
Add 2 tbsps. oil to Instant Pot and press Sauce to heat.  Add seasoned pork and sear on all sides until light browned.
Add 1.5 cups water or broth to meat, place the lid on the pot, cover, and make sure the valve is set to sealed. Press the "manual" button and set to cook for 90 minutes.
After 90 minutes is up, let the pressure release naturally (about 20 minutes) and remove the lid from the pot.
Once the carnitas are done, follow the remaining instructions from Step 5 on.