Every item on this page was chosen by The Fed & Fit team. The site may earn a commission on some products (read more here).
This pork chili verde (served over rice and garnished with ALL of the good things!) is bold, creamy, and really delicious!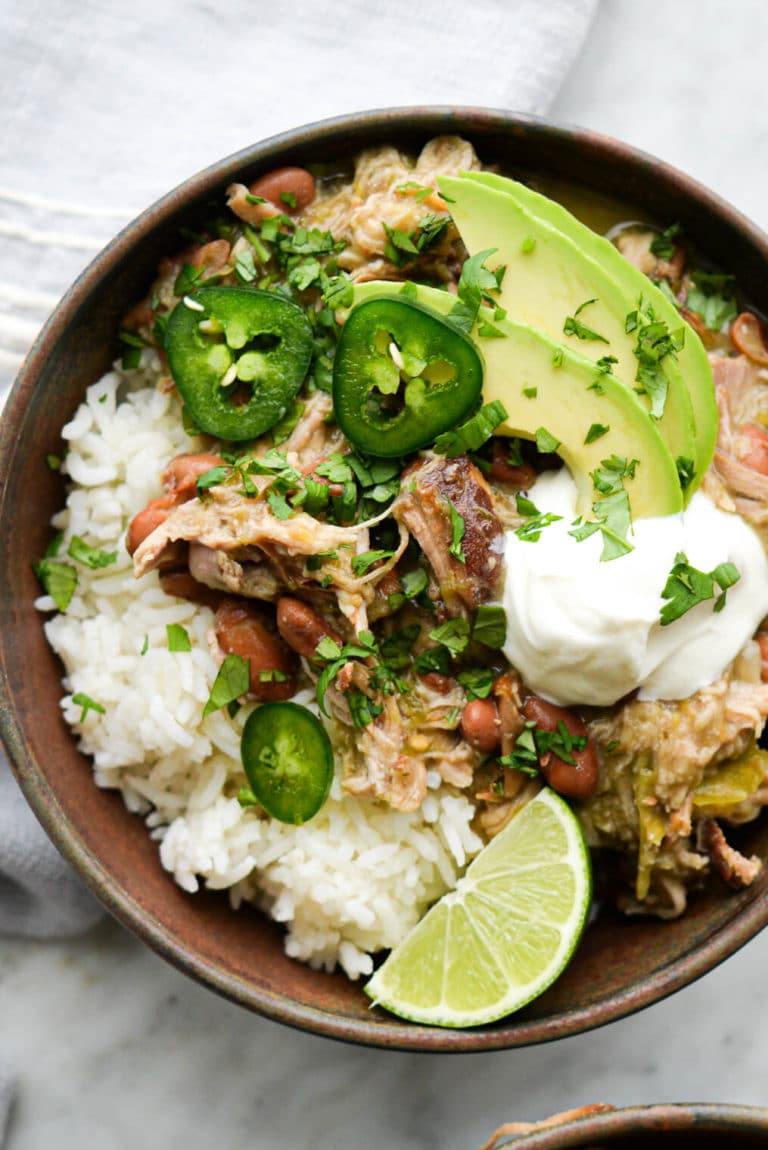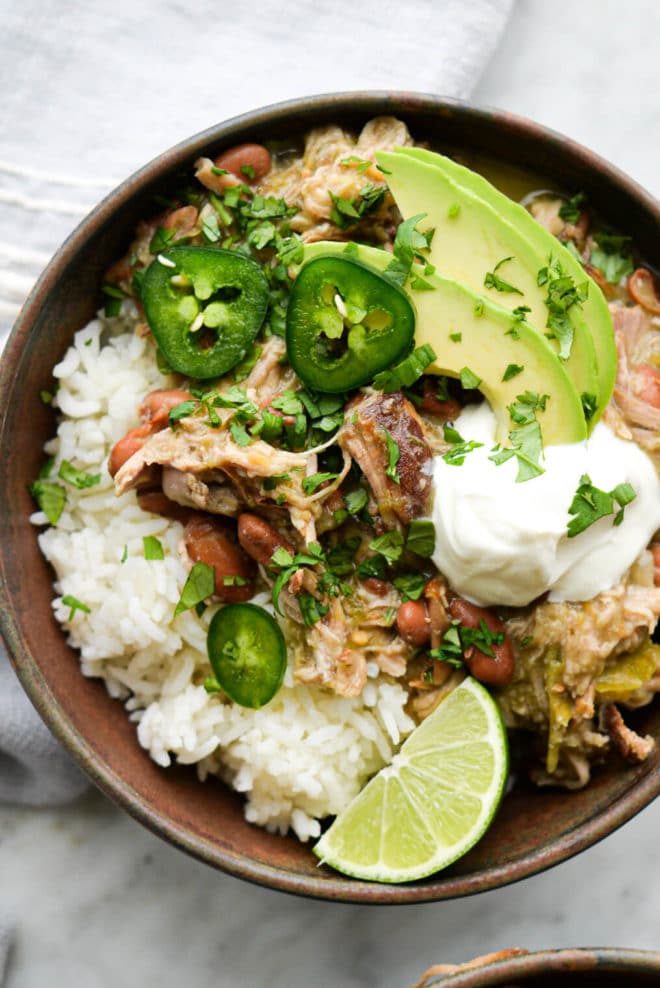 Easy Pork Chili Verde Recipe
This pork chili verde is DELICIOUS, y'all. It's loaded with such incredible salsa verde flavor, is nice and creamy thanks to the coconut milk, and requires very little effort to bring together (hello, slow cooker meal!).
Though this is a pork "chili" verde recipe, don't think of it as a traditional red chili (like THIS one) that you'd be more likely to fix on a cold winter's night — this chili variation is really different from that and truly isn't too hot (or "wintery") of a meal to serve year round.
Find an entire dinner series centered on pork tenderloin in THIS article, where Cassy walks you through how to make 2 very different meals really efficiently using pork tenderloin. Meal 1 is Teriyaki Pork Tenderloin with Bok Choy and meal 2 is this Pork Chili Verde. The concept is BRILLIANT (not to mention time-saving) and is what Cassy's 3rd book, Cook Once Dinner Fix, is modeled around.
Pork Chili Verde Ingredients
The ingredients list may seem on the longer side, but many of the ingredients on the list are actually pantry staples, so you may be able to check a few off your list before making a trip to the grocery store. Here's what you'll need:
Pork Tenderloin – to start, you'll need 1 (1-1.25 pound) pork tenderloin.
Onion – you'll also want to grab 1 small onion and give it a quick dice.
Garlic – in addition to the diced onion, 3 cloves of minced garlic will add a ton of really delicious flavor.
Salsa Verde – 1 jar of store-bought salsa verde (about 16 ounces worth, but don't stress too much about exact amounts) brings a delicious, slightly spicy flavor to the meal.
Green Chilis – you'll also need 1 (4-ounce) can of green chilis.
Coconut Milk – to make everything really creamy, you'll also need 1 (13.5-ounce) can of full-fat coconut milk.
Lime Juice – a ½ cup of fresh (always fresh!) lime juice adds a punch of brightness to the finished dish!
Spices + Seasonings – because of all of the other really flavorful ingredients, 1 teaspoon of ground cumin and 1 teaspoon of fine sea salt are the only spices and seasonings needed here!
Pinto Beans – 2 (15.5-ounce) cans of drained and rinsed pinto beans add some really great texture to the final product.
Cilantro – garnish the finished product with fresh cilantro,…
Jalapeno Pepper – …sliced fresh jalapeno peppers,…
Sour Cream – …sour cream, and…
Sliced Limes – …sliced limes!
White Rice – we chose to serve this pork chili over (about) 3 cups of cooked white rice!
More of our Favorite
Pork Recipes
How to Make Pork Chili Verde
Just 3 steps and very little effort gets this meal on the table! Here's exactly what you'll need to do:
Add to slow cooker + cook – add the pork, onion, garlic, salsa, canned chilis, coconut milk, lime juice, cumin, and sea salt to the slow cooker. Cook on high for 3 hours or on low for 6 hours.
Shred the pork + add the beans – once the time is up, shred the pork with a fork, add the pinto beans, and let cook for 30 more minutes.
Garnish + serve – serve the slow cooker chili verde pork over the white rice and garnish with the cilantro, jalapenos, sour cream, and sliced limes.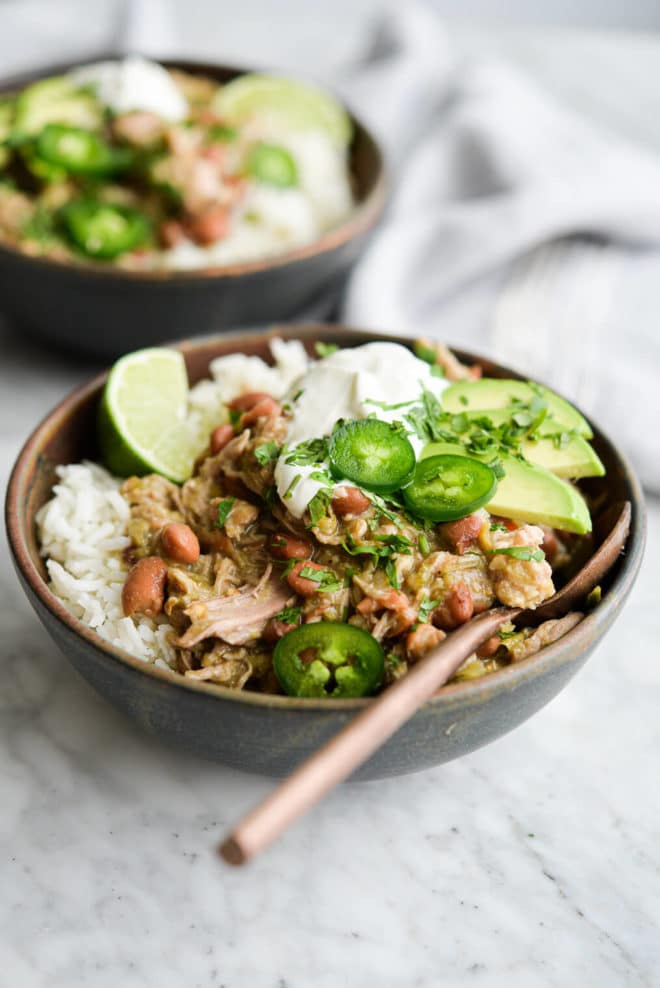 Just for You
Pork Recipes
Looking for more recipes like this?
Pork Chili Verde Frequently Asked Questions
Q
Does chili verde get better the longer it cooks?
A
Most chilis do tend to deepen in flavor the longer that they cook, and because this one is cooked in the slow cooker, we've already built that step in for you!
Q
How do you make chili verde less sour?
A
I wouldn't describe this dish as sour at all, and that may be because of the coconut milk! It can be tempting to grab the low-fat coconut milk at the store, but using full-fat coconut milk will really up the creamy factor and ensure that the chili verde doesn't taste sour!
Q
Should chili verde be thick?
A
I wouldn't characterize this chili as super thick, but it also isn't the kind of chili that you would eat a big ole bowl of all on its own (like a red chili). This chili is meant to be served over rice, so it definitely shouldn't be super thin, but we do want the rice to soak some of the yummy flavors up, so we aren't necessarily looking for a super thick finished product either.
Q
How do you thicken chili verde?
A
If you do want the chili to be thicker, feel free to thicken the finished product with a few tablespoons of cornstarch, or even blend up one of the cans of the beans to use as a thickener before adding it in!
Q
How do you serve pork chili verde?
A
We LOVE this pork chili verde over white rice (though any rice that you prefer would be great!) and garnished with a generous dollop of sour cream, fresh cilantro, sliced, fresh jalapeno pepper, and lime wedges! 
Q
Can I freeze this pork chili verde recipe?
A
Sure! This is actually a really great meal to freeze, and if you're looking to go this route, I'd consider making a double batch for dinner one night, and then just freezing the entire second batch so that you've got a full, 4-serving meal hanging out in the freezer for a busy, no-time-to-cook night!
To thaw your pork chili verde, simply let it sit on the counter for 15-20 minutes until it's soft enough to pop out of the container, and then add it to a pot on the stove over medium heat, until everything is completely thawed and warmed through. Serve over rice, garnish, and enjoy!
Q
How long will pork chili verde keep?
A
Stored in an airtight container in the refrigerator, this pork chili verde will keep for up to 5 days!
Ingredients
1

pork tenderloin

about 1-1.25 pounds

1

small onion

diced

3

cloves

garlic

minced

1 16-

ounce

jar of salsa verde

1 4-

ounce

can of green chilis

1 13.5-

ounce

can of full-fat coconut milk

½

cup

of fresh lime juice

about 4 limes

1

teaspoon

ground cumin

1

teaspoon

fine sea salt

2 15-

ounce

cans of pinto beans

drained and rinsed

1

cup

white rice

Fresh cilantro

to serve

Sliced fresh jalapeno peppers

to serve

Sour cream

to serve

Sliced limes

to serve
Instructions
Place the pork, onion, garlic, salsa, canned chilis, coconut milk, lime juice, cumin, and sea salt in a slow cooker. Cook on high for 3 hours or on low for 6 hours.

Shred the pork with a fork, stir in the beans, and let cook for 30 more minutes, until the beans are heated through.

After you add the beans, cook the rice on the stovetop according to package instructions.

Serve the chili over the white rice and garnish with the cilantro, jalapenos, sour cream, and sliced limes.
Nutrition Information
Nutrition Facts
Pork Chili Verde
Amount per Serving
% Daily Value*
* Percent Daily Values are based on a 2000 calorie diet.
Recipe Notes
To make on the stovetop: Dice the pork into 1/2 inch pieces, then add one tablespoon of extra-virgin olive oil to a large pot and saute the pork over medium-high heat, until browned, then remove from the pot. Add the garlic and onion to the pot and saute for about 5 minutes, until the onions are translucent, then add the pork, salsa, canned chilis, coconut milk, lime juice, cumin, sea salt, and beans. Cook over medium-low heat for about 30 minutes, until the pork is fully cooked through. At this stage, the pork will be fully cooked, but not yet shreddable. If you'd like it to be a shreddable consistency, continue to simmer over low heat for about 2 hours.