Every item on this page was chosen by The Fed & Fit team. The site may earn a commission on some products (read more here).
Cauliflower rice is simple to make and prep in advance, and the perfect substitute for rice or noodles in soups, pastas, and Asian-style dishes!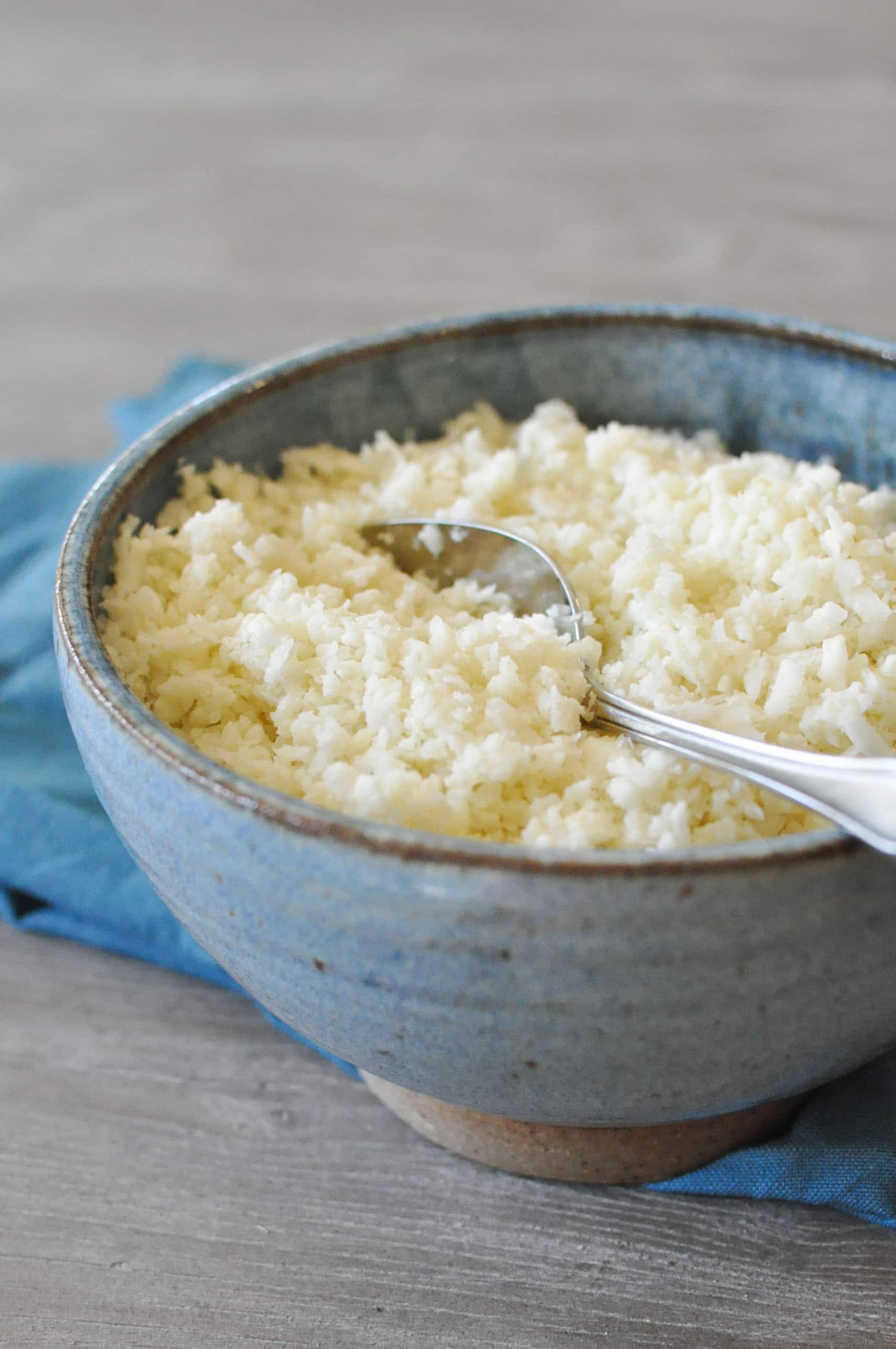 It's back to school season! You know how we "get in the spirit" during the fall and winter holidays? We start to hum Christmas tunes just after Thanksgiving; hang lights in early December; bake pies and cookies for no real reason; and then become totally overwhelmed with joy, thankfulness, and the desire to give. You with me?
Well, similar to that, I totally get in the spirit of back to school. This time of year makes me want a fresh box of crayons, a new pair of shoes, and a stack of crisp notebooks. The air during the first of the school year is full of all kinds of fresh possibility!
Though grade school was MANY moons ago and though I don't have any school-age children of my own (Gus is only 2), I'm still here for you in this magical time of the year.
"What's for dinner?" can be an intimidating question when you're juggling a demanding schedule, the desire to keep food healthy, and a hungry mob.
That's where I come in!
Earlier this week, the local FOX Daytime show in San Antonio, TX invited me on air to demo three different quick, healthy, back to school friendly dinners. Over the next two weeks, I'm going to publish each of those full-meal recipes here in addition to two bonus make-ahead recipes that will help it all come together.
The secret to fast, healthy, delicious meal success is FOOD PREP. Prep as much of the meal ahead of time as possible. I'm not saying you need to stay up late each night to make dinner for the next day. All you need is about 1-2 hours on a Sunday afternoon to make the basic components so that assembly is a breeze.
The first piece of this equation is my go-to basic cauliflower rice, aka. bonus recipe #1! I make this rice every. single. week. No joke! I get really tired of salads and use this cauliflower rice as a bed for meat and veggies when I want a quick, healthy, low-carb impact meal. From this basic rice, there's a whole world of possibility! We'll talk about two different uses soon.
Cauliflower rice is the perfect meal component to make in advance as it keeps really well. Below, I'm providing instructions on how to make it using both the stovetop and the microwave.
Enjoy!
Ingredients
1

tablespoon

butter

ghee, or coconut oil

2

heads of cauliflower

1/4

teaspoon

sea salt

1/4

cup

water
Instructions
Stovetop Directions:
In a large sauté or frying pan, melt the butter.

Using either a box grater or the grating attachment on a food processor, shred the floret heads of the cauliflower. Save the stems for vegetable broth or soup.

Add the shredded cauliflower to the pan with the sea salt and water. Stir continuously for 15-20 minutes over medium to high heat. The cauliflower is finished cooking when it no longer has a crunch.
Microwave Directions:
Using either a box grater or the grating attachment on a food processor, shred the floret heads of the cauliflower. Save the stems for vegetable broth or soup.

In a large microwave-safe bowl with a lid, add the shredded cauliflower, sea salt, water, and butter. Microwave covered on high for 13-15 minutes, or until it no longer has a crunch.
Nutrition Information
Nutrition Facts
Basic Cauliflower Rice
Amount per Serving
% Daily Value*
* Percent Daily Values are based on a 2000 calorie diet.