This Simple Not-Chili Soup is one of those satisfying, comforting, soothing meals that will warm you up even on the chilliest of nights.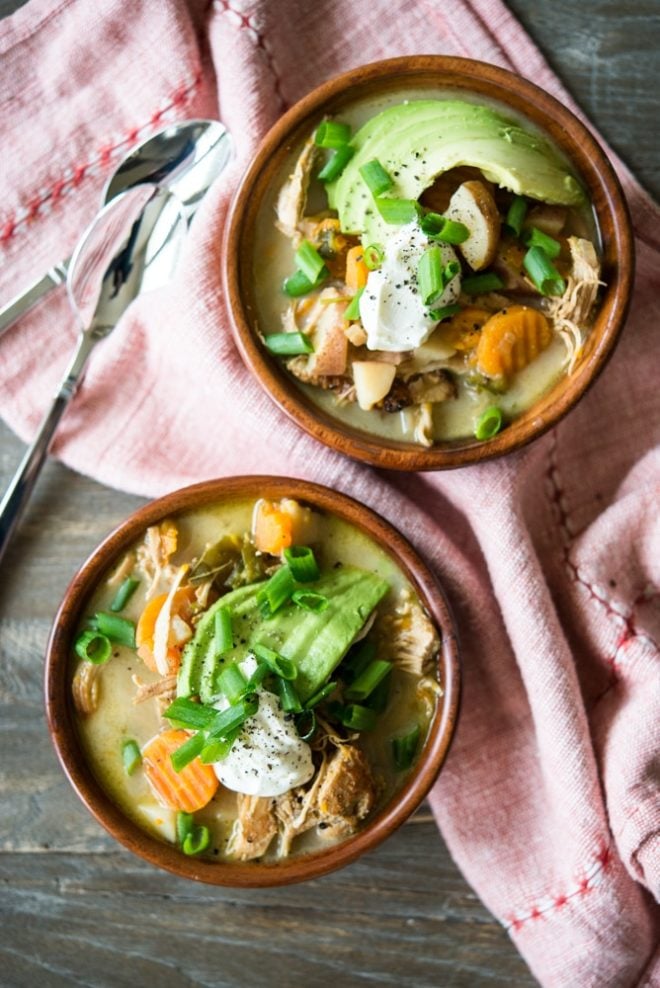 Why the name? It starts with a confession. You see, this not-chili soup started off as an actual chili. A white chicken chili, to be precise. I used all the flavors of a white chicken chili and then …way too much broth. When my chili became soup, I was crushed. I knew that I'd have to go BACK to the store to get all the ingredients to attempt this chili again! I NEVER waste food (unless it's truly inedible) in my house …so I served up this soupy chili for dinner.
Note: that's part of the not-glamorous side of being a food blogger or a recipe developer. Though I only ever publish the QUALITY recipes here (or in my book), we find ourselves eating all the attempts. My sweet husband has enjoyed more 1st and 2nd drafts of not-quite-ready recipes than I can count.
When we dug into our bowls of soupy not-chili, our eyes lit up. This not-chili soup was GOOD. Really good, in fact! My husband happily gobbled up a couple bowls and asked if I'd make it again one day. Thrilled by the surprise of a quality dish, I spooned up a couple "pretty" bowls and snapped a few photos for this post.
So now I'm glad my chili turned into soup …because now we have this flavorful, simple, Mexican-chili inspired soup that I love even more.
Today's kitchen lesson is a great mirror for life.
(Can I go there? I'm going there.)
Often times we start off with a specific destination or goal in mind. We put all the right pieces into place, give it our best, and then the chili we were hoping for winds up as soup. It feels disappointing, but maybe we were never meant to have chili. The soup was our destination and the lesson of embracing-reality the most important takeaway.
So cheers to our surprise chili-turned-into-soup discoveries in the kitchen and in life.
xo,
Cassy Joy
This Simple Not-Chili Soup is one of those satisfying, comforting, soothing meals that will warm you up even on the chilliest of nights.
Ingredients
2

tablespoons

butter

ghee, or your favorite cooking fat

2

pounds

chicken breast

1

teaspoon

fine sea salt

more to taste

1

tablespoon

ground cumin

1

tablespoon

garlic powder

1/4

teaspoon

ground cayenne pepper

1

pound

frozen crinkle-cut carrots

1

pound

small red skinned potatoes

cut into 1/2" pieces

4

cups

chicken broth

1 13.5

ounce

can full-fat coconut milk

1/4

cup

fresh lime juice

about 2 big limes

1

bunch fresh green onion

diced, for garnish

sour cream

for garnish

1

avocado

sliced thinly, for garnish

cracked black pepper

to taste
Instructions
Melt the butter in the bottom of a heavy bottomed pan (enameled cast-iron works great) over medium heat. Season the chicken liberally with the sea salt, cumin, and garlic powder then transfer to the hot pan. Sear each side for 3 to 4 minutes, or until a light brown color develops. Add just enough water to cover the chicken, cover with a lid, reduce the heat to medium/low, and let simmer for 25 minutes. After 25 minutes, pull the chicken from the pot and shred in a separate bowl. Once shredded, return the chicken to the pot with the cooking water.

Add the carrots, potatoes, and chicken broth. Cover and then simmer over medium/low heat for 25 minutes, or until the potatoes are fork-tender.

Stir in the coconut milk and lime juice. Taste and add any additional seasoning you like.

Serve with the green onion, sour cream, fresh avocado, and cracked black pepper. Enjoy!
Nutrition
Calories:
750
kcal
|
Carbohydrates:
41
g
|
Protein:
57
g
|
Fat:
42
g
|
Saturated Fat:
26
g
|
Polyunsaturated Fat:
3
g
|
Monounsaturated Fat:
9
g
|
Trans Fat:
0.3
g
|
Cholesterol:
165
mg
|
Sodium:
1882
mg
|
Potassium:
2319
mg
|
Fiber:
9
g
|
Sugar:
9
g
|
Vitamin A:
19412
IU
|
Vitamin C:
31
mg
|
Calcium:
118
mg
|
Iron:
7
mg