These Buffalo Chicken Twice Baked Sweet Potatoes by Kelly Nardo of Eat the Gains are a perfect Paleo-friendly addition to your game day party spread!
Howdy, dear friends! I'm excited to introduce you to today to Kelly Nardo. As she describes below, Kelly started working with Fed & Fit as an intern a few years ago and has since started chasing the dream of her own blog (Eat The Gains)! She creates wonderful recipes and posts excellent content on her social media channels. I highly recommend you go check them out. Kelly made you some Buffalo Chicken Twice Baked Sweet Potatoes (and you know we LOVE all things buffalo – evidenced by these buffalo chicken spaghetti squash bowls) and they look absolutely BOSS. She also provided some step-wise photo instructions, scroll down to the very bottom for those.

Take it away, Kelly!
Hi Fed+Fit crew!! I'm so happy to be here today! I'm Kelly, a food and fitness lover, CrossFitter, runner, and blogger over at Eat the Gains, a space devoted to providing some delicious and wholesome recipes while also giving some inspiration and ideas for daily workouts and eats. The recipes I create are healthy, while being easy to make and flavorful. I don't follow one specific diet, but focus on real, whole, and nutritious foods. I also believe in moderation. While I love vegetables and working out, I also love sweet potato fries, a spicy margarita, chips and dip, and a lazy Sunday. It's about balance!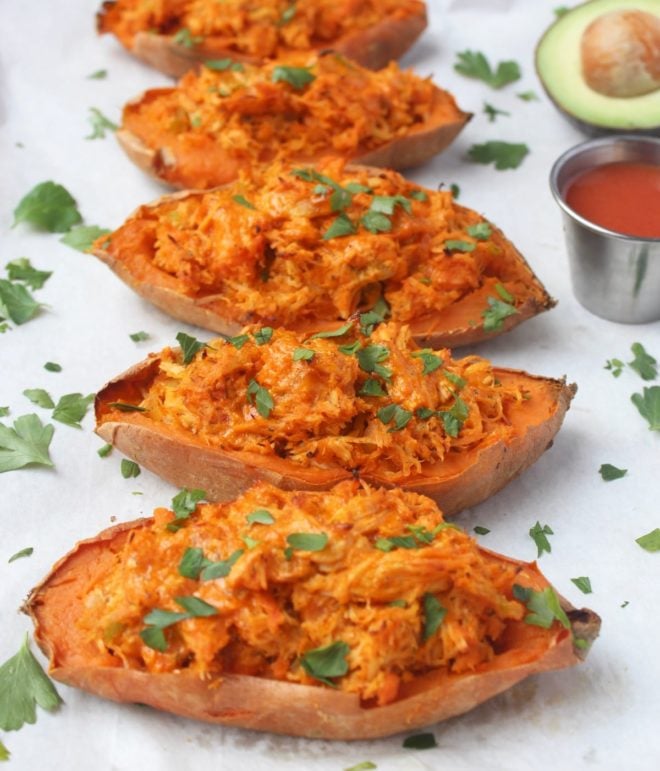 In my free time, I occasionally help Cassy with Fed+Fit. If you saw a post or comment was responded to by Kelly, that's me! Cassy inspired me to really start pursuing what I love. When I first started working for her, I was working a corporate 8-5 job that I was not really interested in. After working for Cassy some and doing some back-end stuff on Fed+Fit, I realized that starting a blog wasn't too hard and even I could do it. And if you haven't noticed, Cassy just radiates positivity and optimism. One of my goals is to be more positive not only in life, but with myself and the work I do. Working with Cassy makes it easier. Long story short, I ended up quitting my job and pursued a career in things that I am passionate about. So cheers to Cassy!
Enough about me, lets get back to this recipe. These twice baked sweet potatoes combine my two favorite things. Sweet potatoes and buffalo sauce. I probably eat sweet potatoes at least once a day in some form or another, and I can put buffalo sauce on anything. I used to be a vegetarian and when deciding if I really wanted to take the plunge, my first thought was about how much I was going to miss buffalo chicken.
With football season getting into full swing, I figured why not make something tasty to enjoy on game day. Instead of the classic buffalo wing, I stuffed all those flavors inside a sweet potato! They make for a perfect vehicle to your mouth without all the mess of actually eating a wing. To make for an easy assembly, prep your chicken, sweet potatoes, mayo, and celery mixture ahead of time. That way all you need to to is mix everything together and reheat. I am even thinking you could make these and throw them on the grill to heat up at a tailgate.
If football isn't your thing, make them for dinner with some veggies or a big salad. They save great for leftovers, just throw them in the oven to heat up again. These are definitely going on my meal prep for easy lunches during the week!
Let's be friends!! Connect with me on social:
Website: Eat the Gains
Instagram: @eatthegains
Facebook: @eatthegains

Pinterest: @eatthegains
Buffalo Chicken Twice Baked Sweet Potatoes
These twice baked sweet potatoes combine my two favorite things. Sweet potatoes and buffalo sauce.
Ingredients
4

medium sweet potatoes

2

heaping cups shredded chicken

crockpot* or rotisserie

1/2

cup

diced yellow onion

1/2

cup

diced celery

about 1 large stalk

1/2

cup

shredded carrots

about 1 large

2

teaspoons

coconut oil

1/4

cup

+ 1 tablespoon chipotle mayo

divided

1/4

cup

+ 1 tablespoon buffalo sauce

divided (I used Frank's)

1

teaspoon

garlic powder

1

teaspoon

drilled dill

1/2

teaspoon

smoked paprika

1/4

teaspoon

red pepper flakes

1/4

teaspoon

cayenne pepper

salt and pepper

to taste

optional toppings: cubed avocado

fresh parsley, hot sauce
Instructions
Preheat oven to 400 degrees Fahrenheit. Rinse sweet potatoes and poke with a fork. Place in oven on a parchment lined baking sheet and bake for 45 minutes to 1 hour until soft.

While the sweet potato bake, heat a medium sauté pan over medium heat. Add coconut oil and let it get hot, about 30 seconds. Add celery and onion and cook for 10 minutes, stirring occasionally. Add carrots and cook for another 5 minutes. Pour into a medium sized bowl and set aside.

When sweet potatoes are cooked, cut them in half lengthwise and scoop out most of the inside flesh, except leaving a thin layer so they can maintain their shape. Add the insides into the bowl with the celery mixture.

In the bowl, add shredded chicken, 1/4 cup mayo, 1/4 hot sauce, and spices. Mash and stir until well combined. Season with salt and pepper to taste. Scoop mixture back into shells evenly distributing. Mix the remaining 1 tablespoon mayo and 1 tablespoon hot sauce into a small bowl. Evenly distribute over chicken mixture on sweet potatoes.

Turn down oven to 350 degrees and bake for 20 more minutes. Top with toppings of choice or eat as is.

Enjoy!
Recipe Notes
Notes:
*easy crockpot chicken from Cassy!
Nutrition
Calories:
468
kcal
|
Carbohydrates:
50
g
|
Protein:
31
g
|
Fat:
16
g
|
Saturated Fat:
4
g
|
Polyunsaturated Fat:
7
g
|
Monounsaturated Fat:
4
g
|
Trans Fat:
0.03
g
|
Cholesterol:
79
mg
|
Sodium:
761
mg
|
Potassium:
1118
mg
|
Fiber:
8
g
|
Sugar:
11
g
|
Vitamin A:
35034
IU
|
Vitamin C:
8
mg
|
Calcium:
99
mg
|
Iron:
3
mg