In this post, we are sharing easy pantry swaps for Cook Once, Eat All Week, plus 5 weeks of pantry-friendly Cook Once meals!
As the COVID-19 quarantine continues, we've been working to bring you and your family plenty of resources to keep you healthy, fed, and entertained. Now that we are a few weeks in, you may be more than a little tired of cooking. Making breakfast, lunch, dinner, and snacks for your family is a LOT! That's why we wanted to make our latest cookbook, Cook Once, Eat All Week, more useful to you during this time. If we can help cut down on your stress just a little by giving you quick, family-friendly recipes that are easily adaptable, that's a big win in our books! First, we'll walk you through some general swaps that you can use to adapt any week of the book to what's available in your store, then we'll give you 5 weeks of done-for-you swaps.
Cook Once, Eat All Week Pantry-Friendly Swaps
The swaps listed below can be applied to any week of the book!
Protein Swaps
Ground protein → ground protein – for any of the ground protein weeks, ground beef, chicken, pork, and turkey are all interchangeable. Use whichever one you can find!
Shredded protein → shredded protein – just like above, any shredded protein can typically be swapped for another. Shredded chicken, shredded beef, and shredded pork can all be interchanged.
Turkey breasts → chicken breasts – with grocery stores focused on bringing in essential, more often-used groceries, turkey breasts can be hard to come by! Simply sub them for chicken breasts or thighs.
Veggie Swaps
Leafy greens – You can substitute almost any leafy green for another, or use frozen instead of fresh. Examples include collard greens for kale, kale for spinach, and spinach for swiss chard.
Fresh Herbs – for any fresh herb, just substitute 1/3 the amount of dried herbs in its place, for example, one tablespoon of fresh parsley can be easily replaced with one teaspoon of dried.
Winter squash – you can substitute butternut squash or kabocha squash for acorn squash and vice versa! Sweet potatoes will often work as a good swap here, too.
Spaghetti Squash

– Spaghetti squash can easily be subbed for noodles, or even zucchini or other veggie noodles.

Roasted Veggies – you can easily swap in any veggie for the one the recipe calls for. For example, if a week calls for roasted broccoli, just put cauliflower, brussels sprouts, green beans, or carrots in its place. Don't forget that frozen veggies can be used here, too!
Stir Fry Veggies – Just as with roasted veggies, you can easily substitute any veggie for another here. Your best bets are bell peppers, broccoli, cauliflower, snow peas, and carrots.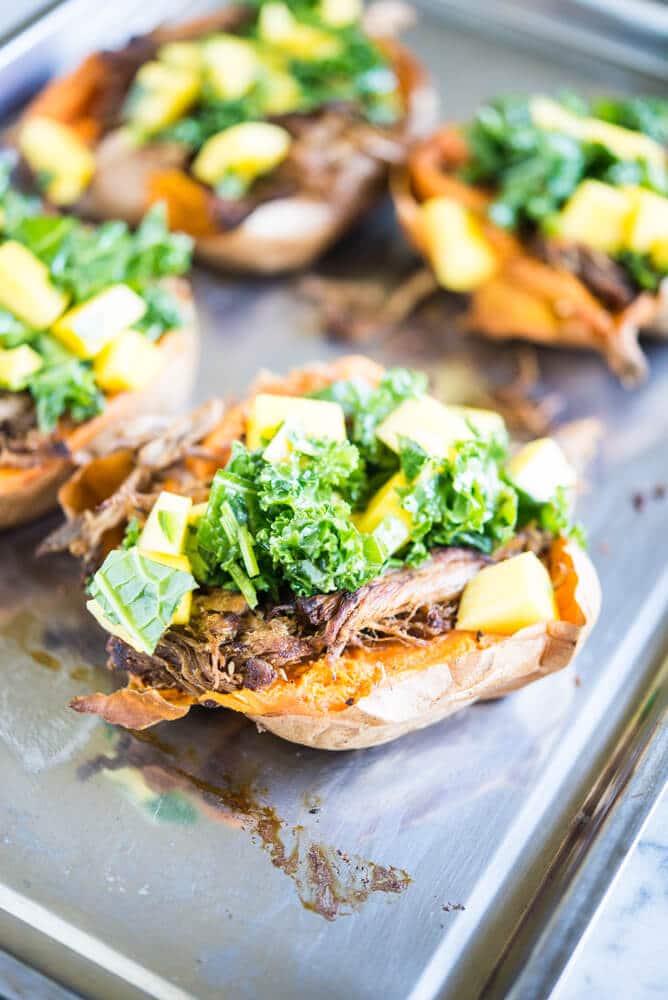 Dairy Swaps
Heavy cream – You can substitute heavy cream with an equal amount of full-fat coconut cream.
Whole milk – Whole milk can be substituted with any non-dairy milk.
Cheese – most of the cheeses are interchangeable, so if the recipe calls for mozzarella but you only have cheddar, go for it! You can also follow the dairy-free swaps to see what recipes you can easily leave the cheese off of.
Parmesean/grated hard cheese – Nutritional yeast provides a cheesy flavor, so it is great used as a topping or in sauces, and it keeps well in the pantry.
Butter – In most cases, you can swap butter for ghee, avocado oil, or olive oil.
Sour cream – You can easily swap sour cream for plain Greek yogurt, cream from canned full-fat coconut milk.
Starchy Swaps
White rice – white rice can be swapped for brown rice or quinoa.
Potatoes – Sweet potatoes and white potatoes can often be interchanged. Also, if there's a recipe that calls for a stuffed potato, think through how you can use the filling – for example, making a sandwich or serving it over rice.
Riced cauliflower – riced cauliflower can be swapped for riced broccoli, or white rice or brown rice.
Gluten-free pasta – if you don't have any pasta on hand, swap it for spaghetti squash or veggie noodles.
Corn tortillas – if you're out of corn tortillas, you can use whatever tortillas you have on hand! No tortillas at all? Tacos can be served in lettuce cups, or eaten over rice or greens bowl-style.
Polenta – If you don't have polenta on hand, simply sub it for mashed potatoes or mashed cauliflower.
Potatoes – Sweet potatoes and white potatoes can often be interchanged. Also, if there's a recipe that calls for a stuffed potato, think through how you can use the filling – for example, making a sandwich or serving it over rice.
Arrowroot starch – if you don't have arrowroot starch on hand, it can be subbed 1-for-1 for cornstarch, tapioca starch, or potato starch.
Liquid Swaps
Chicken broth – You can substitute any type of broth in place of chicken broth, or even use water. If you use water in place of broth for a soup, just make sure you add a bit of extra salt and spices, and cook the soup a little longer to let the flavor infuse.
Wine – wine can be subbed for beef or chicken broth, or you can use 1-2 tablespoons balsamic vinegar in its place.
Done-For-You Swaps
In addition to the universal substitutions above, we've also taken 5 of your favorite weeks of Cook Once and written out pantry-friendly swaps for them!
We hope that this guide helps make dinner easier for you throughout the coming weeks!