This Elderflower Grapefruit Mimosa puts a fun spin on the traditional orange juice mimosa!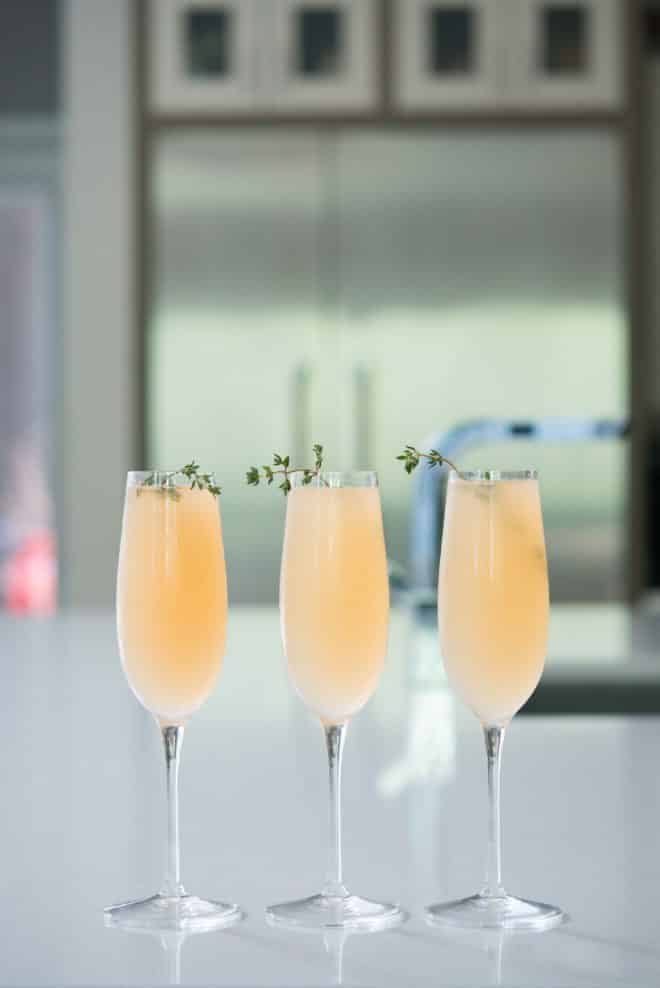 "I remember my mother's prayers and they have always followed me. They have clung to me all my life."
– Abraham Lincoln 
Looking back on my childhood, I see now that Mother's Day was GREAT training for being an adult daughter. Mother's Day gave me a moment to pause, do something nice for my Mom, and thank her for (what little I understood to be) her sacrifices.
As the oldest of three girls, I'd rally my sisters out of bed early so we could surprise mom Mom with some celebratory Mother's Day pancakes. We'd pick some flowers from the backyard and decorate the kitchen table with all the cute plates and cups we could find. We'd take our turns thanking her for "being our Mom" and then dig into the half-burnt, half under-cooked pancakes.
The years between now and then have not only drastically improved my kitchen skills (most of which, she taught me) but also my ability to recognize this most amazing woman.
Now an adult, I try to keep the meaning behind Mother's Day in mind each and every day. I cook for her often, seek her wisdom, lean on her friendship, and thank her as often as possible. She, like all you Moms reading this right now, is a remarkable woman and it's my job to remind her (you) that it doesn't go unnoticed.
This year, we're celebrating with this Elderflower Grapefruit Mimosa! I made them on the San Antonio Living (a local NBC morning show) this past week and they were a HIT!
You can watch the clip here.
The elderflower flavor comes from a floral-infused liquor called St. Germain. It comes in the most beautiful bottle and really adds a fun spin to the brunch time cocktail classic! To make this Elderflower Grapefruit Mimosa, add a splash of St. Germain, glug of grapefruit juice, several more glugs of prosecco or another sparkling wine, and then garnish with a fresh sprig of thyme.  If you're looking for a fun Mother's Day inspired meal to pair this drink with, you might love our Quiche Lorraine which is so lovely!
Happy Mother's Day, you lovely ladies.
xo,
Cassy Joy
Elderflower Grapefruit Mimosa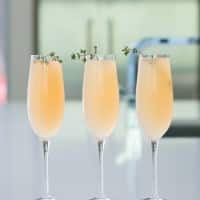 This Elderflower Grapefruit Mimosa puts a fun spin on the traditional orange juice mimosa!
Ingredients
1

cup

fresh grapefruit juice

3

ounces

St. Germaine

1

bottle prosecco or champagne

chilled

6

sprigs fresh thyme

for garnish
Instructions
Pour an even amount of grapefruit juice, about 3 tablespoons, into 6 different champagne flutes. Add ½ ounce of St. Germain, about 1 tablespoon, to each flute and then top with the chilled prosecco.

Garnish with a sprig of fresh thyme and enjoy right away.
Nutrition
Calories:
124
kcal
|
Carbohydrates:
11
g
|
Protein:
0.4
g
|
Fat:
0.1
g
|
Saturated Fat:
0.02
g
|
Polyunsaturated Fat:
0.02
g
|
Monounsaturated Fat:
0.003
g
|
Sodium:
11
mg
|
Potassium:
184
mg
|
Fiber:
0.2
g
|
Sugar:
10
g
|
Vitamin A:
50
IU
|
Vitamin C:
12
mg
|
Calcium:
19
mg
|
Iron:
1
mg