Quiche Lorraine
jump to recipe
This classic Paleo Quiche Lorraine sits on a flaky gluten-free crust and is filled with a thick-cut bacon, shredded gouda, shallots, and fluffy eggs.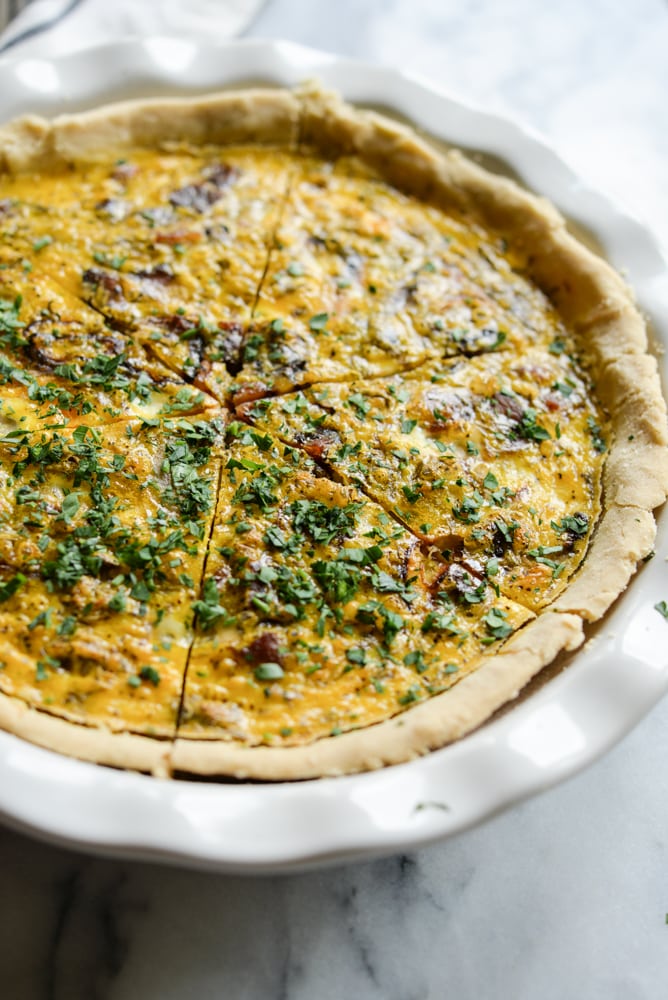 This weekend is Mother's Day and, though it's my first as a mother, it feels so much more special to me because I see MY MOM in a whole new light. Goodness, she really-REALLY loves me. REALLY! My sister-in-law Sherin told me that after having babies, she realized how much her mother loves her and …the same has hit me. The unconditional love I feel for my little girl feels endless. So, when I think about my relationship with my own mom, I can see that same endless love she has for me. It puts Mother's Day in a whole new light and makes me want to hug her even tighter.
I was first introduced to Quiche Lorraine by my Mom. I can't remember the place, but I vividly remember her explaining Quiche Lorraine to me. "It's like a bacon and egg pie with a yummy crust and CHEESE!" I was sold and then spent my life lovingly associating my Mom with Quiche Lorraine. This lovely breakfast will always remind me of her.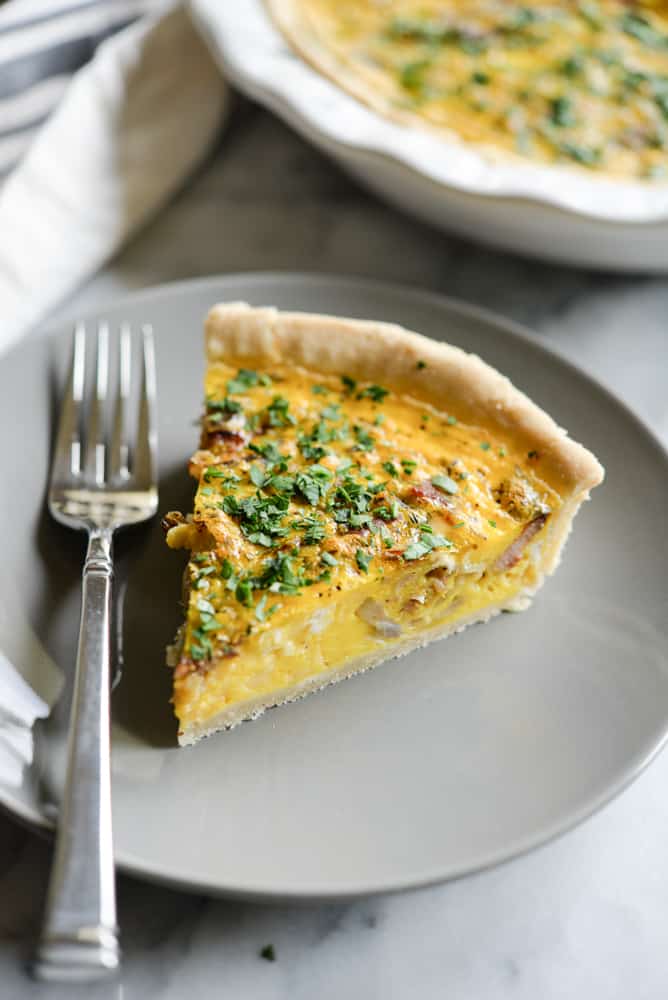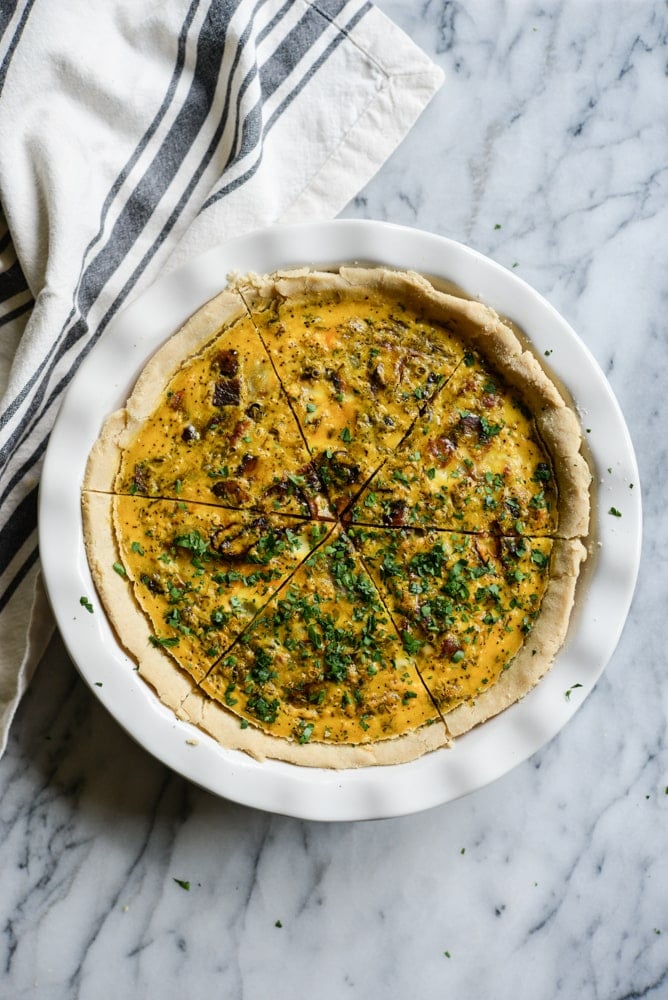 SO, I'm thrilled to share this Paleo Quiche Lorraine with you here! We're using a flaky pie crust – homemade OR from the freezer, your call! We start off with a really nice thick-cut bacon. Crisp it in a pan, remove, and then add thinly-sliced shallots are thinly sliced. Once the shallots are fragrant and smelling delicious, pour them into the crust with the bacon. NEXT is the real trick: sprinkle (if you dare) shredded gouda over the bottom of the crust. Adding the fillings in the bottom of the pie crust ensures that each slice will have an equal amount of tasty goodness (cheese + bacon + shallots). Pour in the whisked eggs, sprinkle with thyme, and bake until done!
To serve, garnish with some fresh parsley and enjoy.
Cheers to you lovely mammas out there. I think you're just amazing.
xo, Cassy Joy
Print
Quiche Lorraine
Author:
Prep Time:

20 minutes

Cook Time:

35 minutes

Total Time:

55 minutes

Yield:

6
Ingredients
6 ounce

s bacon, cooked and crumbled

2

shallots, thinly sliced

1 teaspoon

butter

1/2 cup

shredded gouda cheese (optional)

8

eggs, whisked

1 tablespoon

heavy cream (sub full-fat coconut milk for dairy free)

1/4 teaspoon

sea salt

1/4 teaspoon

dried thyme

1/2 teaspoon

pepper
Instructions
Preheat the oven to 350 F.
Add butter to a small saucepan over medium heat. Add the sliced shallots. Cook for 5-6 minutes, until slightly browned.
In a medium bowl, whisk the eggs, cream, salt, pepper, and thyme.
Place the crust in a pie dish, then add the cheese, bacon, and shallots. Pour the egg mixture over top.
Bake for 30-35 minutes until fully set. It should no longer jiggle in the middle.
Let sit for 5-10 minutes, then slice and serve!