This classic Gluten-Free Quiche Lorraine sits on a flaky gluten-free crust and is filled with a thick-cut bacon, shredded gouda, shallots, and fluffy eggs.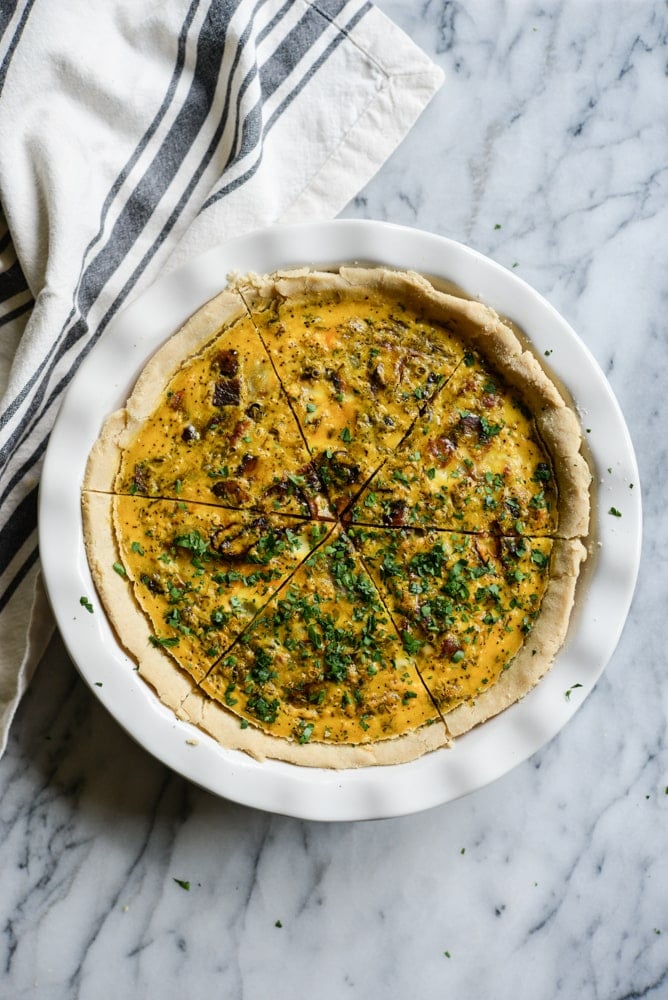 This weekend is Mother's Day and, though it's my first as a mother, it feels so much more special to me because I see MY MOM in a whole new light. Goodness, she really-REALLY loves me. REALLY! My sister-in-law, Sherin, told me that after having babies, she realized how much her mother loves her and …the same has hit me. The unconditional love I feel for my little girl feels endless. So, when I think about my relationship with my own mom, I can see that same endless love she has for me. It puts Mother's Day in a whole new light and makes me want to hug her even tighter.
I was first introduced to Quiche Lorraine by my Mom. I can't remember the place, but I vividly remember her explaining Quiche Lorraine to me. "It's like a bacon and egg pie with a yummy crust and CHEESE!" I was sold and then spent my life lovingly associating my Mom with Quiche Lorraine. This lovely breakfast will always remind me of her. SO, I'm thrilled to share this Paleo Quiche Lorraine with you here!
What is Quiche Lorraine?
First off, what is a Quiche Lorraine?! A quiche, in general, is a French tart filled with an egg and milk (or heavy cream) custardy base, veggies, cheese, and meat. Quiche didn't originate in France though, it was actually first enjoyed in Germany, but is now a staple in French cuisine! The quiche variation known as Quiche Lorraine, however, did originate in France, and is simply put, a quiche with lardons (or bacon) and cheese!
What is the difference between quiche, frittata, and breakfast casserole?
Though similar egg-based breakfasts, breakfast casseroles, frittatas, and quiche are not the same thing. Here's the run-down on all three:
Breakfast Casserole – made up of eggs and veggies (plus any flavor-boosters you choose to add), a breakfast casserole is typically crustless (sometimes you'll see the use of a potato crust like in our Easy Paleo Breakfast Casserole) and baked in the oven. A breakfast casserole may or may not contain milk or cream to make the filling a little creamier, but it isn't quite a custard like you would find in quiche.
Frittata – also crustless and made up of eggs, veggies, and flavor-boosters, a frittata is first cooked in a skillet on the stovetop (until the eggs are just set on the bottom) and is then finished off in that same skillet in the oven. A frittata does not typically contain any additional milk or cream – just eggs!
Quiche – typically made in a buttery pie crust, quiche is filled with veggies and an egg + milk (or cream) mixture to form a custard. Quiche is also cooked in the oven but takes a bit longer to cook because of the custard filling.
If you're looking for a richer breakfast, we recommend going with a quiche. If you're looking for an everyday egg breakfast, we recommend going with a casserole or frittata. All three save and reheat beautifully!
Does quiche contain gluten?
Yes, quiche contains gluten, but only in the crust! It is very easy to make quiche gluten-free by using a gluten-free crust.
Gluten-Free Quiche Lorraine Ingredients
Quiche Lorraine is the perfect addition (or main event!) to your brunch spread. Here's what you'll need to grab from the store to make it:
Pie Crust – we're using a flaky pie crust – homemade OR from the freezer, your call! If you're going homemade, homemade gluten-free pie crust is our favorite.

Bacon – salty bacon adds great texture and flavor!

Shallots – thinly-sliced shallots add a rich flavor to the mix – be sure to saute them first!

Butter – you'll use about a teaspoon of butter to saute the thinly-sliced shallots.

Shredded Gouda Cheese – DROOLING! Though the cheese is optional, this shredded gouda takes our Quiche Lorraine to the next level.

Eggs – 6 eggs, and…

Heavy Cream – …1/4 cup heavy cream get whisked together to form a custardy quiche base.

Dried Thyme, Salt, and Pepper – simple seasonings are all we need here (thanks to the flavors from the gouda, bacon, and shallots!)

Fresh Parsley (optional) – fresh parsley makes for a really pretty (and yummy!) garnish, but is totally optional!
What is the best cheese to use in quiche?
Here we chose to use gouda cheese because it has a lovely mild flavor and is super creamy, but you could really use any cheese you like! Gruyere is the most traditional cheese to use in quiche and has a wonderful nutty flavor. Swiss cheese, cheddar cheese, and jack cheese are also great options, or you could even use crumbled goat cheese or feta!
What can I substitute for milk in quiche?
We chose to use heavy cream for this quiche, but you can also use an equal amount of milk, half-and-half, or coconut milk or almond milk for a dairy-free option!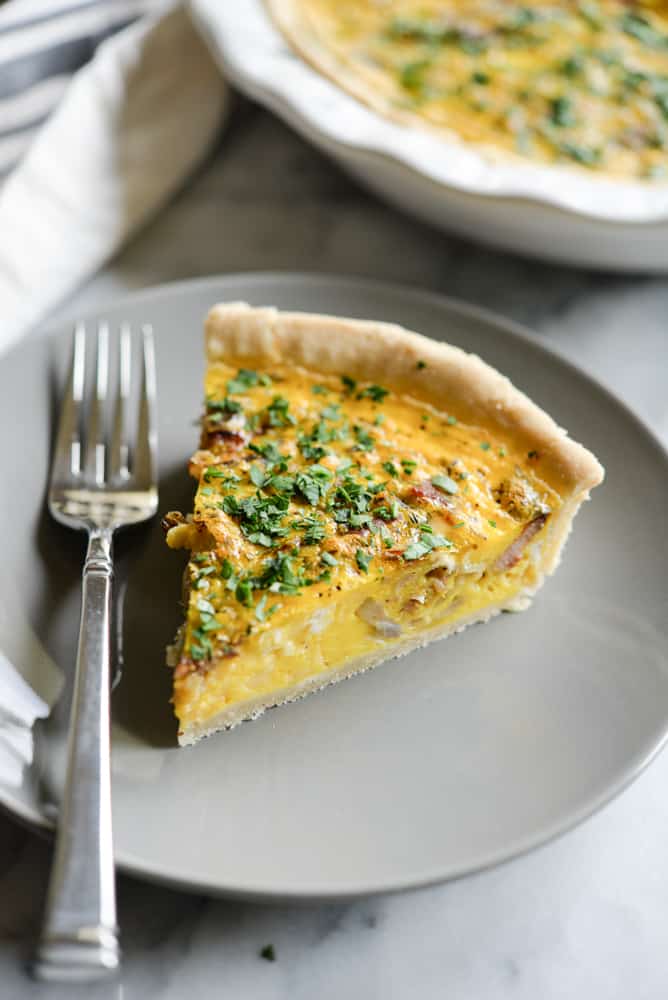 How to Make the Best Quiche
Add the gouda to the pie crust. This the real trick: sprinkle (if you dare) shredded gouda over the bottom of the crust. Adding the fillings in the bottom of the pie crust ensures that each slice will have an equal amount of tasty goodness, and it also helps to keep the crust from getting soggy.

Crisp the bacon. Crisp your nice thick-cut bacon in a pan, and add it to the cheesy-bottomed pie crust.

Thinly slice the shallots. While the bacon is crisping, thinly-slice the shallots. Once the bacon is finished, add the sliced shallots to the pan. Once the shallots are fragrant and smelling delicious, pour them into the crust with the bacon + gouda.

Pour in the egg mixture. Whisk the eggs, salt, pepper, and thyme, and pour them over top!

Bake. Bake the quiche at 350°F for 30-35 minutes, or until it no longer jiggles in the middle.

Let cool, slice, and serve! Let the quiche sit for 5-10 minutes, garnish with fresh parsley if desired, then slice and enjoy!
The Best Pie Crust for Gluten-Free Quiche
For me, pie crust is definitely the most intimidating part of quiche, but we've got 3 options below so you can find the perfect crust for you!
Option 1: Homemade Gluten-Free Pie Crust
Though store-bought pie crust is absolutely acceptable, if you want to go the extra mile (and it's worth it, I promise!), this pie crust is superb and can be made completely Paleo-friendly OR gluten and nut-free. Both options are delicious!
Option 2: Gluten-Free Ready-Made Pie Crust
The easiest option here is to use a store-bought gluten-free pie crust. You will typically find these crusts in the frozen food aisle of your local grocer – not by the classic Pillsbury crusts! Here are a few recommended options:
Wholly Wholesome – These crusts are what I've seen most widely available, and in addition to being gluten-free they are also dairy-free and vegan-friendly!
Whole Foods Bakehouse – Whole Foods carries their own line of gluten-free baked goods in the freezer aisle, including pie crusts! These are my go-to when the holidays roll around.
Kinnikinnick Gluten-Free Pie Crust – We love Kinnikinnick's product line and these pie crusts look incredible! These can also be found on the freezer aisle.
Option 3: Alternative Crust
If you want to skip the traditional pie crust altogether, here are a few more options for you!
Thinly Sliced Potato Crust – Thinly slice potatoes or sweet potatoes, then lay them on the bottom of your pie plate, brush with oil, and bake for about 20 minutes before filling with your quiche.
Hash Browns or Shredded Zucchini – Frozen, defrosted hash browns or shredded zucchini also make for a great crust option. You won't need to bake these before filling with the quiche.
Option 4: Make a Crustless Quiche
Finally, you can also make a crustless quiche! Simply omit the pie crust, grease the dish you are using with butter so that the quiche will come out of the pan easily, and bake according to instructions. Even without the crust, your quiche will still taste incredible.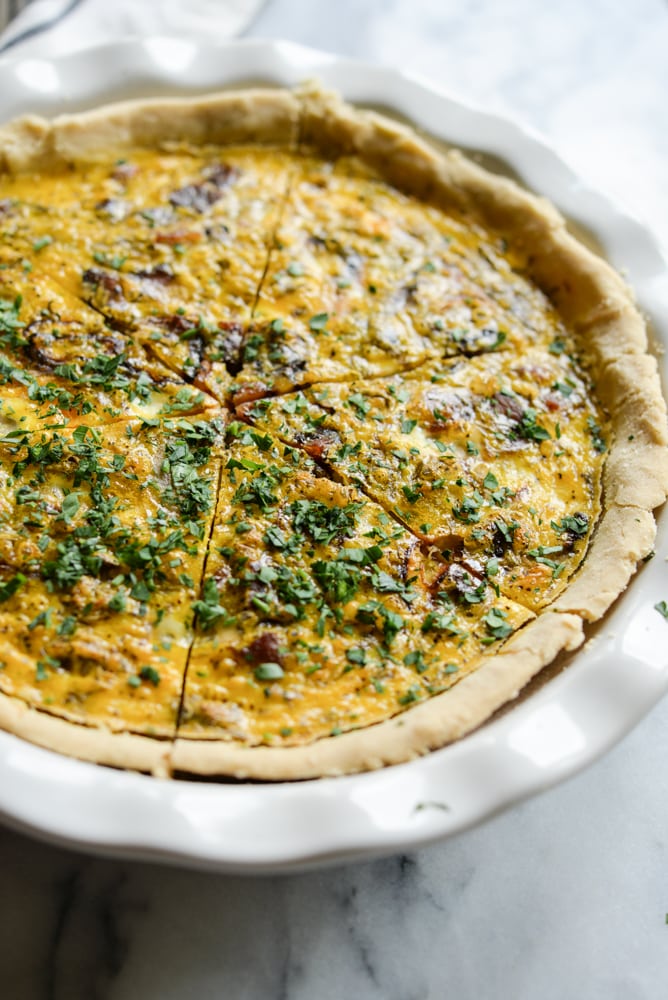 Customize Your Gluten-Free Quiche
While we've stuck to classic quiche lorraine ingredients for this recipe, you can really make it your own with add-ins! Here are some ideas:
Veggies – If you don't have shallots on hand, you can use diced onions instead! Other veggies perfect for quiche include leafy greens like spinach and kale, thinly sliced mushrooms, zucchini, asparagus, and even corn and broccoli.
Proteins – In addition to bacon, sausage, ham, prosciutto, and shredded meats like chicken or pork all work great here.
Other Cheeses – While we are partial to gouda, gruyere is a classic for perfect cheese quiche, and swiss, cheddar, and jack all work well too!
To make this quiche dairy-free, simply omit the cheese, sub full-fat canned coconut milk for the cream, and saute the shallots in the dairy-free fat of your choice instead of butter!
What to Serve with Quiche Lorraine
That depends on the size of the crowd and how big of a brunch spread you're going for! We LOVE this gluten-free quiche alongside a sweet brunch option (think: cinnamon roll coffee cake, cinnamon french toast bake, or homemade blueberry scones) and a nice fresh green salad (think: this Spring salad or a simple arugula salad). A carafe of grapefruit mimosas, pitcher of sparking rose sangria or lemon ginger punch finishes off the meal beautifully!
Can you make quiche ahead of time?
You sure can! There are two ways to go about making your quiche ahead of time. The first is simply following the steps exactly, allowing your finished quiche to cool, wrapping it in saran wrap or foil (once completely cooled – this is important to keep the steam from creating condensation on the top of your quiche!), and storing it in the fridge. When you're ready to serve it, set the quiche (unwrapped) on the counter to get to room temperature, then slice and serve!
Alternatively, you can prepare all of your ingredients – make the pie crust if you're choosing to go the homemade route, crisp and crumble the bacon, and saute the shallots – for a quick assemble and bake the day-of!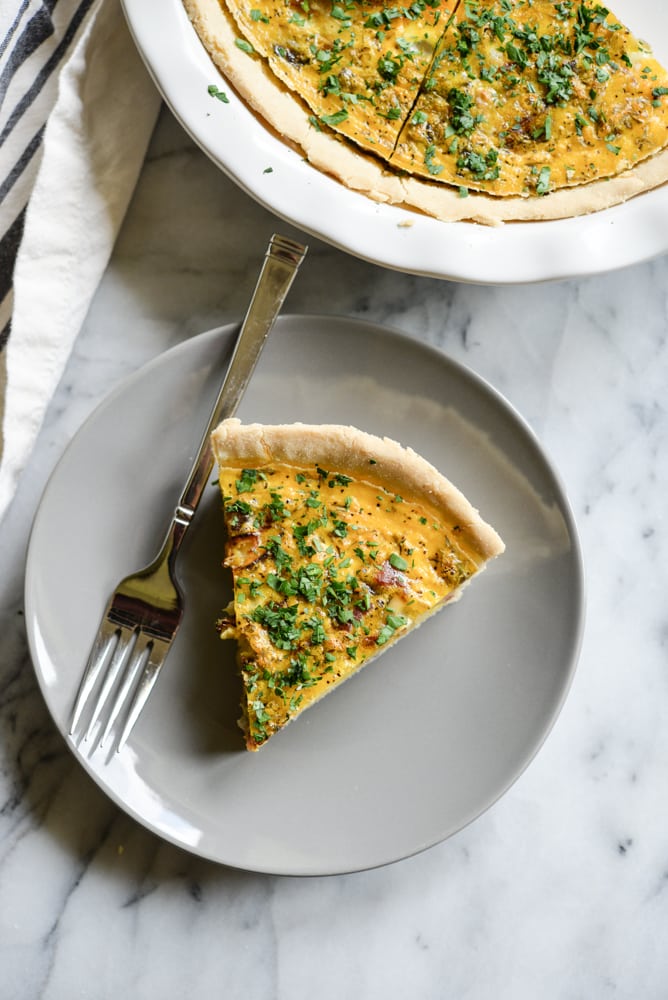 How to Store Quiche Lorraine
Quiche Lorraine can either be stored whole (in the same pie pan it was baked in, with saran wrap tightly overtop) or sliced (wrap each slice of quiche in parchment paper and store them in a gallon Ziploc bag) in the refrigerator. To reheat, simply put the quiche into a preheated 350°F oven until warmed through.
Can you freeze quiche?
Quiche also freezes really well! If wrapped tightly (either the entire quiche OR individual portions), your quiche will last 2-3 months in the freezer. When you're ready to reheat, pop the frozen quiche into a preheated 350°F oven! Do not thaw your quiche before putting it in the oven, as this can cause your crust to get soggy!
Cheers to you lovely mamas out there…I think you're amazing! I hope this Gluten Free Quiche Lorraine makes an appearance at your Mother's Day brunch (that was, of course, lovingly prepared by someone other than you!)
Gluten-Free Quiche Lorraine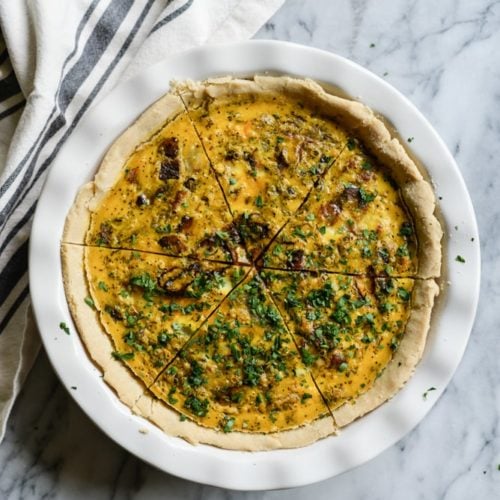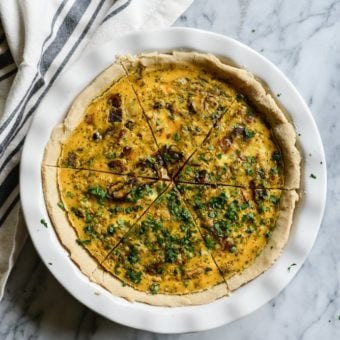 This gluten-free quiche lorraine has a rich filling with eggs, cream, gouda, and bacon, and sits in a perfectly-flaky pie crust!
Ingredients
6

ounces

bacon

cooked and crumbled

2

shallots

thinly sliced

1

teaspoon

butter or olive oil

1/2

cup

shredded gouda cheese

optional – omit for dairy-free

6

eggs

whisked

1/4

cup

heavy cream

sub full-fat coconut milk for dairy free

1/4

teaspoon

sea salt

1/4

teaspoon

dried thyme

1/2

teaspoon

pepper
Instructions
Preheat the oven to 350 F.

Add butter to a small saucepan over medium heat. Add the sliced shallots. Cook for 5-6 minutes, until slightly browned.

In a medium bowl, whisk the eggs, cream, salt, pepper, and thyme.

Place the crust in a pie dish, then add the cheese, bacon, and shallots. Pour the egg mixture over top.

Bake for 30-35 minutes until fully set. It should no longer jiggle in the middle.

Let sit for 5-10 minutes, then slice and serve!
Nutrition
Calories:
450
kcal
|
Carbohydrates:
19
g
|
Protein:
17
g
|
Fat:
34
g
|
Saturated Fat:
14
g
|
Polyunsaturated Fat:
4
g
|
Monounsaturated Fat:
13
g
|
Trans Fat:
0.1
g
|
Cholesterol:
218
mg
|
Sodium:
654
mg
|
Potassium:
213
mg
|
Fiber:
1
g
|
Sugar:
2
g
|
Vitamin A:
529
IU
|
Vitamin C:
1
mg
|
Calcium:
182
mg
|
Iron:
2
mg