Fresh, flavorful, and pitcher-friendly are the names of this Ginger Beet Margarita game! I'm also sharing all my tips and tricks for making the perfect healthier margarita.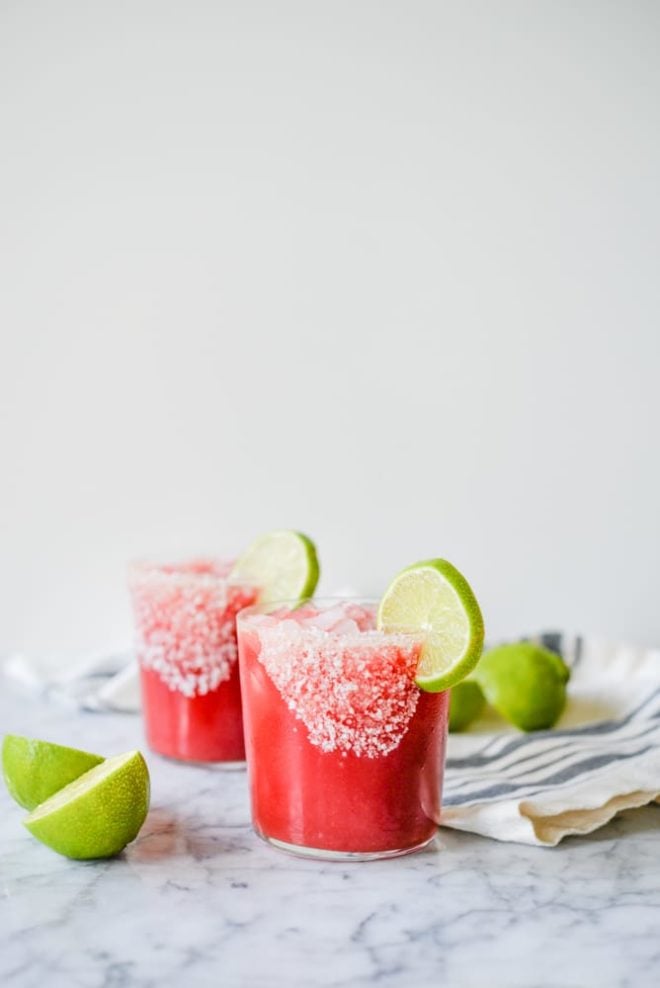 I have a couple margarita-related tricks up my sleeves and I can't wait to share them with you! These are tricks that I've collected from my years of margarita ordering at just about every Mexican restaurant I've encountered (as an adult) in Texas (my home) and beyond. Before I get to the tricks, let's talk about the margarita qualities that I've admired:
A salted glass that stays salted (as in, the salt doesn't flake and fall off once dried).
A margarita mix that ONLY includes fresh juices (no neon-colored "juice" from a bottle).
A margarita menu that offers fun flavors (again, that rely on REAL foods vs. artificial ones).
A margarita made with natural sweeteners vs. whatever is in that mystery bottled neon juice.
When I see a margarita that has fresh juices, natural sweeteners, fun flavors, and salt that stays on, I get SO excited. When Juli and I visited HG Supply Co. in Dallas earlier this year, we ordered the tastiest beet margarita that met all the above admirable criteria. This recipe is inspired by that tasty sip!
Now, let's get to the tricks. In my years of keeping diligent margarita notes, I've learned the following:
Salt: while kosher salt has a nice grain to it, celctic sea salt offers my favorite crunch.
To make the salt stay on the glass: use a mixture of honey + lime juice (vs. just water). The honey will help it stick and the lime both thins it and makes for a tangy flavor bonus!
Juice: use FRESH juice! No exceptions. Whether you break out the juicer, your lime squeezer, or make a special trip to the grocery store for FRESH pre-bottled juice (like the kind found in the produce section of Whole Foods), it will make an enormous difference in the flavor profile of your cocktail.
For fun flavors: see above! Fresh is always best.
To sweeten: my favorite margarita sweetener is actually honey! Though maple syrup (my runner-up) mixes easier than honey, honey is the best flavor for mixing with tequila. Give it a try!
To make ahead: make a big batch of your mix *without* ice and keep it chilled in your fridge so that you can easily pour over ice in salted glasses as you or your guests would like.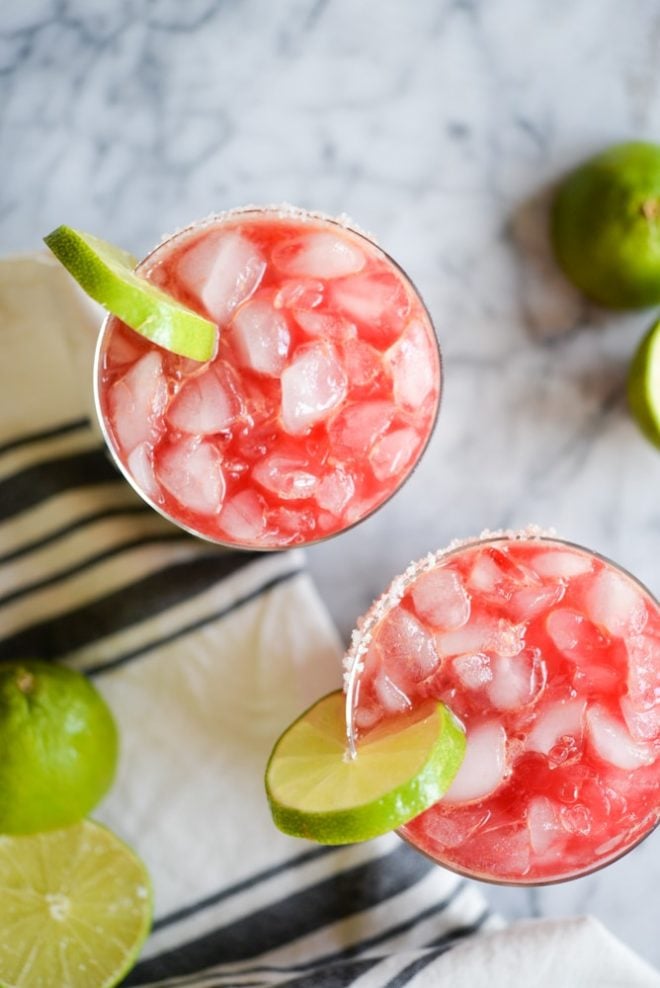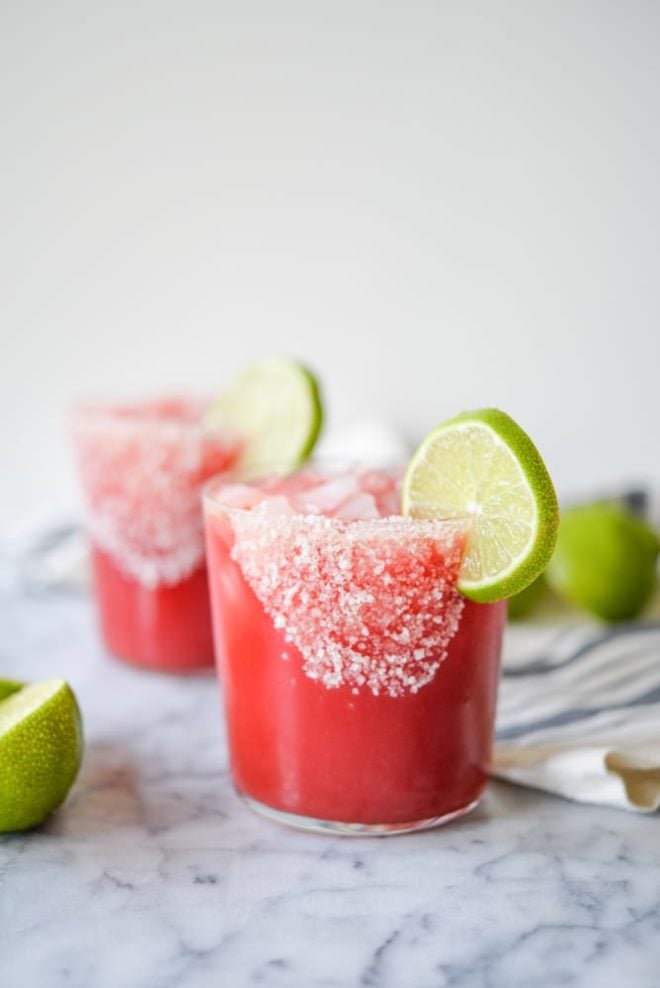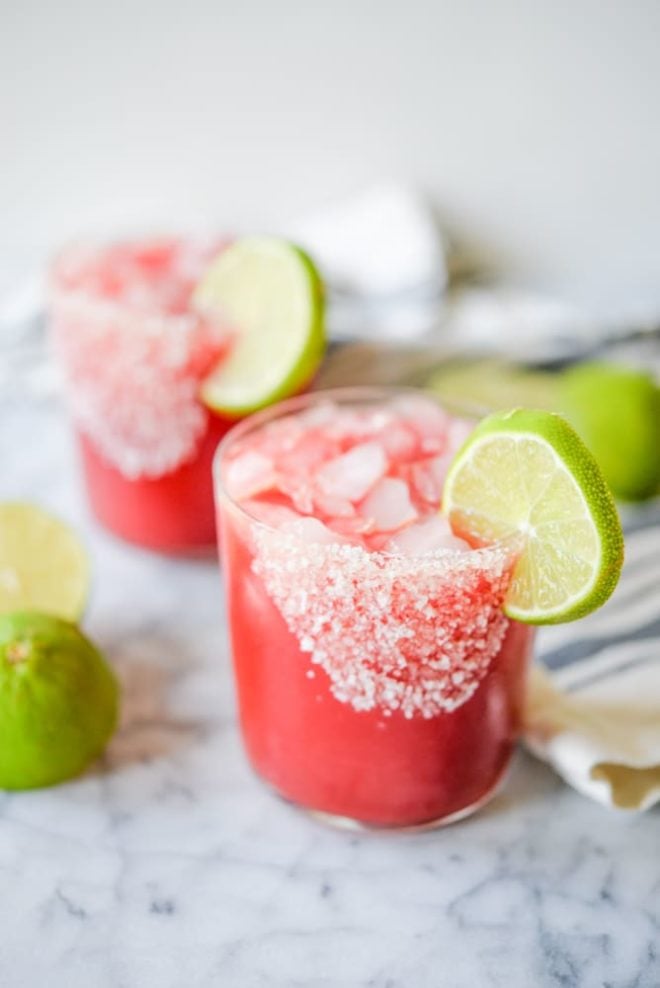 That's about it! For THIS Ginger Beet Margarita, my mix is simple. I whisked fresh lime juice (FRESH!!) with a fresh ginger/beet/orange juice (that I got from Whole Foods, but you can use homemade juice too). Once stirred with a little honey and a little tequila, you have yourself on DANG delicious margarita! I kept this pitcher in the refrigerator and, when ready to serve, poured it over glasses that I'd salted with my honey+lime trick that were filled with crushed ice.
Note: I'm nearing my 6th month of pregnancy, so obviously I omitted the tequila for my glass. It was STILL really, really tasty! I highly recommend the Ginger Beet Margarita as a fun mocktail for anyone avoiding booze.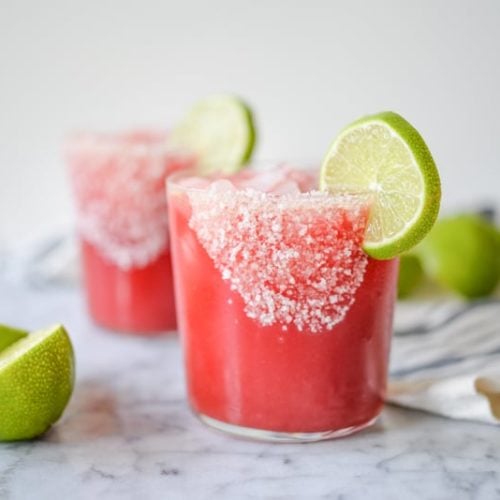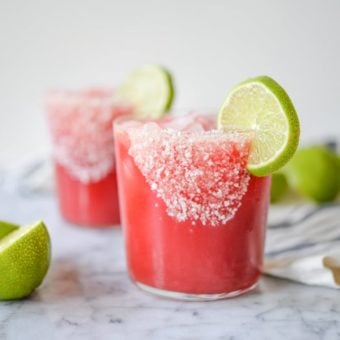 Fresh, flavorful, and pitcher-friendly are the names of this Ginger Beet Margarita game! I'm also sharing all my tips and tricks for making the perfect healthier margarita.
Ingredients
For the mix:
2

cups

fresh beet

ginger, orange juice (or a homemade mixture of all three)

3/4

cup

fresh lime juice

3/4

cup

silver tequila

2

tablespoons

honey
For the glasses:
2

tablespoons

honey

1 1/2

teaspoons

fresh lime juice

2

tablespoons

sea salt

crushed ice to fill each glass

1

lime

sliced for garnish
Instructions
Whisk the mix ingredients together in a large pitcher until the honey is dissolved.

To salt the glasses, stir the honey with the lime juice until even. Dip the side of each glass into the mixture and then press into the sea salt.

Fill the glasses with crushed ice, pour mix over, and garnish with a slice of lime. Enjoy!
Nutrition
Calories:
160
kcal
|
Carbohydrates:
24
g
|
Protein:
1
g
|
Fat:
0.2
g
|
Saturated Fat:
0.02
g
|
Polyunsaturated Fat:
0.05
g
|
Monounsaturated Fat:
0.03
g
|
Sodium:
2328
mg
|
Potassium:
222
mg
|
Fiber:
1
g
|
Sugar:
19
g
|
Vitamin A:
187
IU
|
Vitamin C:
54
mg
|
Calcium:
19
mg
|
Iron:
0.4
mg