Every item on this page was chosen by The Fed & Fit team. The site may earn a commission on some products (read more here).
With tender white fish, avocado, cilantro, and tomatillos, this fish ceviche recipe is packed with flavor! In this recipe, we'll walk you through how to make the perfect ceviche every time.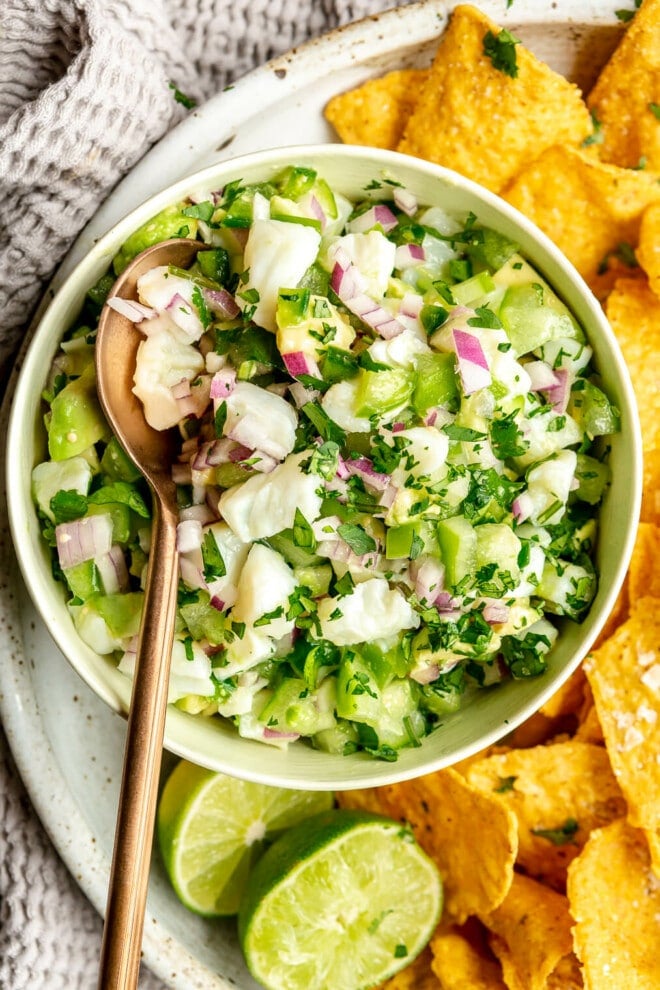 I've always loved a good ceviche. Growing up, my mom was known for her shrimp ceviche and always made it for parties and special occasions, and I always jumped at the chance to order it any time I found it on a menu.
However, it wasn't until a few years ago on a trip to Mexico that I really fell in love with it. On our week-long trip, we ate different varieties of fresh shrimp and fish ceviche every day, some in a spicy tomato broth and others filled with bright citrus juices and tropical fruit like mango and pineapple, and I came home wishing I could find it as easily here at home as I did in Mexico.
While ceviche sounds intimidating to make (it does involve raw seafood after all!), one of my favorite things about it is that it really is pretty simple to make! All you need is good-quality, fresh fish, a lot of fresh lime juice, veggies, cilantro, and avocado to make a delicious ceviche that's a perfect party appetizer on a warm summer day, or even makes for a great light dinner.
What is Fish Ceviche?
Ceviche is a fish recipe that is said to have originated in Peru over 2000 years ago. There are many regional variations of ceviche throughout Latin America, depending on what seafood, fruit, and vegetables are available there.
Regardless of variation, the base of every ceviche recipe is citrus-marinated seafood, with lime juice being the most commonly used. The lime juice denatures the proteins in the fish, causing it to become firm just as if it had been cooked with heat.
Once the fish has had time to cure in the lime juice, additional ingredients like tomatoes, onions, cilantro, and sometimes fruit like mango or pineapple is added to the ceviche.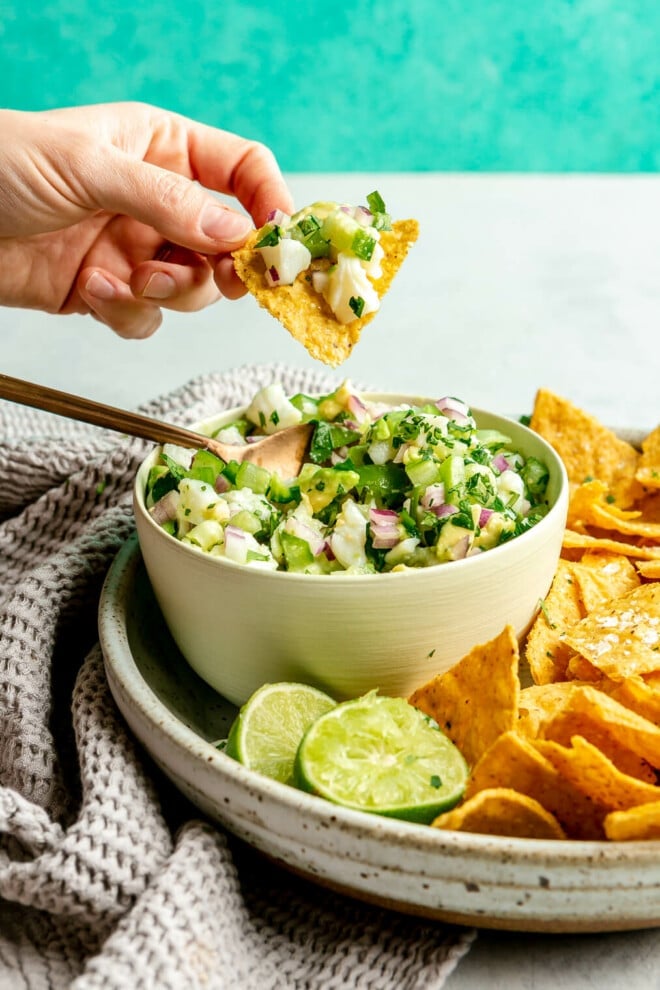 Is ceviche safe to eat?
At this point, you may be wondering whether it is safe to eat ceviche. Generally, ceviche is safe to consume. Remember that even though the fish looks cooked, the citric acid in lime juice can't kill as much bacteria as cooking with heat will. This doesn't mean you should avoid eating ceviche though! Instead, just like any time you eat raw fish, take care to make sure you are buying high-quality fresh (or wild-caught and immediately frozen) fish. If you're super worried about it, you can poach the fish for 1-2 minutes beforehand to cook it through, but keep in mind that it won't taste quite the same as traditional ceviche.
Fish Ceviche Ingredients
Our easy recipe is a bit of a spin on classic ceviche, using tomatillos instead of tomatoes. Here's what you need to make delicious ceviche verde: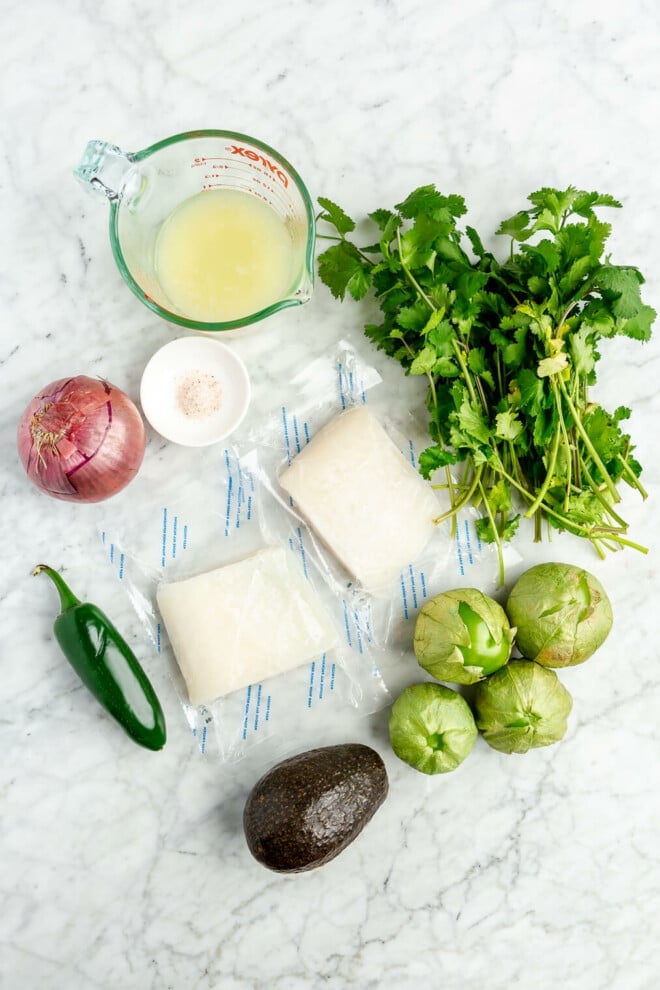 Fresh White Fish – for this recipe, you'll want to find fresh, flaky white fish. We used halibut, but redfish, mahi-mahi, snapper, trout, and cod are all great choices too.
Lime Juice – you'll need 1 cup of lime juice for your ceviche. We always opt for fresh (you can buy a bottle of fresh-squeezed lime juice at most grocery stores!) because it tastes *so* much better than bottled.
Red Onion – 1/2 of a red onion gets diced, as does…
Jalapeno – …1 jalapeno, and…
Avocado – …1 large avocado.
Tomatillos – we use tomatillos in place of tomatoes (found in traditional ceviche) because we find that tomatillos add a bit more tang and brightness to the recipe that we just love. 4 tomatillos get husked and chopped for this recipe.
Cilantro – give the cilantro a rough chop, and…
Sea Salt – …finish it all off with a good pinch of salt!
How to Make the Best Ceviche
Now that we've covered the basics, it's time to get to making your ceviche! Here's how to make it: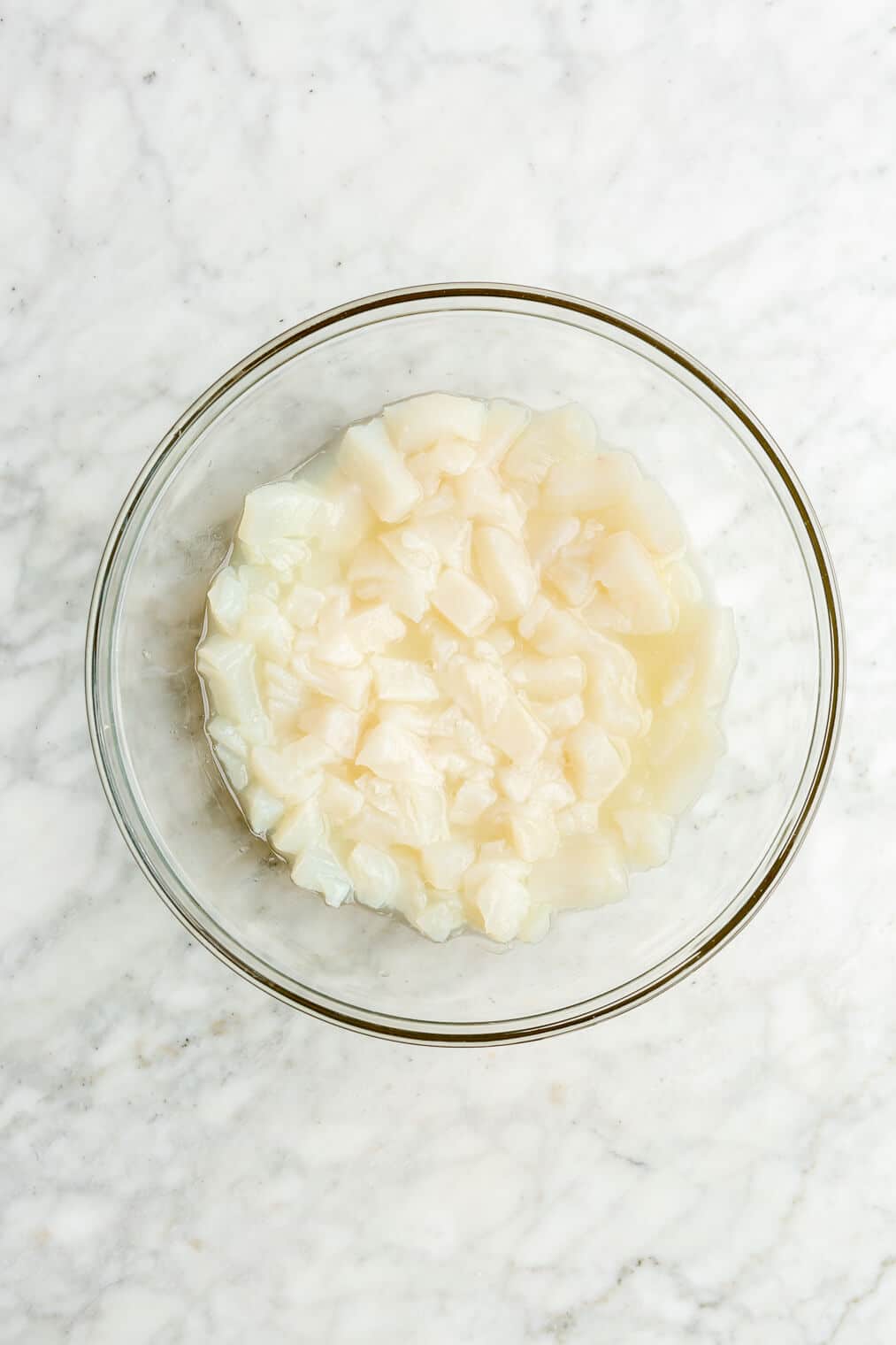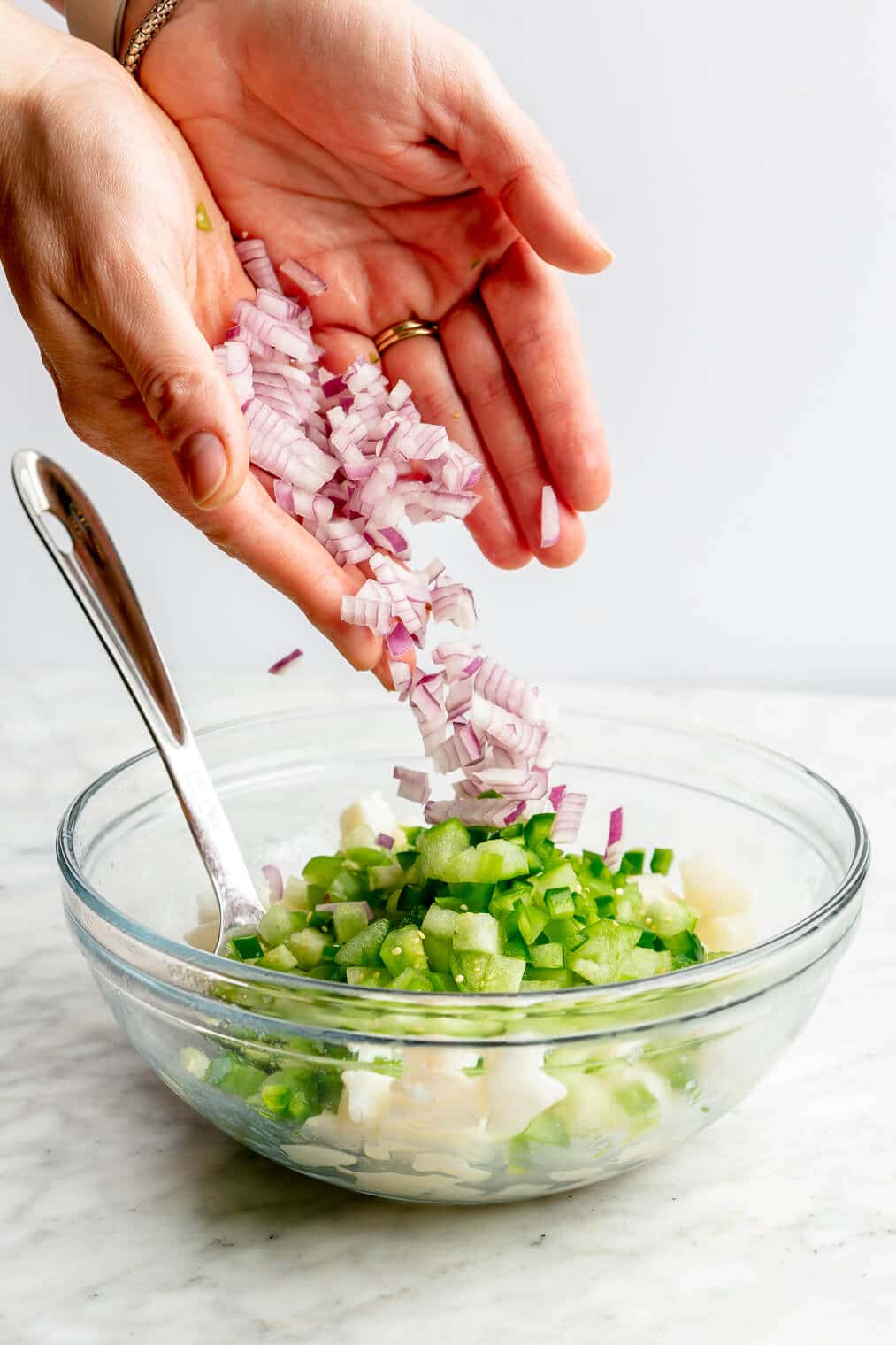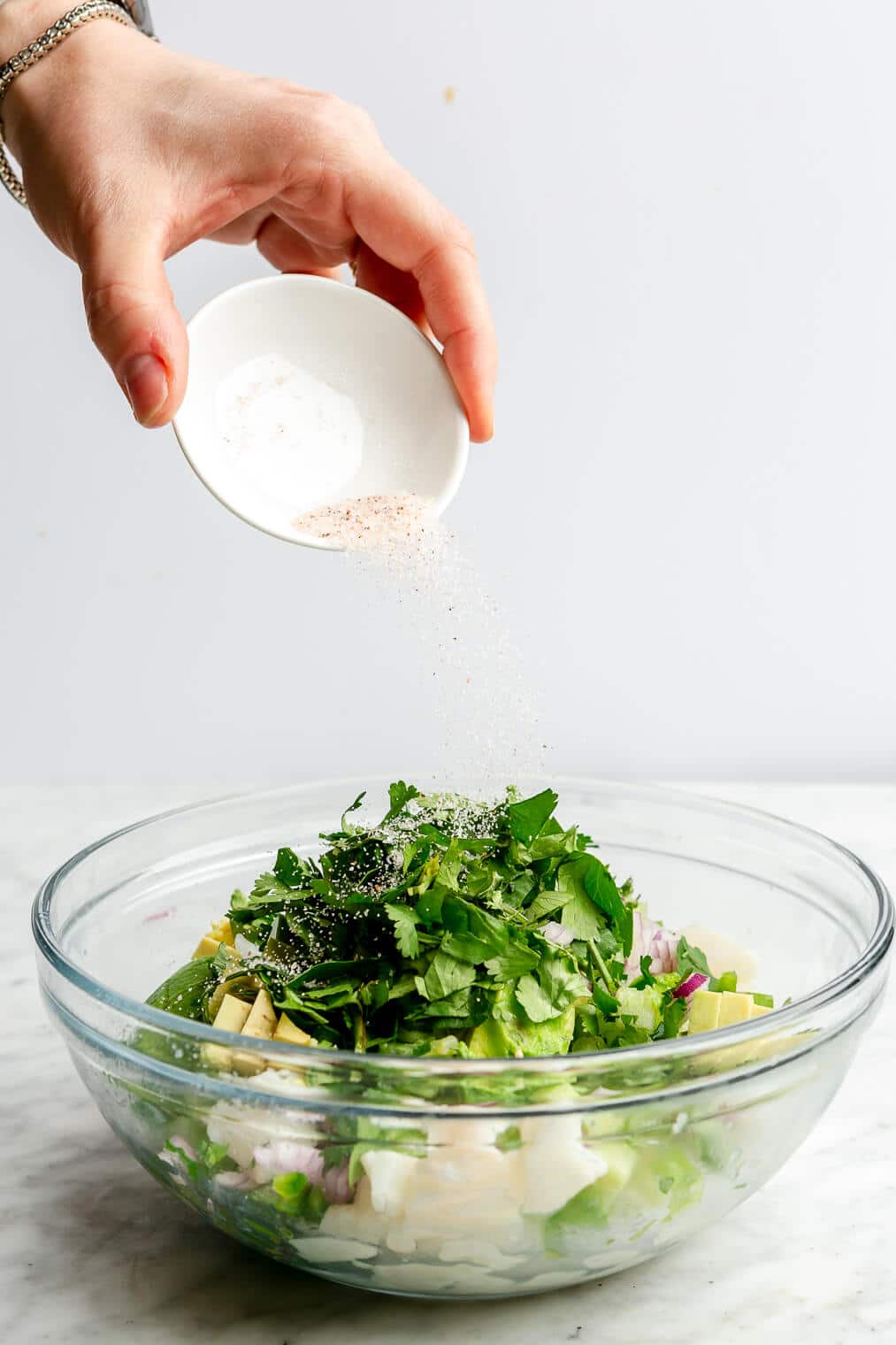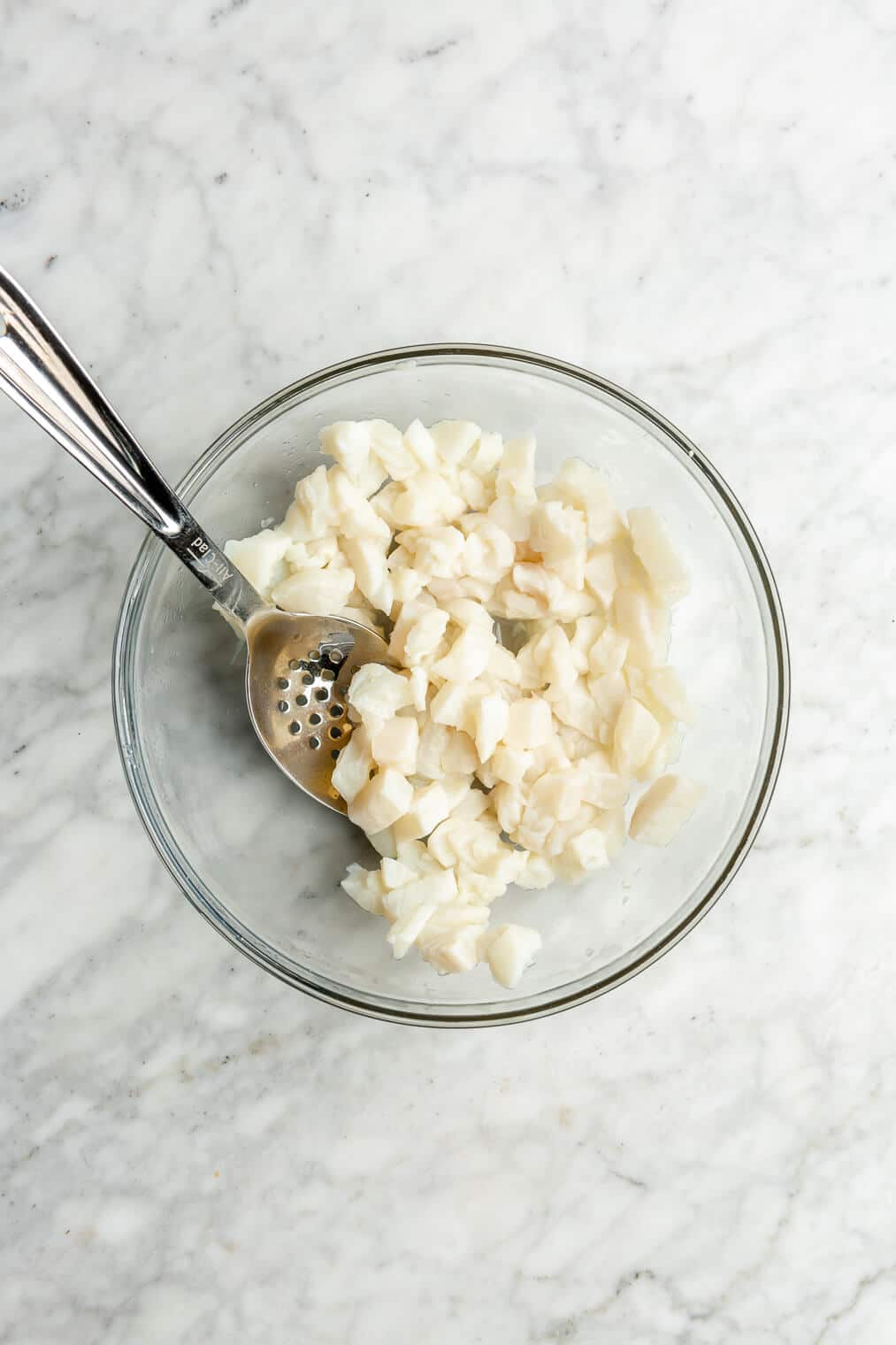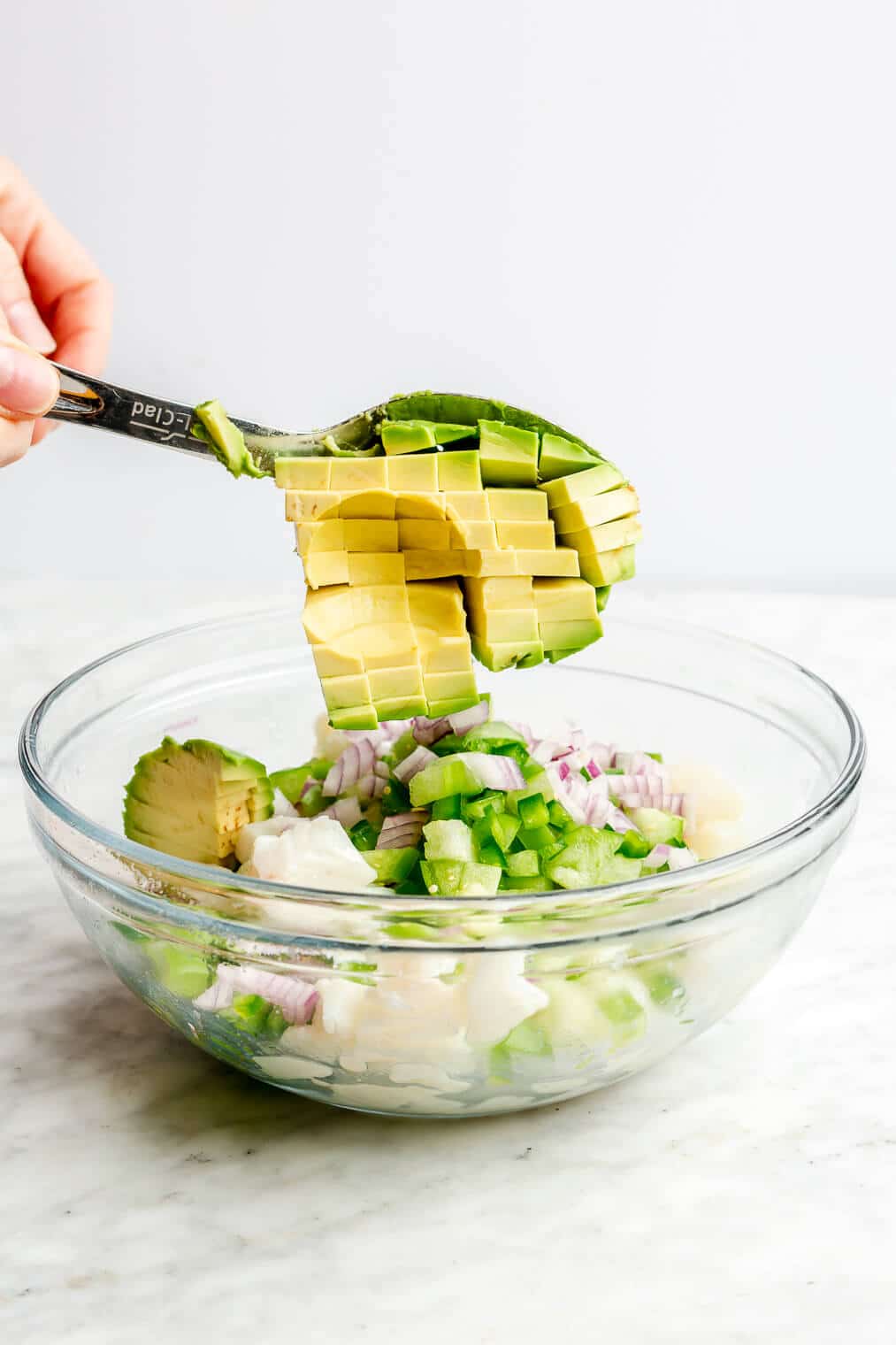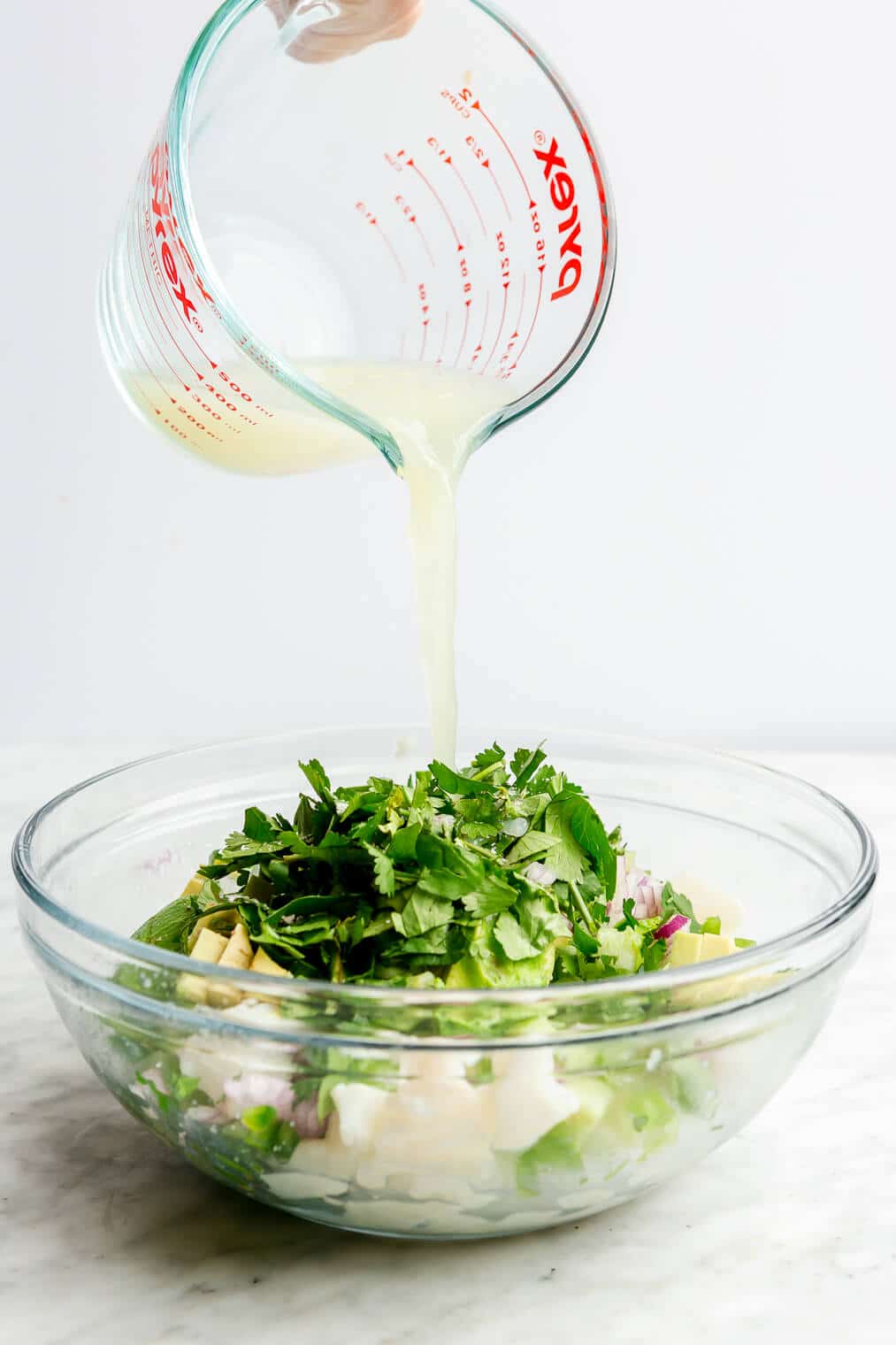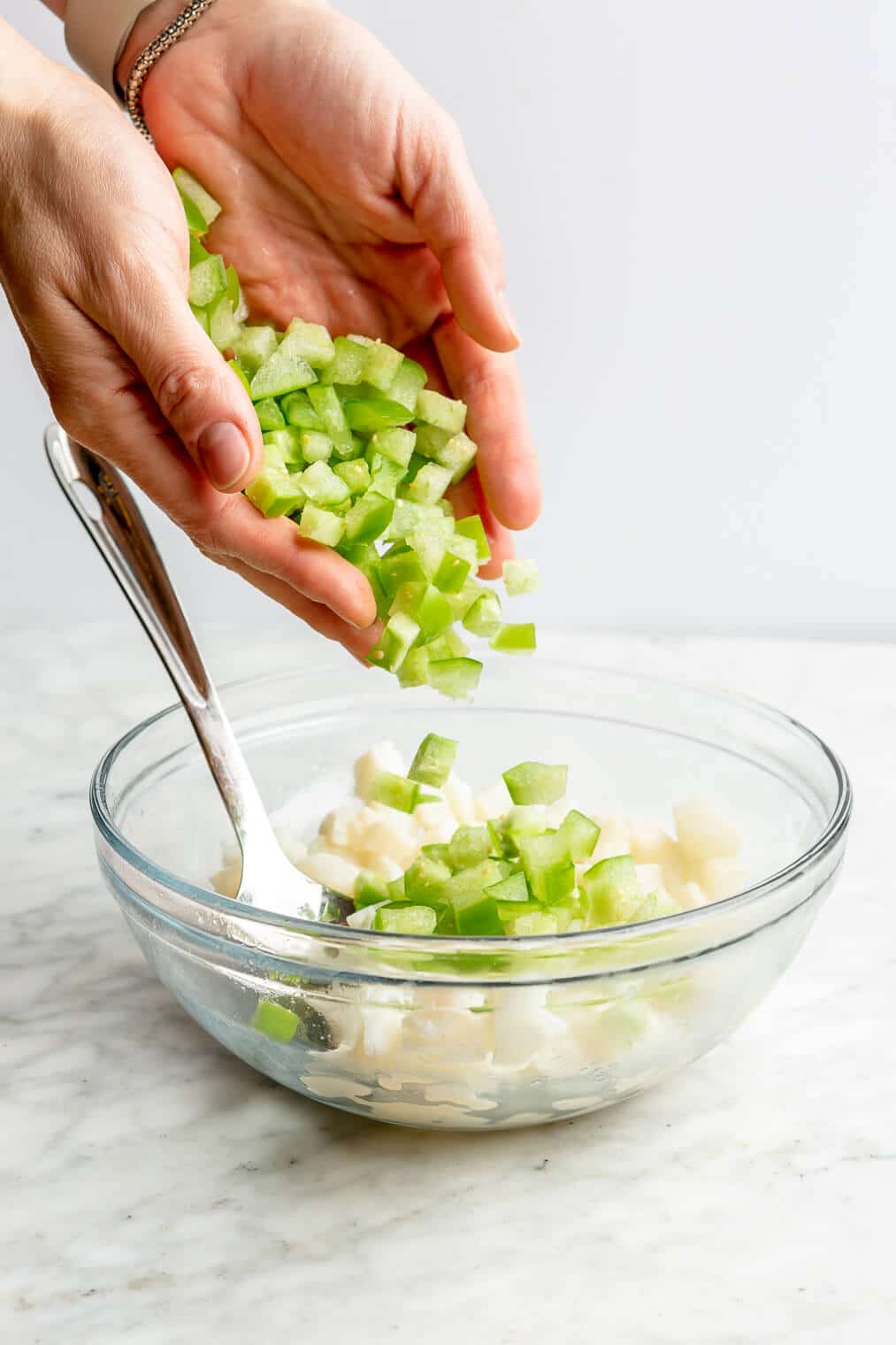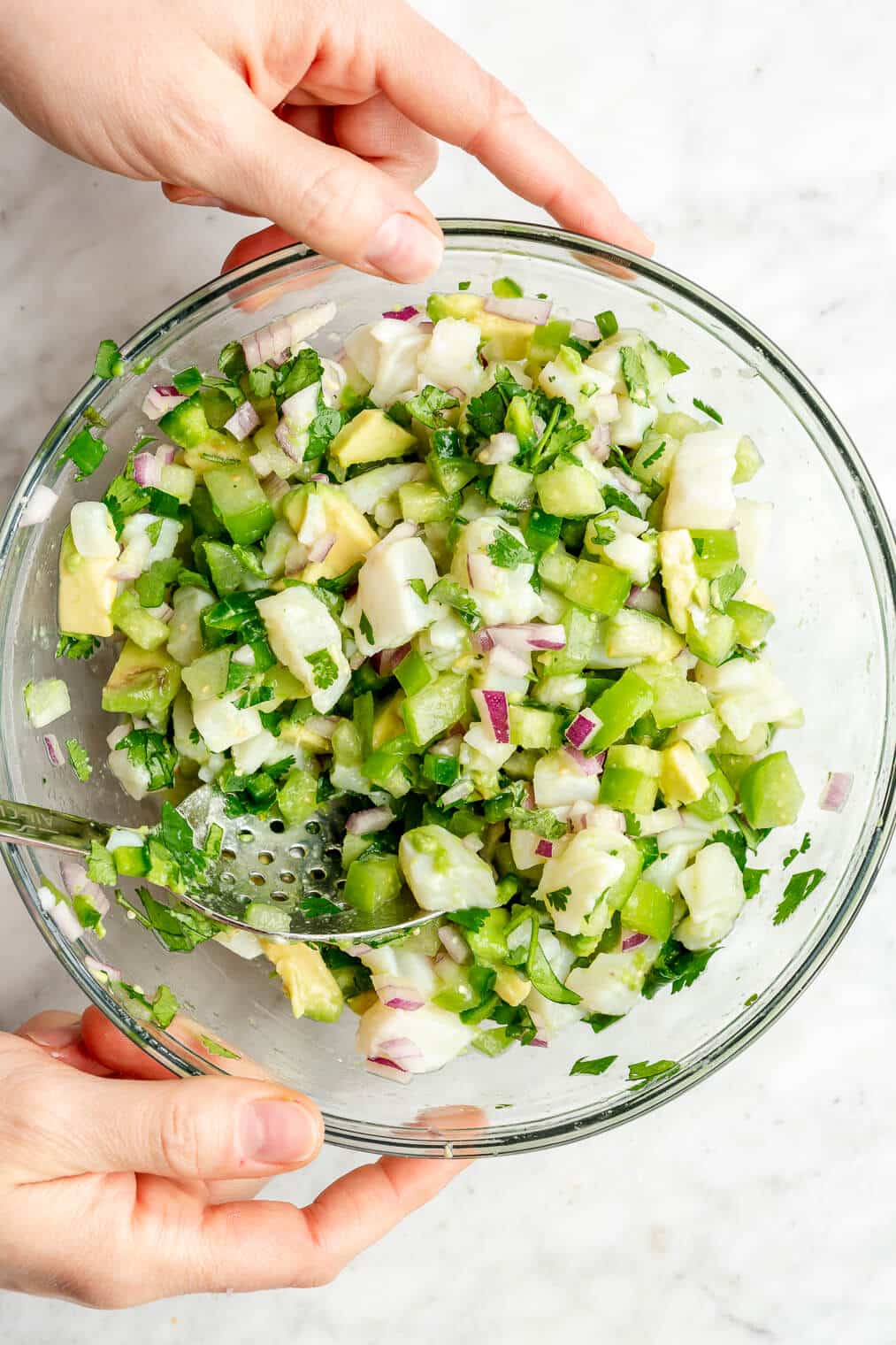 Marinate the fish in lime juice. Once you've bought your fish, you'll want to make your ceviche that same day. Cut the fish into bite-sized (about 1/2 to 1-inch) cubes, then pour over the fresh lime juice and refrigerate for 1 hour, until the fish is firm and has turned an opaque white color. Then, drain off the fish.
Chop the veggies. While the fish marinates, it's time to chop the veggies. Husk the tomatillos and chop them into bite-sized chunks, then dice the onion, the jalapeno, and chop the cilantro. Finally, you'll cube an avocado, and set it all aside.
Stir it all together. Now that your fish and veggies are all prepared, the last thing you need to do is add it to a bowl and stir! Add a little salt to the mixture, taste for seasoning, then serve with your favorite chips or plantain chips.
Does the marinating time matter?
You'll want the fish to marinate in the lime juice for no less than an hour (to ensure that the fish is fully cooked), but not longer than 2 hours. After 2 hours, the texture of the fish will likely get gritty.
How to Serve
Fish ceviche is typically served alongside tortilla or plantain chips! The crunch from the chips pairs PERFECTLY with soft ceviche.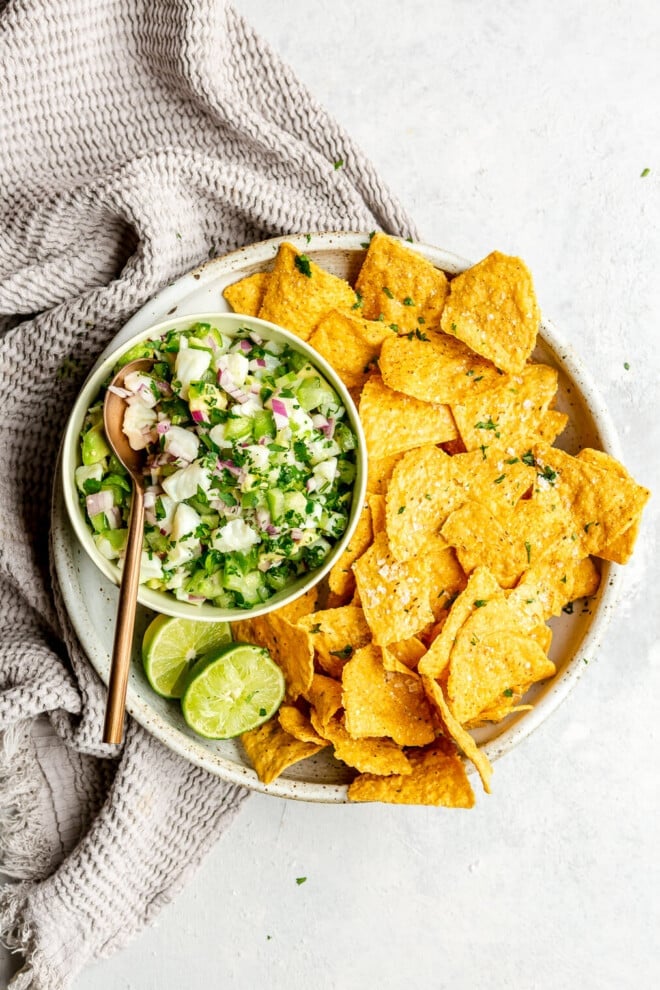 Frequently Asked Questions
What is the best fish for ceviche?
When it comes to making ceviche, you'll want to find high-quality fresh, flaky white fish. We used halibut in this recipe, but redfish, mahi-mahi, snapper, trout, and cod are all really good choices too.
Can I make shrimp ceviche instead?
Absolutely! If you'd prefer to use shrimp, you can replace all of the fish with shrimp, or you can make a seafood ceviche by using half shrimp and half fish, or you can even add in scallops! Just as with fish, make sure you are buying the freshest, highest-quality shrimp for this recipe.
How long does it keep?
We recommend eating ceviche within 24 hours, and definitely no more than 48 hours later. If you're making it for a party, we recommend making it the same day for optimal freshness!
More Favorite Fish Recipes
Ingredients
1

pound

sushi-grade or flash-frozen white fish

such as halibut, red fish, or trout, diced into 1/2 inch cubes

1

cup

lime juice

1/2

red onion

diced

1

small jalapeno

finely diced

4

medium tomatillos

diced (about 3/4 cup)

1

large avocado

cut into 1/2 inch cubes

1/2

cup

chopped cilantro

1/2

teaspoon

coarse sea salt
Instructions
Combine the lime juice and fish in a bowl, then cover and refrigerate. Let sit for 1 hour, until the fish is cooked through.

Drain the lime juice from the fish, then mix the fish with the red onion, jalapeno, tomatillos, avocado, cilantro, and sea salt.

Serve with chips and enjoy!
Nutrition Information
Nutrition Facts
Fish Ceviche Verde
Amount per Serving
% Daily Value*
* Percent Daily Values are based on a 2000 calorie diet.
Recipe Notes
If you'd prefer to use shrimp, you can replace all of the fish with shrimp, or you can make a seafood ceviche by using half shrimp and half fish, or you can even add in scallops! Just as with fish, make sure you are buying the freshest, highest-quality shrimp for this recipe.