Every item on this page was chosen by The Fed & Fit team. The site may earn a commission on some products (read more here).
Sometimes you just need a bowl of soup.
I find myself in this situation quite a bit. Maybe it's been a long day (week), maybe you want a warm food hug (anything to help me avoid the Girl Scout cookies), and maybe it's snowing in March (NY shoutout!). Whatever the problem, soup always seems to cure whatever ails me.
I was recently introduced to …and then fell deeply in love with… Tom Kha Gai by my sister, Kim. Have I ever mentioned to you all that my sister, the one and only Kimberly Dunn, is a Texas Country Music Singer? Better yet, that she's unbelievably talented and skyrocketing towards her music dreams? Keep your ears peeled. Her single, Common as the Rain, is all over the radio right now.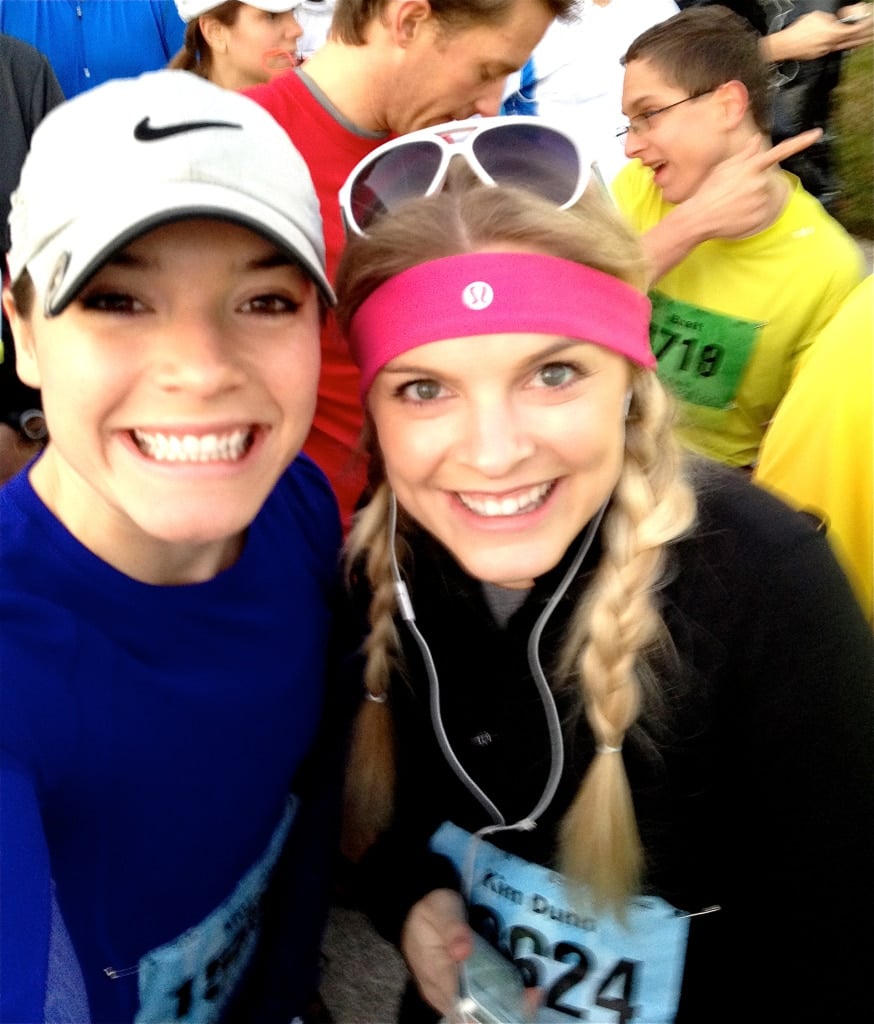 That's me in purple and Kim in the pink headband at last year's Austin Livestrong Marathon.
Okay, back to the soup. Tom Kha Gai is a coconut milk-based soup traditionally flavored with lemongrass, galangal (similar to ginger), and kaffir (kind of like a lime-flavored bay leaf). In an effort to keep my recipe accessible and simple, I subbed ginger for galangal and fresh lime juice for the kaffir leaf.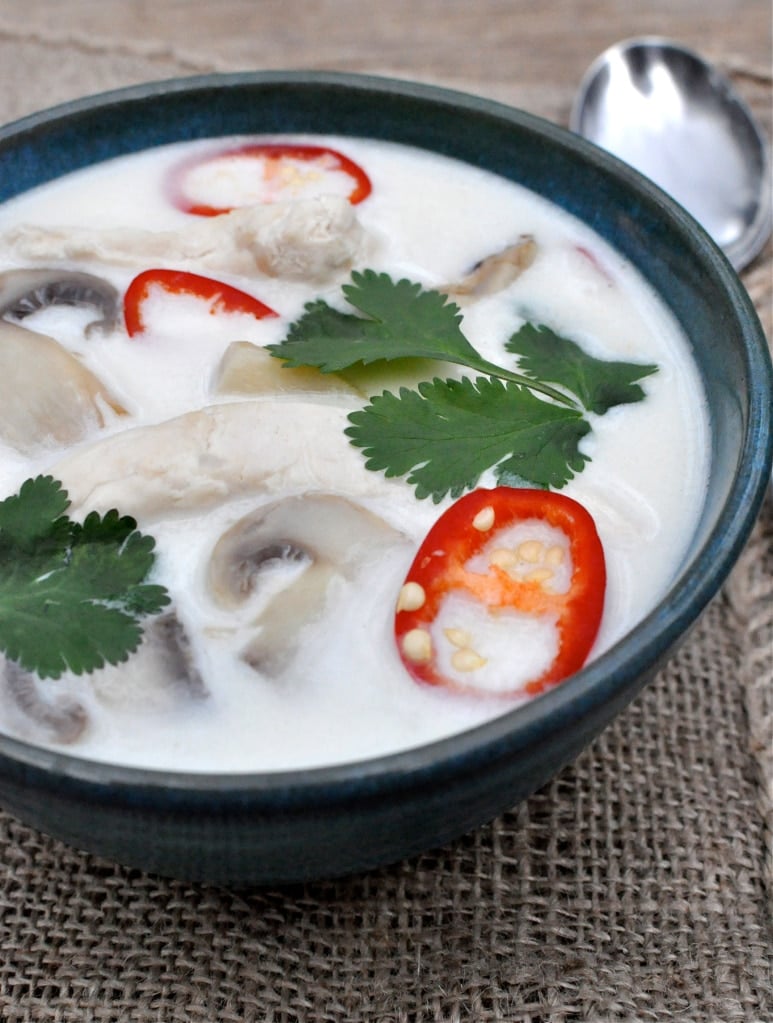 The soup is filled with lots of fresh mushrooms and tender chicken. I finished it with red chilies and lots of fresh cilantro.
If you order this soup at a Thai restaurant, keep in mind that it was probably made with quite a bit of sugar. My version is a little more savory but just as tasty and nutritious.
To mix things up, I'm going to walk through the instructions via the photos. I'd love to know if you find it helpful!
First, gather all your ingredients. Not shown is the chicken broth. I prefer to use low-sodium organic. Use whatever you have handy. The chicken started off as organic chicken tenders that I chopped into smaller pieces (1 tender = ~3 pieces).
In a large saucepan, bring 4 cups of stock to a boil then reduce the heat so it simmers. Pour in 1 can of full-fat coconut milk. This equals ~2 cups. You'll have to shake the can before you open it to mix the fat with the liquid. Put lid back on the pot and bring it back up to a simmer.
In the meantime, peel your ginger. Then chop your ginger into ~1/4" discs.
Cut the lemongrass into about 2" pieces on a diagonal.
When the soup is back to a simmer, add in the ginger and lemongrass. Let simmer for 2 minutes. Add in the mushrooms and chicken. Put lid on and let simmer for about 8-10 minutes.
Chop up the chili peppers into discs. Leave the seeds behind if you're sensitive to spicy foods. Now would be a good time to avoid touching your eyes, raw sniffling nose, or letting the puppies lick your hands.
With just a few minutes left of cook time, add in the lime juice and chili slices.
Note: Depending on how hot you want the soup will determine when you add the chili slices and what parts you add. If you like spicy food, I recommend you add the chili about 5 minutes after the chicken and include some slices with seeds. If you like mildly spicy foods, add the chilies (some with seeds and some without) just before you serve.
Test to see that the chicken is finished cooking by removing a piece and cutting it through the thickest part. Pink? Not finished – add more cooking time. All white even texture? Probably done.
Spoon up a big portion into your favorite bowl, top with fresh cilantro, and slurp to your heart's desire.
Note: I leave the ginger and lemongrass in the soup when I serve it. I don't recommend eating it, but it does add a nice aroma.
Enjoy!
Ingredients
4

cups

Chicken Broth

low-sodium is ideal

1

can

~2 cups Full-Fat Coconut Milk

1

lb

Chicken Pieces

tenders chopped into smaller pieces

2

cups

or an 8 oz container Sliced Mushrooms

3

Limes Juiced

2

Red Chilies Chopped

3

Lemongrass Stocks

2

" Fresh Ginger Root

1/2

cup

Fresh Cilantro
Instructions
In a large saucepan, bring 4 cups of stock to a boil then reduce the heat so it simmers.

Pour in 1 can of full-fat coconut milk. This equals ~2 cups. You'll have to shake the can before you open it to mix the fat with the liquid. Put lid back on the pot and bring it back up to a simmer.

In the meantime, peel your ginger.

Then chop your ginger into ~1/4" discs.

Cut the lemongrass into about 2" pieces on a diagonal.

When the soup is back to a simmer, add in the ginger and lemongrass. Let simmer for 2 minutes.

Add in the mushrooms and chicken. Put lid on and let simmer for about 8-10 minutes.

Chop up the chili peppers into discs. Leave the seeds behind if you're sensitive to spicy foods.

With just a few minutes left of cook time, add in the lime juice and chili slices.

Note: Depending on how hot you want the soup will determine when you add the chili slices and what parts you add. If you like spicy food, I recommend you add the chili about 5 minutes after the chicken and include some slices with seeds. If you like mildly spicy foods, add the chilies (some with seeds and some without) just before you serve.

Test to see that the chicken is finished cooking by removing a piece and cutting it through the thickest part. Pink? Not finished – add more cooking time. All white even texture? Done!

Enjoy!

Time: 30 minutes