Tequila carnitas are perfectly flavored with lime juice, tequila, and Mexican spices, and crisped to perfection.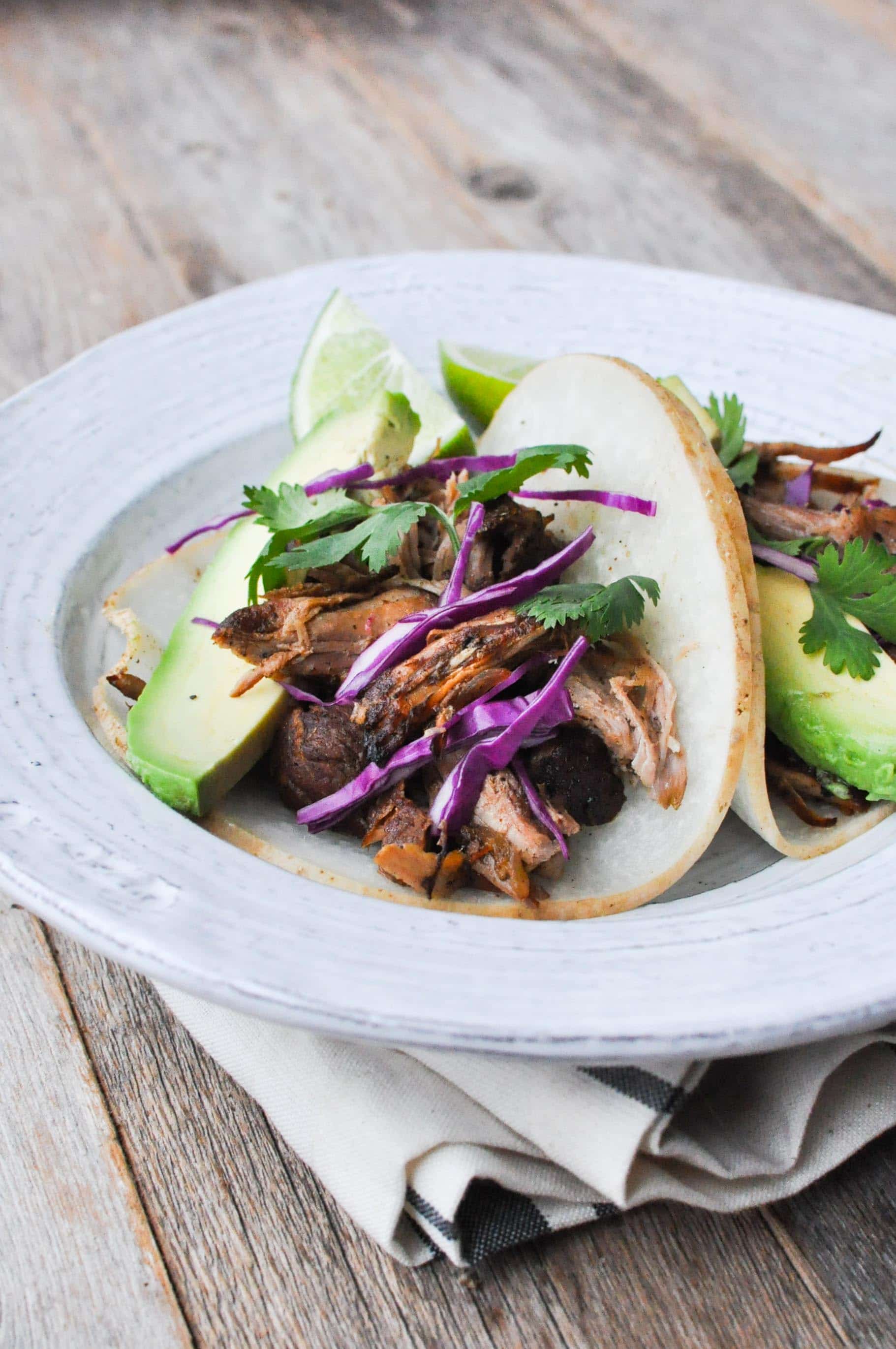 Before we jump back into our Holiday recipes, I have one more cookbook surprise sneak peek for you! My friend Ciarra of the blog Popular Paleo just published her first book, The Frugal Paleo Cookbook! Paleo and Real Food lifestyles have an unfortunate reputation for being unaffordable. There is no shortage of arguments for groceries (and food in general) being either higher or a lower on the budget priority list, but we can all agree that we prefer to spend less where possible.
In this book, Ciarra has done a great job merging delicious Paleo-friendly meals with affordable components that will keep your family happy.
When Ciarra presented me with the opportunity to share one recipe from The Frugal Paleo Cookbook, I immediately jumped for the Tequila Carnitas. Maybe it's because I'm a Garcia or maybe everyone is like this, but I pretty much always crave carnitas. I pile on the cilantro, squeeze a good amount of fresh lime juice, and then either chow down with a fork on a salad or wrap it up in a Paleo-friendly tortilla.
Ciarra's recipe for these wonderfully delicious Tequila Carnitas actually directs cooking it start-to-finish on the stove. Short on time one weekend, I followed her browning directions but then transferred everything to the slow cooker (a post Thanksgiving round of golf with my family and Austin's parents was calling). By the time we got back from our round of golf, I broke the carnitas up into small pieces, transferred to the baking sheet to crisp for a couple of minutes under the broiler, and then served it alongside some jicama tortillas!
Note that jicama tortillas are REALLY easy. Just go grab the largest jicama you can find at the grocery store, give the outside a good scrub, then patiently slice thin "tortillas" out. I finished the crispy and flavorful carnitas with some shredded purple cabbage, cilantro, and fresh lime juice.
Enjoy and go check out The Frugal Paleo Cookbook HERE!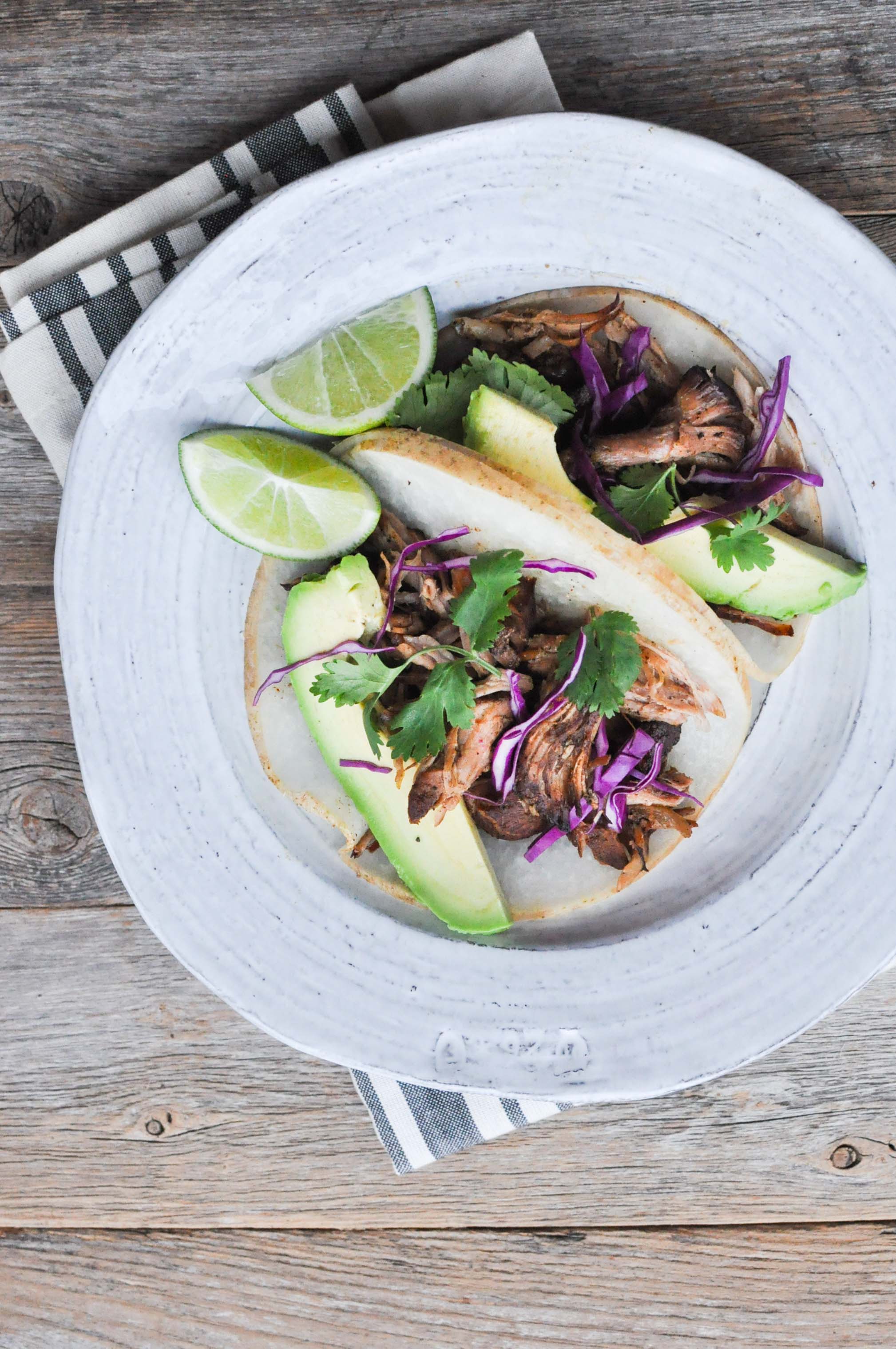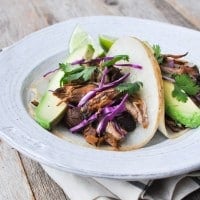 Tequila carnitas are perfectly flavored with lime juice, tequila, and Mexican spices, and crisped to perfection.
Ingredients
3

pound

boneless pork shoulder

1

batch taco seasoning blend

1

teaspoon

kosher salt

2

– 3 tablespoons lard or coconut oil

1

small onion

chopped

5

cloves

garlic

crushed

1

large jalapeno

de-seeded and minced

juice of 2 limes

1

cup

pure tequila

1/2

cup

water

fresh cilantro and additional lime wedges for garnish

1/2

cup

purple cabbage

shredded (optional)

1

large jicama

cut into thin sheets for tortillas (optional)
Instructions
Cut the pork shoulder into four or five even chunks and coat with the Taco Seasoning Blend, plus the salt.

Heat a Dutch oven over medium-high heat and melt the lard or coconut oil. Working in batches to avoid over-crowding, drop in the seasoned pork and sear the sides. If the spices are starting to burn, reduce the temperature just a bit.

Once each piece is browned evenly on all sides, transfer them back to the pan and add the onion, garlic, and jalapeno. Lightly mix the ingredients, but make sure the pork gets priority at the bottom of the pan.

Pour in the fresh lime juice, tequila and water. Bring to a boil then reduce the temperature to a simmer and cover.

Let the pork braise on the stovetop for 2 hours, or until it falls apart when gently pressed with the back of a fork.

SLOW COOKER OPTION: Repeat steps 1-2 but then add all ingredients to your slow cooker insert. Cook on high for 2 hours or low for 4-6.

Remove the carnitas from the Dutch oven or slow cooker, shred the pork, and mix with the juices again. Scoop all the pork out and transfer to a baking dish. Place under the broiler for a few minutes (2-5) until the tops start to crisp.

Pour the remaining braising liquid over the carnitas and serve with fresh cilantro and a few lime wedges for squeezing.
Recipe Notes
Instant Pot Version:
Add 2 tbsps. oil to Instant Pot and press Sauce to heat.  Add seasoned pork and sear on all sides until light browned.
Add  water, tequila, and lime juice and remaining ingredients (except for cilantro, cabbage, and jicama) to meat, place the lid on the pot, cover, and make sure the valve is set to sealed. Press the "manual" button and set to cook for 90 minutes.
After 90 minutes is up, let the pressure release naturally (about 20 minutes) and remove the lid from the pot.
Once the carnitas are done, follow the remaining instructions from Step 7 on.
Nutrition
Calories:
454
kcal
|
Carbohydrates:
17
g
|
Protein:
52
g
|
Fat:
8
g
|
Saturated Fat:
3
g
|
Polyunsaturated Fat:
1
g
|
Monounsaturated Fat:
3
g
|
Trans Fat:
0.03
g
|
Cholesterol:
136
mg
|
Sodium:
990
mg
|
Potassium:
1101
mg
|
Fiber:
7
g
|
Sugar:
5
g
|
Vitamin A:
686
IU
|
Vitamin C:
38
mg
|
Calcium:
44
mg
|
Iron:
3
mg