Every item on this page was chosen by The Fed & Fit team. The site may earn a commission on some products (read more here).
This Thanksgiving Leftovers Casserole is a great option for making good use of your holiday leftovers! It's a great recipe for anyone who would prefer a fresh dish over leftovers.
Happy Thanksgiving, love bugs!! Oh goodness gracious, I do tend to get a bit mushy on Thanksgiving, bear with me. It brings me to literal tears when I glance over at my internal gratitude cup. It's overflowing and YOU are a big part of it. I have so darn much to be thankful for in this sweet life. NO it's not perfect and YES my life comes with its own brand of heartaches and challenges, but the blessings (just begging to be counted) are abundant. I'm so deeply thankful for the infinite love of our sweet Lord; for the amazing, selfless man I get to call my husband; for this sweet baby girl I get to grow and protect in my belly; for the good health of friends and family; for GUS and his sweet, protective, spunky spirit (I'm convinced he's one of my well-humored Guardian Angels); for the opportunity to live in a time where it is easier than ever to CREATE and leave a wide-reaching impact; for this dream job of mine; and for the opportunity to connect with sweet, wonderful, supportive, feels-like-family YOU.
Thank you, from the bottom of my mushy heart, for being here. Thank you for taking the time to read my words, scroll through this website, "like" my photos on social media, comment when you feel compelled, send emails with words of encouragement, and for trusting my recipes. Thank you for inviting me into your kitchens, onto your tables, into your ears (podcast), and into your routine (skincare). I don't take one single instant of your support and trust for granted. I work HARD, each and every day, to uphold a quality of work here on the blog, on my podcast, on social media, in my program, and in my book to make sure that your trust is backed by my BEST.
Thank you, thank you, thank you.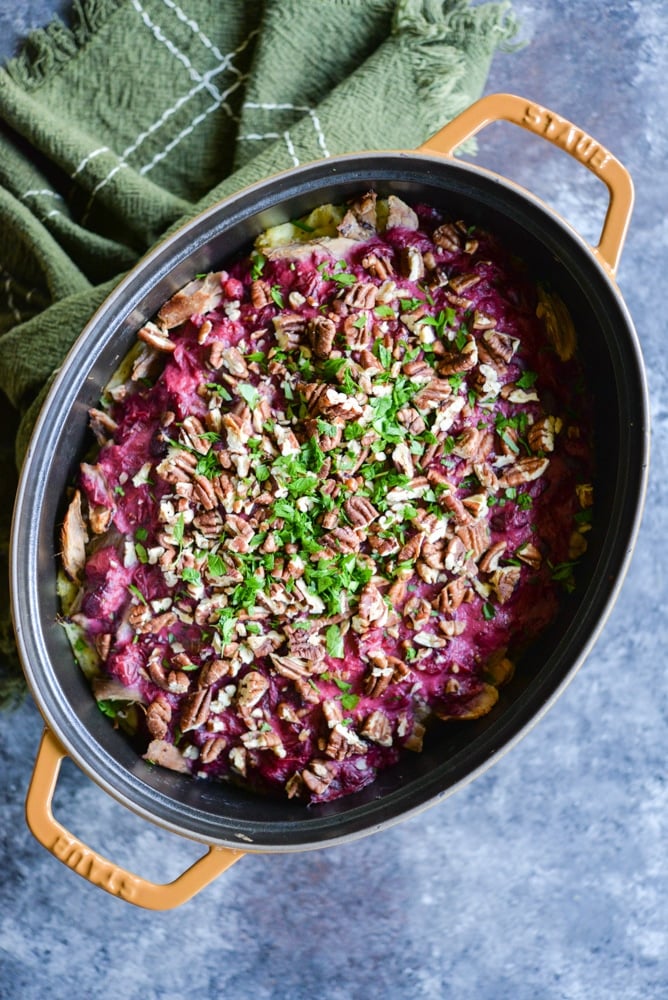 OKAY, enough mush? Let's chat Thanksgiving Leftovers Casserole.
I've wanted to bring you a recipe like this for years! After Thanksgiving, Christmas, and any other instant where we make a round of festive holiday foods, I can't wait to whip up a casserole like this. The concept is so, so simple with just a touch of freshly-made. You layer the leftovers in a casserole dish and top it with a cranberry "gravy." The cranberry gravy is a mixture of leftover cranberry sauce with just a little coconut milk (turns it into a beautiful creamy purple). Bake the whole casserole together, top with pecans, and enjoy!
This ThanksgivingLeftovers Casserole is a GREAT option for those of you (or those of your family members) who don't like leftovers. It's a good method for taking leftovers and making them new again.
I hope you enjoy! Wishing you and yours a safe, happy Thanksgiving.
Ingredients
2

cups

leftover stuffing

2 1/2 -3

cups

leftover turkey

1

cup

leftover brussels sprouts or other greens

2

cups

leftover mashed potatoes

1 1/2

cups

leftover cranberry sauce

1/2

cup

coconut milk

3/4

cup

chopped pecans
Instructions
Preheat oven to 350 F.

Layer stuffing in bottom of a 9x13 inch casserole dish. Sprinkle Brussels sprouts, or greens, on top, followed by turkey, then spread on mashed potatoes.

Combine cranberry sauce and coconut milk, and spread on top of mashed potatoes in an even layer. Finally, sprinkle with chopped pecans.

Bake for 30 minutes at 350 F, or until the top is bubbly.