Big Batch Salmon Nicoise Salad
jump to recipe
This Big Batch Salmon Nicoise Salad is a fresh, beautiful salad that is perfect to serve up at your next homemade brunch!
The first time I ordered a Nicoise salad, I asked for the "nick-oh-ize" salad …and the waitress looked at me like I was from Mars. In case you see it on a menu and you don't feel like giving nearby listeners a chuckle, know that it's a French-inspired salad that's essentially pronounced "niece-whaa" (totally NOT a technical pronunciation technique, but you get the point). Regardless of how you say the word, the flavors are still pretty bomb. This is STILL one of my favorite salads ever! It's a fresh salad that usually combines a light lettuce with blanched vegetables, of which, asparagus is a mainstay. Salmon is a pretty typical protein on the nicoise and hard-boiled eggs are also included. The salmon nicoise salad is usually beautifully plated with a very fresh dressing that I could eat with a spoon alone.
For this Big Batch Salmon Nicoise Salad, I combined notes and (essentially) made my favorite version of this classic dish! We're using the light butter lettuce as a base, boiled potatoes for starch, and asparagus and radishes for veggies. The protein is brought to us by an easy baked whole salmon filet (takes less than 15 minutes) and some gorgeous hard boiled eggs. The dressing is an incredibly delicious mixture of lemon juice, dill, dijon, and olive oil. As much as I'd like to think that I'd make this salad for just myself, it's actually much more likely if I have company …which is why this salmon nicoise is labeled "big batch." You can plate the whole thing up, invite over a few friends (brunch, anyone?), and show off your kitchen skills.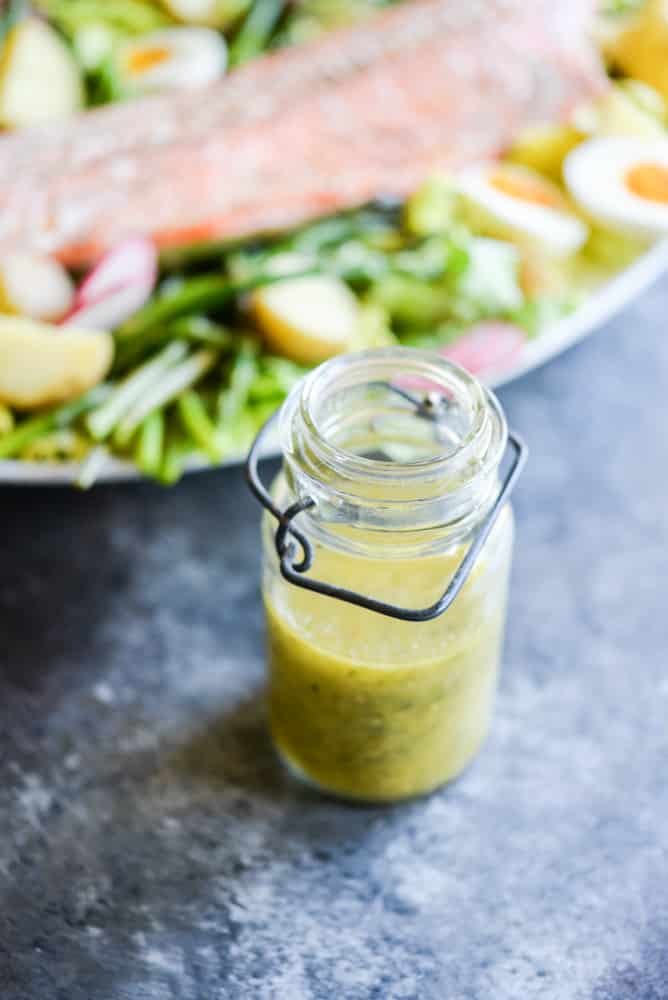 Note that while the eggs, potatoes, and asparagus are all cooked via boiling, you can actually cook them all in the same pot of water! This is important to people like me …people who prefer to wash as few dishes as possible. If you want to take this route, I recommend boiling the eggs first, then potatoes, then asparagus. Note that the eggs (if you follow my method) and asparagus can even both be chilled in the same bowl of ice water – just refresh the ice.
ALSO, if you happen to have any of this luscious dressing left over, know that it goes really well when drizzled over chicken or a baked white fish.
What else to serve this gorgeous, fresh salad with at your weekend homemade brunch? I think that this Carrot Cookie Cake and a pitcher of this Lemon Ginger Punch would both be lovely.  If you love the idea of big batch salads, you might also love this Big Batch Thai Pork Salad, with a similar (tasty) concept!
For fail-proof, easy-peel hard-boiled eggs, check out our tutorial here!
I hope you enjoy!
Print
Big Batch Salmon Nicoise Salad
This Big Batch Salmon Nicoise Salad is the perfect way to usher in Spring! A whole baked salmon filet is placed on top of butter lettuce alongside asparagus, potatoes, and soft boiled eggs, then dressed with a fresh lemon-dill vinaigrette.
Author:
Prep Time:

15 minutes

Cook Time:

20 minutes

Total Time:

35 minutes

Yield:

4
Ingredients
For the Salad:
3

soft boiled eggs

1 1/2

pounds baby yukon gold potatoes

1

punch asparagus, tough stems removed

1

head of butter lettuce, torn into individual leaves

1

, 1-1 1/2 pound salmon filet

1 tablespoon

extra virgin olive oil

1/2 teaspoon

sea salt

1/4 teaspoon

pepper

4

radishes, thinly sliced
Fresh chopped dill, for garnish
For the Dressing:
Instructions
Preheat the oven to 375 F.
Place potatoes in a large pot. Fill with water until potatoes are covered by one inch and place a lid on the pot. Bring to a boil over high heat. Cook for 15-20 minutes until tender, then remove the potatoes, reserving the water. Once cooled, cut the potatoes into quarters.
Place the salmon filet on a rimmed baking sheet. Brush with olive oil, then season with salt and pepper. Bake for 13-15 minutes, or until desired doneness is achieved and salmon flakes easily with a fork.
In the same pot of boiling water that you cooked the potatoes in, add the asparagus. While it is cooking, fill a large bowl with ice water. Once the asparagus is done cooking, add it to the bowl of ice water.
In a small bowl, add the lemon juice, dijon mustard, and dill and whisk, then slowly pour in the olive oil as you continue whisking.
To assemble the salad: place the butter lettuce on a platter, then add the salmon, potatoes, asparagus, sliced radishes, and soft boiled eggs, and dress with the lemon dill vinaigrette. Serve!