The need for an already-made, healthy midday meal is widely felt, and with this easy meal prep lunch plan, you'll be able to make a week's worth of lunches in advance without adding much time or effort to your existing meal prep day!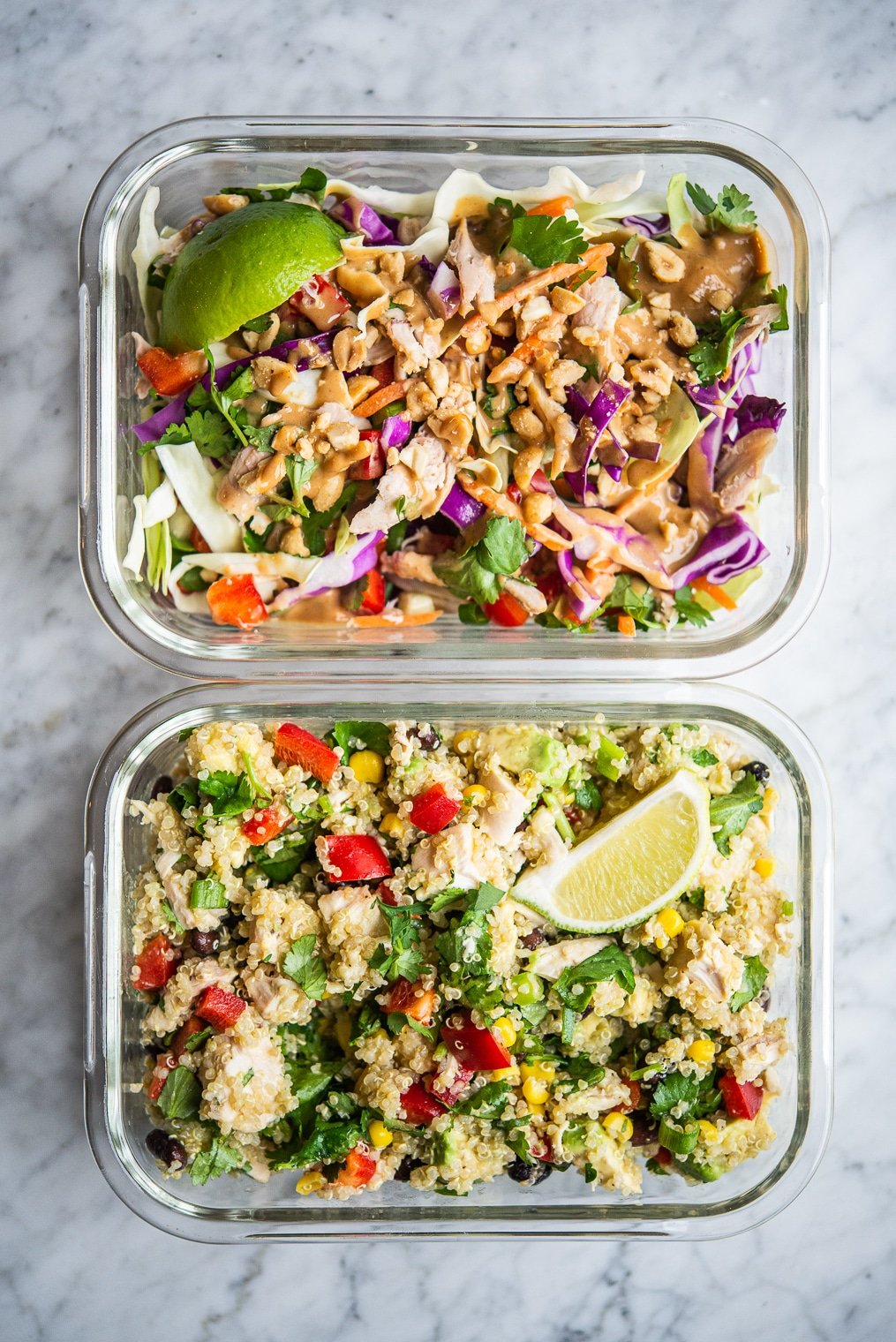 Having dinner prepped for the week is a real life-saver, but you know what's even better? Having lunch AND dinner prepped for the week (heck, let's throw in breakfast too – these overnight oats recipes and this how to make a breakfast casserole guide are great breakfast meal prep resources)! The last thing we want is for you to spend your entire, precious Sunday in the kitchen though, so we have made the prep process as easy and efficient as possible! 
Why Meal Prep Lunch?
Lunch is such an important meal and often gets overlooked and overshadowed by breakfast + dinner. Your midday meal fuels and gives you the energy to tackle the rest of your day, and a well-balanced meal can truly make the difference between that midday energy slump (you know, the 2:00pm I-need-to-take-a-nap feeling) and having enough energy to power through the rest of your day with ease. I don't know about you, but the latter sounds SO much better to me!
Our Lunch Meal Prep Recipes
We're all about equal parts nutritious and tasty over here, so rest assured that your lunches will deliver in both of those departments. They also happen to be really beautiful and colorful…BONUS! Another bonus (how many is too many?!) – though they're both salads, each recipe is so different from the other that you won't feel stuck in the all too common meal prep rut of eating the same thing day after day! Here's what you'll prep for the week:
This one is a BEAUTY! The colorful medley of cabbage, bell pepper, carrots, cucumber, cilantro, and green onion are to thank for not only the gorgeous colors in this salad, but also the solid punch of nutrition! Chicken gives this lunch a good dose of protein, and the peanut dressing is (to put it mildly) drool-worthy. The best part about this salad? A quick chop of the veggies and chicken and a trip to the blender for the dressing gets these lunches prepped in no time at all!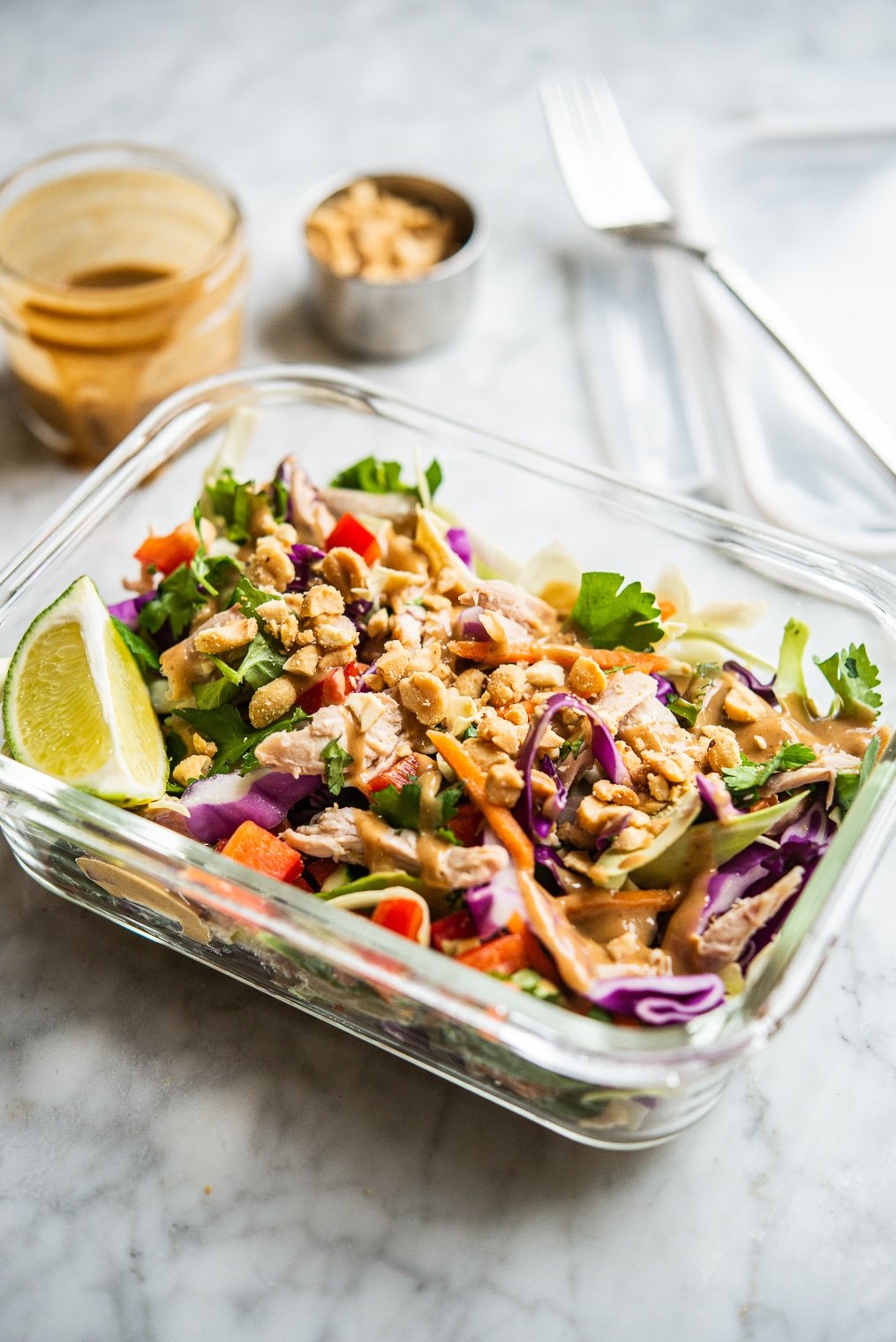 As the name implies, this salad brings bold southwestern flavors to the lunch game. Protein-packed (thanks chicken, beans, and quinoa!) to keep you full, a good dose of healthy fat (thanks olive oil and avocado!) to keep you satiated, and the perfect amount of carbs (thanks quinoa and beans!) to keep you energized. This salad checks all of the boxes, plus it's dang tasty!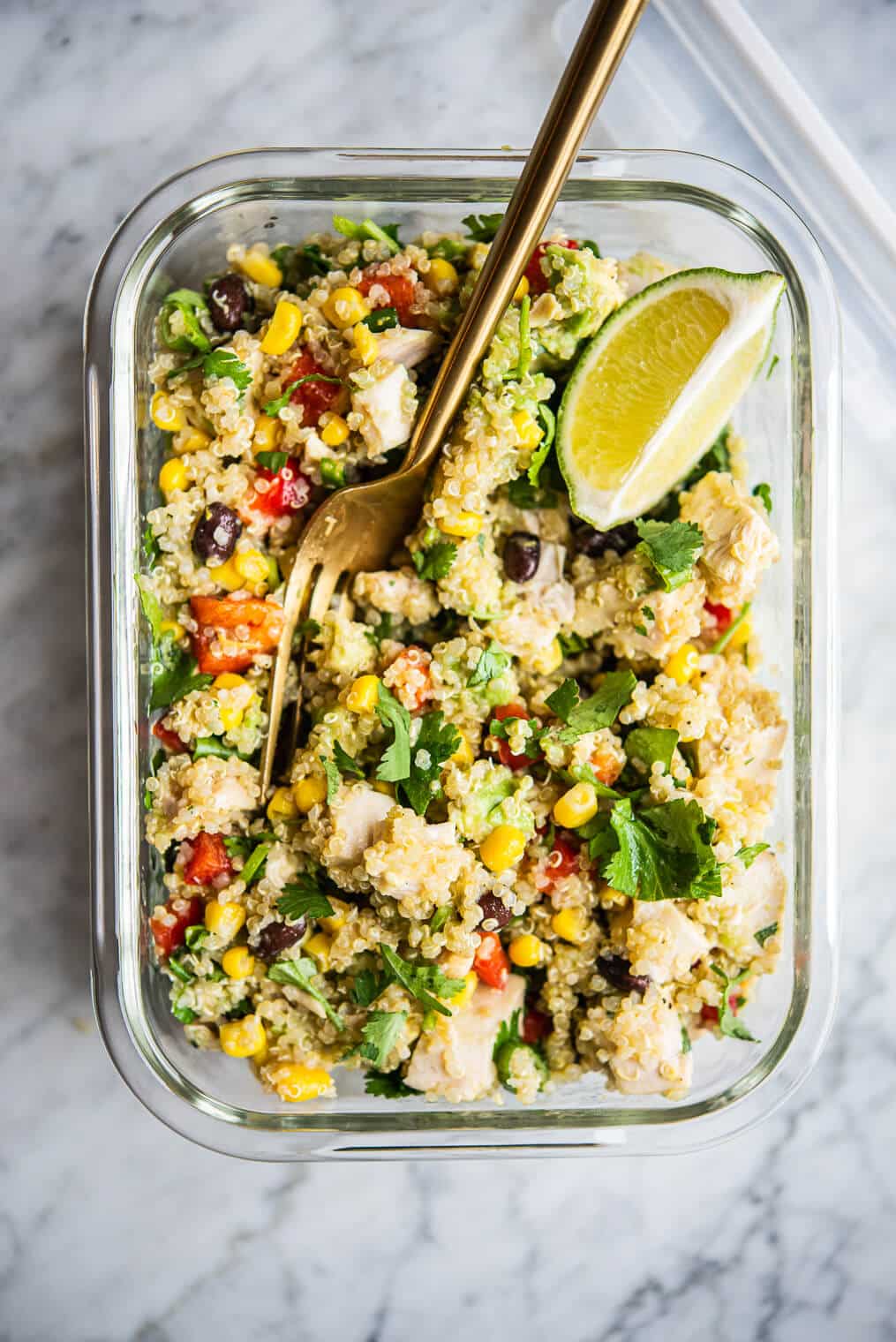 Shopping List
Here's what you'll need to add to your grocery list for a week's worth of healthy lunches:
Produce:
Avocado

Bell pepper, red

Cabbage, green*

Cabbage, purple*

Carrots, shredded*

Cilantro

Cucumber

Green onions

Limes
*You can replace the green and purple cabbage and shredded carrots with a pre-shredded coleslaw blend, if desired.
Meat:
Rotisserie chicken or chicken breast
Pantry:
Black beans

Coconut aminos

Corn kernels, canned or frozen

Honey

Olive oil

Peanut butter

Peanuts, dry roasted

Quinoa

Sesame oil
Spices:
For exact amounts of each item, download our Easy Meal Prep Lunch Plan eBook!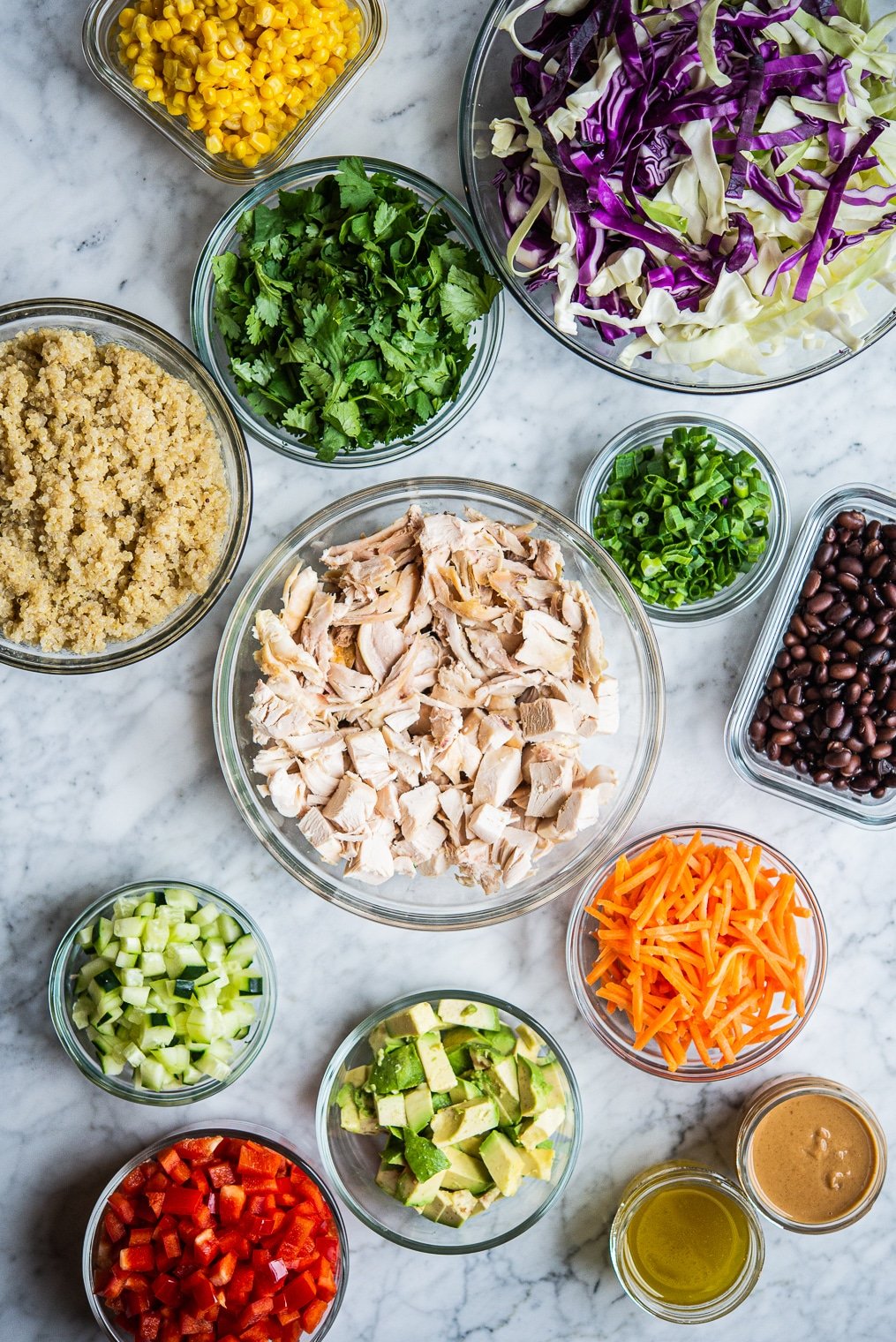 Meal Prep Plan
To keep things as efficient as possible, we're prepping both salads (6 days worth of lunches) at the same time. Here's what you'll need to do (step by step) to make the most of your meal prep time while spending the least amount of time in the kitchen:
Cook the Quinoa

– the only real cooking you'll need to do for your lunch meal prep! Since this step takes the most time, we'll get it started first.

Shred and Dice the Rotisserie Chicken

– we'll use shredded chicken for the Thai Chicken Salad and diced for the Southwestern Quinoa salad.

Dice the Bell Peppers

– we'll use diced bell peppers for both salads for a pop of color and crunch, and a good dose of veggies!

Shred the Cabbage (if not using store-bought)

– shred both the purple and green cabbage, or skip this step if you opted for a pre-shredded coleslaw blend.

Chop a Head of Cilantro

– give the cilantro a rough chop…

Slice One Bunch of Green Onions

– …thinly slice the green onions…

Dice Half a Cucumber

– …and dice half of the cucumber into ¼ inch chunks!

Make the Peanut Dressing

– this delicious peanut dressing is SO EASY to make. Just give the dressing ingredients a quick blend until smooth!

Assemble the Thai Chicken Salad

– toss all of the ingredients for the Thai Chicken Salad (except for the peanut dressing) together, and divide into 3 meal prep containers.

Assemble the Southwestern Quinoa Salad – toss all of the ingredients for the Southwestern Quinoa Salad (except for the avocado) together, and divide into 3 meal prep containers.
For more comprehensive instructions, download our Easy Meal Prep Lunch Plan eBook below!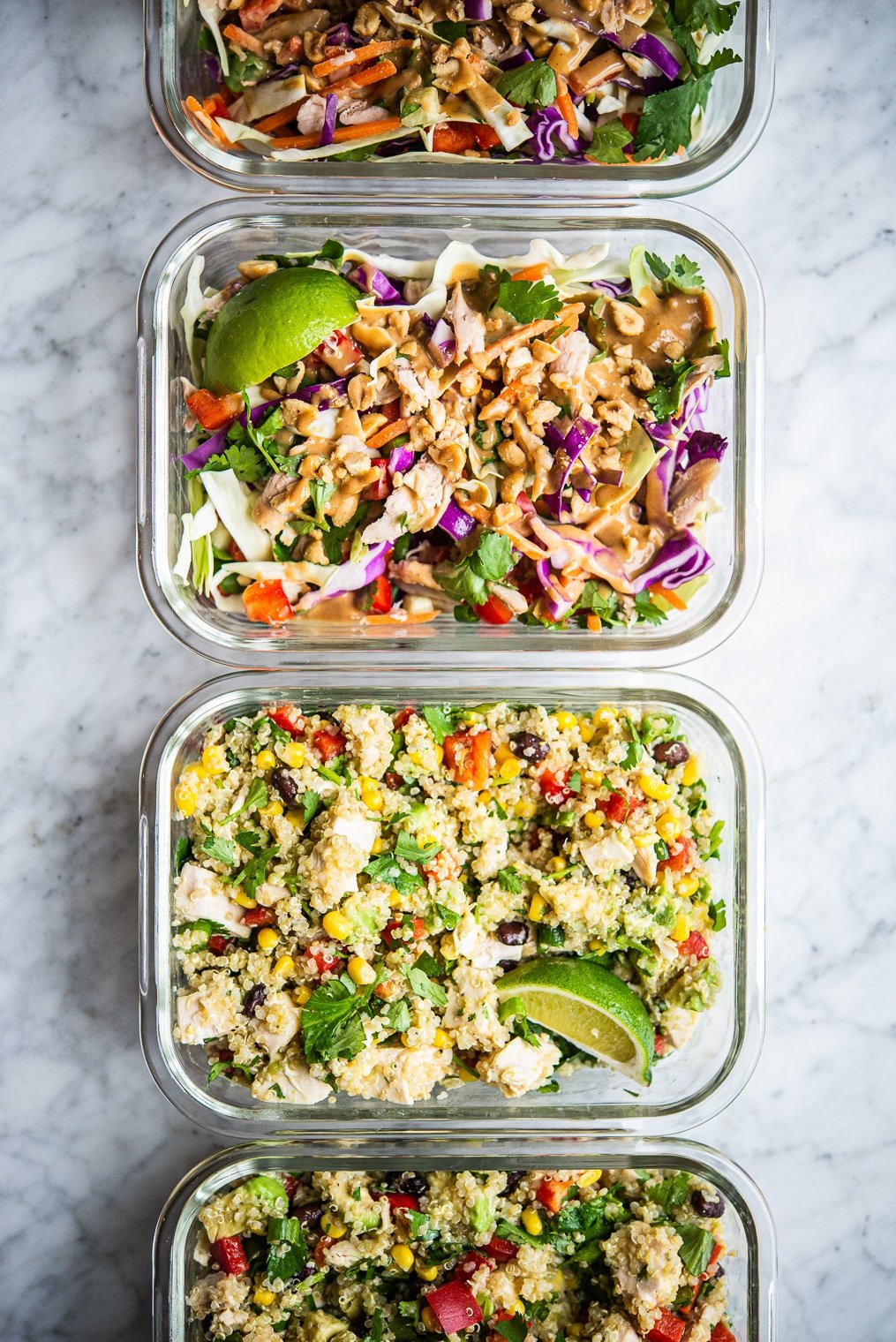 How to Store Your Meal Prep Lunches
We like to go ahead and put each salad (3 Thai Chicken + 3 Southwestern Quinoa) into its own container on meal prep day. This makes packing your lunch (if you work outside of your home) or grabbing lunch from the fridge (if you're home at lunchtime) one step easier. The best way to store your meal prepped salads is in airtight containers in the fridge. They'll keep for a week, and actually tend to get better with time as the flavors continue to marry together each day! We do recommend storing the peanut dressing (for the Thai Chicken salad) and the avocado (for the Southwestern Quinoa Salad) separate from the salads themselves…no one likes a soggy salad, and a brown avocado, though not necessarily 'bad,' just isn't pretty! You'll add those two components to your salads day-of.
What are the best meal prep containers?
Glad you asked!! These same-sized (as opposed to a set with one of each size) glass containers are perfect for your salads! They're airtight + made of glass, so they keep your salad super fresh. These small containers are BPA-free and the perfect size for your peanut dressing! Because you won't use an entire avocado for one of your Southwestern Quinoa Salads, these avocado savers do a great job keeping your already cut avocado nice and green!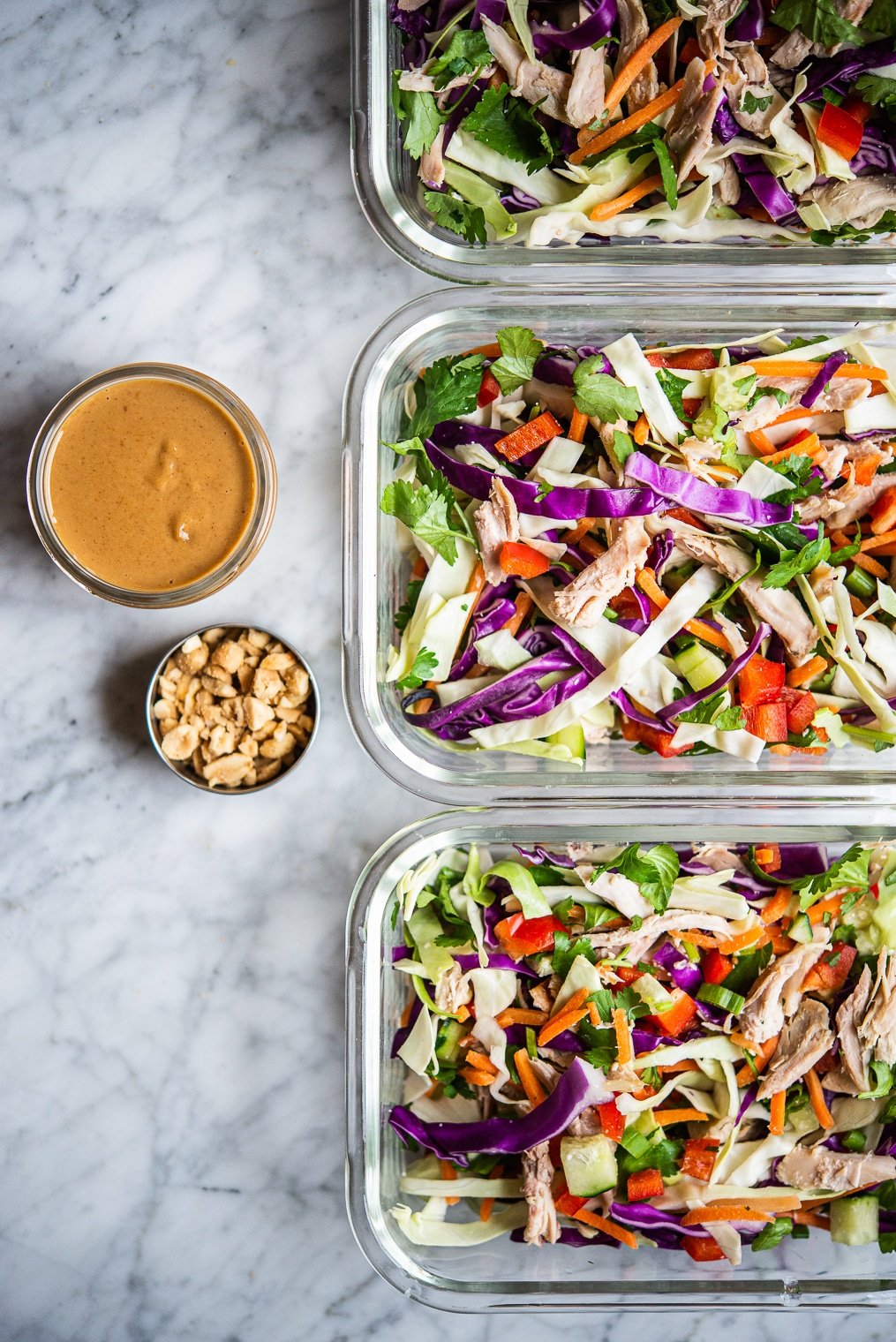 We hope this easy meal prep lunch plan gives your lunches a facelift and saves you some time and sanity!