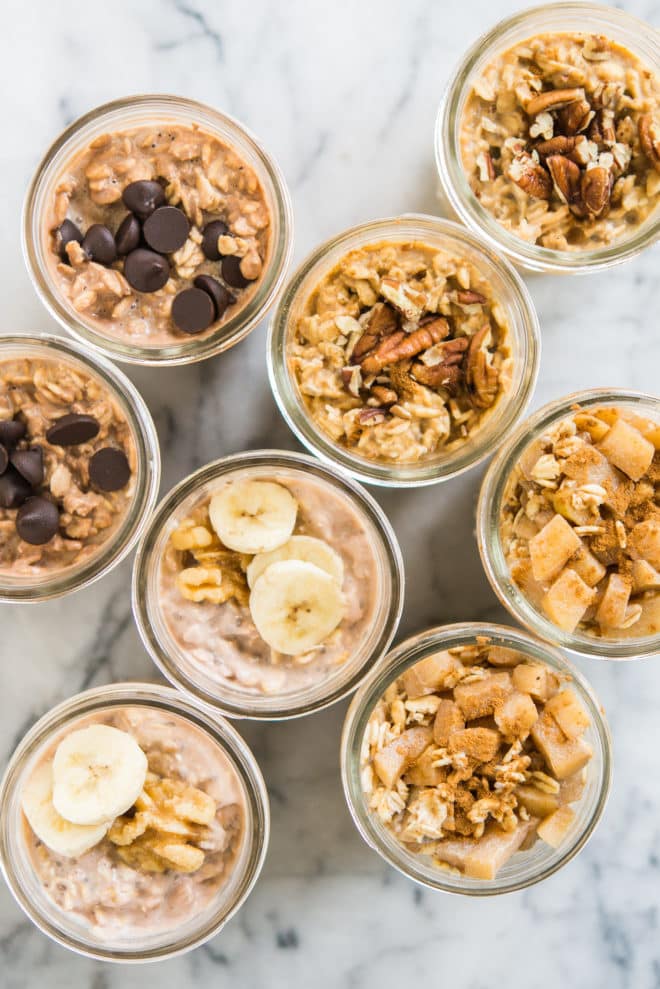 What are overnight oats?
Essentially, overnight oats are a mixture of uncooked oats, milk, and any combination of add-ins that satisfy your current cravings. Because the oats soak in milk overnight, they require no cooking, and very little effort, making this the perfect meal prep recipe.
They can be eaten straight out of the jar – either from the fridge, or after being warmed up in the microwave. They're really so customizable to your tastes and preferences!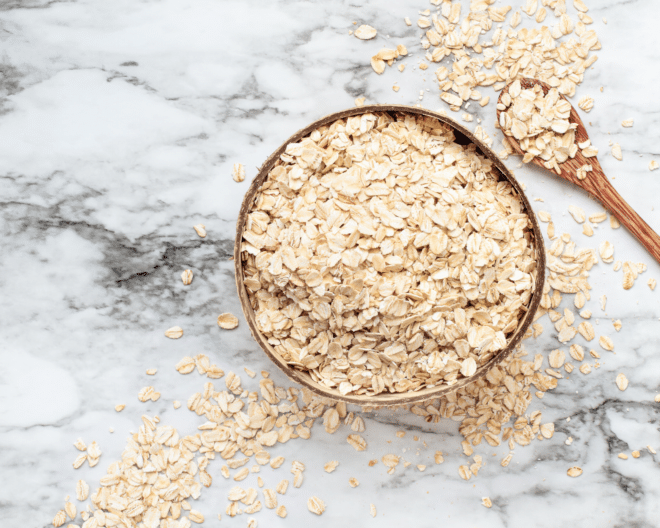 What ingredients do you need to make overnight oats?
Here's everything you'll need to make a batch of these oats!
Oats – we recommend using rolled oats for our overnight oats. Bob's Red Mill makes great certified gluten-free and organic options. If you sometimes experience trouble digesting grains, you can also use sprouted oats – we love these sprouted oats from One Degree Organics.
Milk – You can use whatever milk you like best here! Whole milk makes for deliciously creamy oats, and if you're dairy-free, our favorite options are cashew milk, almond milk, or coconut milk beverage. The only option we don't recommend is canned full-fat coconut milk because the resulting consistency will be a bit too thick and heavy.
Chia Seeds – Adding chia seeds helps thicken up the oats just a bit, while adding a little extra fiber and giving them that delicious, creamy consistency.
Sweetener – Personally, we prefer pure maple syrup for sweetening our oats, and you only need a bit! Honey, agave, or even liquid stevia also make for great choices.
Add-Ins – The above four ingredients are all you need to make perfect basic overnight oats. Once you have those, you can customize to your taste and add spices like cinnamon and vanilla, or you can add nut butters, fruit, and more!
How to Make Overnight Oats
Not only do overnight oats make for a speedy breakfast, but they are a CINCH to make. In a nutshell, there are two options for making your oats:
Option 1: This method is great when you're making multiple jars, but may require a little math. Set up an assembly line with your mason jars, then pour in equal portions of the oats and other dry ingredients. Once the dry ingredients are in, mix together all of the wet ingredients, and pour an equal amount of the mixture into each jar. Stir each jar, then cover and refrigerate.
Option 2: For this method, you'll mix everything together in a large bowl, then either transfer the mixture to smaller jars for a to-go option or a large jar ready to portion out each morning.
The oats will need to sit in the fridge for at least 4-5 hours, or overnight, in order to achieve that perfect chewy, creamy texture.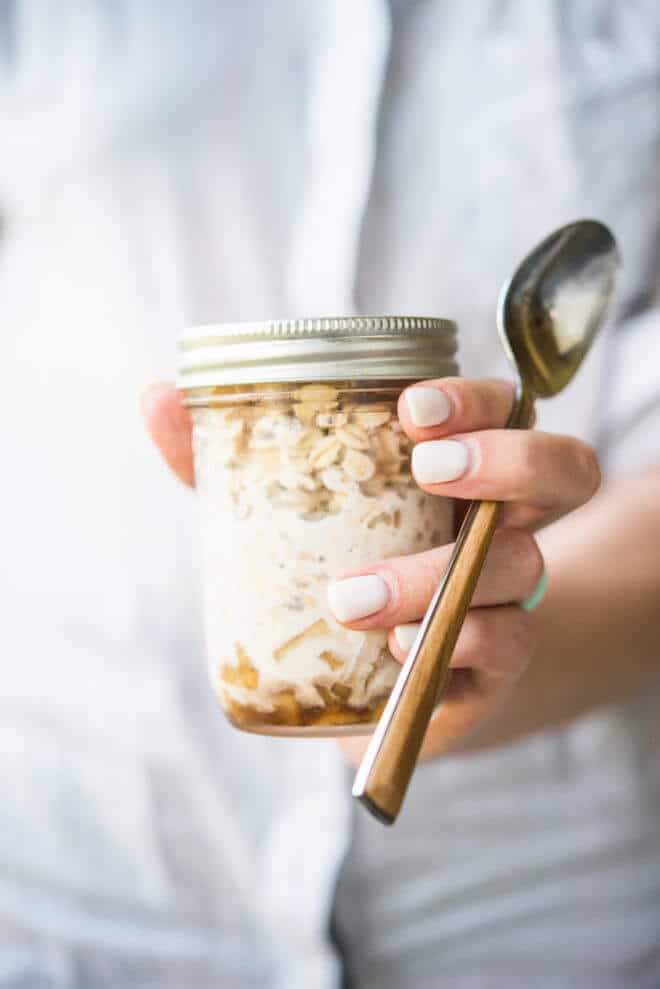 Frequently Asked Questions
What is the best ratio of oats to milk?
We find that a 1:1 ratio of oats to milk is ideal, plus it makes it easy to customize recipes for the number of servings you need!
How do you store overnight oats?
We opt for glass jars for storage. These mason jars are a great option if you're looking to portion out your breakfasts ahead of time, and this larger jar does the job if you want to portion out the morning of! If you're using an airtight container, like the ones recommended, your oats will keep in the fridge for 5 days. Make a batch on Sunday, and they'll last you through the week!
Are overnight oats healthy?
Yes! Oats are full of many nutrients that are a part of a healthy diet, including fiber, protein, magnesium, potassium, and omega 3 fatty acids all make an appearance in oats. They are also a whole grain, which means that the sugar naturally present in them will absorb more slowly into the blood stream to limit blood sugar spikes and keep you full for longer.
Do you eat overnight oats hot or cold?
You can eat overnight oats either hot or cold – it's totally up to you and your preference! If you'd prefer them cold, just eat them straight out of the fridge. If you'd rather eat them hot, pop your jar in the microwave and heat on high power for 30 second increments, stirring in between each.
Which oats are best for overnight oats?
We like using rolled oats because they provide the perfect creamy, chewy texture without getting mushy. If you use a different kind of oats, like steel-cut, they won't soften as much because they need to be heated in order to break down properly.
Do you have to cook overnight oats?
No cooking involved! A quick mix of ingredients is about as extensive as the cooking process gets for overnight oats. After sitting overnight, the oats will be perfectly softened and creamy in texture.
Are oats gluten-free?
While oats are naturally gluten-free, they are often grown in the same fields as wheat, which leads to cross contamination. If you require a gluten free diet and are sensitive to cross contamination, be sure to look for gluten free oats when shopping!
Our Best Healthy Overnight Oats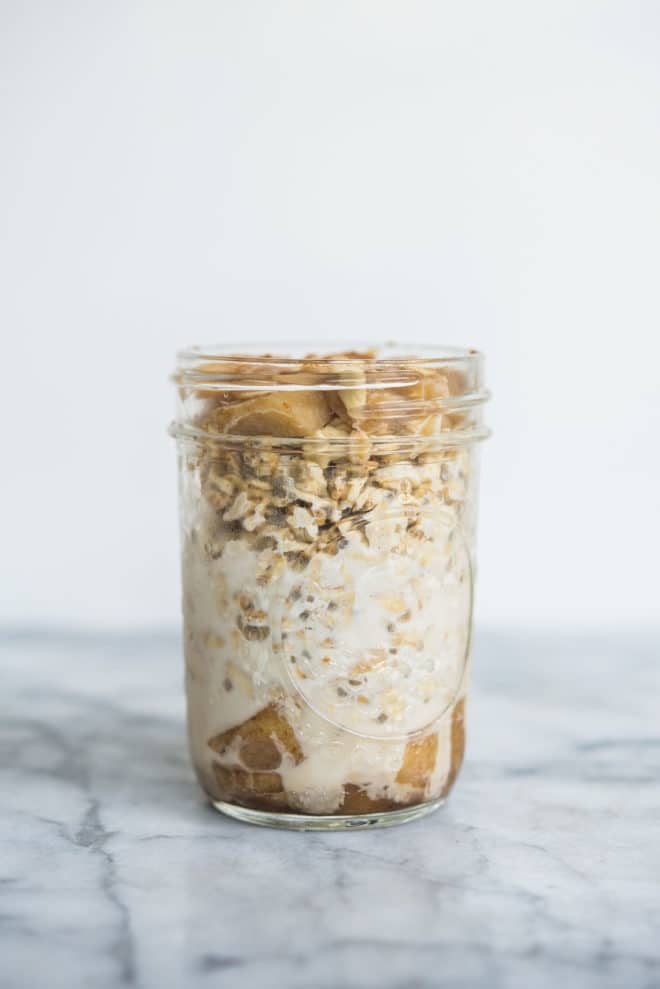 Apple Cinnamon Overnight Oats
The simple cinnamon apple compote – complete with apples, maple syrup, and cinnamon – in these oats transforms them from a basic breakfast, to apple pie in a jar!
Recipe: Apple Cinnamon Overnight Oats
Healthy Chocolate Peanut Butter Overnight Oats
Rich, chocolatey, and not overly sweet – these oats are the perfect healthy breakfast that tastes like an indulgent treat!
Recipe: Chocolate Peanut Butter Overnight Oats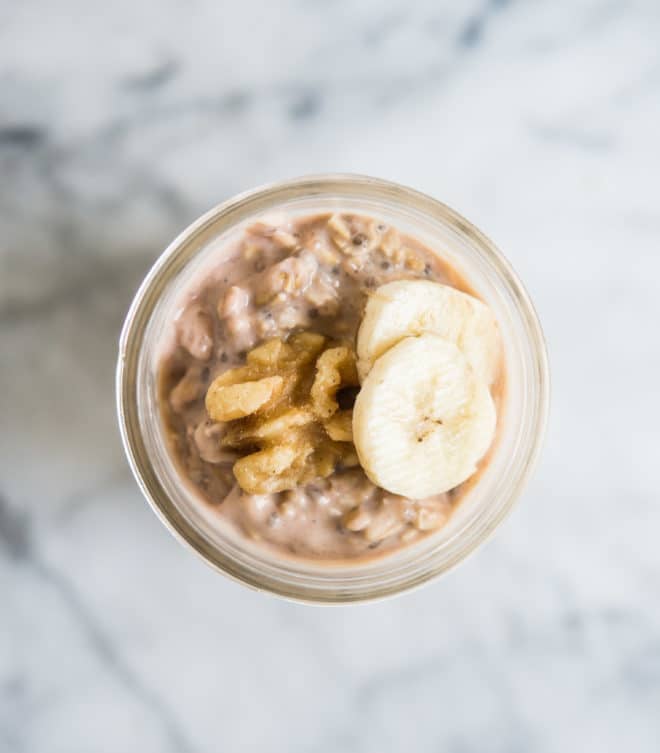 Banana Nut Overnight Oats
These Banana Nut Overnight Oats give all the flavors of classic banana bread, without the effort!
Recipe: Banana Nut Overnight Oats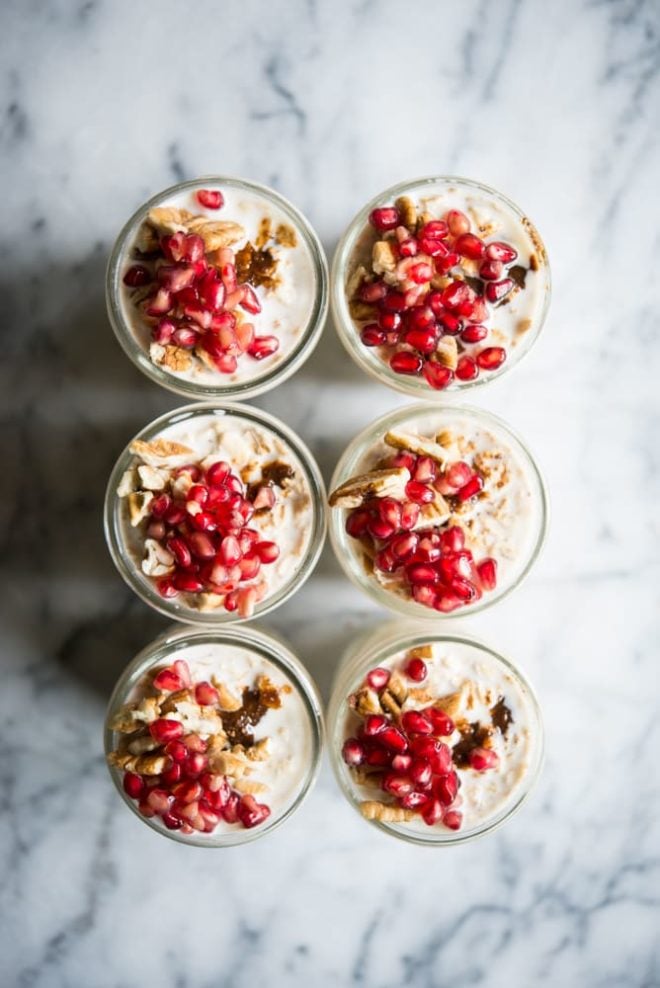 Maple Pecan Overnight Oatmeal
Topped with pecans and pomegranate seeds, these Maple Pecan Overnight Oats are the perfect combination of chewy, creamy, and sweet that will keep you making this recipe week after week!
Recipe: Maple Pecan Overnight Oats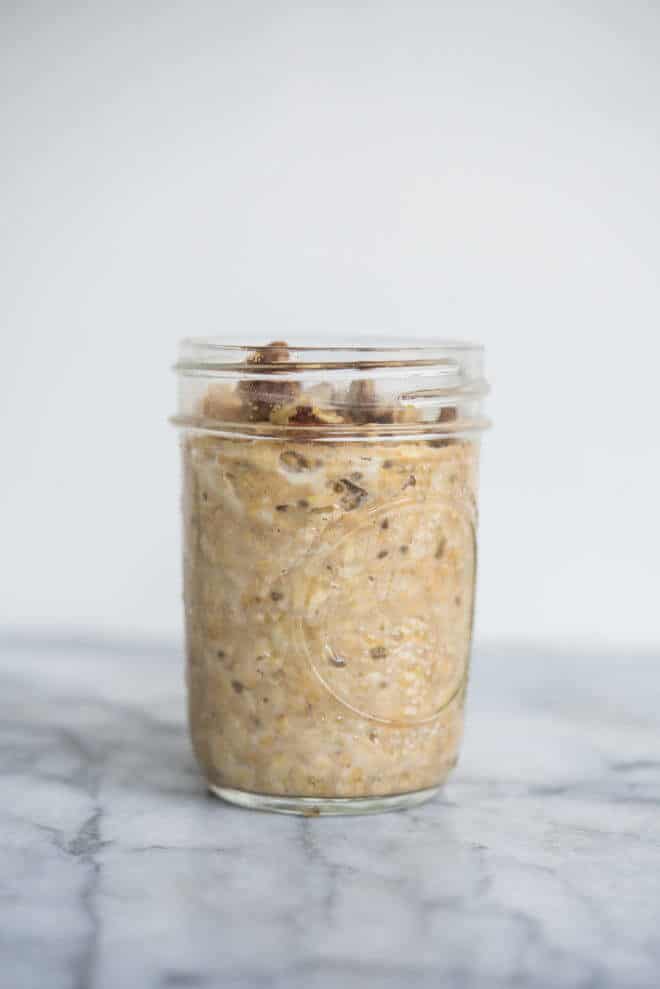 Pumpkin Spice Overnight Oats
Sometimes you're craving pumpkin pie in the dead of summer, right? When those days come, these Pumpkin Spice Overnight Oats will be all that you need to satisfy that craving right away!
Recipe: Pumpkin Spice Overnight Oats
Easy Overnight Oat Recipes from Around the Web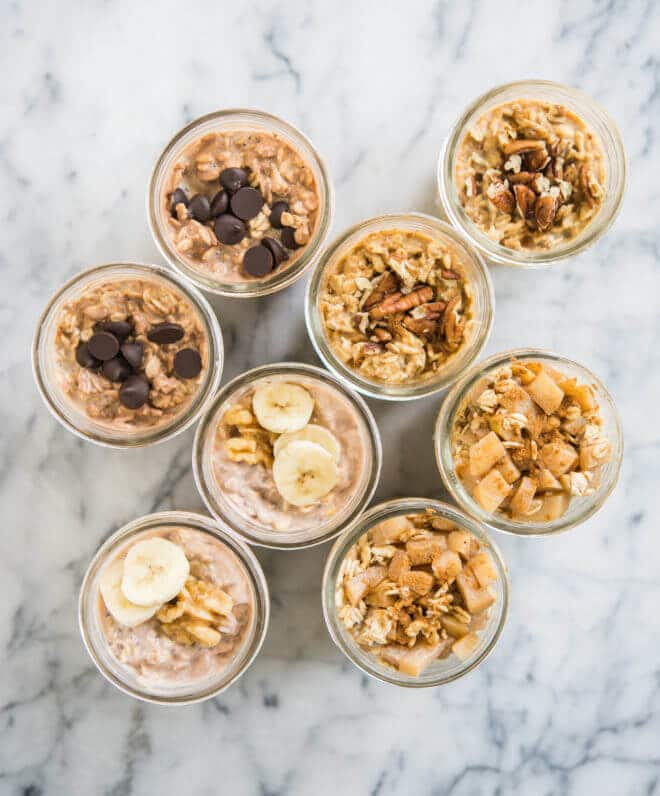 Now that we've covered our favorite overnight oats recipes from the Fed + Fit site, here are 10 more recipes from around the web for a little bit more inspiration!
We hope this healthy overnight oats roundup showed you how to make overnight oats, and gave you fresh ideas for your breakfast for the week! We know you'll love whichever one you choose!