Big things are happening in Dallas, TX! Not only is it a hub for emerging big business and big ideas, it's a true destination for foodies, culture-seekers, and the adventurous. Today's post is a recap of all the places my friend Juli and I visited during our recent vacation to Dallas, TX!
When my friend Juli (Bauer Roth of PaleOMG) invited me to spend a few nights touring Dallas, TX together, I immediately accepted. Over the last couple years, my friendship with Juli has evolved from colleagues (who adore and support each other's work) to one of the most inspirational and life-giving friendships I've known. Because we live states away from each other (she's in Colorado and I'm in Texas), we do our best to schedule trips together as often as possible. All of that to say, Juli could have invited me to go shovel poop for the circus and I probably would have accepted.
BUT, she didn't invite me to go shovel poop …she invited me to accompany her on a truly fabulous trip that would blow my little socks right off. I walked away thinking of (the new) Dallas, TX, a city I've visited dozens of times, as a true destination for food, culture, and activity-lovers alike.
For those of you who aren't familiar with Texas geography, San Antonio, TX (where I live) is a good 5 hour drive from Dallas. It's a little too far to hop up for a quick dinner, but just close enough to visit without having to spend too much time traveling (especially if you arrive by plane). After last week's trip, Dallas now has a spot on my family's vacation-destination list.
Let's discuss some of the highlights of our trip!
HOTEL
Juli and I had the distinct privilege of staying at the Joule Hotel in downtown Dallas. Walking the halls of the Joule felt like I was touring a living art museum. The walls and halls are adorned with some truly stunning pieces of art. The hotel pool, found several floors up, extends out over the sidewalk in a clear glass case. Everything about our stay exceeded expectations. The staff was exceedingly friendly and accommodating, the on-premise coffee shop (Weekend Coffee) served up the most delicious almond milk lattes, and the on-premise cocktail lounge (Midnight Rambler) is reason enough to visit. Juli and I were blown away by the quality of the cocktails there! She ordered a gin mint julep and I ordered a ginger/tequila drink that was served with delicious candied ginger.
A note about the room service: it was fantastic. I can't remember another time where I could choose "greens" as a side for our room service breakfast. Each night, Juli and I placed our breakfast room service card out on our door. The next morning, our chosen spread of coffee, fresh juice, eggs, sausage, potatoes, and GENEROUS scoop of greens arrived exactly at our requested time (6:45 a.m.). It was the perfect start to the day!
FOOD
I don't usually like to play favorites when it comes to food, but HOLY MOLY, this was good BBQ. I'm a Texas girl and, as such, I like Texas-style BBQ. I think one distinguishing characteristic of Texas-style BBQ is the use of smoke and dry rubs to flavor the meats. Lockhart had the most delicious brisket, sausage, and potato salad. When you arrive, walk right up to the counter (or likely, wait in the fast-moving line). If the line is especially long and you're especially thirst, grab a drink from the bar first to enjoy while you wait. The smokehouse master will then chop up your requested proteins right in front of you! Juli and I ordered about 1/2 a pound of meat + one side for each of us, and it was plenty. We then stocked up on plenty of pickles and loved every bite!
Dude, Sweet Chocolate is a Dallas institution, in many ways. When you stop by any one of the couple stores, the chocolate guru on staff will walk you through all the different ways they've creatively concocted their sweet treats. You can sample ANYTHING! I loved the chocolate marshmallows, mushroom-infused toffee, chocolate salami, and truffles the most. These make for great gifts!
Like I said up top, this is the bar located at The Joule Dallas hotel. It's located on the basement-level floor and feels like a speakeasy. Though they have an impressive bar (and food) menu, the incredibly patient, knowledgeable, and passionate waiter happily picked our brain on the kinds of cocktails we enjoy. He then made a few off-the-menu suggestions, we made our choices, and then LOVED what he brought us! It was one of those perfect bar experiences where you tell the bartender what you like, and the NAIL the perfect-for-you cocktail. Next time I'm in Dallas and wanting a nightcap, I'll be heading here!
Located in the back-half of the lobby of The Joule Dallas hotel, this modest counter-style coffee shop serves up impressive sips. I enjoyed a robust cold brew and Juli as delicious almond milk latte. They also serve up some local fruit and vegetable juices!
Whether you're in the Dallas area or visiting for vacation/work, you MUST GO HERE. Located on Lower Greenville Avenue (a neat neighborhood in its own right), this bakery caters to those who prefer to avoid gluten-containing grains. The entire bakery is gluten-free and they even have many dairy-free (even some Paleo) options. In addition to the fabulous cookies and cupcakes, you can also grab frozen pizzas and other breads. We each chose a cupcake and then walked next door for an afternoon coffee to wash it down. Note that they also make beautiful custom cakes, if you're in the market!
This was my 3rd visit to HG Supply Co. and I feel like it just keeps getting better and better. Also located on Lower Greenville, this incredible restaurant also serves up some of the best gluten-free (even Paleo-friendly) food I've enjoyed while dining out. I ordered one of their famous burgers, swapped for a gluten-free bun (which was awesome), and asked for their kale salad on the side. We also enjoyed an afternoon cocktail in the form of their "Double Under" – a beet-infused margarita! It was SO GOOD. I highly, highly recommend this place!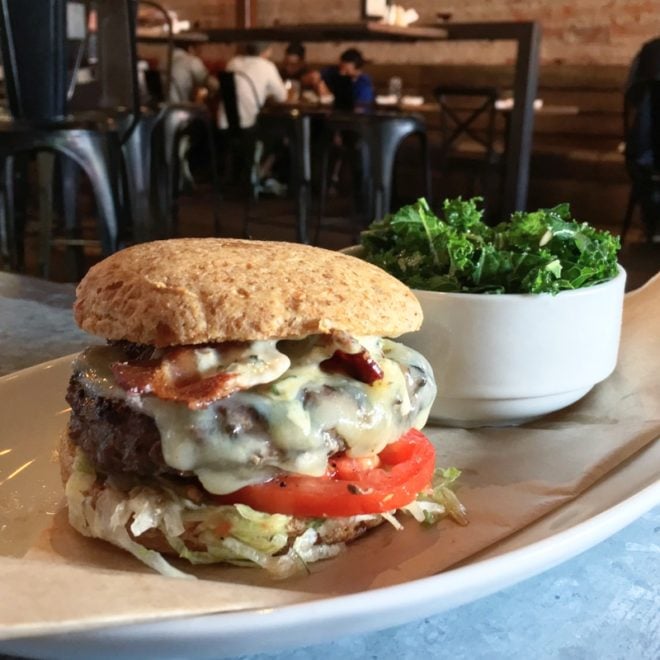 If you're in the mood for really high-quality Mexican food while visiting Dallas, this is the place! I recommend making a reservation if you're visiting on a weekend, but even if you have to wait, it's worth it. We enjoyed the La Novela (a passion fruit cocktail that was AWESOME), an Avocado Margarita (also good), sweet plantains, and the crispy brussels to start. For dinner, Juli ordered the Carne Asada and I enjoyed the Chochinita Pibil (yucatan-style braised pork). It was all delicious!
Our last restaurant stop in Dallas was at Origin, and it did not disappoint. Juli and I enjoyed some of their Paleo pancakes (YES, Paleo pancakes!) as an appetizer and then I dove into my giant bowl of Chilaquiles for the main brunch course. Though we didn't partake on this visit, they do have some lovely looking cocktails on the menu! This would be an awesome spot for brunch with friends on the weekend. We finished off our meal with a serving of their Paleo Chocolate Pudding – it was awesome!!
ACTIVITIES
I don't know that I've ever enjoyed a drop-in at a gym SO MUCH. The Gym of Social Mechanics, as it was explained to us, offers mixed fitness programming (strength + cardio + mobility), but without strenuous weights and overhead barbell movements. It facilitates such a fun atmosphere and their coaching was TOP NOTCH. We enjoyed an awesome workout and also learned that their members get 50%-off at HG Supply Co. (right next door). We loved this place! When traveling, I highly recommend scheduling a drop-in at a local gym. It's a great way to get to know some locals!
Juli and I toured the Dallas Farmer's Market on our last morning in Dallas! It was a lovely experience. We strolled through the tables full of fresh fruits, vegetables, homemade jams, jellies, pickles, and crafts. We grabbed a couple coffees, walked through the gardens, and enjoyed some fresh air while we chatted about life.
This was my favorite neighborhood that we visited in Dallas! Full of the most adorable shops, boutiques, restaurants (like Lockhart BBQ), and bars (a hard cider bar!), this was a lovely place to walk. This is a great place to park and plan to spend a few hours. I even found some awesome candles that I packed to take home with me from The Laughing Willow!
Lower Greenville Avenue
Another lovely neighborhood in Dallas, this is a great place to walk! This is where you'll find The Gym of Social Mechanics and HG Supply Co. You can also find the most hilarious Dallas swag shop here, Bullzerk! Though we didn't make it in this time, next time I'm definitely going to swing through the famous Steel City Pops for a grownup popsicle.
TRANSPORTATION
Airports are all mostly the same, but I have to tell you how much I love this one. If you're trying to choose between DFW and Love Field while flying into Dallas, I recommend Love. I've flown through both and while DFW is a great airport, Love is an especially nice experience. Maybe it's because it's a little smaller (reminding me of home) or maybe it's because it's closer to downtown, but I just love going through Love.
Ride Share
To get around Dallas, Juli and I simply traveled by ride share! I know many cities don't have them anymore, but Dallas does.
—
Many thanks to VisitDallas for partnering on this post! All photos and opinions are my own.