These gluten free sugar cookies are perfect for the holidays! Perfectly crisp on the outside and slightly soft on the inside, they hold their shape and are perfect for decorating.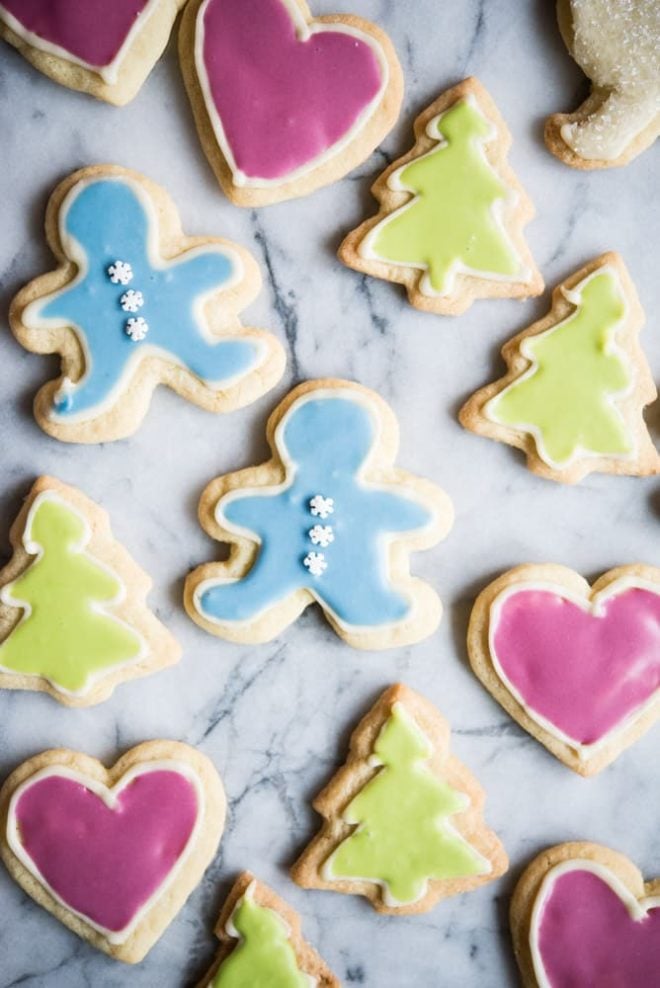 Some of my fondest Christmas memories involve baking cookies with my family, ESPECIALLY sugar cookies. There was seriously nothing better than getting to cut out your favorite shapes from the dough and then decorate your cookies however you liked. Even now, developing these gluten free sugar cookies was one of the most fun tasks we've taken on in a while. We turned on some Christmas music, mixed up our icing, laid out the sprinkles, and got to decorating – even Gus got his own special Great Pyrenees cookie!
When testing these gluten free sugar cookies, we wanted to create a dough that could turn into both a soft, fluffy, chewy sugar cookie, and one that we could roll out into shapes that would maintain its shape. After a few tests (and watching our cookies turn from stars to unidentifiable blobs in the oven) we finally landed on the right ingredient ratio, which gave us a cookie that holds its shape while baking, but still has that tender, chewy texture with slightly crisp edges.
Best Flour for Gluten Free Sugar Cookies
For these gluten free sugar cookies, and almost all of our other cookie recipes, we recommend using King Arthur Measure for Measure flour. This flour works as a 1:1 flour replacement in traditional recipes and we have found that it consistently produces soft, fluffy baked goods that hold together and aren't gritty like many other gluten free flours can be.
If you can't find the measure for measure flour, you can use Bob's Red Mill 1:1. However, we found that with Bob's Red Mill the cookies were a bit more crispy and spread slightly more. So, we recommend adding an extra 2 tablespoons of flour, keeping your cookies on the thicker side, and baking for no more than 8 minutes if you use this flour.
Can These Cut Out Sugar Cookies Be Made Egg-Free?
Yes, but know that they may not hold their shape as well as a cookie that contains eggs. We tested a TON of different egg replacers in several different baked goods, took all kinds of notes, and then laid it all out for you in this super helpful guide to egg substitutes for baking. For these cookies, we recommend using Bob's Red Mill Egg Replacer or a chia egg, though know that chia will affect the color of the dough!
How to Make Gluten Free Sugar Cookie Dough From Scratch?
Here's what you'll need to do to make this gluten free sugar cookie dough:
Whisk together the dry ingredients. First, you'll whisk together the flour, salt, and baking powder until well combined. This helps ensure that the baking powder and salt are evenly distributed throughout the cookies.
Cream the butter and sugar. Next, you'll add softened butter and the sugar to a bowl and beat them with an electric mixer for about 1 minute, until fluffy. This helps add a light, creamy texture to the cookies.
Mix in the rest of the wet ingredients. Once you've finished beating the sugar and butter, you'll mix in the vanilla and egg.
Add in the flour. Finally, you'll add the flour in about 1/2 cup at a time until it is fully incorporated, then you'll be ready to roll the dough! While you can refrigerate the dough, we found that it rolled out much more easily at room temperature.
Roll the dough. Spread flour on your countertop, then use a rolling pin to roll the dough to 1/4 inch thickness. If you're having trouble with the dough sticking, it can help to roll it on a piece of floured parchment paper.
Cut the cookies. Cut shapes into the dough as closely as possible, then roll the scraps from the dough into a ball, roll them out again, and cut again. These won't spread much, so you can place more on a sheet.
Bake. Next, you'll bake the cookies at 350 F for 8-10 minutes, until the cookies are just beginning to brown.
Cool. After baking, let the cookies cool for at least 30 minutes so that the frosting doesn't melt when you go to decorate them.
Frost. Finally, you'll frost and decorate the cookies, and let them sit for another 30 or so minutes to let the icing set!
Tips for the BEST Cut Out Sugar Cookies
For the very best cut out sugar cookies, be sure to follow these tips:
Don't rush the process, especially chilling the dough. Chilling the dough helps the cookies to hold up in the oven so that the shapes you cut them in stay nicely!
Refrigerate for 30 minutes after cutting to ensure that the cookie holds its shape.
For a sugar-free option, use this King Arthur Baking sugar alternative. It's a 1-for-1 swap and has no yucky aftertaste.
How do you make icing for roll out sugar cookies?
While you can make royal icing or even cream cheese icing for these cookies, we opted for a simple powdered sugar icing to keep things easy. We've put two icing recipes into the recipe card for you below. The first is a super simple powdered sugar icing that only requires whisking together powdered sugar and milk that hardens slightly on the outside.
The second icing recipe will fully harden once dry and allow you to stack the cookies on top of one another so that you can easily package them. For this one, you'll simply boil 1 1/2 tablespoons of sugar with water until just-dissolved, then whisk in powdered sugar and milk, or more water. You can't go wrong either way!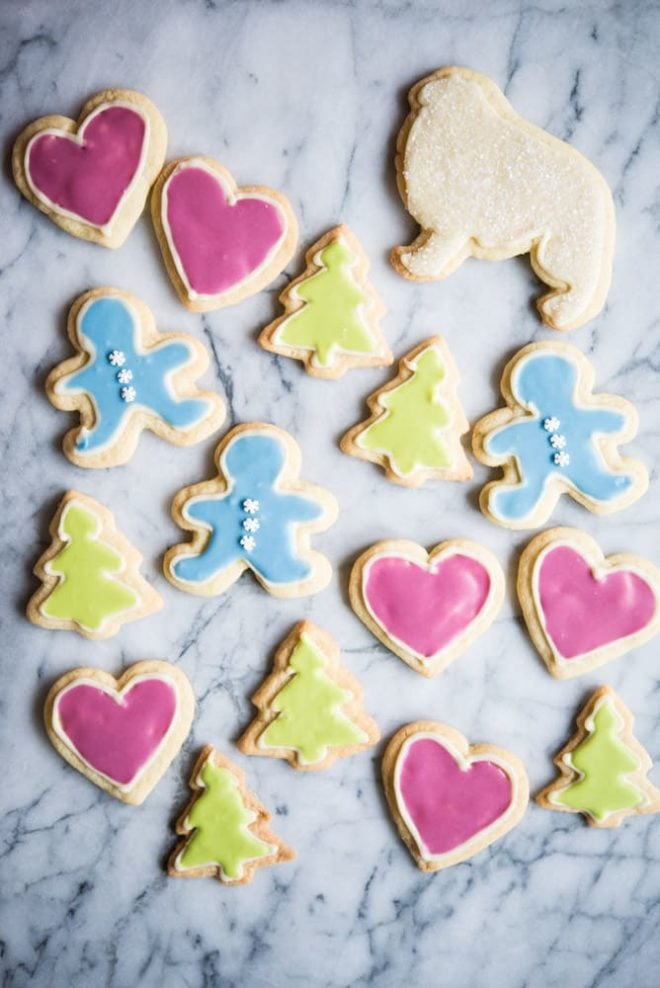 What are the best dye-free food colorings and sprinkles?
Once we nailed down the sugar cookie recipe, the next question on our minds was what kind of food coloring we would use in place of the traditional, artificial dye-filled varieties.
We decided to go with Watkins as an affordable, safer, and easy-to-find alternative. McCormick has also recently come out with dye-free food coloring that is receiving good reviews.
Note that with the lack of artificial dye, the coloring does turn out to be more pastel than a true deep red or green. To frost, we combined a few drops of dye (color it to your liking) with powdered sugar and a bit of milk, then placed it in a piping bag (note that if you don't have any pastry bags or tips on hand, you can also add the frosting to a plastic bag and make a tiny cut in the tip to get the job done).
Then, we outlined the cookies and filled them in.
If you want to decorate your cookies with sprinkles, but want to make sure they are also free of dyes and other questionable ingredients, India Tree makes tons of varieties of sprinkles, Supernatural has some very fun holiday sprinkle varieties (see Ugly Christmas Sweater and Big Blizzard), and Watkins also has a handful of holiday sprinkles without artificial dyes.
Can you freeze this cut-out sugar cookie recipe?
You sure can! These cookies freeze really well, actually, and can be frozen either before cooking or after.
If you want to freeze the cookie dough before cooking, you'll just wrap it in plastic wrap, pop it into an airtight container or freezer-safe Ziplock, and freeze! When you're ready to enjoy it, simply let it soften in the fridge for about 24 hours, and once it's softened, roll it out, cut the cookies, and follow the baking instructions!
Alternatively, if you'd like to freeze the cookies AFTER they've been cooked, that works too! Just place them in an airtight container or freezer-safe Ziplock bag, and stick them in the freezer until you're ready to enjoy!
We hope you and your family enjoy making these gluten free sugar cookies as much as we did!
Gluten Free Sugar Cookies
These gluten free cut out sugar cookies are sure to become a holiday tradition in your home!
Instructions
In a small bowl, whisk together the flour, baking powder, and salt, then set aside.

In a large bowl, beat the butter and sugar on high with an electric mixer or stand mixer for 1-2 minutes, until fluffy. Add the egg and vanilla and beat again until fully combined.

Add the flour to the butter mixture 1/2 cup at a time, mixing constantly, until the flour is fully incorporated and a soft dough has formed. Cover the bowl and refrigerate for one hour, up to overnight.*

Preheat the oven to 350 F and line a baking sheet with parchment paper.

Sprinkle flour over your counter, or over a large piece of parchment paper, then take half of the dough and place it on the floured surface. Sprinkle flour over the dough and use a rolling pin to roll it out to even 1/4-inch thickness. If the dough sticks at any time, you can add more flour to prevent it, or place another piece of parchment paper over top if you are still experiencing sticking. If the dough cracks around the edges, simply pinch it back together and roll over it again.

Once the dough is rolled out, cut your shapes, taking care to cut them as closely together as possible to utilize all of the dough. Once you have cut out all of the shapes, carefully place the cookies one inch apart on the cookie sheet. At this point you can roll the extra dough into a ball then roll and cut again. Repeat this process for remaining dough.

Bake the cookies for 8-10 minutes, until the edges are browned, then remove from the oven and let cool.
To make the frosting:
Whisk the powdered sugar and milk until the icing is thin enough to spread, but not so thin it will run off the cookies.

Spoon a small amount of icing into a piping (or plastic) bag to outline the cookies. This step makes filling them in with colored icing much easier later.

Once you're finished outlining the cookies, divide the rest into individual bowls and add food coloring to your liking. Add the food coloring to your

piping bag

, or Ziploc bag with the tip cut off, and use it to outline, then fill in your cookies.

Decorate the cookies with sprinkles, then set aside to let the icing harden slightly, about 30 minutes. Store in an airtight container for up to 5 days, or eat immediately. Enjoy!
Recipe Notes
If you'd like an icing that fully hardens so that you can stack the cookies on top of each other, boil 1 1/2 tablespoons of sugar and 1 tablespoon of water over medium heat for about 30 seconds, until the sugar is dissolved, then whisk in the powdered sugar and milk until desired consistency is acheived.
If you are having trouble with the dough sticking, add more flour to both sides. It can also be helpful to sandwich the dough between two pieces of parchment paper (dusted with flour) while rolling out the cookies!
Nutrition
Calories:
82
kcal
|
Carbohydrates:
11
g
|
Protein:
1
g
|
Fat:
4
g
|
Saturated Fat:
3
g
|
Polyunsaturated Fat:
0.2
g
|
Monounsaturated Fat:
1
g
|
Trans Fat:
0.2
g
|
Cholesterol:
17
mg
|
Sodium:
71
mg
|
Potassium:
5
mg
|
Fiber:
1
g
|
Sugar:
5
g
|
Vitamin A:
129
IU
|
Calcium:
15
mg
|
Iron:
0.3
mg