Greek Burger Lettuce Wraps with Mediterranean Chimichurri
jump to recipe
These Greek Burger Lettuce Wraps with Mediterranean Chimichurri are brought to you in partnership with my friends at TRIBALI Foods! They call for the easy to prepare TRIBALI Mediterranean Beef Patties, some tasty spreads, and fresh veggies. You're going to love this healthy, flavorful meal!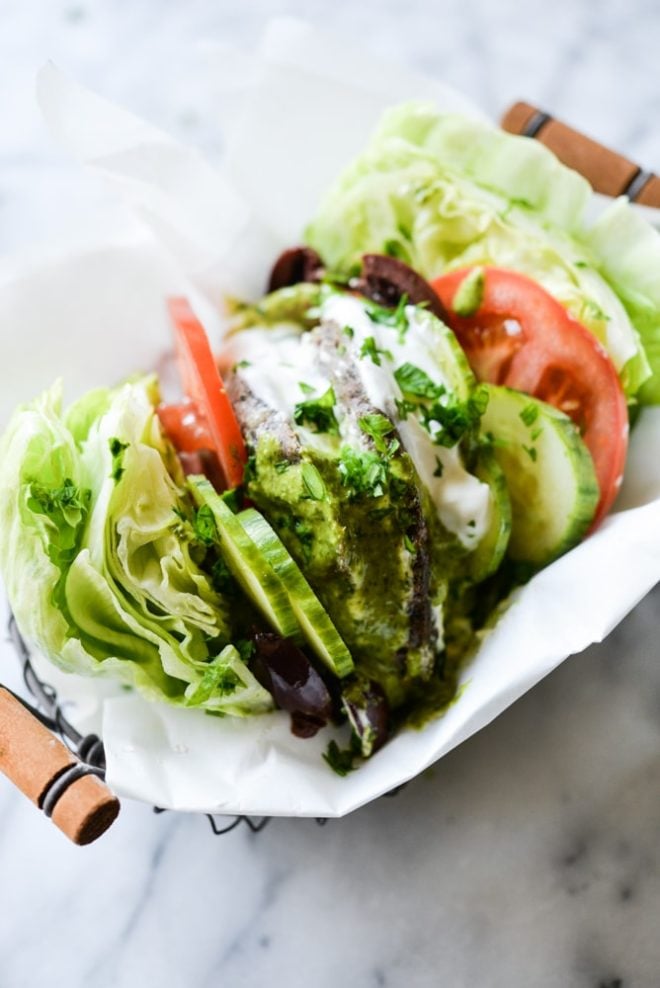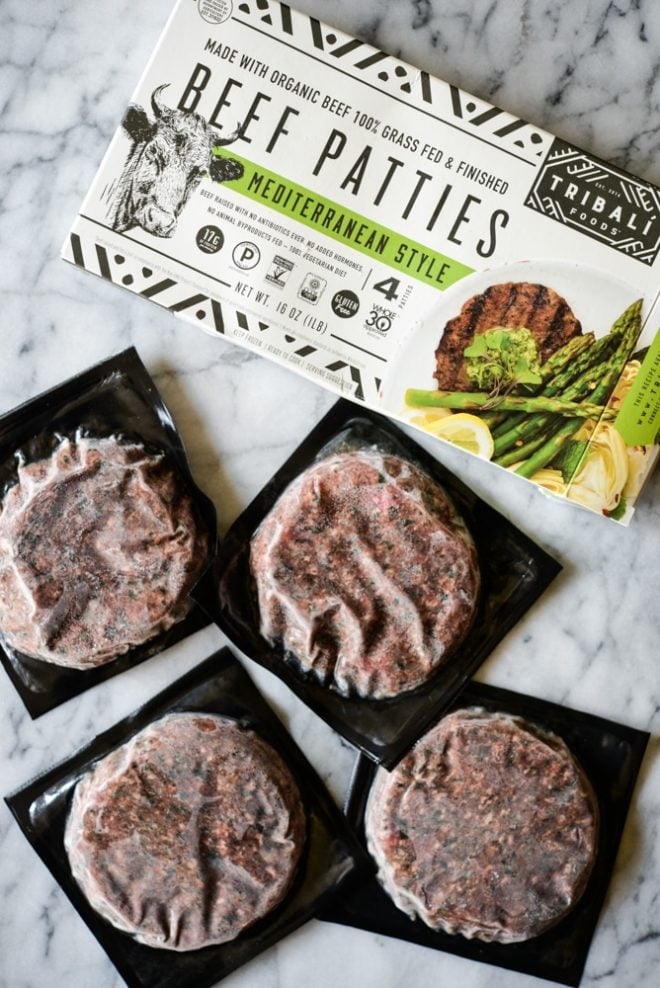 I'm always in search of a little magic with my meals. I want them to be delicious, easy to prepare, filling, AND nutritious. All of those components can be easily found separately, but it takes a touch of magic to find them wrapped up on the same plate. These Greek Burger Lettuce Wraps happen to have said magic! These wraps are incredibly nutritious as they're filled with fresh, thoughtful ingredients. They're filling, they're delicious (tzatziki AND chimichurri?!), and thanks to TRIBALI Mediterranean Beef Patties, they're an absolute breeze to whip up.
These Mediterranean Beef Patties by TRIBALI Foods are, hands-down, one of my favorite foods to keep on hand at all times. They're made with high-quality ingredients (organic, 100% grass-fed, grass-finished beef). They come frozen and uncooked in individually-sealed patties. Each box has (4) 4oz. patties, which is more than enough for a full meal for our family. I find myself double-stacking patties in this recipe for an even more filling wrap.
To prepare these Greek Burger Lettuce Wraps, all you need is some fresh lettuce, a few slices of cucumber, some tomato, and maybe a few kalamata (purple) olives. Take your frozen patties straight from the freezer and put them on a skillet with a touch of cooking fat. They'll cook from frozen to perfect in NO TIME! Squeeze your patties in between the fresh veggies and (if you like) add a drizzle of the tzatziki and chimichurri for even more of a flavor burst.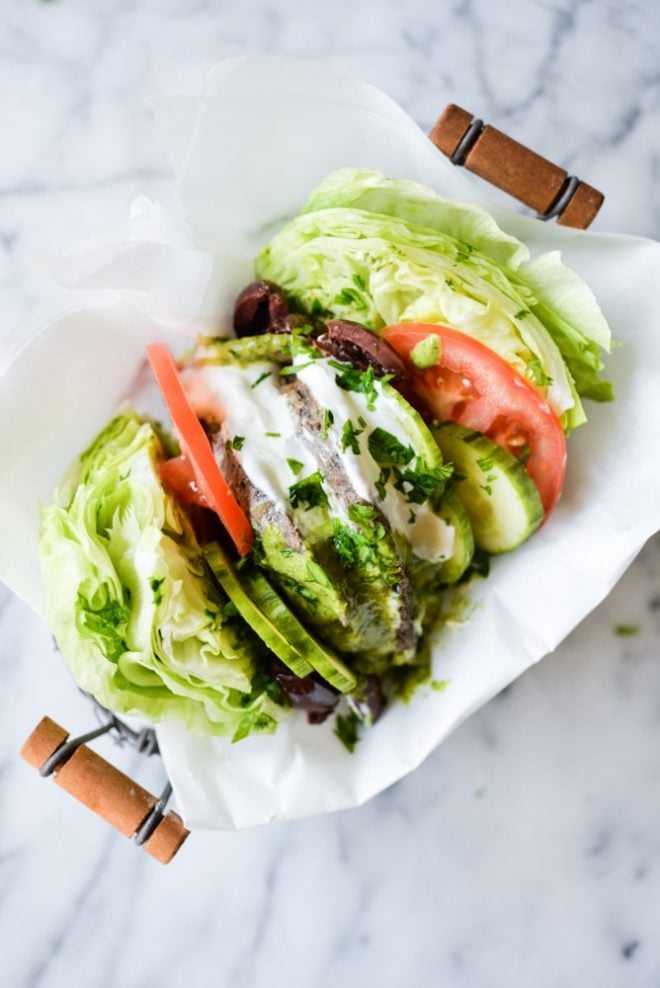 Where can you find TRIBALI patties? 
Online HERE (I highly recommend a "Mix & Match" pack so you can keep a variety of the tasty patties stashed in the freezer!)
Whole Foods for those of you lucky ducks who live in Southern CA, Arizona, Nevada and Hawaii.
I hope you love these wraps and these fabulous, time-saving patties as much as I do!
Bonus note: I've gotten a lot of questions about how we're preparing food (for ourselves) for when baby girl arrives. Next to our stash of freezer-meals (leftovers portioned out and frozen), I plan to keep several boxes of these patties on hand for healthy, quick meals when we need them. It really gives me peace of mind knowing that TRIBALI has my back!
Use the discount code "fedandfit" for a 10% discount on your online order! 
Print
Greek Burger Lettuce Wraps
Author:
Prep Time:

10 minutes

Cook Time:

12 minutesInactive Time: Total Time:

Total Time:

4 minute

Yield:

4
For the Chimichurri:
1/3 cup

red wine vinegar

4

garlic cloves, minced

1/2 teaspoon

red pepper flakes

1/2 cup

fresh cilantro

1/2 cup

fresh flat-leaf parsley

1/2 cup

olive oil

1 tablespoon

fresh oregano

1/2 teaspoon

fine sea salt, more to taste
For the Burgers:
4

Tribalí Foods Mediterranean Style Beef Patties

1/4 cup

Mediterranean chimichurri

1/4 cup

tzatziki sauce

1

head iceberg lettuce

4

slices tomato

1/4 cup

olives, chopped
Instructions
Heat a large skillet over medium-low heat and add the Tribalí patties to the pan. Cook for 6 minutes, then flip and cook an additional 4-6 minutes until browned and fully warmed through.
Cut the lettuce to make a wrap, then place a burger on top of the lettuce, top with 1 tablespoon each chimichurri and tzatziki sauce, one slice of tomatoes, 1 tablespoon olives, and the top of the lettuce wrap. Serve!