An easy spin on a classic French favorite, our Instant Beef Burgundy is bursting with rich flavor, serves fall apart tender, and is the perfect dish to impress at your next gathering.  Guests will be thinking you spent all day in the kitchen with this beautiful dish, not knowing that with the help of our favorite kitchen gadget, the Instant Pot, this juicy roast came together in no time!
I know, I know, we say Instant Beef Burgundy and you're probably thinking there's no way you could make something that involved or "fancy" but I'm here to tell you friend, that this dish is SO easy, and so worth the little extra effort that it takes to get that signature flavor.  We use a good bottle of red wine (remember one you would drink!) to create a broth with incredible depth, and pair it with a classic French bouquet of herbs (thyme, parsley, and bay leaves) for a seasoning that is out of this world!  Crisp, salty bacon, buttery sautéed mushrooms, and pre-seared grass-fed beef stew meat give this meal some serious substance, especially paired with a bowl of your favorite mashed cauliflower for a complete dinner.
I originally made a Paleo Beef Burgundy using the traditional oven method, and it turned out to be a fan favorite!  We take your feedback to heart here at Fed + Fit, and you guys have been asking for EASY, so of course the next item on our to-d0 list was to transform this special meal, using a more compact approach without sacrificing flavor or presentation!  AND WE DID IT.
Whenever I'm making this recipe, I can't help but think about the larger than life food personality, Julia Child, who essentially brought French cooking to the masses, making it fun and accessible for everyone – and thank goodness she did!  I can't imagine living in a world where there was no Instant Beef Burgundy, and I don't want that for you either!  When I'm whipping up a meal like this, I often hear her voice in my head saying "I enjoy cooking with wine. Sometimes I even put it in the food…" and I take an extra little sip of my glass of pinot in her honor because when you're cooking a Julia recipe, you do as Julia says, right?!
Going into this recipe, know you may need to sear the stew meat in batches, and that's A-ok!  Also, take a little time to simmer down the wine sauce to develop some flavor depth, and cook off the alcohol content from the wine.  It's a small step in the process, but important!  You'll also want to make sure that you don't overfill your Instant Pot so the dish has room to pressurize while cooking.  Keeping those few tips in mind, you'll have a flavorful and IMPRESSIVE dish on the table in no time!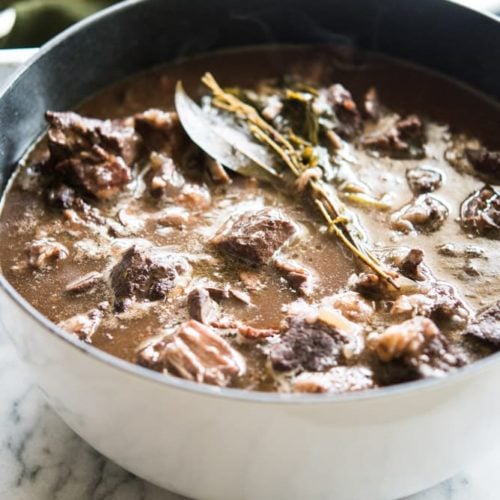 An easy spin on a classic French favorite, our Instant Beef Burgundy is bursting with rich flavor, serves fall apart tender, and is the perfect dish to impress at your next gathering.
Ingredients
1/2

pound

bacon

sliced into 1" strips

3

tablespoons

ghee

grass-fed butter, or olive oil, divided

1

teaspoon

coarse sea salt

1/4

teaspoon

ground black pepper

4

pounds

beef roast

cut into 1" cubes (may sub with pre-cubbed beef stew meat)

2

cups

button mushrooms

quartered

1

medium white onion

chopped

4

cloves

garlic

minced

3

tablespoons

gluten free flour

2

cups

beef broth

2

cups

red wine

merlot is my personal choice

4

sprigs

fresh flat leaf parsley

plus additional for garnish

6

sprigs

fresh thyme

6

inches

kitchen twine
Instructions
Press "saute" on your Instant Pot and add the bacon. Cook for 5-6 minutes, until the bacon is crisped. Pour off all but one tablespoon of fat.

Toss the beef with the salt and pepper, then add the butter or ghee to the pot. Once melted, add the beef cubes to the pot one handful at a time, and cook for 2-3 minutes per side until they're browned. They do not need to be completely cooked through – only browned on the outside. Spoon out cooked beef and rotate in raw until you've gone through all 4 pounds. Set the cooked beef aside in a large bowl for use later. If you'd like to speed up this step, you can also brown half the beef in a large cast iron over the stove at the same time.

Once all the beef is out of the pot, add the mushrooms, onions, and garlic. Cook for 4-5 minutes, until the onions are translucent and the mushrooms are reduced in size, then remove from from the pot.

Add the remaining 2 tablespoons butter to the pot, once melted add the flour and whisk to combine.

Whisk in the beef broth and the wine 1 cup at a time making sure all lumps are smoothed. Let cook for about 5 minutes, until the mixture comes to a boil, then, add the beef, mushrooms, onions, garlic, and bacon back to the pot.

Tie your bay leaf, parsley, and thyme together. Place the herb bundle in the stew. Place the lid over the top and cook on high pressure for 1 hour.

Serve with fresh parsley & a glass of your favorite merlot. Enjoy!
Recipe Notes
For the slow cooker version: We recommend you crisp the bacon, brown the beef, and make your broth/wine/flour mixture in a pan first as listed. You can then transfer all the ingredients into a slow cooker and cook on high for 4 hours or low for 6-8 hours.
Nutrition
Calories:
654
kcal
|
Carbohydrates:
7
g
|
Protein:
49
g
|
Fat:
43
g
|
Saturated Fat:
19
g
|
Polyunsaturated Fat:
4
g
|
Monounsaturated Fat:
20
g
|
Trans Fat:
2
g
|
Cholesterol:
190
mg
|
Sodium:
890
mg
|
Potassium:
1028
mg
|
Fiber:
1
g
|
Sugar:
2
g
|
Vitamin A:
121
IU
|
Vitamin C:
4
mg
|
Calcium:
61
mg
|
Iron:
6
mg