Paleo Beef Burgundy
jump to recipe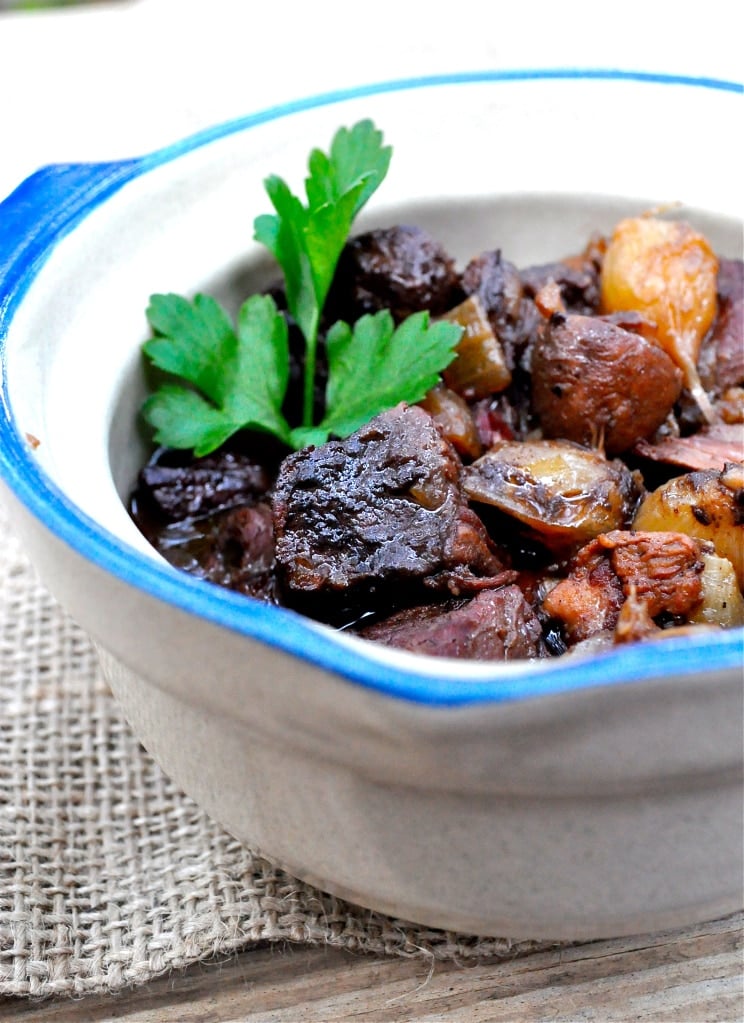 To paint a clear picture and begin with the end in mind, when this dish was served in my home, jaws dropped and words like, "this is the best thing you've ever made," were uttered.
Once upon a time, I was craving beef stew. I expressed this to my culinary genius of a mother and she recommended Beef Burgundy (or, Beef Bourguignon).
Because "stew" sounds like a grand injustice for this flavor & soul-filled dish, it has the fancy name of Beef Burgundy. I'm typically more of a simpleton and don't abide by fancy names; but this one fits.
Beef Burgundy is a classic French recipe for stew that got its start as a peasant's dish. It involves beef braised in red wine, flavored with lots of garlic, pearl onions, and mushrooms.
I made a promise to a new friend from Eat. Drink. Om. to start posting cast iron-friendly recipes. Here you go! This dish is perfect for a large cast iron pot or for that large Le Creuset pot you got from your wedding registry that you probably rarely use.
Although there are quite a few steps involved, don't be intimidated. This recipe is simple, straightforward, and oh-my-goodness-mind-blowingly delicious. You may find it difficult to not gobble up the entire pot.
To help take some of the pressure off, I have provided a LOT of photos to help document each step in the process of making Beef Burgundy.
As the traditional recipe calls for flour, we're opting for arrowroot – a Paleo-friendly thickener.
I recommend you grab a decent bottle of Merlot for braising. My rule of thumb, as it was drilled into me at a young age, never cook with a wine you wouldn't drink out of a glass. I chose a beautiful Messina Hof Merlot for this exquisite "stew."
Come home during lunch to prepare this dish and leave it in the oven during the afternoon. By the time you come home in the evening, your whole house will smell absolutely divine. Pour yourself a glass of that Merlot and start dining.
Need something to listen to while you cook? Allow me to make a recommendation. My current favorite kitchen album is House With No Home by the Horse Feathers. If I were you, I'd start with the song, "This is What." Enjoy, my friends.
Paleo Beef Burgundy
30 minutes
4.5 hours
0:30
Ingredients
4 lbs beef roast, cut into 1" cubes (may sub with pre-cubbed beef stew meat)
1 Tbl coconut oil, ghee, or grass-fed butter
2 cups button mushrooms, quartered
1/2 lb raw bacon, sliced into 1" strips
1 medium white onion, chopped
4 cloves garlic, minced
1/2 cup arrowroot flour (may sub with potato starch or almond flour)
4 cups beef broth
1 bottle of merlot
2 cups pearl onions
2 bay leaves
4 sprigs fresh flat leaf parsley
6 sprigs fresh thyme
6" kitchen twine
Directions
Preheat your oven to 350 degrees.
On high heat, pour the coconut oil, ghee, or butter in a large cast iron, Le Creuset, or stew pot.
One handful at a time, cook the beef cubes just until they're brown. They do not need to be completely cooked through – only browned on the outside. Spoon out cooked beef and rotate in raw until you've gone through all 2 lbs. Set the cooked beef aside in a large bowl for use later.
Once all the beef is out of the pot, add your mushrooms. Stir until they've reduced in size and are browned. Remove the cooked mushrooms into the same bowl as the beef.
Once your pot is empty again, add the bacon and cook until crispy. Remove the bacon into the same bowl as the beef and mushrooms. With a ladle, carefully remove about half of the bacon grease and discard.
Add the chopped white onion to the pot and stir until they're browned. Add the garlic and stir for another minute.
Add the arrowroot and about ½ cup of beef broth. With a whisk, stir the almond meal, broth, onions, and garlic together until the form a consistent paste. Slowly add the entire bottle of wine, whisking as you go. Re-add your beef, mushrooms, bacon and then stir to fully incorporate. Add the pearl onions then pour in the rest of your beef broth.
Tie your bay leaf, parsley, and thyme together. (You just made a French bouquet garni! Fancy you!). Place the herb bundle in the stew. Cover the pot with aluminum foil, then the lid. Bake at 350 degrees for approximately 4.5 hours.
Serve with fresh parsley & a glass of your favorite merlot.
Recipe Notes
511 Calories; 20 g Fat; 71 g Protein; 0.2 g Sugar