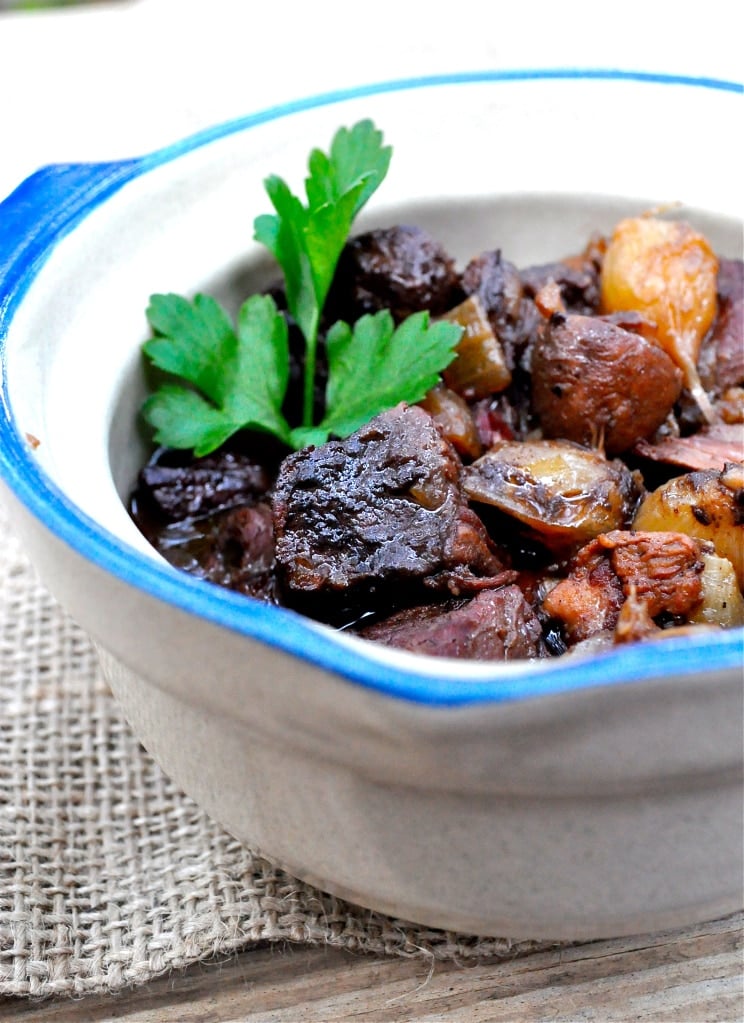 To paint a clear picture and begin with the end in mind, when this dish was served in my home, jaws dropped and words like, "this is the best thing you've ever made," were uttered.
Once upon a time, I was craving beef stew. I expressed this to my culinary genius of a mother and she recommended Beef Burgundy (or, Beef Bourguignon).
Because "stew" sounds like a grand injustice for this flavor & soul-filled dish, it has the fancy name of Beef Burgundy. I'm typically more of a simpleton and don't abide by fancy names; but this one fits.
Beef Burgundy is a classic French recipe for stew that got its start as a peasant's dish. It involves beef braised in red wine, flavored with lots of garlic, pearl onions, and mushrooms.
I made a promise to a new friend from Eat. Drink. Om. to start posting cast iron-friendly recipes. Here you go! This dish is perfect for a large cast iron pot or for that large Le Creuset pot you got from your wedding registry that you probably rarely use.
Although there are quite a few steps involved, don't be intimidated. This recipe is simple, straightforward, and oh-my-goodness-mind-blowingly delicious. You may find it difficult to not gobble up the entire pot.
To help take some of the pressure off, I have provided a LOT of photos to help document each step in the process of making Beef Burgundy.
As the traditional recipe calls for flour, we're opting for arrowroot – a Paleo-friendly thickener.
I recommend you grab a decent bottle of Merlot for braising. My rule of thumb, as it was drilled into me at a young age, never cook with a wine you wouldn't drink out of a glass. I chose a beautiful Messina Hof Merlot for this exquisite "stew."
Come home during lunch to prepare this dish and leave it in the oven during the afternoon. By the time you come home in the evening, your whole house will smell absolutely divine. Pour yourself a glass of that Merlot and start dining.
Need something to listen to while you cook? Allow me to make a recommendation. My current favorite kitchen album is House With No Home by the Horse Feathers. If I were you, I'd start with the song, "This is What." Enjoy, my friends.
[cft format=0]