Paleo Caprese Salad features perfectly ripe tomatoes, fresh basil, and aged balsamic vinegar to create a simple and flavor-packed salad that will make you forget all about the traditional mozzarella!
You know what's funny? After I make something delicious and then (somewhat accidentally) wind up with photos that do the flavors justice, I have a really hard time getting my head out of the clouds. I'm so in love with the recipe that when I sit down to share all the tidbits I've researched about the ingredients and history of the dish, I blank. I blank about what to say. I just stare at the photos and daydream about when I can make it again. My love of food sometimes gets in my way of blogging about food.
THIS is exactly one of those moments. I have a love affair with Caprese salad. Who doesn't? It's garden fresh, lettuce-free, perfectly seasoned, and drizzled with delicious balsamic vinegar and olive oil. Gah. It's awesome. Traditional Caprese salad is typically served with generous slices of fresh mozzarella. Although you can find some Paleo-friendly cheeses out there (mostly made from almonds), I decided to leave the cheese out altogether. I don't miss it.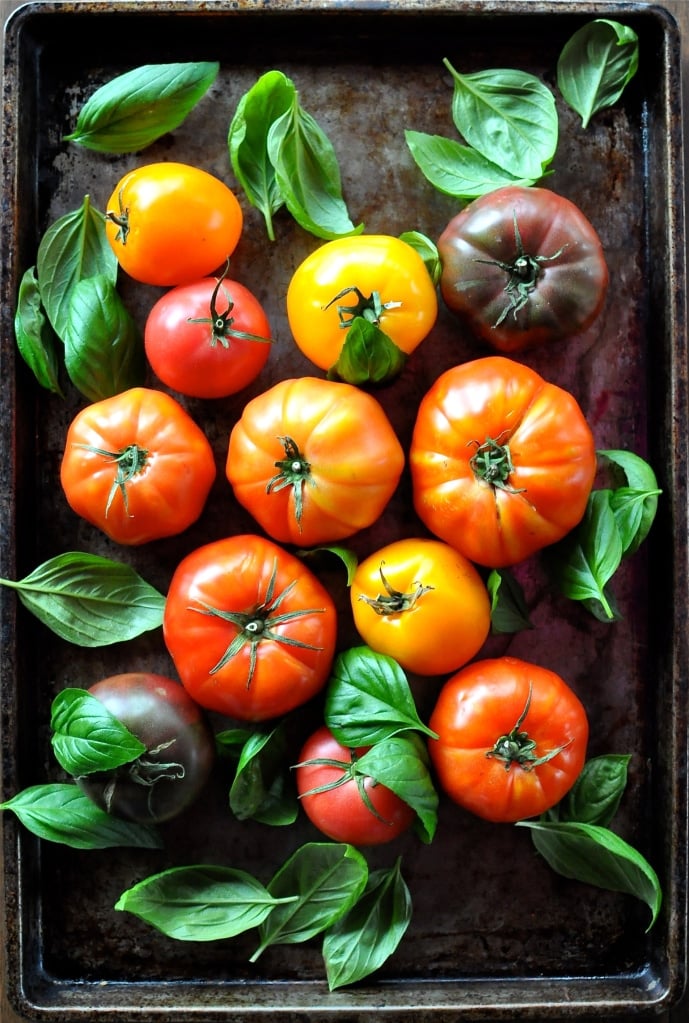 Everyone will love this salad. Vegetarians, Paleo-ans, Vegans, Raw Food-ans, and good ole food lover-ans UNITE!
If you're looking for a seasonal dish and think it's a little too soon to jump on the "pumpkin everything" crazed bandwagon, this salad is for you. Tomatoes and basil (at least in my backyard) are in season. Time to slice, dice, and enjoy.
I know some people worry about the use of balsamic vinegar while following a Paleo plan. My understanding is that the vinegar is A-Okay. If you're able to find classically prepared balsamic vinegar (aged for a long time using traditional methods), it's especially A-Okay. Delicious too. Did you know that balsamic vinegar might take the edge off your appetite and possibly aid in the digestion of protein? It's a little sweet, a little savory, and a little goes a long way.
Our salad starts with tomatoes. I chose heirloom tomatoes for this edition, but any tomato will work well. Choose deep colored, firm (but not too firm), heavy tomatoes with a sweet smell. Slice the tomatoes into ½ – ¼ inch discs.
You're also going to need some basil. Although our potted basil plants have leaves with the deepest color, we also have THREE volunteer basil plants! I couldn't believe it. Two of them are huge. The third is pictured above where Wanda the koi fish executed a flawless photo bomb.
Grab a handful of the biggest and healthiest basil leaves. Let's start assembling! On a platter or plate, lay one tomato slice down. Place a basil leaf on top. Keep layering tomato and basil until you've used up all your ingredients. Sprinkle with kosher or sea salt. Dust with freshly cracked black pepper.
It already looks delicious, doesn't it?
Now balsamic vinegar enters the scene. This little bottle of balsamic vinegar is something special. It been aged about 30 years and has reduced into a thick, syrupy magic sauce (I've even drizzled it on ice cream). This vinegar comes all the way from a charming little shop in downtown Wiesbaden, Germany called Schenken & Geniessen. Nando Chuk owns this small, but brilliantly stocked infused vinegar, olive oil, vodka, and whisky store. Nando is a very sweet man from India whose commitment to quality customer services is unmatched.
When work or family vacation finds us in Wiesbaden, we make sure to set aside a few hours to spend in Nando's shop. He always remembers us (possibly because we practically buy him out). We all get a spoon and then start our tasting marathon. His selection of infused vinegars, oils, vodkas, and whiskeys are all stored in glass dispensers or wooden barrels. We spoon, sip, slurp, and praise Nando for his brilliant collection of spirits from across Europe. If you're ever in Wiesbaden, please stop by Nando's shop. Remember to bring your empty glass water bottles! He'll fill them with your favorite products so that you won't be charged for a container. Tell him the Garcia's say hi.
Where were we? Oh yes, the Paleo Caprese salad. Sorry, I guess I miss Germany. It tops the list of my favorite places I've ever visited. After you've given a drizzle of your own favorite balsamic vinegar over the salad, drizzle it with a good extra virgin olive oil (EVOO).
And then the Paleo caprese salad DONE!
Wasn't that the easiest salad ever? You're going to love it.
Paleo Caprese Salad features perfectly ripe tomatoes, fresh basil, and aged balsamic vinegar to create a simple and flavor-packed salad that will make you forget all about the traditional mozzarella!
Ingredients
4

Large or 6 Medium-Sized Tomatoes

16-20

Large Fresh Basil Leafs

Kosher Salt

to taste

Freshly Cracked Black Pepper

to taste

3

teaspoons

Balsamic Vinegar

3

teaspoons

EVOO
Instructions
Cut the tomatoes into ½ - ¼ inch slices. Arrange alternating tomato and basil on a platter or plate.

Sprinkle with kosher salt and black pepper.

Drizzle with the balsamic vinegar and olive oil.

Enjoy!
Nutrition
Calories:
52
kcal
|
Carbohydrates:
5
g
|
Protein:
1
g
|
Fat:
3
g
|
Saturated Fat:
0.4
g
|
Polyunsaturated Fat:
0.4
g
|
Monounsaturated Fat:
2
g
|
Sodium:
7
mg
|
Potassium:
300
mg
|
Fiber:
2
g
|
Sugar:
4
g
|
Vitamin A:
1109
IU
|
Vitamin C:
17
mg
|
Calcium:
16
mg
|
Iron:
0.4
mg