Every item on this page was chosen by The Fed & Fit team. The site may earn a commission on some products (read more here).
These reliable and EASY pumpkin pancakes are a fun, cozy way to enjoy fall flavors with friends and family weekend after weekend.
Pumpkin Spice Pancakes
One of my VERY favorite weekly moments includes pancakes. Every Saturday morning, we enjoy a plate full of pancakes alongside bacon or sausage, fresh fruit, and a steaming cup of coffee. Everyone in the house LOVES it — my 1.5 year old included. It's such a fun tradition and one I can't wait to continue as my daughter gets older and can actually help fry the pancakes (but also, SLOW DOWN, time!) — I know it'll be such a fun memory-maker for my family.
These pumpkin pancakes take our Saturday pancakes up a notch! They're festive, fun, and delicious, and honestly, I'd make and eat them year round if my husband would let me. Made with simple, better-for-you ingredients, this recipe is easy enough to make you nix the boxed mix and enjoy your own homemade version instead.
Are homemade pumpkin pancakes easy to make?
They are! It's really just a matter of measuring, mixing, and pan frying. Honestly, I'd go so far as to say that these pancakes are just as easy as boxed mix pancakes (there are just a few more ingredients to measure out, but you can always do that the night before!) but taste WAY better.
Ingredients for Easy Pumpkin Pancakes
Here's what you'll need for your homemade pumpkin pancakes:
Pumpkin Puree – to start, you'll need 1 (15-ounce) can of pumpkin puree. When purchasing this from the grocery store, be sure to steer clear of pumpkin pie filling, and opt for pure pumpkin puree instead.
Milk – in addition to the pumpkin puree, you'll also need 1 ½ cups of milk. Cassy used whole milk here, but you could certainly use almond milk, oat milk, or any other non-dairy milk you love.
Butter – a ½ cup of melted butter goes into the bowl with the rest of the wet ingredients also. If butter isn't your thing (or you don't have it on hand), feel free to sub melted coconut oil, ghee, or another liquid fat that you like.
Eggs – 3 eggs get whisked into the mix too.
Vanilla Extract – 3 tablespoons of vanilla extract really give the pancakes a delicious, vanilla-y flavor. Don't be afraid of using this amount here — it may seem like a lot, but it'll really add some great flavor to the cakes!
Flour – as for dry ingredients, you'll need 2 ½ cups of an all-purpose flour (if you're gluten-free, any 1-for-1 gluten free flour works great — King Arthur's is what was used here).
Sugar – a ¼ cup of granulated sugar will help to sweeten the pancakes just a touch.
Baking Powder – 2 teaspoons of baking powder will go in with the rest of the dry ingredients.
Spices – 2 teaspoons of ground cinnamon and a ½ teaspoon of nutmeg really add a punch of warm, cozy fall flavors to the pancakes.
Sea Salt – a ½ teaspoon of fine sea salt helps to counter the sweetness just a bit and also really enhances the other flavors in the pancakes.
Butter – while your cakes are hot, smear some butter on each one. This will allow the butter to really melt and seep into each one.
Whipped Cream – if you're going all out here, serve your pancakes with a good dollop (or two!) of whipped cream.
Maple Syrup – what is a stack of pancakes without a dousing of maple syrup!? Serve your cakes drizzled with maple syrup, or serve the maple syrup on the side for everyone to drizzle on themselves.
Cinnamon – finally, sprinkle some cinnamon on top of the pancakes before serving. This will provide another yummy punch of flavor + will look really beautiful!
How to Make Pumpkin Pancakes
The process is really easy — perfect for a weekend morning! Here's how you'll bring this recipe together:
Heat a skillet over medium-high heat – get a non-stick skillet or griddle heating on the stovetop over medium heat. If you're using a non-stick skillet (highly recommend!), you won't need ANY oil or butter for your pancakes.
Whisk together the wet ingredients – whisk the wet ingredients together in a large bowl.
Add the dry ingredients – once your wet ingredients are well combined, add the dry ingredients into the bowl and stir until smooth.
Cook the pancakes – in a non-stick skillet or on a griddle, fry the pancakes (use approximately a ¼ cup-worth of the batter for each pancake). Cook over medium heat for 2-3 minutes on each side. This recipe will yield 24, 3-inch pancakes.
Serve + enjoy – serve your pancakes with butter, whipped cream, maple syrup, and cinnamon, and enjoy!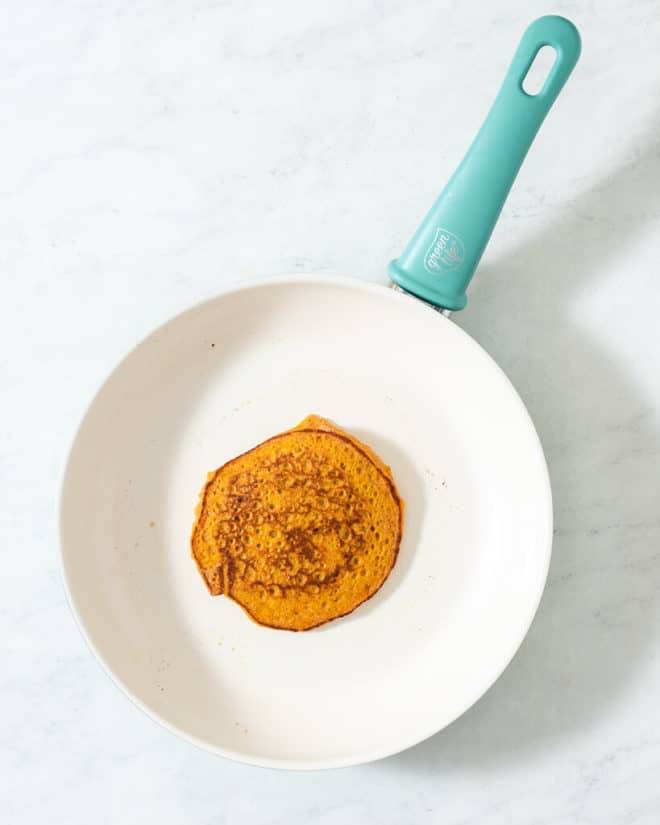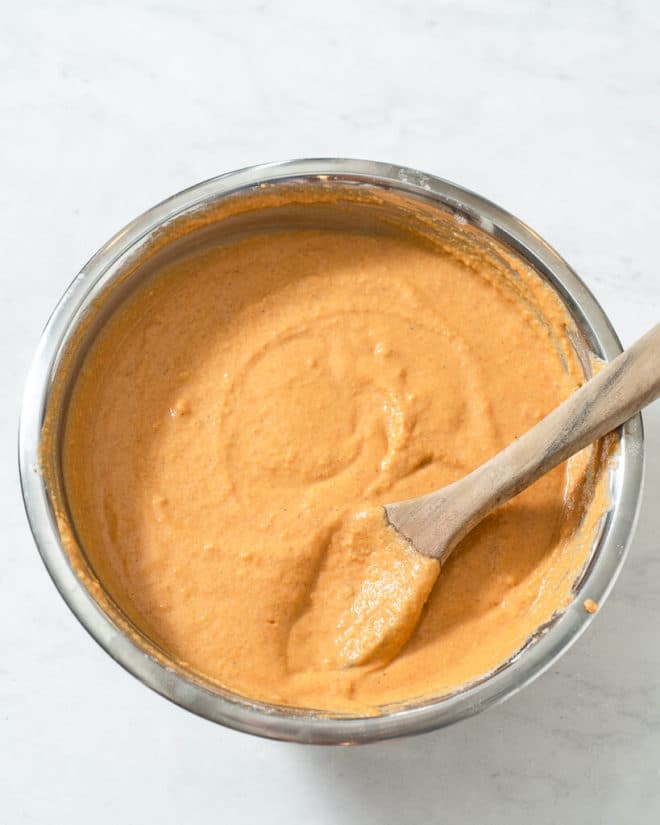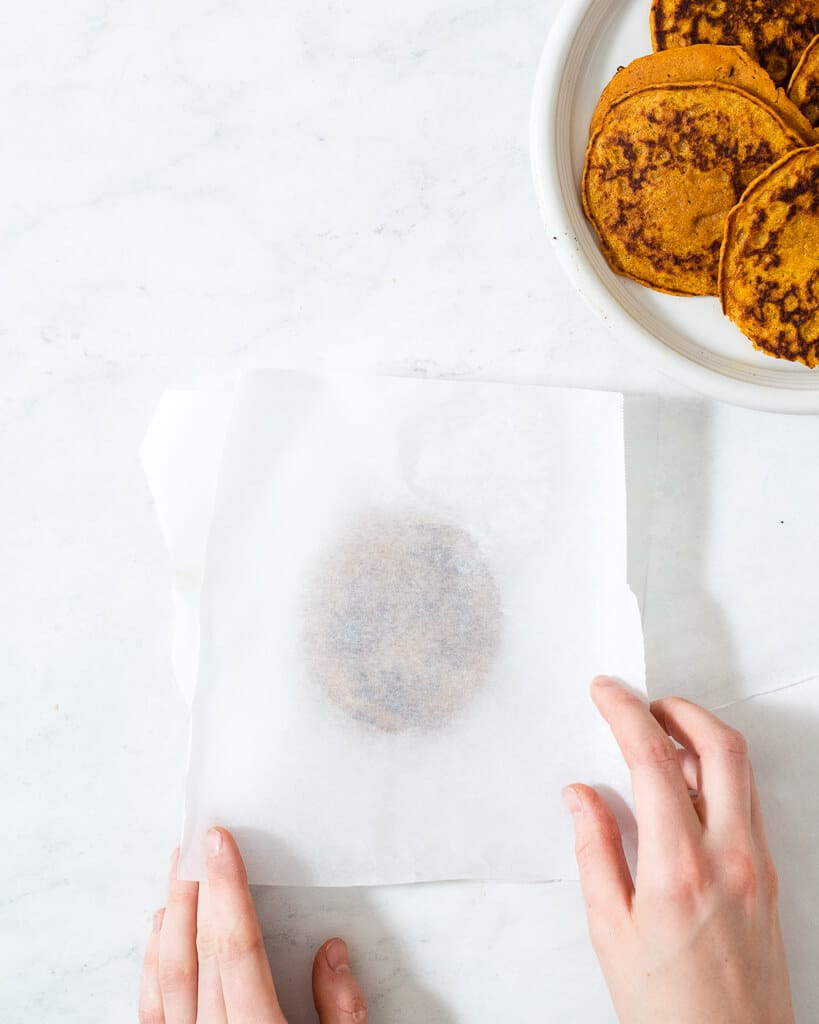 Just for You
Breakfast Recipes
Want more recipes like this?
Pumpkin Pancakes Frequently Asked Questions
Q
What should pumpkin pancake batter look like?
A
Pumpkin pancake batter looks really similar (in consistency) to regular pancake batter — it's definitely thinner than a cake batter, but is still nice and smooth. Your batter will be orange in color compared to a regular pancake batter, though, thanks to the addition of pumpkin puree.
Q
What is the secret to light fluffy pancakes?
A
The biggest piece of advice I can give you here is to not OVERmix your batter. You'll want everything to be well incorporated and combined, and once you've got that, don't keep stirring!
Q
Are Pumpkin Pie Pancakes healthy?
A
Pumpkin pancakes are a really fun, festive breakfast option. It's certainly made with ingredients that are better-for-you than what most store-bought pancake mixes offer.
Q
Can pumpkin pancake batter sit overnight?
A
To get the very best results here, I actually don't recommend letting the batter sit overnight. What you CAN do, though, is pre-mix the dry ingredients in one bowl and the wet ingredients in another, store those overnight, and then combine them the next morning just before frying. The only caveat here is that if you're using butter or ghee as the fat in your wet ingredient mix, it'll harden and get lumpy overnight in the fridge, so either add that in in the morning, or use a liquid oil/fat of choice that won't harden in the refrigerator.
Q
What is the best thing to eat with Pumpkin Spice Pancakes?
A
Serve your pancakes alongside your favorite breakfast protein (sausage and bacon are GREAT options!) and some fresh fruit. Serve this fun breakfast as a nice spread on the kitchen table so that everyone can grab what they'd like!
We always pop a pan of bacon in the oven just before I start mixing pancakes. Our baked bacon method is a really reliable guide for this! 
Q
How do you store pumpkin pancakes?
A
Store your leftover pancakes in an airtight container or Ziplock in the fridge — they'll stay good for 5 days this way.
Q
Can you freeze pumpkin pancakes?
A
YES! This is a great idea, actually. To freeze, layer the pancakes in parchment paper, store in an airtight container, and keep frozen for up to 5 months. To thaw, simply microwave 1-2 pancakes for 30 seconds or pan-sear until warmed-through. This is a great recipe to make a double batch of — enjoy one now and freeze one for later!
Q
Can this recipe also be used to make Gluten Free Pumpkin Pancakes?
A
Yes, it can! The pancakes pictured are actually gluten-free (as is everything cooked in the Fed + Fit Kitchen). As long as you use a gluten-free all-purpose flour (THIS is the one Cassy used for her pancakes), you'll be good to go.
A
Good question! Pumpkin puree is, essentially, just pureed pumpkin. If you can get your hands on some baking pumpkins, it's actually really easy to make yourself (HERE'S our tutorial), but because it's sold at most local grocery stores, it also makes for a really convenient way to bake/cook with pumpkin in ANY season.
Q
Can I use pumpkin spice?
A
Sure! Cassy developed this recipe using nutmeg and cinnamon as the star spices, but a store-bought pumpkin spice would work great too. Most of these spice blends contain nutmeg, cinnamon, ginger, and cloves, so the flavor would be really similar.
Ingredients
1

15-ounce can pumpkin puree

1 1/2

cups

milk

1/2

cup

melted butter

– can sub melted coconut oil, ghee, or other liquid fat

3

eggs

3

tablespoons

vanilla extract

2 1/2

cups

all-purpose flour

– use a GF all-purpose for gluten-free

1/4

cup

granulated sugar

2

teaspoons

baking powder

2

teaspoons

ground cinnamon

1/2

teaspoon

nutmeg

1/2

teaspoon

fine sea salt

Butter

for serving

Whipped cream

for serving

Maple syrup

for serving

Ground cinnamon

for serving
Instructions
Heat a non-stick skillet or griddle on the stovetop over medium heat.

Whisk together the wet ingredients in a large bowl.

Add the dry ingredients the bowl and stir until just combined.

Fry the pancakes, using approximately a ¼ cup-worth of the batter for each pancake, over medium heat for 2-3 minutes on each side.

Serve your pancakes with butter, whipped cream, maple syrup, and cinnamon, and enjoy!
Nutrition Information
Nutrition Facts
Pumpkin Pancakes Recipe
Amount per Serving
% Daily Value*
* Percent Daily Values are based on a 2000 calorie diet.