Happy Valentines Day!
It's sexy recipe bonus round.
Originally, I wanted to dedicate this post to all single ladies and gentlemen who find themselves celebrating this year's Valentine's Day either alone or with a group of friends.
Then I thought that … well, everyone (those with lovers, those without, those happy, those hopeful, those sad, and those complacent) can enjoy the heck out of this delicious little cocktail.
So I hereby dedicate the Spicy Pomegranate Martini to ALL of you. If you hear it nowhere else today, know that you are loved and there is a place in my heart for you.
This cocktail is really simple. Do yourself a favor and stop on your way home from work or school today to pick up: vodka (let's be honest, you already have a bottle in the freezer), pomegranate juice, limes, and a salty chili powder.
While you're at it, you might as well pick up strawberries and chocolate. Whip up a batch of Dark Chocolate Covered Strawberries (ccs) … and if you don't have the patience to wait for them to cool and harden, I don't judge you. I've spent many a night re-exclaiming my ccs as impulse "strawberries and dark chocolate fondue!" It's cool.
My vodka-connoisseur friend Julie, the recent bride, gave me proper coaching on the paleo-friendliness of vodka. Traditionally, vodka is made from potatoes. She has, however, discovered Ciroc. Ciroc, a tasty French vodka made from grapes, doesn't taste like grapes. It just tastes like smooth, velvety vodka. If you can find it, I highly recommend. If not, any vodka you enjoy will work great.
The salty chili powder I prefer (reaching back to my family heritage here) is Trechas. Trechas is used a lot in Mexican culture for sprinkling on fresh fruit and veggies. It makes for an EXCELLENT addition to this cocktail. If you can't find Trechas (look first in the produce section), then any homemade mixture of kosher salt and chili powder will work. Add a little cayenne if you're especially brave.
That's about it!
Whip out your favorite glasses (I used my grandmother's antique champagne glasses), put on your favorite movie, laugh with friends, kiss your special person or fur friend, give yourself a huge, sip, smile, and know you're loved.
XO,
Cassandra & Gus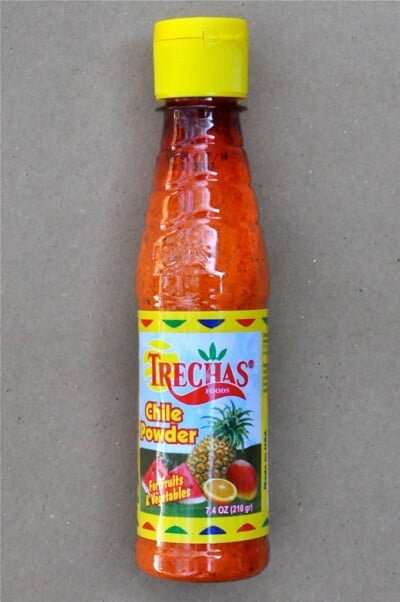 Spicy Pomegranate Martini
This is the perfect drink for couples, lovers, loners - everyone!
Ingredients
1

part

Vodka

1 1/2

parts

Pomegranate Juice

1

part

Fresh Lime Juice

1

teaspoon

Salty Chili Powder

1

Fresh Lime Disc

for garnish
Instructions
Keep all ingredients in refrigerator to cool down.

Using a cocktail shaker or bowl with ice, pour in all liquid ingredients and shake/stir.

Run a lime around the rim of the glass then roll in the salty chili powder.

Sifting through the ice, pour the liquid ingredients into the salted glass.

Garnish with a lime disc and serve.

Enjoy!
Recipe Notes
For a single serving, I translate "part" to = one shot = ~1.5 ounces.
Nutrition
Calories:
137
kcal
|
Carbohydrates:
9
g
|
Protein:
0.5
g
|
Fat:
0.4
g
|
Saturated Fat:
0.1
g
|
Polyunsaturated Fat:
0.2
g
|
Monounsaturated Fat:
0.1
g
|
Sodium:
38
mg
|
Potassium:
164
mg
|
Fiber:
1
g
|
Sugar:
6
g
|
Vitamin A:
607
IU
|
Vitamin C:
9
mg
|
Calcium:
15
mg
|
Iron:
0.4
mg