Every item on this page was chosen by The Fed & Fit team. The site may earn a commission on some products (read more here).
Today we're taking you step-by-step through how to make chocolate covered strawberries! We'll share our best tips for perfect strawberries every time, and our favorite topping ideas.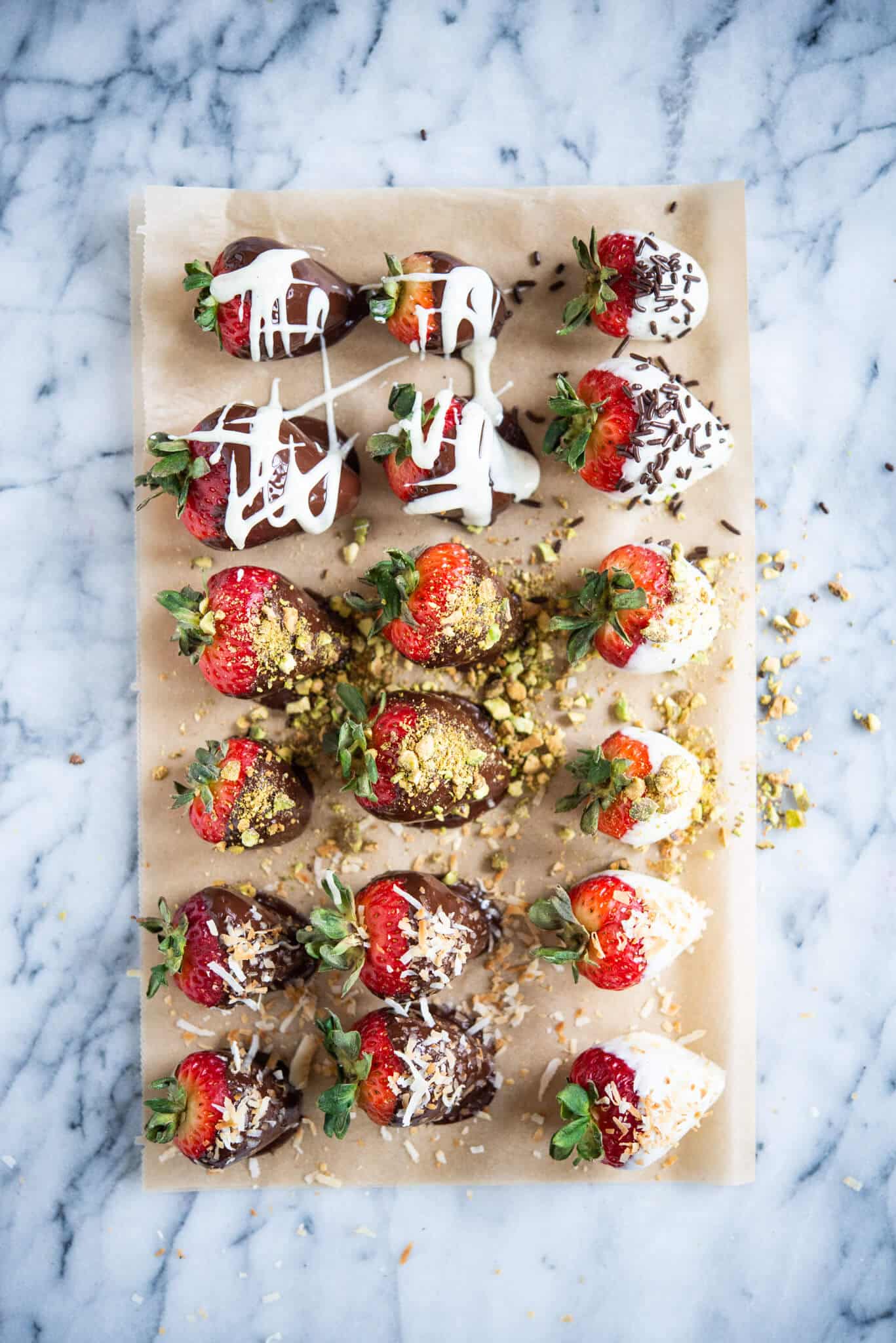 Does anything say Valentine's Day more than chocolate covered strawberries? This time of year, my local grocery store brings out a huge strawberry dipping station and sells every kind of chocolate covered strawberry you can possibly think of. Even with this easy access to great strawberries though, I prefer to make my own! There's something about taking the time to make them for your loved ones, and getting to choose the highest-quality ingredients, that I just love. Plus, they are a cinch to make!
What You Need to Make Chocolate Covered Strawberries
The main ingredients for chocolate covered strawberries are, of course, chocolate and strawberries! When a recipe is this simple, ingredient quality makes all the difference.
How to Pick the Best Strawberries
Depending on how many you are making, you'll need a pint of strawberries. We recommend buying organic strawberries with the stems, which are easier to find around this time of year. If you can't find any with stems though, don't sweat it! They make dipping a little bit easier and look pretty, but aren't a must-have.
Since it isn't quite strawberry season yet, though, finding a perfectly-ripe strawberry can be tricky. When you're looking for strawberries, you'll want to choose bright red berries with fresh green leaves that have a sweet, candy-like scent. Make sure you inspect the berries for mold before purchasing and skip any that are mushy (over-ripe) or white (under-ripe).
What type of chocolate is best for chocolate covered strawberries?
Any high-quality white or dark chocolate will work great for chocolate covered strawberries! You don't need any of the special 'dipping chocolates' found in stores. The chocolate will melt smoothly and adhere perfectly to the strawberries if you follow our tips below.
What do you put on chocolate covered strawberries?
Once you have your strawberries and chocolate, it is time for toppings! You can really do anything here, but these are a few of our favorite options:
Toasted Nuts – Chopped pecans, pistachios, almonds, and hazelnuts pair wonderfully with the chocolate. Pistachios are an especially nice contrast to white chocolate!
Toasted Coconut – Toasted coconut makes for a gorgeous finish and adds just a bit of crunch.
Sprinkles – Sprinkles are a fun way to get really festive with your strawberries. We love this Valentine's variety, this simple dye-free red sparkling sugar, and these chocolate jimmies.
Toffee – Crush up some toffee and layer it on dark or white chocolate for an extra-delicious treat.
Cookies – Crushed up Oreos on top of white chocolate makes for a super decadent strawberry, and even crushed up pretzels can add a great salty, crunchy contrast!
How to Make Chocolate Covered Strawberries
Now that you've decided on your ingredients, it's time to make the strawberries. Here's how to do it:
Wash your strawberries at least an hour before dipping them. The first thing you'll want to do is wash your strawberries, then dry them and let them sit at room temperature for at least one hour before dipping.
Melt the chocolate. Scroll down below for our full chocolate melting method!
Add the toppings. You'll want to add the toppings right after dipping the strawberries, as they won't stick after the strawberries have set. Since you have to work fast here, I recommend putting out multiple bowls of toppings for dipping.
Let the chocolate set. Finally, you'll leave the strawberries out for at least one hour before eating to let the chocolate set. Note that refrigerating the strawberries will increase condensation that will cause the chocolate to slide off the strawberries, and hardened chocolate will often break off as soon as you bite into it. To prevent that, we recommend serving the berries at room temperature, but feel free to refrigerate them if cold strawberries are your preference!
How do you melt chocolate for dipping?
The best way to melt chocolate for dipping is by using the double boiler method. This method allows the chocolate to melt slowly and evenly, and you can keep a close eye on it so it doesn't burn. To melt chocolate this way, follow these steps:
Find a heatproof bowl (we like to use glass) that will fit in one of your pots without being submerged in the water.
Fill the pot halfway with water, then bring the water to boil over medium-high heat.
Once the water is boiling, add the chocolate.
Stir the chocolate continuously until it is fully smooth and melted, then remove from heat.
If you can't make a double boiler, you can melt the chocolate in the microwave instead. We recommend using the defrost setting on your microwave, or microwaving at half power, and pulling out the chocolate to stir it every 30 seconds or so until smooth.
How do you get chocolate to stick to strawberries?
There are two keys to getting chocolate to stick to strawberries – first, you want to make sure the strawberries are completely dry. Wash the strawberries, dry them, then lay them out on a towel-lined plate or sheet pan for an hour before dipping, and blot them with paper towels before dipping. The second key is making sure the strawberries are room temperature, which will be taken care of in step one! If you use cold strawberries, the chocolate will immediately harden and break as soon as you dip them.
How far in advance can you make chocolate covered strawberries?
Chocolate covered strawberries are best made the same day you're going to eat them, as the condensation from the berries will begin to break down the chocolate after a day or two. So, the earliest we'd recommend making them is the night before you plan to eat them.
How to Store Chocolate Covered Strawberries
While chocolate covered strawberries are best eaten on the same day they are made, they will last up to 3 days in the refrigerator. If you're going to be eating the strawberries over 4 hours after you've made them, make sure you refrigerate them. We recommend using an airtight container lined with paper towels for your berries, and placing them in an even row on the towels so they can absorb any extra moisture.
Ingredients
1

pint

of strawberries

8

ounces

dark chocolate

8

ounces

white chocolate

Toppings of choice - toasted nuts

coconuts, crushed cookies, sprinkles, etc, about 1/2 cup
Instructions
Wash and thoroughly dry the strawberries, then lay them on a paper towel-lined baking sheet and leave at room temperature for one hour.
Melt the chocolate:
Double-boiler method: place the chocolate in a medium-sized glass bowl that can rest on top of a pot without falling in. Fill the pot with a couple inches of water, place the bowl of chocolate over top, and bring the water to a boil. Use a spatula to constantly stir the chocolate until it's melted and smooth.

Microwave method: place the chocolate in a medium-sized glass bowl and microwave it in 20-30 second increments on 50% power or the defrost setting, stirring well between each spell, until it's melted and smooth.

Swirl the strawberries in the chocolate, then let the excess drip off. Roll the strawberries in the toppings of your choice, or sprinkle them on, then place the strawberries on a parchment paper-lined baking sheet.

Let the strawberries sit for at least one hour at room temperature, then eat.

To store the strawberries, line an airtight container with paper towels and lay the strawberries in an even layer on the bottom of the container. Refrigerate for up to 3 days.
Nutrition Information
Nutrition Facts
Dark and White Chocolate Covered Strawberries
Amount per Serving
% Daily Value*
* Percent Daily Values are based on a 2000 calorie diet.