These Strawberry Jam & Cream Pops are a perfect, refreshing, healthy Summer treat! Made with a quick strawberry jam and coconut cream, they're a great dessert to prep in advance.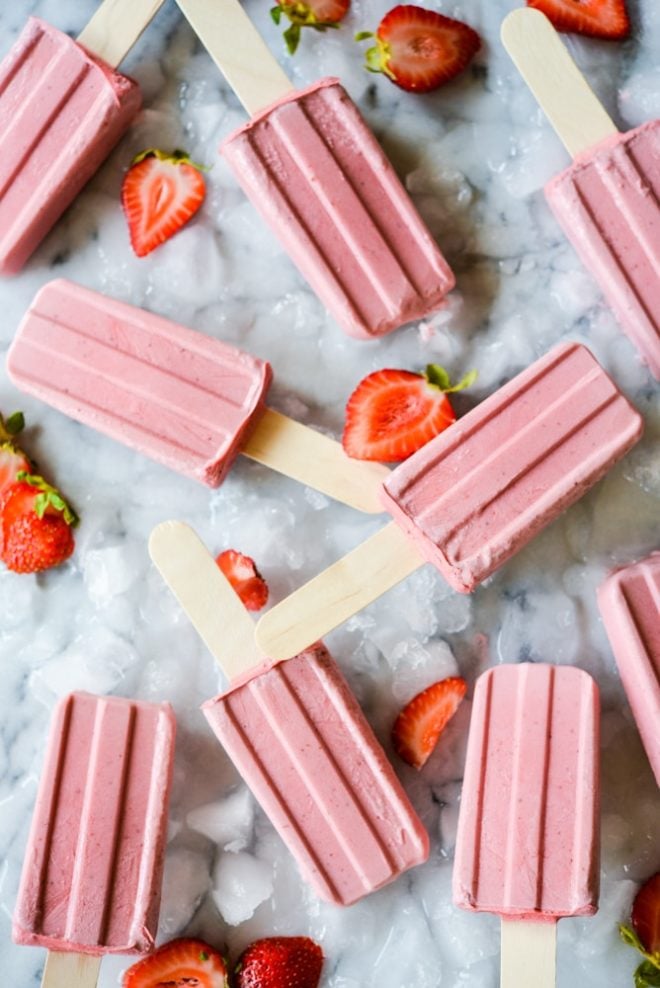 I'm so excited to bring you these Strawberry Jam & Cream Pops today! I've had this recipe up my sleeve for some time now. It's a darn tasty way to take advantage of our Summer strawberries while also providing a refreshing treat. My recipe calls for 2 tablespoons of honey, but feel free to omit that if you're going sweetener-free for any reason.
Before we get to the in's-and-out's of today's recipe, let's talk GUS! Oh gosh, if you've been following me on social media, you know that Gus (our 5 year/old Great Pyrenees) hasn't felt too great for the last few days. It all started last Thursday when he started licking his paw (the pad, specifically). I immediately inspected all of his toes for a rogue sticker, but came up empty handed. He kept licking his foot like it itched, so we wondered if it was either an allergic reaction to something outside or if he'd gotten an ant (or other critter) bite. He wasn't limping yet, but the next day he started to show signs of actual pain.
We were leaving for the wedding of our really good friends in Palm Springs, CA the next day and, to be honest, I had half a mind to stay home with my puppy. I was heart broken seeing him uncomfortable! My Mom and Dad are WONDERFUL dog people and reassured us that they'd take good care of him. While we were gone, we received updates that he was still limping (we thought it was a bug bite) but in good spirits.
Fast-forward to our return home from Palm Springs really late Sunday night. When we grabbed Gus, his limp was slightly more pronounced, so we started digging into the research (I scared myself silly by Googling symptoms) and made an appointment with our long-standing family Veterinarian. After a long day at the vet (waiting to see her because he was a drop-in), we got confirmation that he DOES have something embedded in his paw (poor baby), but it's "not infected enough to really do anything about." Not exactly the news I was expecting. It's suspected that he has what's known as a foxtail embedded in the side of one of his toes and, because it's not quite inflamed enough, she couldn't operate to extract because it'd be like "finding a needle in a haystack." So, we were given a topical treatment plan and told to wait until it comes out on its own (relatively unlikely because of the nature of a foxtail) or gets more infected, in which case we can bring him back in for an extraction. POOR BABY.
All that being said, it's a relief to have answers. He's still limping a bit, but the spray helps him a lot. I'll keep y'all posted as he progresses!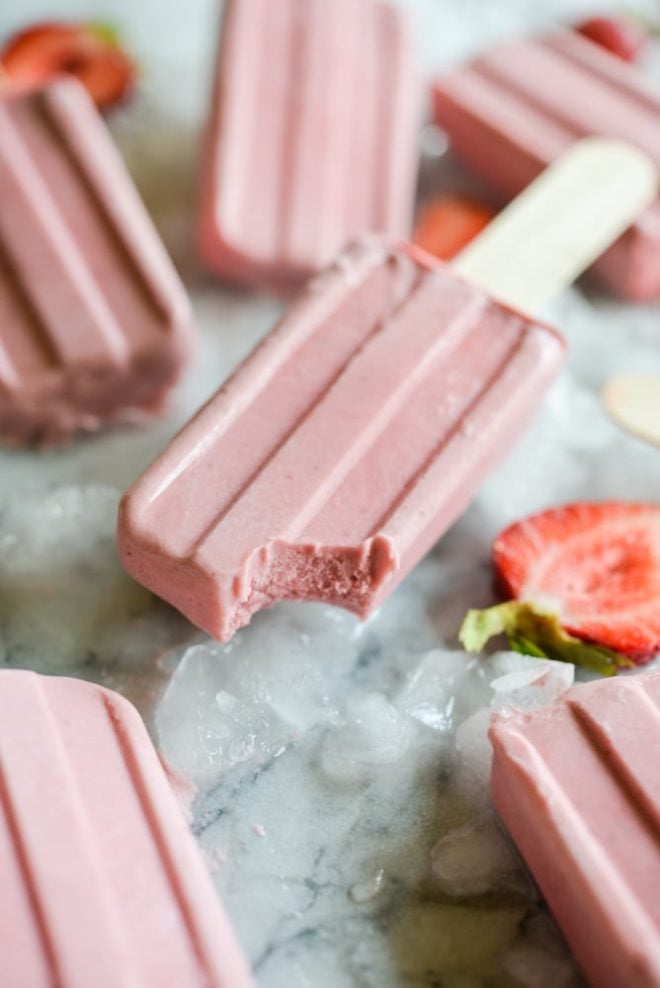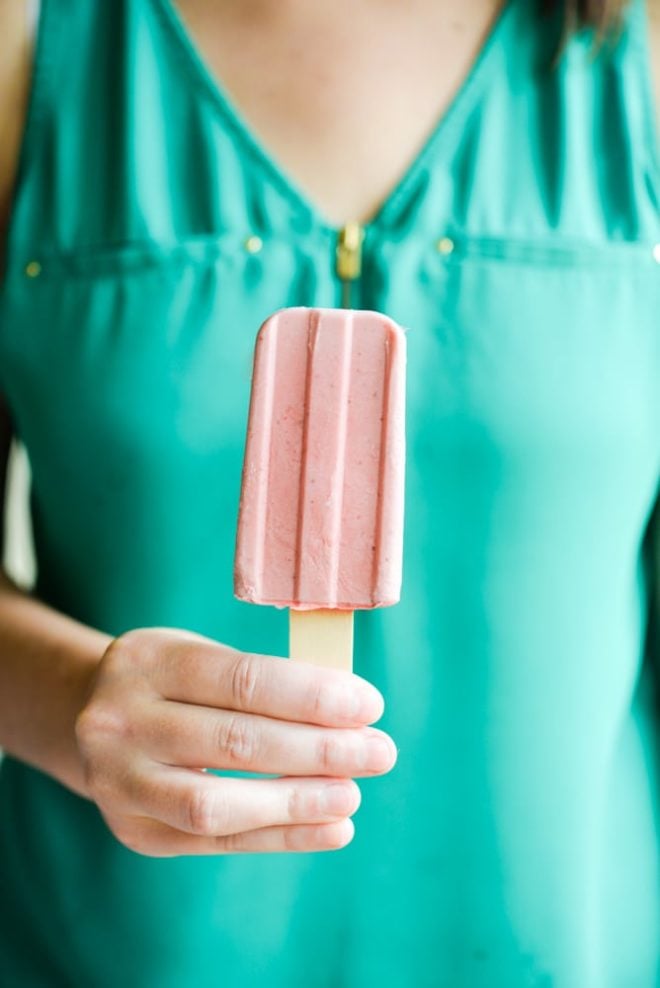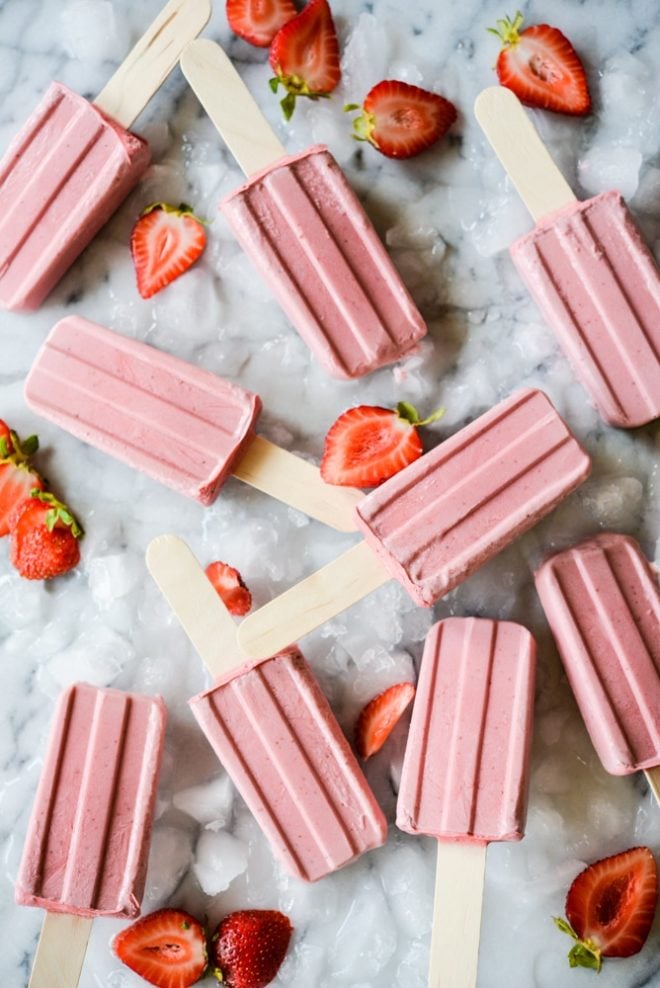 Now, let's make the natural transition from puppy paws to ice pops!
These Strawberry Jam & Cream Pops are SO GOOD! One of my favorite Summer desserts is a simple strawberries and cream (here's my paleo strawberries and cream recipe). I also love a good popsicle, so naturally the two needed to eventually find each other. For these pops, we're making a quick fresh strawberry jam and then blending it with some thick coconut cream. Pour the mixture into your favorite ice pop mold, freeze, and enjoy as you like!
My current favorite mold is THIS ONE, if you're looking for a recommendation.
Hope you enjoy these Strawberry Jam & Cream Pops!
Strawberry Jam & Cream Pops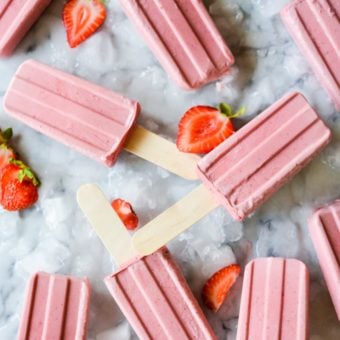 These Strawberry Jam & Cream Pops are a perfect, refreshing, healthy Summer treat! Made with a quick strawberry jam and coconut cream, they're a great dessert to prep in advance.
Ingredients
1

pound

strawberries

stems removed

2

tablespoons

honey

2

tablespoons

fresh lemon juice

1/4

teaspoon

fine sea salt

Solids from a 13.5 ounce can full-fat coconut milk
Instructions
In a small sauce pot, stir the strawberries with the honey, lemon juice, and sea salt. Cover and bring to a simmer. Once bubbling, remove lid, reduce heat, and let it cook for 15 to 20 minutes, or until most of the strawberries are broken-down.

Once the strawberries are finished cooking, pour them into a blender and blend until smooth with the coconut milk fat solids.

Pour the mixture into an

ice pop mold

and freeze for about 5 hours, or until hard.
Nutrition
Calories:
23
kcal
|
Carbohydrates:
6
g
|
Protein:
0.3
g
|
Fat:
0.1
g
|
Saturated Fat:
0.01
g
|
Polyunsaturated Fat:
0.1
g
|
Monounsaturated Fat:
0.02
g
|
Sodium:
49
mg
|
Potassium:
62
mg
|
Fiber:
1
g
|
Sugar:
5
g
|
Vitamin A:
5
IU
|
Vitamin C:
23
mg
|
Calcium:
6
mg
|
Iron:
0.2
mg