Today, I'm showing you the easiest, most efficient way to make two really comforting vegetarian dinners that lean on black beans as a main ingredient. Meal 1 is an enchilada-stuffed zucchini boat dinner and Meal 2 is a hearty, cozy vegetarian chili that I served with a side of vegan cornbread.
I'm REALLY excited to introduce you to this dinner series concept! In my new book, Cook Once Dinner Fix, I show you how to create one delicious and healthy dinner, then transform it into an entirely different dish on another night. These recipes are designed to help you be as efficient as possible in the kitchen without sacrificing flavor. In this Dinner Fix-style series, I focus on black beans as our main ingredient.
Our Two Black Bean Dinner Recipes
I have to be honest, when I was developing the recipes for this book, I thought I'd be the least excited about the vegetarian dishes. I WAS WRONG. The flavor in this chapter, as showcased by these two dinners, are out of this world. Whether you've been eating some (or all) vegetarian dishes for a while or you're new to it, know that these will keep you full and satisfied.
Dinner #1: Enchilada-Stuffed Zucchini Boats
This one is a favorite of mine. Halved and hollowed zucchinis are stuffed with deliciously flavored black beans for a bold, veggie, fiber, and protein-loaded vegetarian meal.
Dinner #2: Vegetarian Chili with Vegan Cornbread
Goodness, this one is GOOD. I'm a chili girl as it is, and while I don't typically eat meatless variations of this classic, comforting dish, this vegetarian version really hits the spot. Loaded with lentils and black beans, it's more satisfying and comforting than I ever imagined.
Combined Shopping Lists
Here's everything you'll need to make these two dinners:
Produce
Avocado, 1
Cilantro, ¼ bunch
Garlic cloves, 2
Lime, 1
Yellow onion, 1
Zucchini, 4 medium
Dairy/Refrigerated
Monterey Jack cheese, shredded, 1 cup
Sour cream, ½ cup
Pantry
Black beans, dried, 1 ½ cups (or 4, 15-ounce cans)
Prepared red enchilada sauce, 1 cup
Seasonings
How These Recipes Work Together
While each each of these recipes have their own home on the website, and can absolutely be made independently of one another, this is how you'll make the two work together in the most efficient way possible.
Meal One
Here's what you'll do for the Enchilada-Stuffed Zucchini Boats:
Cook the zucchini boats according to the recipe here. Instead of purchasing + preparing ¾ cup of dried black beans, though, you'll need 1 ½ cups. If you're using canned black beans, grab 4 cans instead of 2.
Before mixing the beans with the prepared enchilada sauce, set aside 2 ½ cups of beans (either from the can or prepared dried beans) for Meal 2.
Meal Two
Here's what you'll do for the Vegetarian Chili and Vegan Cornbread:
Cook the chili and cornbread meal according to the instructions here. Use the planned-for leftover black beans from Meal 1.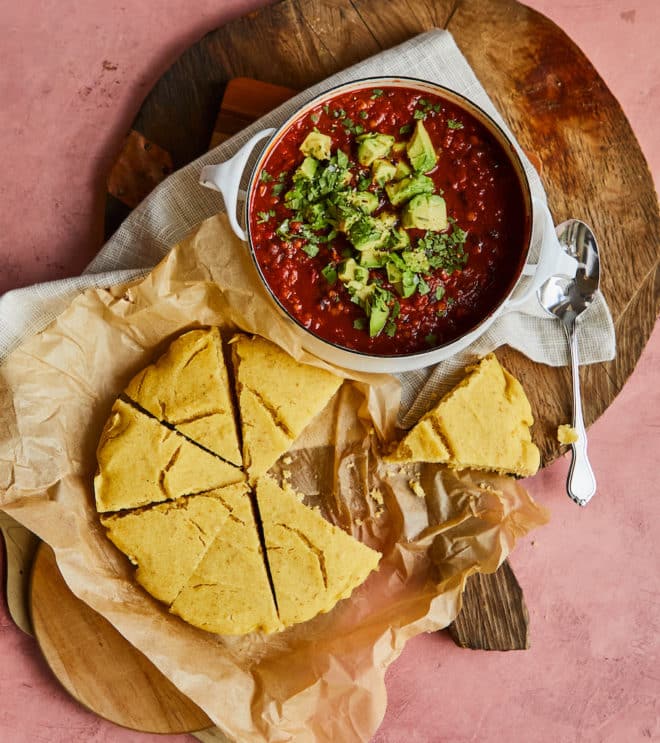 There you have it: two really delicious meals made easy-as-can-be through strategic planning.
How to Make these Recipes as Separate Meals
If you'd rather enjoy these meals independently of one another, find the Enchilada-Stuffed Zucchini Boats HERE and the Vegetarian Chili and Vegan Cornbread HERE.
If this method piques your interest, you can find 60 more dinner series (120 dinners + a bunch of side dishes!) in my book, Cook Once Dinner Fix, coming out on September 14, 2021. Learn more about the book + pre-order it HERE.