Today I'm sharing 3 BIG reasons why you need to visit Leavenworth, WA on your next trip!
If you follow my adventures along over on Instagram, you may have seen that I recently visited the (truly magical) town of Leavenworth, WA with my dear friend Juli Roth (of PaleOMG). This town, and I don't say this lightly, swept me right off my feet. While exploring the Bavarian-themed town set in the Washington mountains, I kept expecting to run into a 1960's version of Julie Andrews as she made her way to a mountaintop meadow to sing her little heart out. Leavenworth, WA is one of THE MOST magical, enchanting, and stunningly gorgeous places I have ever visited. I left eager to make a return visit with my family so that I could share the wonder with them, too!
In today's post, I'm breaking down the top 3 reasons why you need to visit Leavenworth, WA. Whether you're looking for a the perfect location for that babymoon, honeymoon, girls' trip, or family trip, this town really has it all.
Never have I ever loved a hotel so much. This adult-only spa hotel is an authentic slice of wellness from the Alps (queue Julie Andrews). Every facet of this hotel was CONSIDERED. From the private entrance, the bikes for exploring Leavenworth, the private parking garage, the authentic buttons in the elevator, the custom wood floors, the carved doors, the exquisite white linens, the marbled tub, the fresh breakfast, the on-demand espressos …they were all carefully designed and chosen for the space. I couldn't think of a better location for a babymoon or a honeymoon …or even an anniversary/girls' trip. Aside from one of the most accommodating group of staffers I've ever encountered (they were so kind to help me with my expressed breast milk during my stay), the other amenities are jaw-dropping. The spa, pool, saunas, plunge pools, foot reflex pools, the breakfasts, the late-night desserts …they blew me away. If you visit (and you must), I highly recommend spending at least one full day IN the Posthotel. Schedule yourself for 1 (heck, why not 2?) spa treatments and then spend the whole day lounging in the salt water infinity pool that overlooks the mountains. Wear your robe to the dining room (just like the other guests), indulge in some delicious fresh foods, relax, read, and let your mind settle. Goodness, just typing this …I'm ready to book my ticket back. My favorite things about the Posthotel: the staff, the luxurious robes (we lived in them), my hydrafacial (it CHANGED my skin), the iced lavender lattes, and the late-night gluten-free-friendly desserts (which we took up to our room so we could enjoy in said comfy robe on the comfiest bed).
Reason #2: The Food
Our dinner at Mana in Leavenworth, WA is officially one of the top 3 meals OF MY LIFE. The thoughtful, seasonal, ever-changing menu combined with a passion for honoring local farmers + exploring the flavors of real food left me so inspired. I highly recommend a reservation here! The 8-course menu is orchestrated so that the whole room is on the same journey. Chef introduces everything at once and then you're walked through an incredible story told by flavors. The best part? The elixir pairings. I was so impressed by these!! With wine pairings offered too, I thought that these alcohol-free cocktails stole the show. This is a non-drinker's culinary DREAM.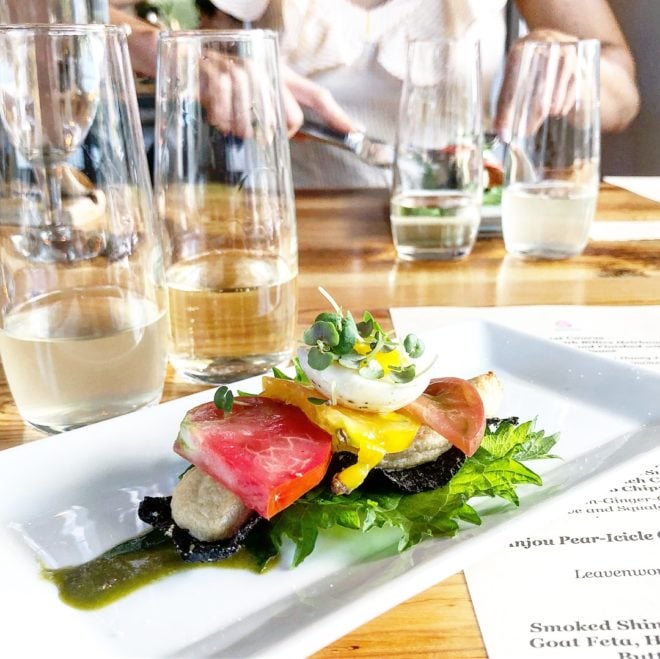 The property, the people, and the food were all so lovely! If you're in the area and looking for a place to unplug and enjoy some natural beauty, this is it!! They also make the WORLD'S BEST gluten-free scones.
This was our first dinner in Leavenworth and it was delicious! I chose the Slow Roasted Kurobuta Pork Chop with potato croquette, sour cream, chive, WA apple relish, and a caramelized onion sherry jus. It was phenomenal. In fact, everything at this organic, local, farm-to-table restaurant looked phenomenal! Highly recommend!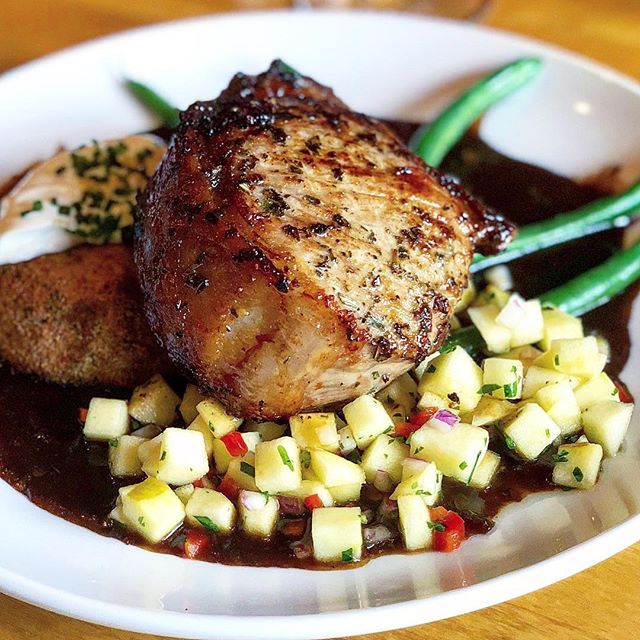 Reason #3: The Activities
When we pulled up to the Leavenworth Reindeer Farm and joined the large gathering of children (with their accompanying parents), I felt right at home. They start off your tour with some fun facts about reindeer before you meet the crew. I learned SO MUCH about reindeer! DID YOU KNOW: their milk has a whopping 22% fat, babies can usually run quickly after about 24 hours from birth, they're the only kind of deer where both males and females grow antlers (which they shed and regrow EVERY YEAR), moss is their favorite food which they can smell *feet* under snow, they love to run, are very social, grow hollow white hairs (lots of them) that help with buoyancy as they migrate long distances by swimming across large bodies of water (!!), the flat part of the antler is used to shovel snow, and female reindeer lose (then regrow) their antlers in the Spring while the males lose theirs around (or after) Thanksgiving …MEANING, Santa's reindeer are likely all ladies. GET IT, GIRLS!
Once our introduction concluded, we made our way to where the reindeer live. We all grabbed some greenery to feed them and then they opened the gates. I literally cried when I saw the little cuties. This was a highlight for me!
Juli and I went out with Wild Water River Guides for a SUP (stand up paddleboarding) adventure on Icicle Creek. As the name suggests, the water was cold …but goodness, it was gorgeous. You can choose from a number of ways to get down the river and I highly recommend adding this to your itinerary! ALSO, if your guide tells you that "essentially nobody falls in the water during this SUP trip …except for these two girls who visited Summer of 2018," you can respond with, "oh I know them!" They assured us that it's pretty hard to fall in the water …and apparently we were up for the challenge. I can't remember what caused Juli to fall in (maybe she caught a little wave the wrong way), but I was laughing so hard that I FELL IN TOO. It was so cold. Also, I practically ran right off the front of my board, causing it to shoot behind me. I had to wade my way over and we were DYING of laughter.
P.S. I unknowingly captured the "sleeping lady" of the mountain in this photo! Do you see her? She's laying down with her head on the left and feet on the right.
The Wineries
We visited the most lovely winery (also an apple + pear orchard) while in Leavenworth: the Wedge Mountain Winery. It's run by the sweetest couple who have been doing this for decades. Of the two, the lady of the house hands you your glass of wine while her husbands (who's quite prompt, so don't be late) drives you around the orchard on a guided tour. You can sip your lovely wine while you sit on bails of hay and dodge apple tree branches. It's actually a total blast and I adored the sweet duo behind this hidden gem. The wine was lovely, too!
The Hikes
Though Juli and I didn't make it out on a hike this trip, I absolutely want to tackle one next time! The locals told us that there are several wonderful trails and you can find something for most skillsets.
Worth Noting:
Travel to Leavenworth, WA may be a little long (depending on where you start), but it's worth it. Both Juli and I flew into Wenatchee, WA (from Seattle) where we then hopped in our rental car and drove about 30 minutes to Leavenworth.
Leavenworth is KNOWN for their Christmas festivities! Though we visited during the Summer (which was also lovely), know that it's a special kind of magical during the holidays. Very kid-friendly!
Thank you to Visit Leavenworth for having us for this truly magical experience! I cannot wait to return.