Every item on this page was chosen by The Fed & Fit team. The site may earn a commission on some products (read more here).
Easy to make and easy to gift, these homemade oatmeal lactation cookies were developed by a Board Certified Lactation Consultant and are SO delicious. They're packed with milk-boosting nutrients and are a fabulous treat for recently postpartum moms who are working to build and maintain a milk supply for their newborn.
This recipe was created by Fed & Fit reader, Therese D., RN, IBCLC, @happy.mama.healthy.baby / happymamahealthybaby.co. Here's what she has to say about it:
When I had my first baby 8 years ago, we struggled to breastfeed even though I was a NICU nurse and a Breastfeeding Educator. Because it took me a few weeks to catch onto the fact that nursing around the clock for an hour at a time didn't actually mean my baby was transferring milk well, my supply never quite fully bounced back. I was constantly looking for the next *thing* that would boost my supply. Thankfully it wasn't as big of a market as it is now, so I didn't waste too much money.
When my oldest was 1, I became an International Board Certified Lactation Consultant (IBCLC) so I could support other mamas struggling the way I had. I now have 3 kids and I've also learned so much about milk production and nourishing my body since then. So while I now know that lactation cookies aren't magical, they sure are a nice treat during those really hungry newborn days.
What are Lactation Cookies?
Lactation cookies are cookies that have ingredients designed to help boost a nursing person's milk supply. While they're not required eating for nursing moms, they can be a fun, delicious, nutritious treat to help satisfy hunger, especially in those very early weeks and months of having a newborn.
Lactation cookies are also a fabulous treat to make and delivery to mothers who have recently welcomed a baby! Hot, home-cooked meals are always welcome (here's a list of my favorite postpartum meals) but a bag of these cookies would also be a very lovely and thoughtful surprise.
How Do Lactation Cookies Work?
According to Therese, an International Board Certified Lactation Consultant, "the beta glucans in oats provide gentle galactagogue support, the nutritional yeast provides B vitamins which are easily depleted when you're breastfeeding and sleep deprived, and the grassfed butter and eggs are a rich source of things like Vitamin A, choline, Vitamin D, and blood-sugar-stabilizing fats and proteins. The collagen further contributes to the sugar-stabilizing effect and adds some protein and glycine to help with tissue repair after delivery. Finally, chocolate is a good source of magnesium for stressed out mamas."
Recipe Ingredients
1 cup of grassfed butter, room temperature
1 cup of white sugar
½ cup of brown sugar or coconut sugar
2 large eggs
2 teaspoons of vanilla
2 scoops of collagen powder
6 tablespoons of brewer's yeast
1 ½ cups of cassava flour
2 cups of organic quick oats
1 teaspoon baking soda
1 teaspoon salt
½-1 cup of chocolate chips
Ingredient Modifications and Variations
How to Make this Recipe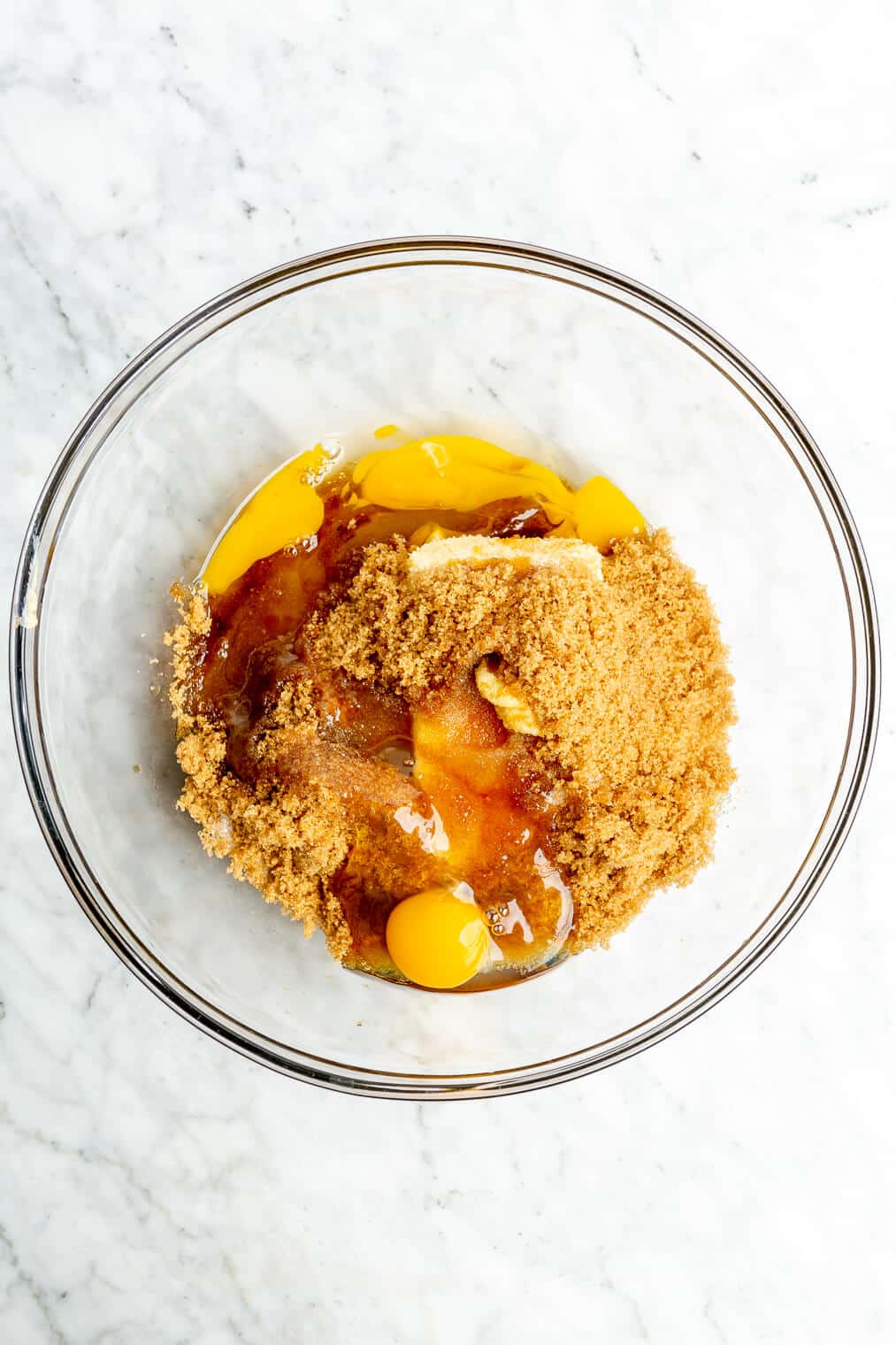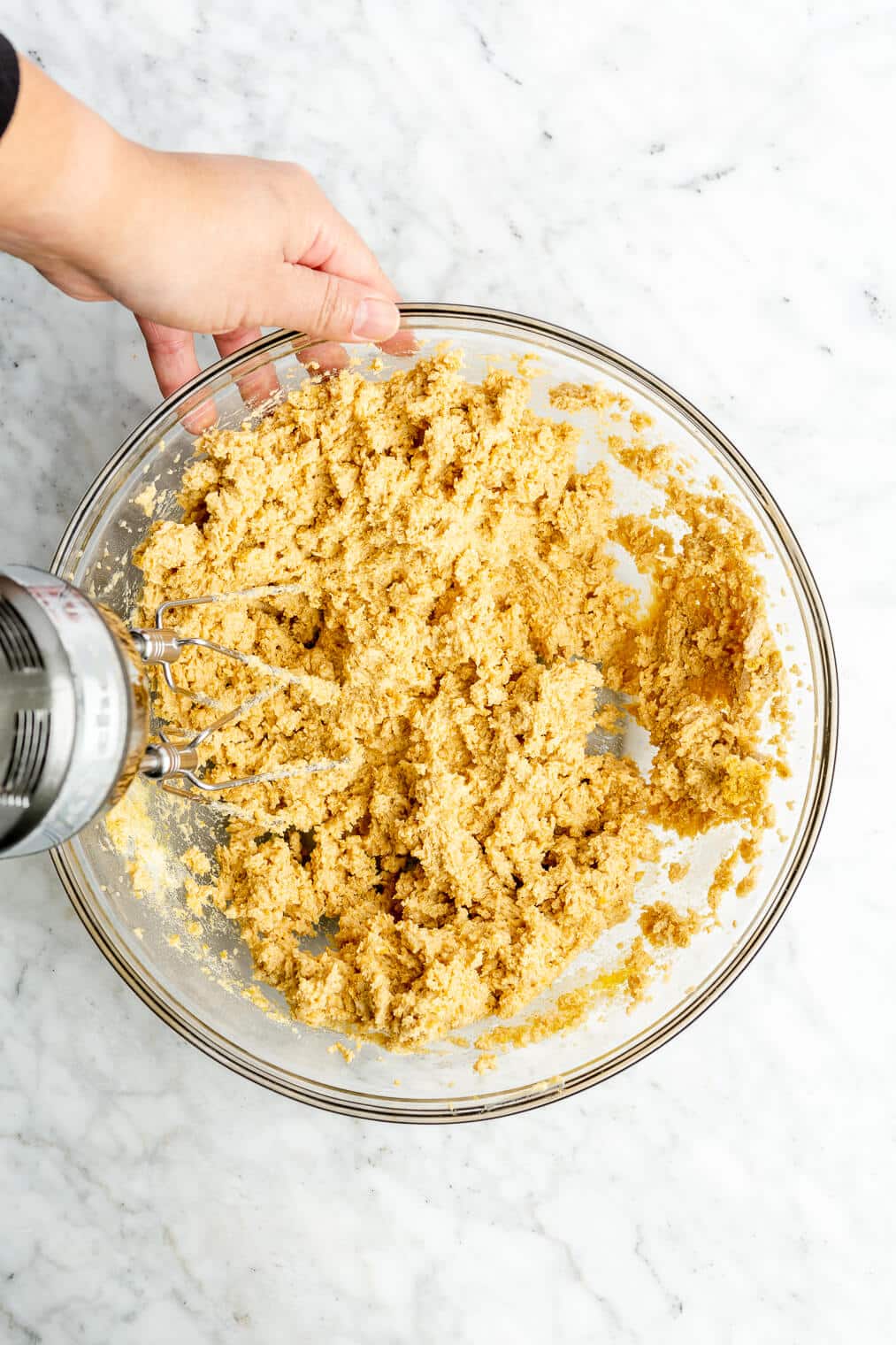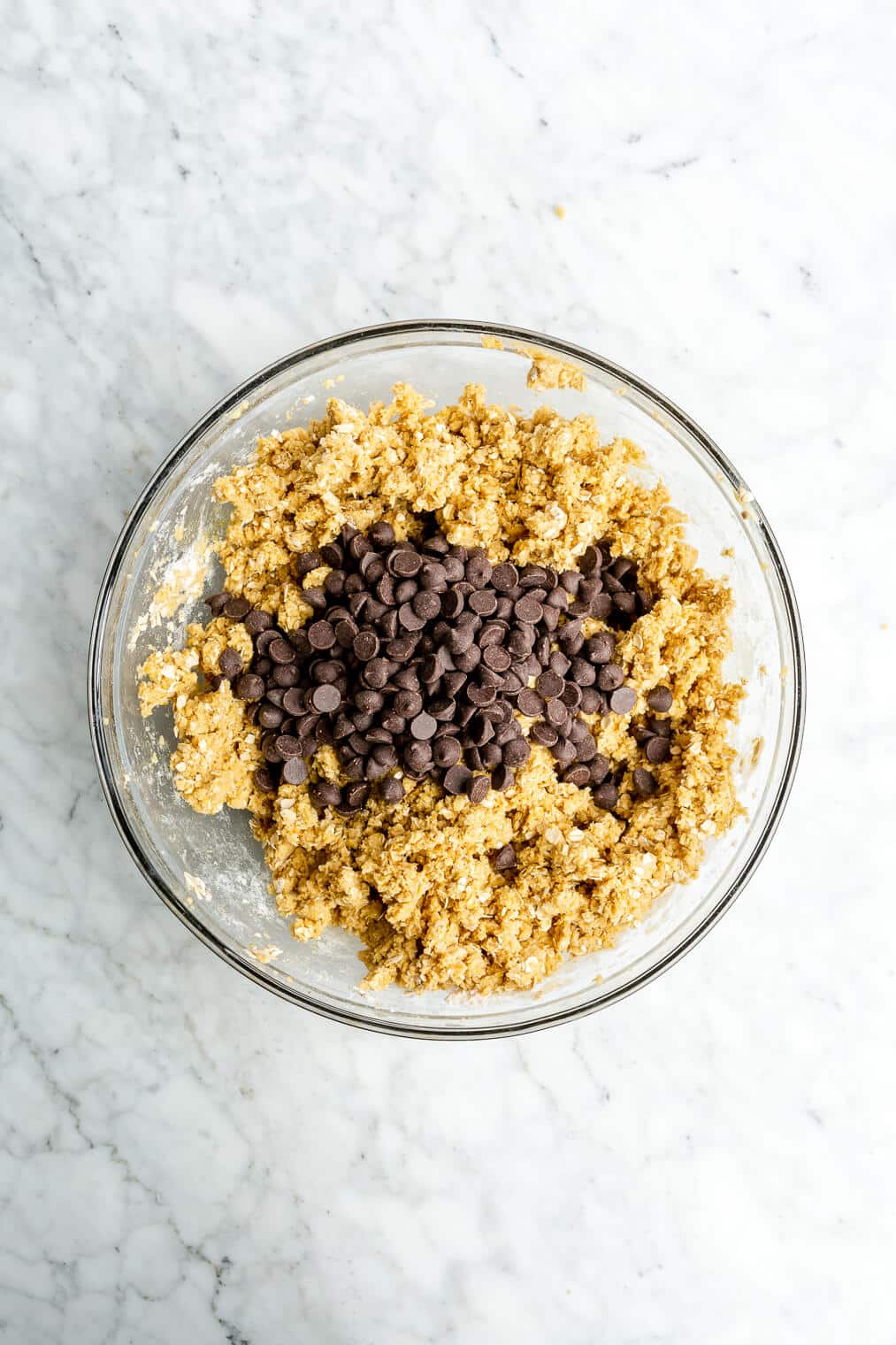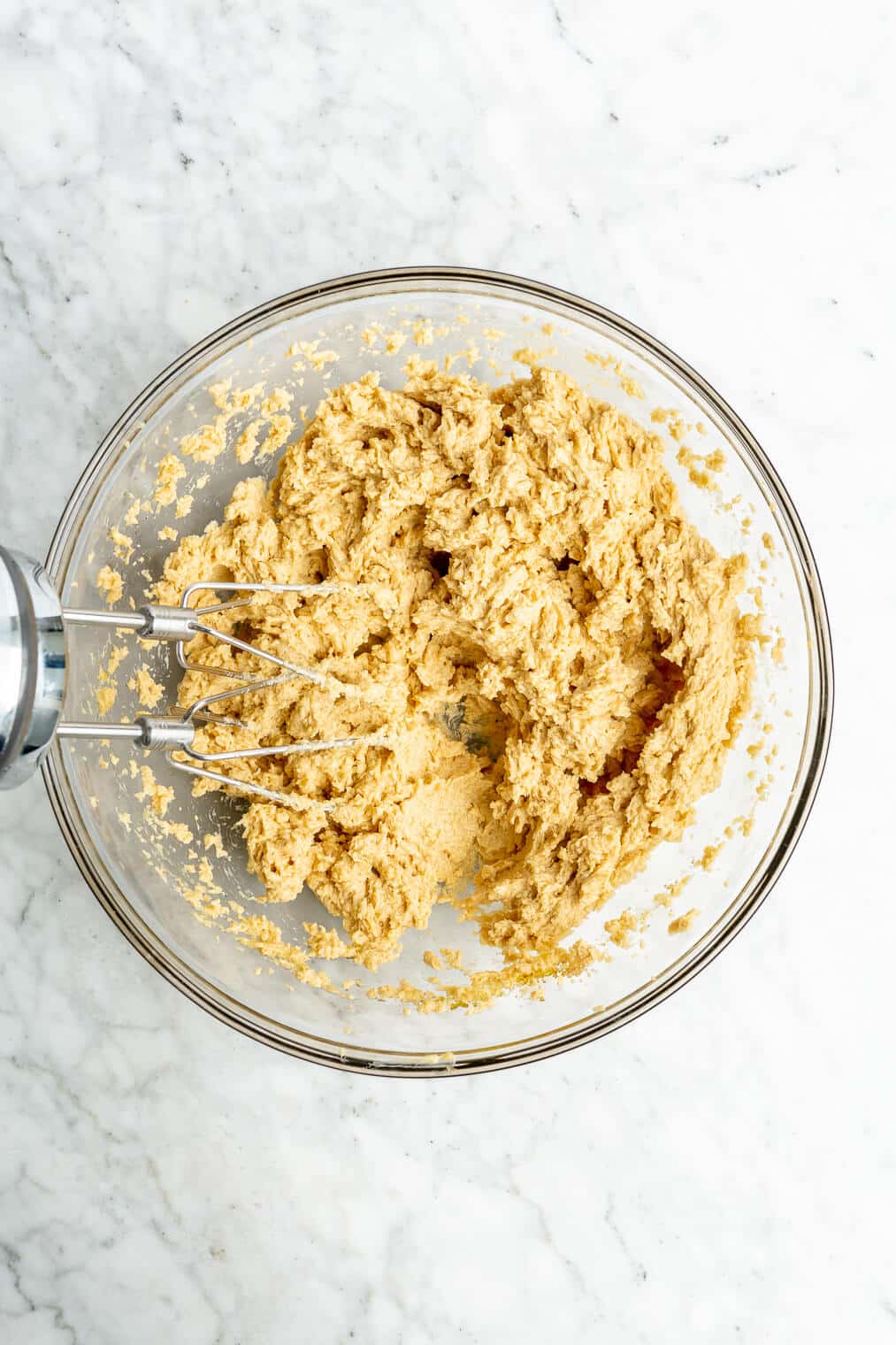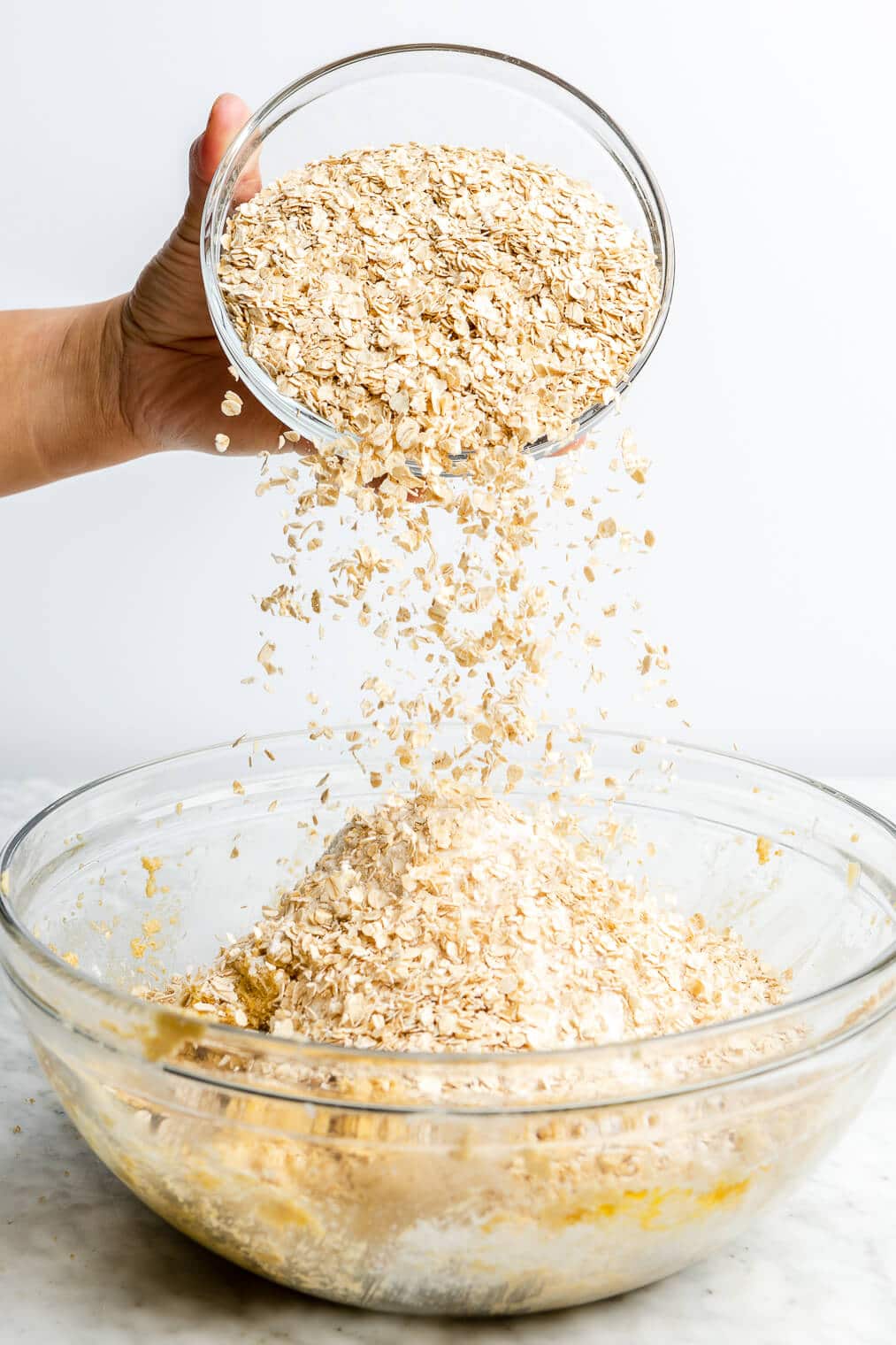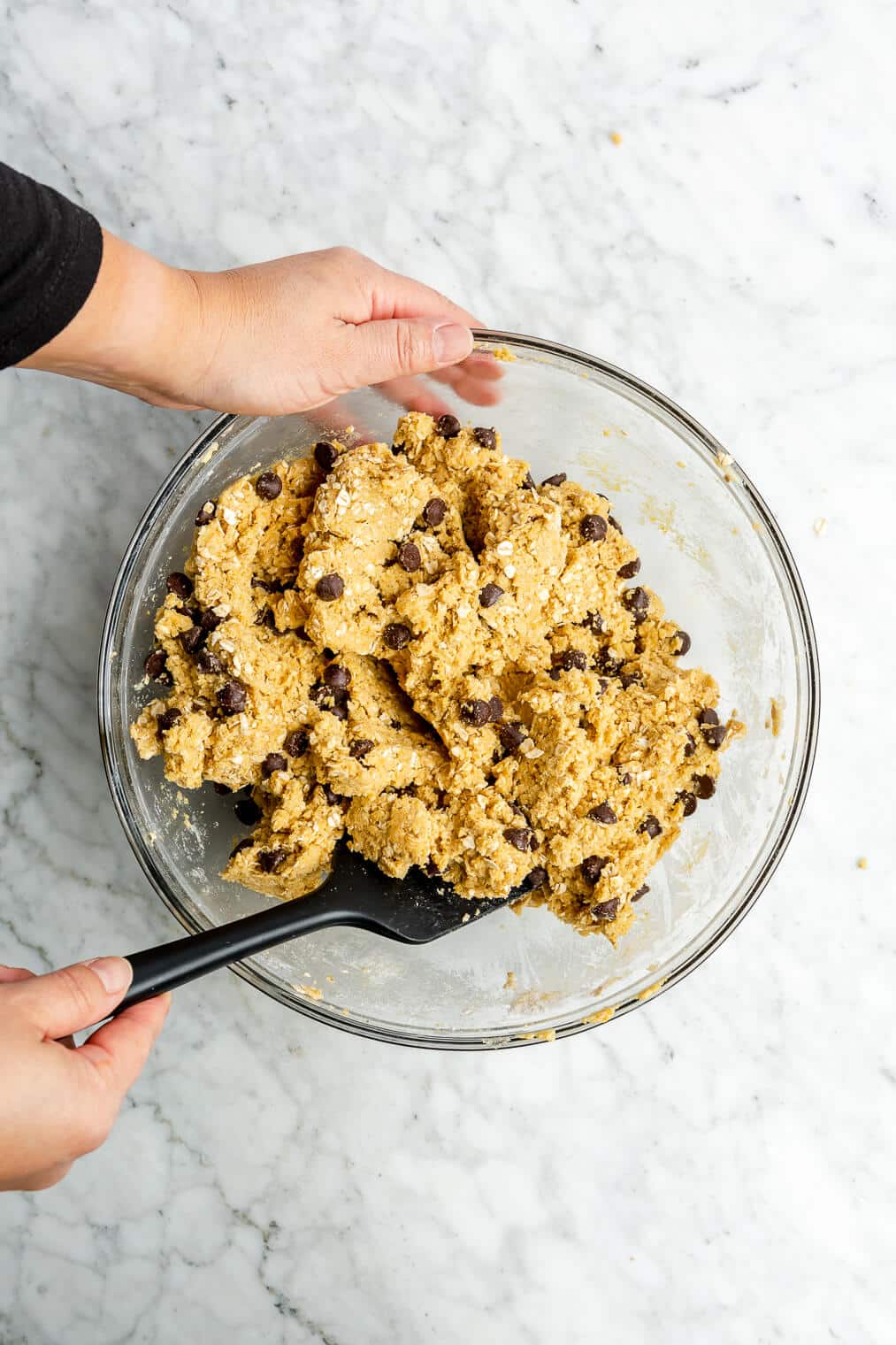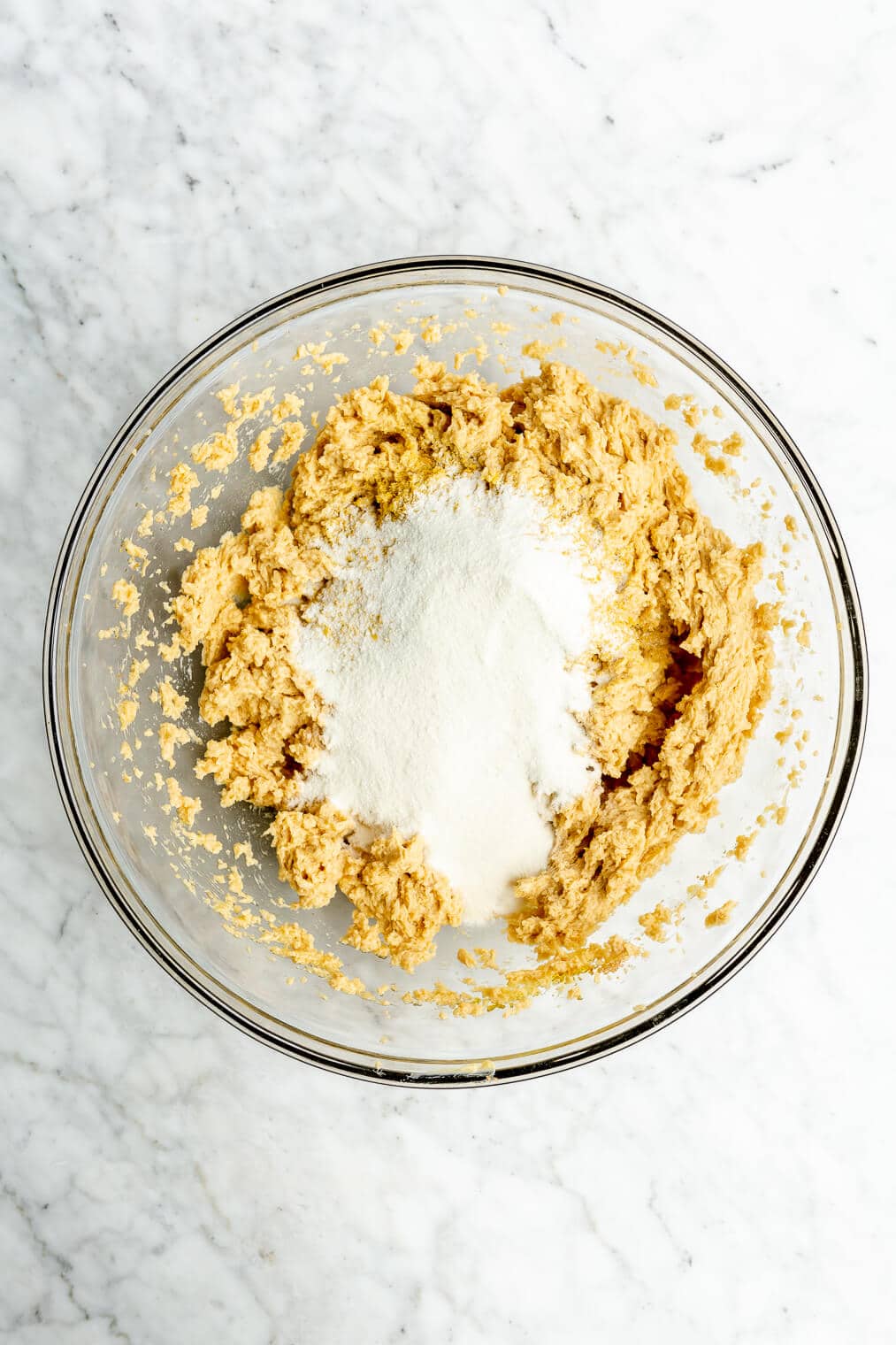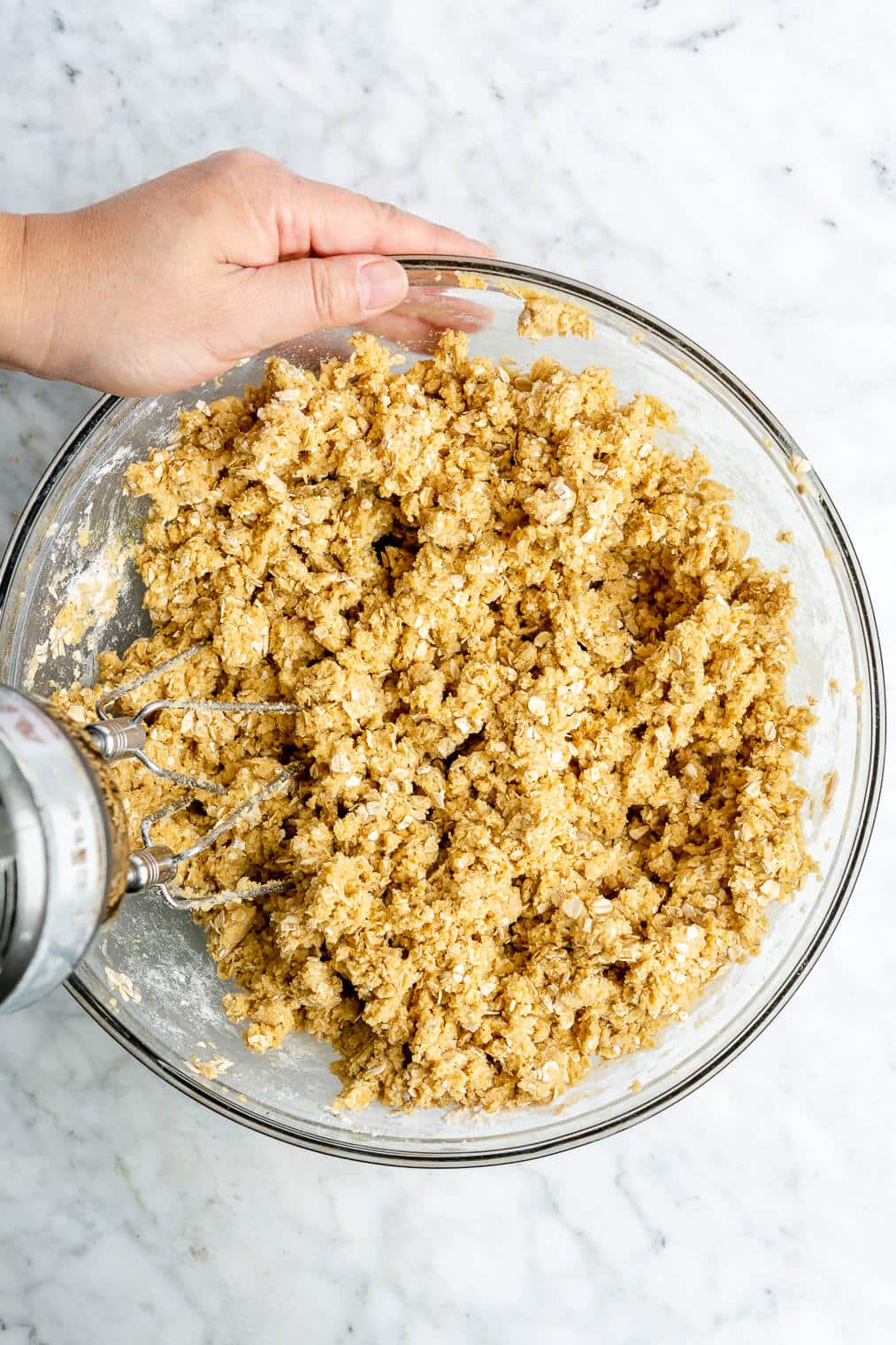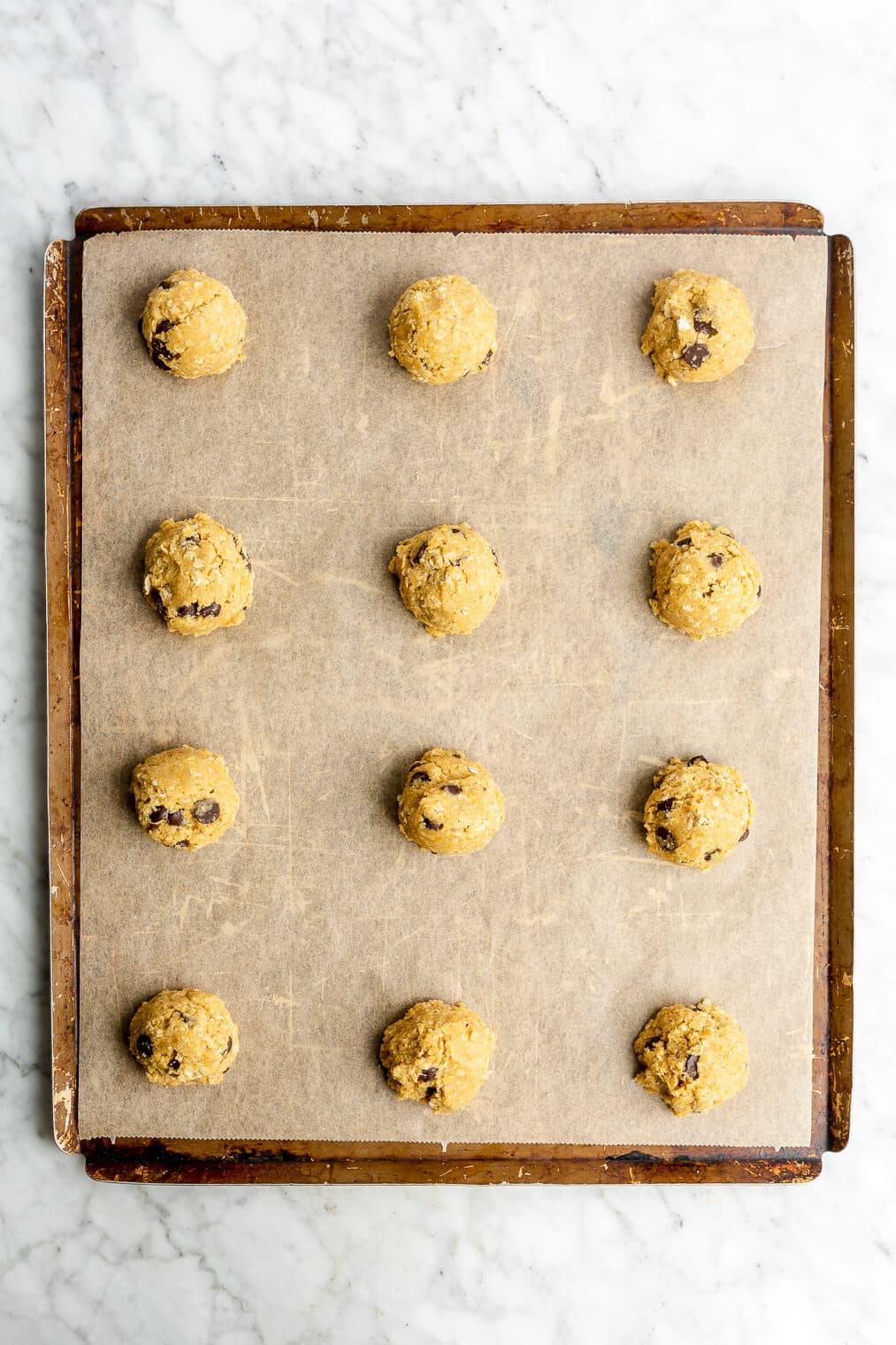 Cream the butter, sugar, brown sugar, vanilla, and egg – to start, cream together the butter, sugar, brown sugar, vanilla, and egg (don't rush this step!) in a large bowl.
Add the brewer's yeast and collagen – add the brewer's yeast and collagen and mix until incorporated.
Add the rest of the ingredients – to the bowl, add the flour, oats, baking soda, and salt, and mix well, then fold in the chocolate chips.
Chill – place the bowl in the fridge and refrigerate the dough for 30-60 minutes.
Preheat the oven to 350°F.
Form the cookies and place them on the cookie sheet – roll the dough into balls (or use a cookie scoop) and place on a cookie sheet about 2-inches apart.
Bake for 15 minutes.
Let cool, serve, and enjoy!
How to Store
Store your leftover oatmeal chocolate chip lactation cookies in an airtight container (we love these silicone bags!) on the counter. Stored this way, your cookies will last for up to a week.
Frequently Asked Questions
We asked Therese these FAQs, and here's what she said…
How many lactation cookies should you eat?
2-4 cookies/day is plenty in terms of gentle milk-boosting properties. If possible, snack on them alongside some protein as well. I've been known to eat a few cookies alongside some breakfast sausage in the morning after a long night of nursing.
When should you eat lactation cookies?
I find that I'm ravenous when my babies have their first few growth spurts around 2 weeks, 6 weeks, and 3 months. This is a great time to add in some cookies for the extra calories, beta glucans, and b vitamins. If your baby is not gaining 1/2 to 1 ounce per day after the first week, or isn't having at least 8 wet and 4 dirty diapers a day in the first few weeks, you'll want to see an IBCLC to verify that milk supply and transfer are adequate. Cookies alone won't help with that!
Can I start eating lactation cookies while pregnant?
You can absolutely eat them while pregnant. I made two batches "for the freezer" around 35 weeks and only had one batch actually in the freezer when baby was born.
Can children eat lactation cookies?
These are totally safe for kids and partners to eat, but if you want to tell them they're only safe for nursing moms, I'll back you up!
More Favorite Cookie Recipes
Ingredients
1

cup

grassfed butter

room temperature

1

cup

white sugar

½

cup

brown sugar or coconut sugar

2

large

eggs

2

teaspoons

vanilla extract

2

scoops

collagen powder

6

tablespoons

brewer's yeast or unfortified nutritional yeast

1½

cup

cassava flour

2

cups

quick oats

1

teaspoon

baking soda

1

teaspoon

salt

½-1

cup

chocolate chips
Instructions
In a large bowl, cream together butter, sugar, brown sugar, vanilla, and egg using a hand mixer.

Add nutritional yeast and collagen and stir until incorporated.

Add cassava, oats, baking soda, and salt, and mix well. Then, fold in chocolate chips.

Refrigerate dough for 30-60 minutes.

Preheat the oven to 350°F.

Roll into balls and bake for 11-13 minutes.
Nutrition Information
Nutrition Facts
Homemade Oatmeal Lactation Cookies with Chocolate Chips
Amount per Serving
% Daily Value*
* Percent Daily Values are based on a 2000 calorie diet.
Recipe Notes
Swap the brewer's yeast for an equal amount of unfortified nutritional yeast.
Swap the cassava flour for 2 cups of white wheat flour.