Learn all about our favorite prenatal from Steph Greunke, a registered dietitian and internally recognized speaker specializing in elimination diets, women's health, postpartum nutrition, and behavioral psychology who holds additional certifications in perinatal mental health and fitness.
About Needed
Needed is the #1 women's health supplement brand recommended by nutritionally-trained practitioners. Needed was founded by two moms, Julie Sawaya and Ryan Woodbury, who were navigating their fertility journey. They were shocked to realize that 97% of women take prenatal vitamins, yet 95% have nutrient deficiencies. Most prenatals are designed to meet bare minimum needs, not to optimally nourish you. The Needed founders teamed up with a group of perinatal nutrition and health experts to redesign the prenatal vitamin from the ground up–based on the latest clinical research and in-practice experience of testing thousands of mamas' nutrient levels to know what women actually need. Needed is recommended by over 3,000 doctors, midwives, doulas, and nutritionists, and is proud to be the first perinatal nutrition company that's B-Corp and Climate Neutral Certified.
Learn more about Needed's complete line of perinatal and women's health supplements at thisisneeded.com.
Who is Needed for?
Needed is for women seeking optimal nourishment and education. Needed offers a line of perinatal, women's, family, and men's supplements.
When should you start taking a prenatal?
Prenatal vitamins aren't just important when you find out you're pregnant, they're also helpful before and after pregnancy. In fact, taking a prenatal vitamin for at least three months prior to conception can help your body be in a more optimally nourished state.
Taking a prenatal well before conceiving has the potential to help you feel better and support a healthy pregnancy. For example, ensuring enough folate (ideally in the more active form methylfolate) for at least a month prior to conceiving can ensure you're consuming enough of this nutrient to support healthy spinal cord development. Taking enough B6, ideally in the bioavailable form P-5-P, can help support occasional nausea or "morning" sickness in the first trimester.
It's recommended to take a prenatal before, during, and after pregnancy for the nourishment you need to feel your best, stay optimally nourished, and give your baby the support their body needs to thrive from the very start.
Needed Prenatal Multi vs. Other Prenatals
Pregnancy and postpartum are the most nutritionally-intensive times in a woman's life. A prenatal multivitamin that optimally nourishes you can make all the difference between "just getting by" during and after pregnancy, and feeling your very best. While convenient, gummy or one-a-day vitamins often fall short when it comes to offering optimal nutrient forms and dosages your body needs. Most prenatals are designed to meet bare minimum needs, and often contain inadequate nutrient amounts and tough-to-absorb forms. In fact, while 97% of women take a prenatal, 95% still have nutrient deficiencies.
This can be true even when the prenatal vitamin seems to offer 100% of the DV. This is because RDA levels for pregnancy and breastfeeding often fall short of what moms need to thrive (including B12 and vitamin D). For other essential nutrients, like Choline, it is extremely rare to find a prenatal that even comes close to hitting the RDA levels, with many not including any or very minimal levels (typically 10% or less than what's needed).
Needed offers a comprehensive Prenatal in multiple forms (more on the options below!) that was designed through extensive research and partnership with health practitioners who regularly test the nutrient levels of women before, during, and after pregnancy.
Needed's Prenatal Multivitamin includes:
the ideal nutrient forms that your body can best use.
the optimal dosage that truly nourishes both you and baby
Curious how Needed stacks up against your Prenatal? Check out this free guide that offers pros/cons for 75+ prenatals on the market.
Want to learn more about the optimal dosages and forms of nutrients to look for in a prenatal? Check out this resource.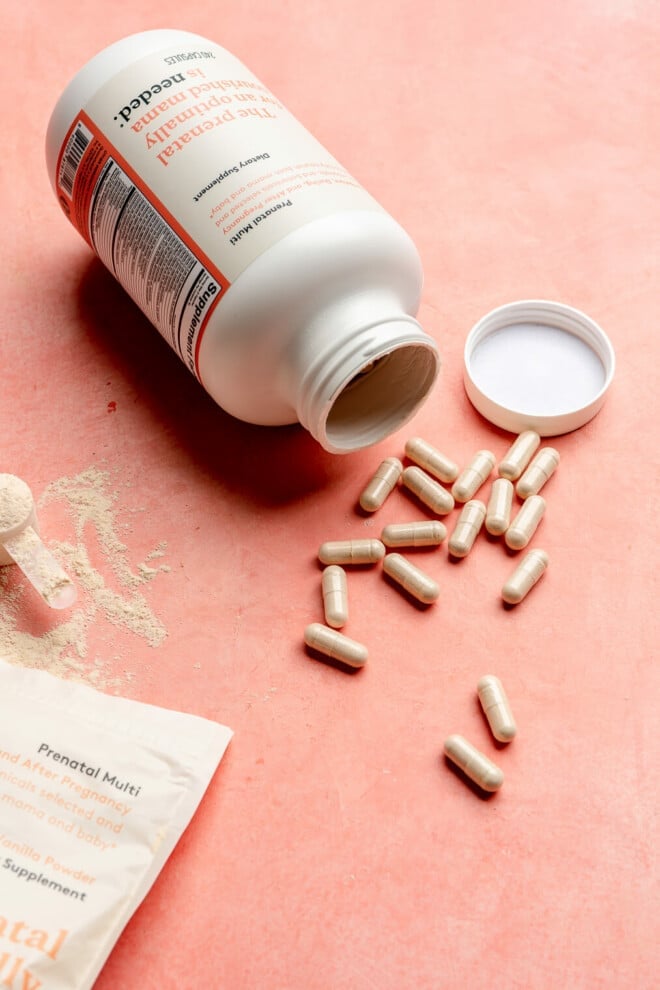 Needed Prenatal Multi Powder vs. Capsules
When you're pregnant, it's nice to have options for taking supplements. Needed's Prenatal is available in both capsule and powder form depending on your preference. Use the Needed Multi powder on days when you're feeling pill fatigue, feeling nauseous, and need something easy to consume. Or, if you're having a smoothie, you might find the addition of the vanilla-flavored Prenatal Multi Powder both convenient and delicious.
With Needed's Prenatal Capsules, you can choose from two options: Prenatal Multi Capsules and Prenatal Multi Essentials.
Their Prenatal Multi Capsules are an 8-capsule option that delivers all of the vitamins, minerals, and botanicals needed for complete, comprehensive nourishment — many of the best nutrients are bulky and can't fit into 1- or 2-a-day prenatal capsules. A number of nutrient dosages are quite unique including 400mg of Choline and 200mg of Magnesium. With capsules, it is easy to divide the full dose among meals throughout the day.
Needed's Prenatal Multi Essentials pairs down the Prenatal Multi to just the essentials. It contains 23 vitamins and minerals in their optimal forms with highly supportive dosages. It's the most nourishing Prenatal Multi available in just 3 capsules. Consider Essentials if you can't stomach as many pills. Many women love Essentials during their most nauseated stages.
Our Prenatal Multi is the most comprehensive available, but some extra support is always needed during this life stage. Needed products are designed to be taken together. We recommend pairing the Prenatal Multi with our Omega-3 powder, Collagen Protein, and Pre/Probiotic to fully support you and baby before, during, and after pregnancy.
Shop our Starter and Complete Plans and save.
Where to Buy Needed
You can purchase Needed on their website, on Amazon, and through your practitioner's recommendation on Fullscript. You can use the code FEDANDFIT20 on Needed's website (the code does NOT work on Amazon or Fullscript) to save 20% on your first order.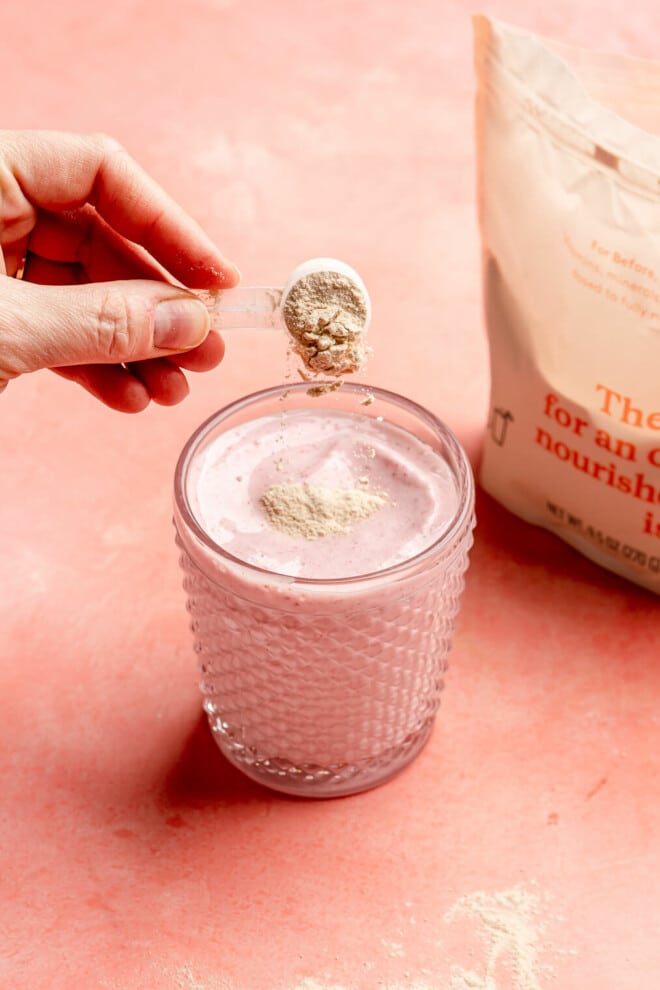 Frequently Asked Questions
Is the Needed Prenatal third-party tested?
Yes, Needed tests every batch for performance and quality, including through third parties that test for nutritional content, pesticides and herbicides, heavy metals, microbes, allergens, and other contaminants.

The Prenatal Multi is manufactured in the United States at an FDA, GMP and QAI Certified Organic facility.

Additionally, it is allergen free, meaning no milk, egg, fish, shellfish, tree nuts, peanuts, wheat, soy, and gluten. It is also free of GMOs, artificial colors, artificial flavors, preservatives, and other additives and fillers.
Does the Needed Prenatal have folic acid?
The nutrient B9 (often known as folic acid) is essential during pregnancy for normal neural tube development, DNA and red blood synthesis, and cell division and it's important for moms to consume a form of this nutrient as early as possible before they conceive, ideally at least 3 months before. Needed's Prenatal contains a more bioavailable form of B9, called methylfolate. This form was intentionally chosen since 40-60% of women cannot efficiently convert folic acid into the more active form, methylfolate. Additionally, the dosage found in Needed's Prenatal provides enough folate to be effective, especially for those with conversion difficulty, while still being safe for all mamas and mamas-to-be.

You can read more about this here.
Why does the Needed Prenatal make my urine bright yellow?
Although it may feel concerning to see bright yellow urine, the change in color is due to B vitamins, particularly B2 (Riboflavin). Your body is excreting what it doesn't need, but keep in mind that this doesn't mean you're not absorbing it. Needed uses nutrient forms that are most easily absorbed by the body, but because they set dosages that are fully supportive, the nutrient amounts may sometimes be more than you need. This is not harmful in any way, but can help you hit optimal amounts. Offering less in order to avoid this change in urine color is not the best strategy when it comes to optimal nourishment.