These Greek yogurt bowls are the perfect way to jazz up your mornings + keep you energized, full, and productive for the long haul!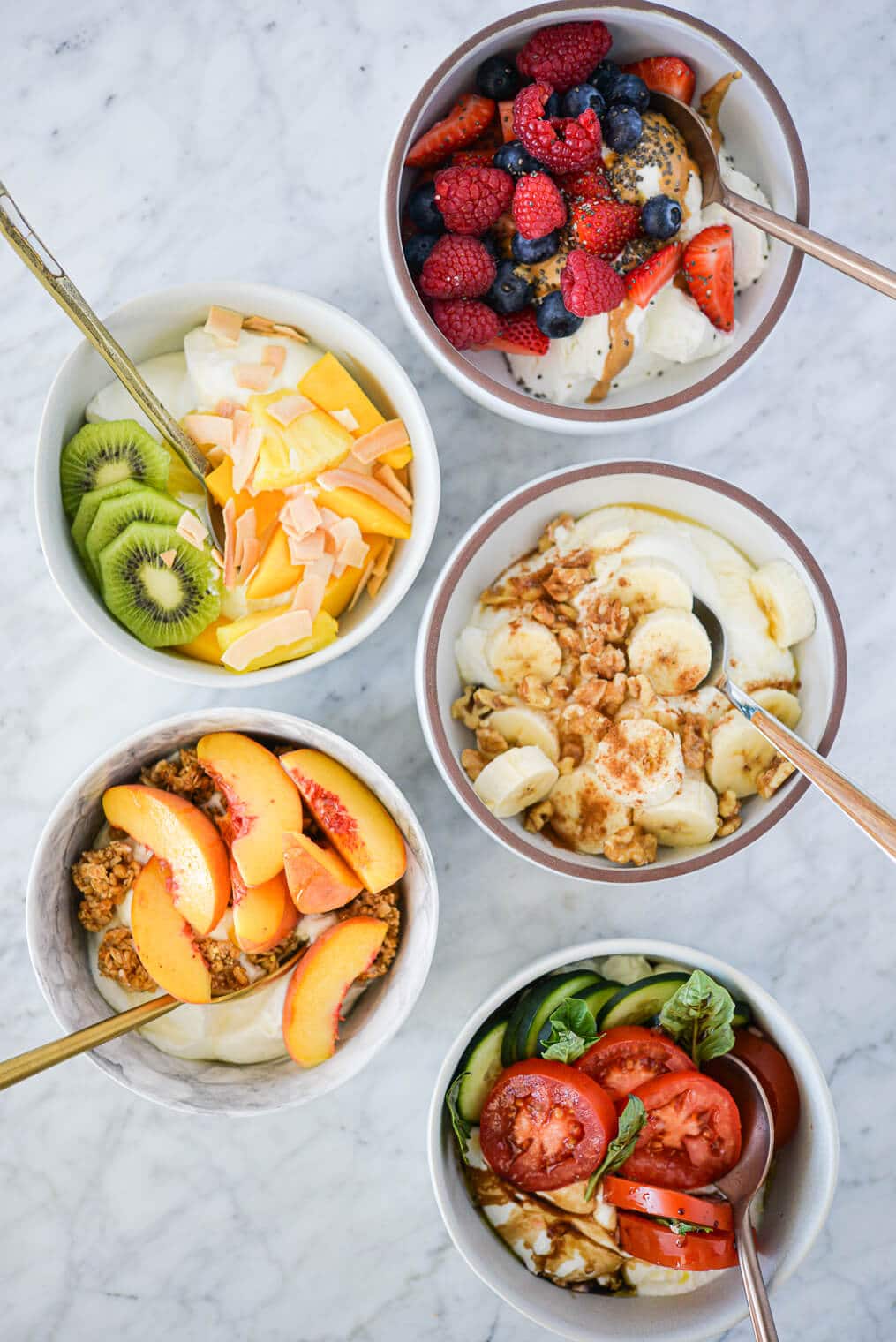 We're partnering with our good friends at Stonyfield Organic to bring you another tangy, delicious, protein-packed recipe! If you've been tuning in, you've seen our Strawberry Yogurt Pie, Yogurt Fruit Salad, Probiotic Pupsicles (yep, you read that right!), and our most recent yogurt recipe, Lemon Pepper Yogurt Grilled Chicken. Each of these recipes really showcased just how much of a do-it-all protein that yogurt is, but for today's set of recipes, we wanted to take it back to the yogurt basics and feature yogurt in its natural element: BREAKFAST! I mean, breakfast definitely comes to mind first when I think of yogurt, so let's jazz that plain yogurt up with LOADED YOGURT BOWLS!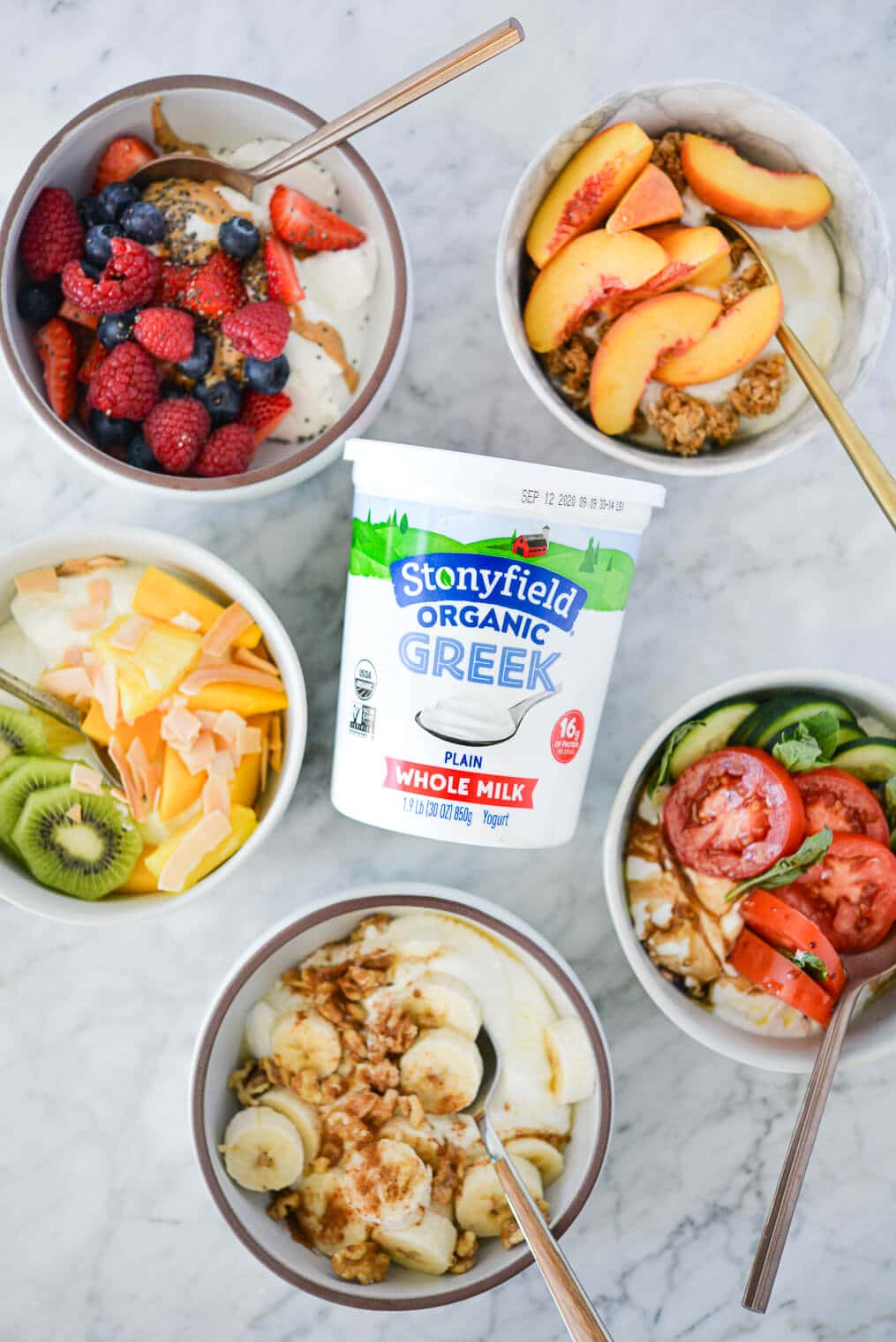 What is the difference between Greek yogurt and plain yogurt?
While they're both super versatile and really great for digestive health, they do have a few differences! Below are a few things that set Greek yogurt apart:
It's Protein-Packed – first of all, Greek yogurt is loaded with protein – like over double the amount of protein found in regular yogurt. Because of this, Greek yogurt keeps you full and satisfied!
It's Thicker Textured – while whole-milk regular yogurt is thicker and creamier than its low-fat counterpart, Greek yogurt is the result of regular yogurt being strained so that only the thicker good stuff sticks around, and because of this, Greek yogurt definitely takes first place when it comes to thick, creamy texture!
It's Tangier – because of the straining process mentioned above, Greek yogurt also tends to be tangier than regular yogurt. While this is totally a matter of preference, we really love the quintessential tanginess that Greek yogurt is known for!
What are the benefits of Greek yogurt?
Just like with the regular stuff, Greek yogurt is loaded with health benefits! Here's a quick rundown of why you should consider adding nutrient-dense Greek yogurt to your diet. Greek yogurt can help to…
Strengthen Bones – Greek yogurt is loaded with calcium and protein, both of which are connected to strong, healthy bones.
Keep You Fuller for Longer – because Greek yogurt has over double the amount of protein than regular yogurt, it has some serious staying power! Incorporating Greek yogurt into your breakfast or snack routine will help you to stay fuller for longer.
Improve Gut Health – there's no question that the abundance of probiotics (beneficial bacteria) and active yogurt cultures found in Greek yogurt help to keep your gut health in check!
Build Muscle – like any food rich in protein, Greek yogurt plays a part in building muscle mass! Because of this, Greek yogurt smoothies (this PB Banana Yogurt Smoothie is a favorite around here) and Greek yogurt bowls loaded with your favorite toppings make for ideal post-workout breakfasts!

What's the best yogurt to use for breakfast bowls?
We used Stonyfield's whole milk organic Greek yogurt to create these breakfast bowls! Their yogurt quarts have 5 servings each – making them the perfect portion to make your breakfasts for the week! Because of its creamy, thick texture, rich, tangy taste, and protein-loaded nutrient profile, we always stick with plain Greek yogurt when it comes to these breakfast bowls. If you don't love the tangy taste of Greek yogurt though, regular full-fat yogurt is also a really yummy choice. We typically steer clear of low or non-fat yogurt because it tends to lack the rich taste, creamy texture, and balanced nutrient profile that the full-fat variety is full of.
When it comes to yogurt bowls, it's also really important to pay attention to added sugars – our motto is to keep the yogurt plain and unsweetened so that we can control the amount of sugar in our breakfast with the toppings (think: fresh fruit, granola, nut butter, honey, maple syrup, chia seeds, etc.) that we use!
5 Easy Greek Yogurt Bowl Combinations
AND NOW…the moment we've all been waiting for! Without further ado, we give you 5 ridiculously delicious, protein-packed, creamy Greek yogurt breakfast bowls!

Peaches and Cream
A classic, am I right?! I mean, who doesn't love peaches and cream ANYTHING? Fresh, juicy, in-season peaches and the granola of your choice are all you need for this yummy combo.
Banana Nut
Oh banana nut, how I love thee! I love this combo in muffin, bread, and (now) yogurt bowl form! Sweet, starchy bananas, walnuts, and a bit of cinnamon are all you need for this one.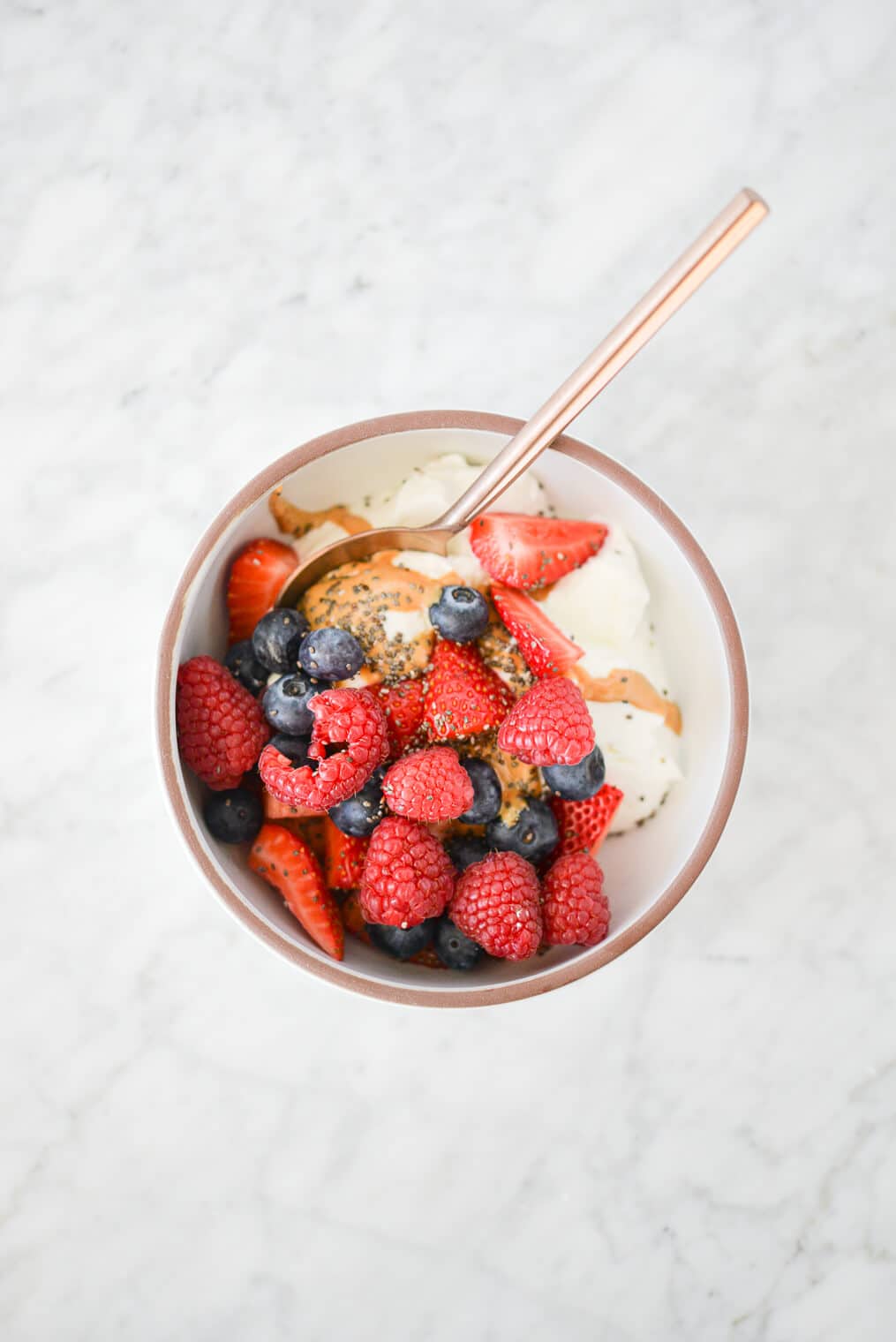 Very Berry
Perfectly sweet, but with a little bit less sugar than the rest (thanks to lower-sugar berries), this bowl is what every berry fan needs! Just get your favorite organic berries (we used strawberries, blueberries, and raspberries) then top your yogurt with them, plus a drizzle of nut butter (we used cashew) for more healthy fats + protein, and a sprinkle of chia seeds for crunch + fiber!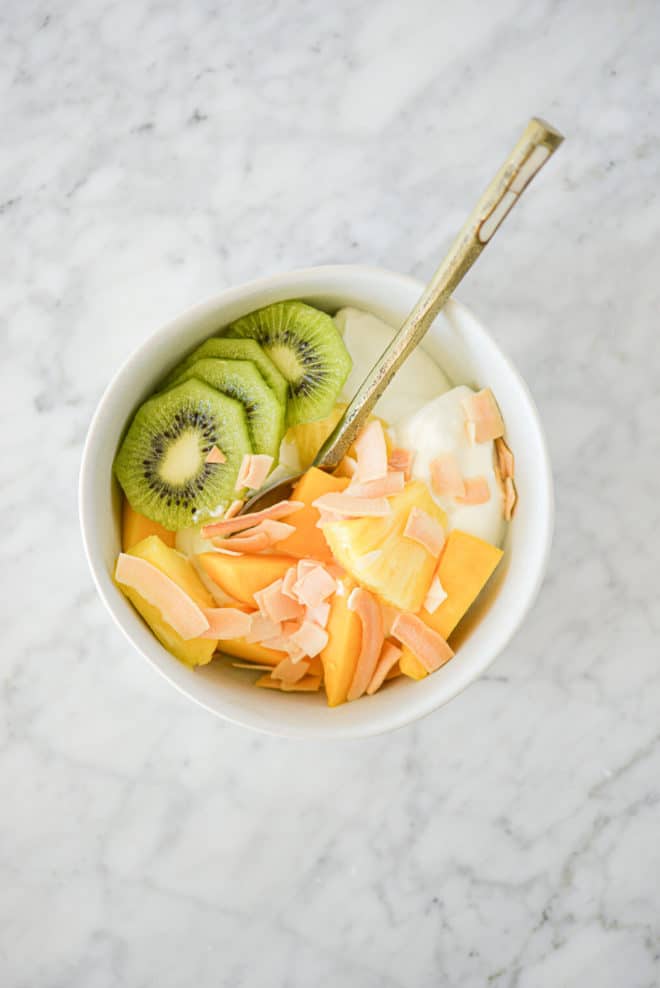 Tropical
Mango, pineapple, kiwi, and toasted coconut make an appearance here. Our tip? Close your eyes while you eat this one and let yourself believe (for just a second) that you're relaxing beachside!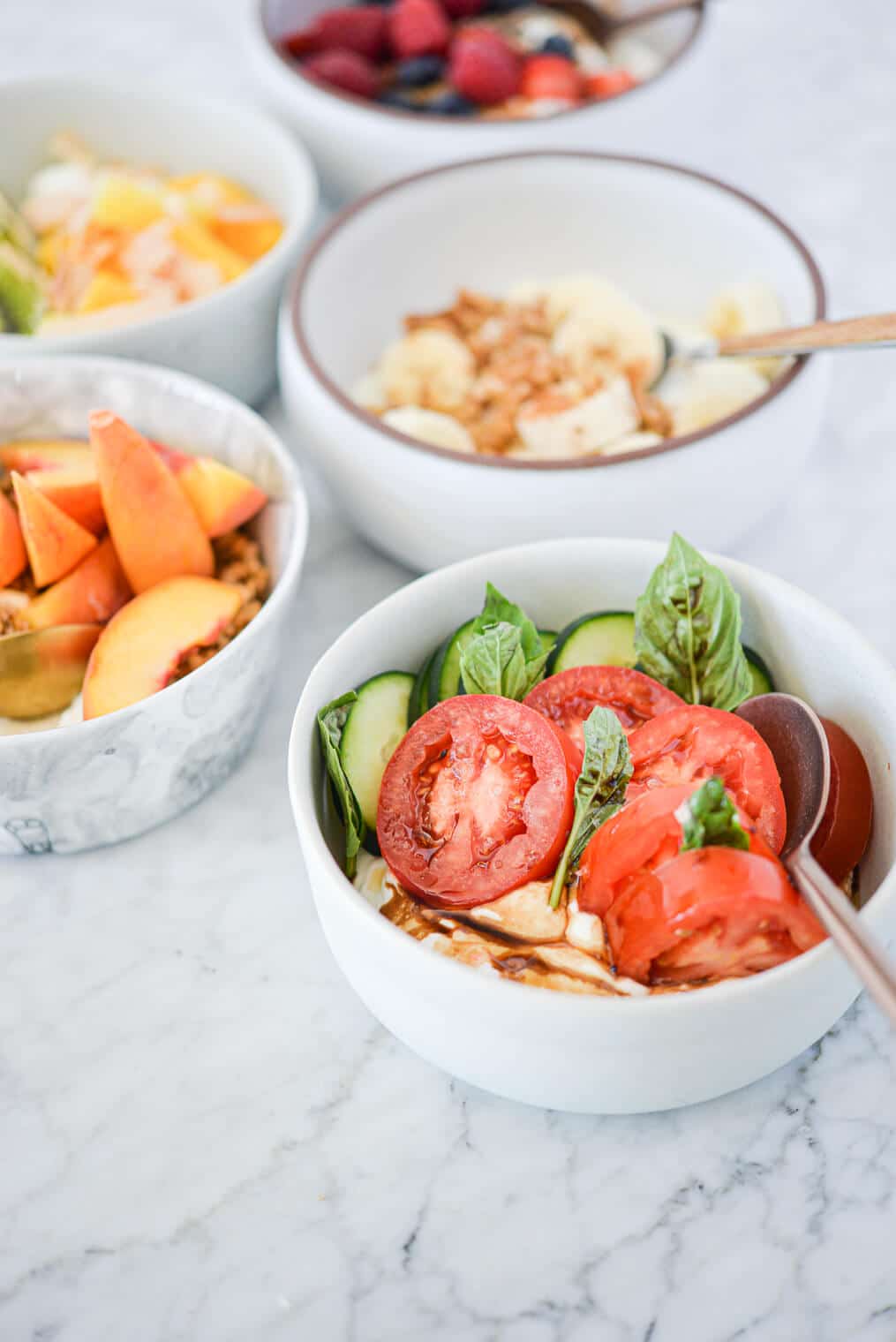 Cucumber Caprese
Don't fret, savory breakfast lovers of the world… yogurt bowls are for you too! This one combines fresh tomatoes, cucumbers, basil, and yogurt, and is finished with a nice drizzle of balsamic!
We hope that you enjoy these loaded Greek yogurt bowls as much we do – they make for the absolute best healthy breakfast!