This strawberry yogurt pie is made with just a few simple ingredients, and is the perfect easy dessert for all your spring and summer gatherings!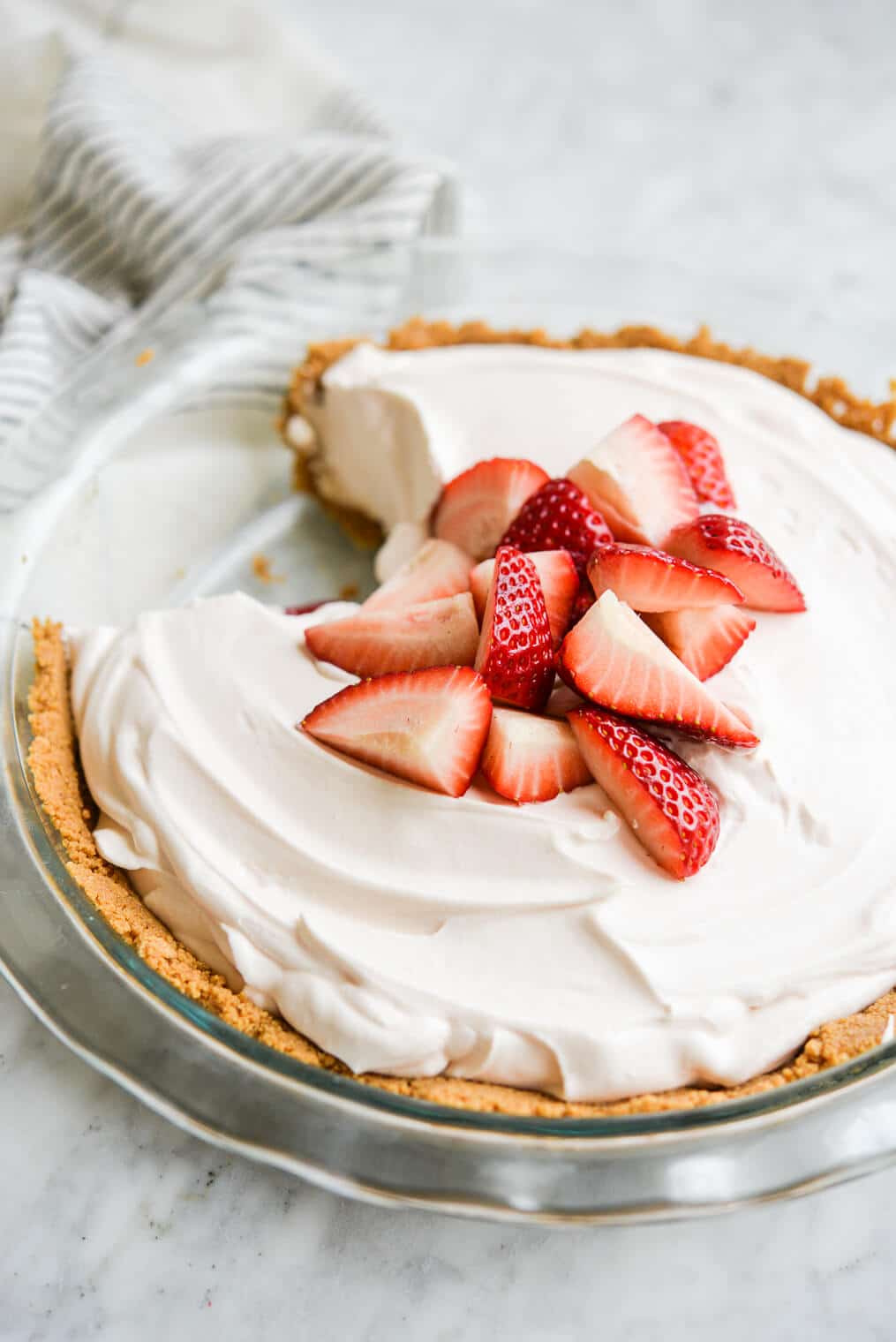 We are so thrilled today to kick off our partnership with Stonyfield Organic with this Strawberry Yogurt Pie! This pie is the perfect no-fuss dessert. It has a buttery graham cracker crust, the not-too-sweet filling is made with a combination of organic strawberry yogurt and whipped cream, and then it is topped off with a handful of fresh berries. It is a refreshing summer dessert at its finest!
A few months ago, I had the opportunity to visit a couple of Stonyfield's direct supply organic dairy farms and absolutely fell in love with the company. When you're at the supermarket picking out products, you always hope that you've made the best decision, but it is hard to be completely sure. After visiting Stonyfield, I can absolutely say that they are one of the good guys! Their mission is simple, they want to support a healthy planet, healthy food, and healthy people. To do this, not only do they produce high-quality dairy products, but also use farming practices that ensure the healthiest cows possible while also healing the soil they graze on.
How Organic Farming Helps the Environment
This month is Earth Month, with Earth Day falling on April 22nd, so there's no better time to support organic farming! Before visiting Stonyfield farms in-person, I wasn't sure that there was a big difference between traditional and organic farming. By the end of the trip, I was in awe of how much better organic farming is for the environment.
No Persistent Pesticides
One benefit of organic farming is that instead of using persistent pesticides to keep pests out of crops, farmers work with nature to allow the soil, crops, pasture, and products to flourish and reach their full potential. A few ways they do this is through crop rotation, using pest-resistance plants, and introducing beneficial bugs like ladybugs to fight off predators.
Why is this important? When toxic pesticides are used in farming, they not only get into our food but also leech into our soil, water, and air, causing harm to the environment and presenting a potential threat to our health.
Healthy Soil Absorbs More Carbon
Agriculture is responsible for about 20% of all global greenhouse gas emissions, but it is possible that organic agriculture can have a positive impact. When using organic practices, soil can sequester 26% more carbon than its conventional counterparts, which means that there is less CO2 in the air. Stonyfield is also working with a team of partners to develop a platform for farmers called OpenTEAM. OpenTEAM will connect farmers from all over the world to share best practices for soil health, turning agriculture from part of the problem to part of the solution.
No Antibiotics or Growth Hormones
Organic dairy farms prioritize good animal hygiene, optimal living conditions, and nutrient-dense pasture and feed for its cows. Organic dairy-farming systems promote cow health and longevity by placing less stress on cows and sending them outdoors to enjoy biodiverse forage-based diets, all of which improves their immune system and makes the use of antibiotics unnecessary. The practices Stonyfield puts in place to promote healthy soil, in turn, promote healthy pasture, which makes for healthy cows!
How You Can Support Organic Farmers
The best way to support organic farmers is to vote with your dollars! Choose organic as often as possible, and if your store doesn't have the offerings you want – ask! If you want to go even further, make sure you're supporting companies that provide resources to new generations of organic farmers. Stonyfield not only keeps their own farms organic, they also help start new farms and convert conventional farms to organic practices.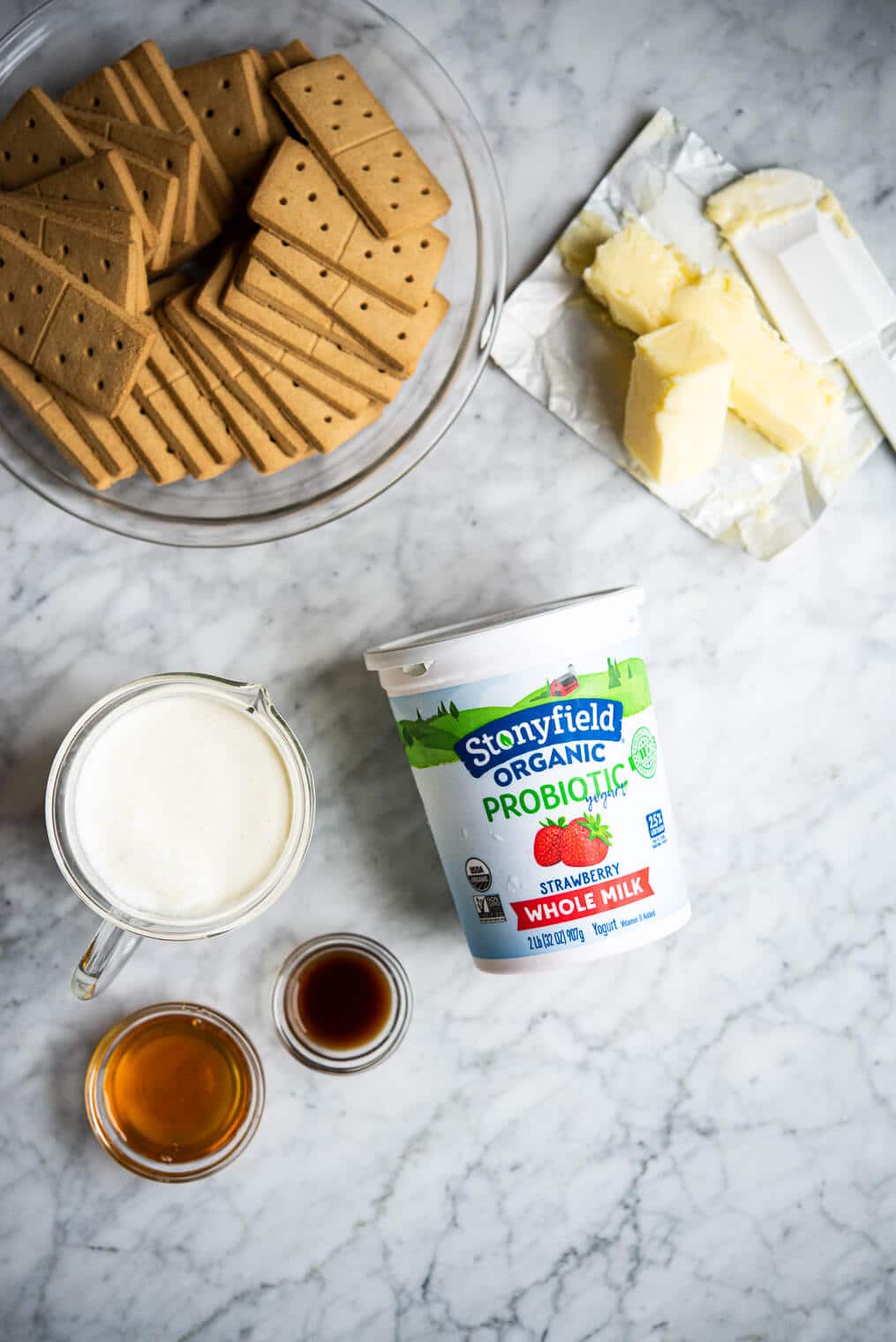 How to Make
Now that you know more about how organic farming can help support a healthy planet, let's jump into making this dreamy pie! Like we mentioned, it is crazy-simple. Here's all you'll need to do:
Make the graham cracker crust. First, you'll make the crust. Simply crush 8 ounces of graham crackers in your food processor with 6 tablespoons of softened butter until you get a fine crumb. Then, press the mixture into a pie pan.
Make the honey whipped cream. Next, it's time to make the honey whipped cream! The whipped cream provides a lovely light, fluffy texture to this pie. For this step, you'll simply combine honey and heavy cream and beat the mixture on high for a few minutes until stiff peaks form.
Fold in the yogurt. We used Stonyfield's whole milk strawberry yogurt here. We love that Stonyfield has whole milk yogurt options available because it makes for a creamier, more satisfying, nutritionally balanced yogurt, and it is free of artificial ingredients!
Fill the pie and refrigerate. Once you've incorporated the yogurt into the whipped cream, fill the pie shell and refrigerate for 4 hours to let it set.
Top with strawberries and serve! Before serving, top the pie with quartered strawberries, then slice and serve!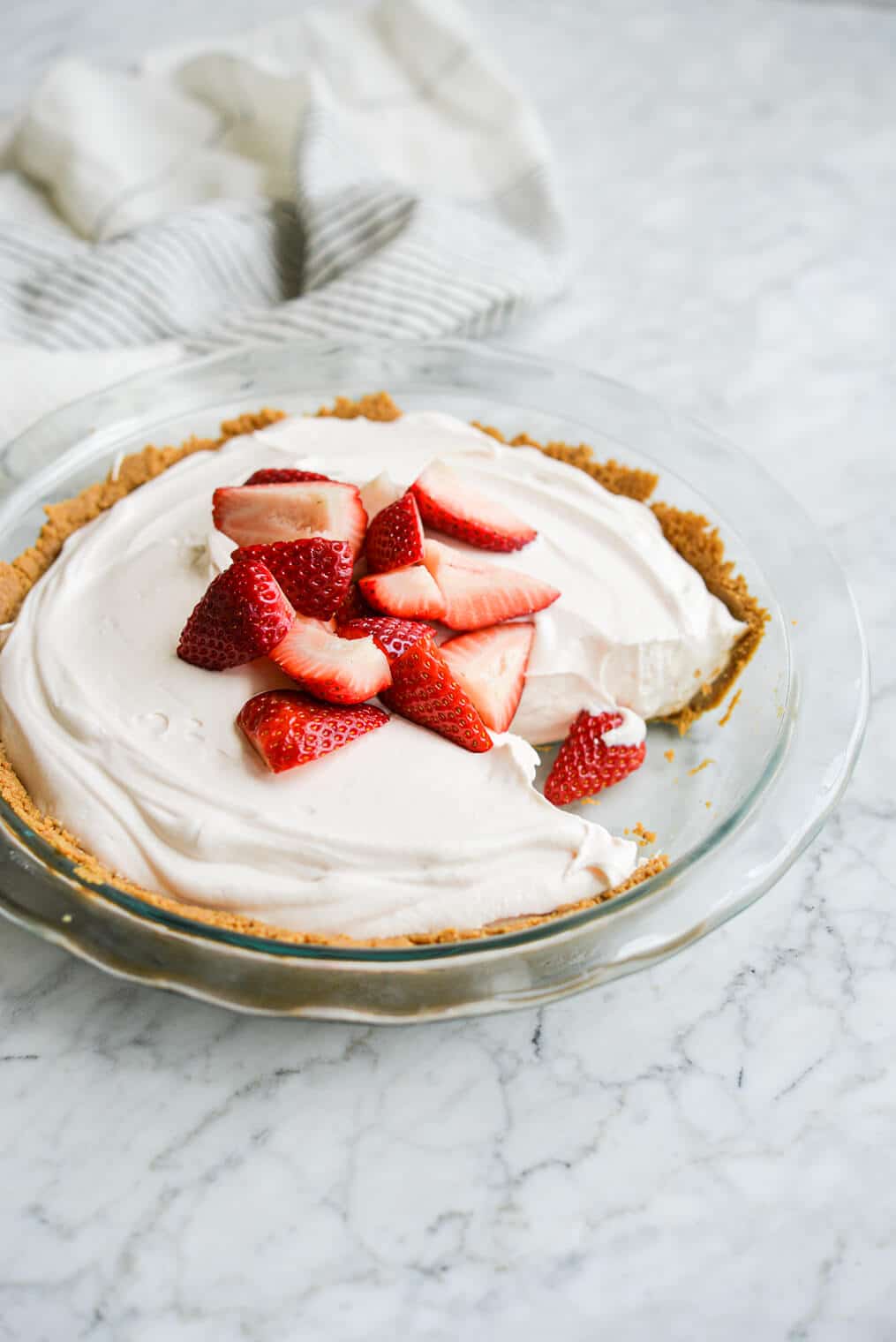 Frequently Asked Questions
How long will this pie keep for?
We've found that the pie is ideal to serve between 4 and 8 hours after making. After that, if you make your own whipped cream for the filling, it may start to release some water. There's nothing wrong with your pie if this happens and it's still completely delicious. The pie releases water because the whipped cream will lose its structure and begin to deflate.
Can I use a different flavor?
Yes! The sky is the limit here with flavor options. Just grab your favorite yogurt flavor to use in place of the strawberry.
Can I use low or nonfat yogurt?
Yes! Low or nonfat yogurt will work in this pie, but whole milk yogurt will give you a much richer, creamier texture.
We hope that you love this easy yogurt pie just as much as we do!
More Favorite Dessert Recipes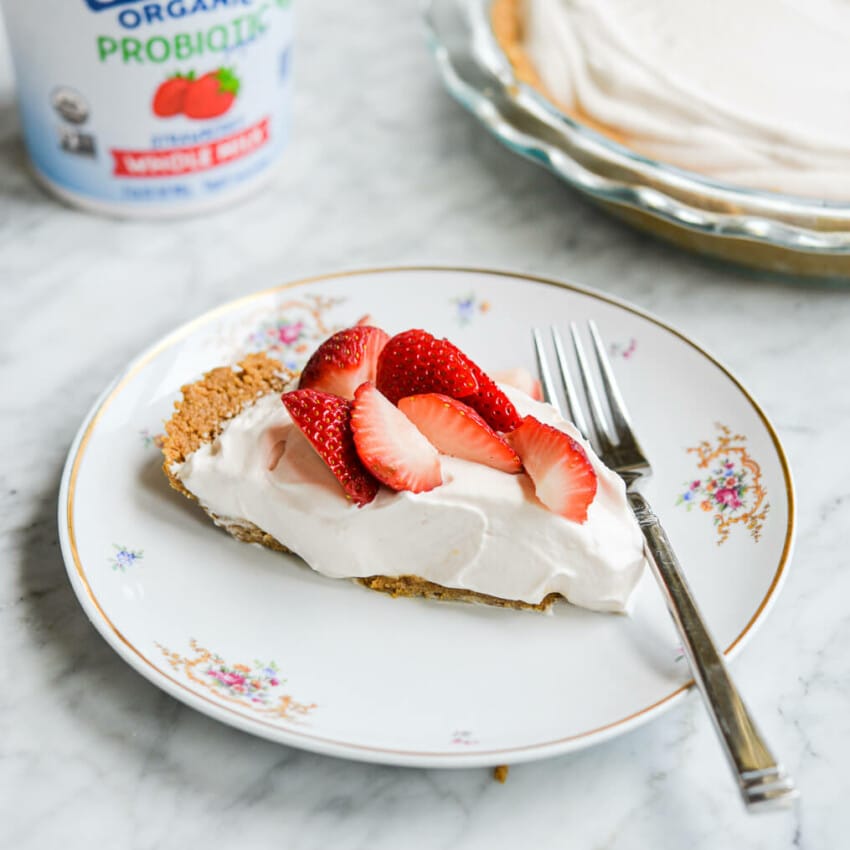 This strawberry yogurt pie is easy to make and so refreshing!
Ingredients
For the Filling:
1

pint

or 2 cups, heavy cream (or whipping cream)

2

teaspoons

honey

optional

1

teaspoon

vanilla extract

2

cups

Stonyfield strawberry yogurt

1

cup

fresh strawberries

de-stemmed and quartered, for garnish
Instructions
Add the graham crackers to a food processor and pulse until you get a fine crumb. Then, add the softened butter and pulse until fully combined.

Press the graham cracker mixture into a pie plate in an even layer.

Combine the cream and honey in a bowl, and beat on high with an electric mixer or stand mixer until stiff peaks form, about 2-3 minutes, watching closely to make sure you don't overbeat the cream and cause any lumps to form.

Fold the vanilla extract and yogurt into the whipped cream, taking care not to deflate the whipped cream.

Pour the filling into the graham cracker crust, then refrigerate for 4 hours.

After 4 hours, remove the pie from the fridge, slice, and serve!
Recipe Notes
This pie is best enjoyed within 4-8 hours. After that, it may begin to release some water, but is still perfectly good to eat!
Nutrition
Calories:
367
kcal
|
Carbohydrates:
54
g
|
Protein:
6
g
|
Fat:
14
g
|
Saturated Fat:
7
g
|
Polyunsaturated Fat:
1
g
|
Monounsaturated Fat:
4
g
|
Trans Fat:
0.3
g
|
Cholesterol:
28
mg
|
Sodium:
438
mg
|
Potassium:
231
mg
|
Fiber:
2
g
|
Sugar:
25
g
|
Vitamin A:
284
IU
|
Vitamin C:
11
mg
|
Calcium:
112
mg
|
Iron:
2
mg