This yogurt fruit salad is the perfect fresh, colorful, delicious side for your next outdoor gathering!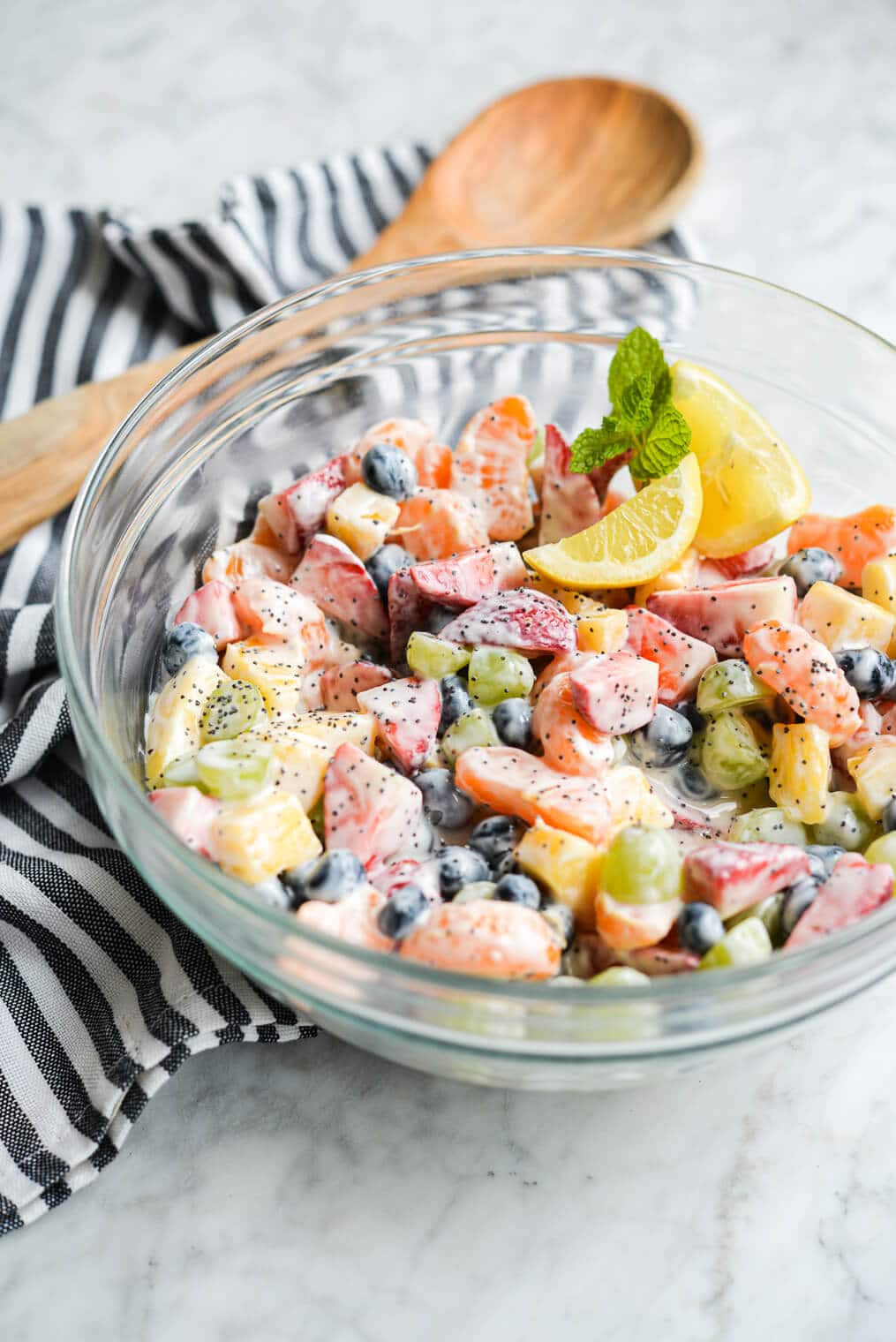 We're partnering with our good friends at Stonyfield again to bring you another delicious recipe using their yogurt quarts! We started with a luscious Strawberry Yogurt Pie (DROOL-WORTHY, y'all!), followed by the sweetest probiotic pupsicle treats for our fur babies, and are now kicking off the summer with this colorful, delicious yogurt fruit salad!
When the warm (ok, hot… we are in Texas!) weather hits, I'll look for any excuse to get outside with my family, but cookouts and potluck-style gatherings will always be my favorite reason to bask in the sunshine! Family, friends, warm weather, a splash in the water, burgers cooking on the grill… it's truly the best way to enjoy this time of year. This easy fruit salad (made with an exceptionally delicious and creamy yogurt dressing) just adds to the love I have for outdoor get-togethers and comes close to topping the list (just behind family and friends, of course)!
StonyFIELDS Initiative
We love Stonyfield for SO many reasons, but their intense care for the community and the health of our planet and the people living on it tops the list, for sure. They're biggest mission to date, StonyFIELDS #playfree, centers around making playing fields safer by stopping the use of harmful pesticides and converting to organic field care and maintenance instead. They're also providing tools and resources to empower families to make these changes in their own backyards.
5 Reasons to Make the Switch to Organic Lawn Care
Here's why organic fields are so important:
Over 26 million kiddos play on fields and 65% of those fields are sprayed with harmful pesticides.
Some of these harmful pesticides have been linked to Parkinson's Disease(1), Non-Hodgkin's Lymphoma(2), and endocrine disruption (leading to problems with the development of the immune, reproductive, and metabolic systems)(3), among other health issues.
The risk of exposure is great – these harmful pesticides can not only be inhaled and come in contact with our kiddos' skin but can also be tracked inside the house via your kiddo's sneakers, risking unhealthy exposure to family members that weren't even on the field.
Our kiddos are more sensitive to the effects of harmful chemicals because they weigh less and have immature organs and detoxification systems.
Harmful pesticides don't just stay on the fields. Wind and rain contribute to 'pesticide drift,' causing harmful pesticides to spread and have an even greater reach, exposing MANY without their knowledge.
How to Make Changes in Your Own Backyard and Community
Stonyfield has outlined 4 simple steps for creating change in your community HERE, including educating yourself on the community's current pesticide policies, partnering with existing groups and organizations fighting for change, forming groups with other concerned community members, and learning from those with successful experiences in this regard.
Stonyfield has also provided tips for creating change in your own backyard! Here's how you can start (for more details, click HERE):
Test your soil.
Stop using harmful pesticides.
Use organic fertilizer exclusively.
Pay attention to your mowing height.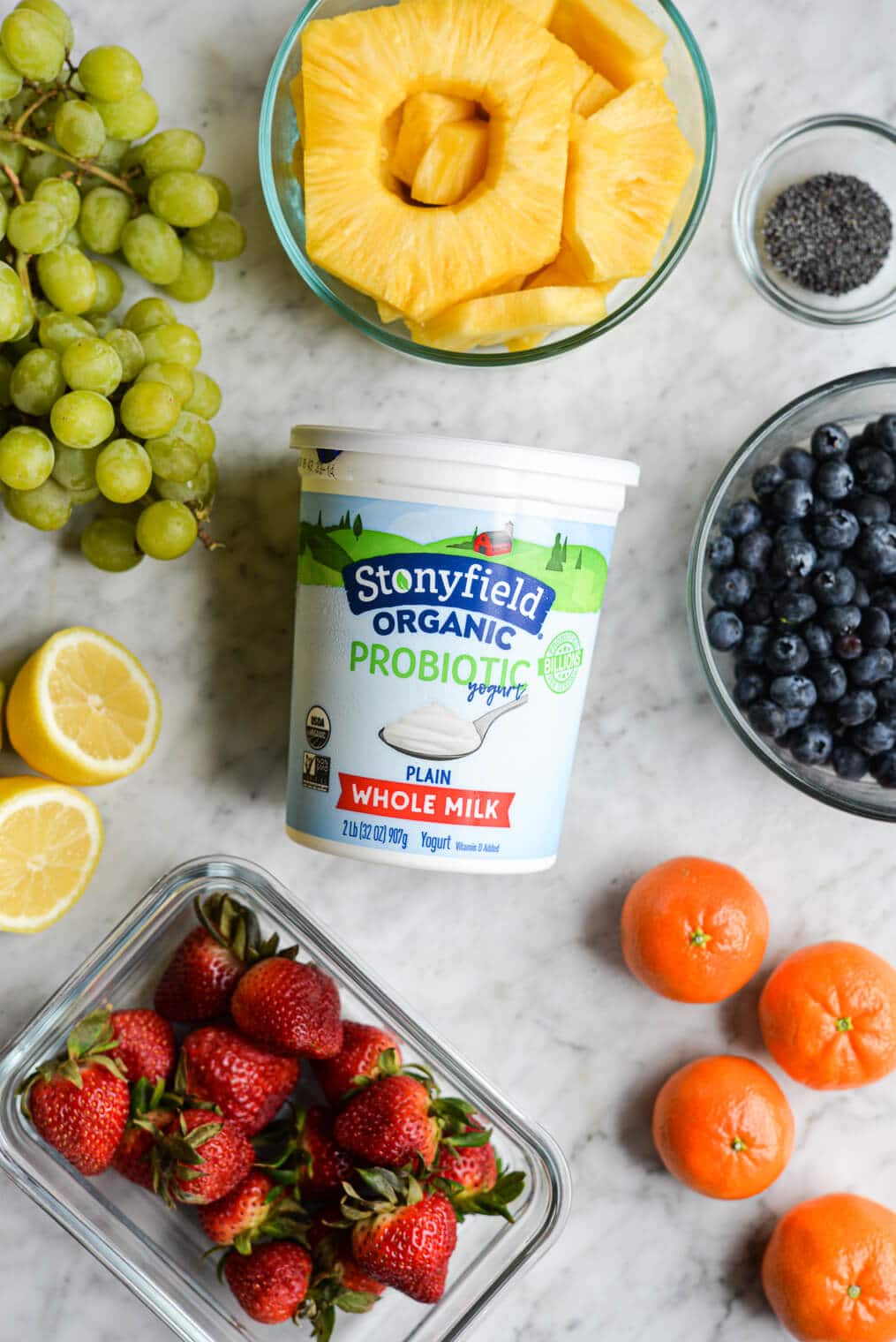 Yogurt Fruit Salad Ingredients
Now that you're creating a safer environment for your outdoor gatherings, it's time to get to creating your next outdoor gathering menu! Here's what you'll need to grab from the grocery store for this refreshing yogurt fruit salad:
Fruit Salad
Blueberries – blueberries are chock full of antioxidants, vitamins, and minerals, and are a perfect addition to our fruit salad! We'll use 1 cup of blueberries here.
Green Grapes – we'll use 1 cup of halved green grapes here because they're a tad less sweet than red grapes and add a beautiful tartness to the mix!
Mandarin Oranges – oranges contain a powerful punch of Vitamin C (among many other benefits) and add a nice citrus flavor to our bowl, making them an excellent choice for our fruit salad! You'll need 4 peeled and segmented mandarin oranges for your fruit salad.
Pineapple Chunks – pineapple has been shown to boost immunity, reduce inflammation, and aid in digestion! Plus, throwing a tropical fruit into the mix is always a good idea for the taste buds. 1 cup of chopped pineapple will get the job done!
Strawberries – juicy, sweet strawberries have got to be one of my very favorite fruits! They're loaded with tons of good stuff and even have blood sugar controlling benefits! We'll use 1 cup of trimmed and quartered strawberries here.
Fresh Mint – this is optional, but fresh mint adds a delicious bright, refreshing flavor to the fruit salad.
Yogurt Dressing
Plain Yogurt – we use THIS yogurt for our fruit salad (and really, anything we use yogurt for) because it's organic, full-fat, and is darn tasty!
Lemon Juice – lemon helps to keep our fruit fresher for longer and adds a really delicious bright acidity to the dressing.
Honey – while the honey is optional, we think it adds a delicious touch of sweetness to the dressing!
Poppy Seeds – 1 teaspoon of poppy seeds rounds out the dressing!
What yogurt works best for this recipe?
We always recommend picking a full-fat option when it comes to yogurt. This makes for a more well-rounded yogurt, keeps you fuller longer, and gives you a healthy dose of healthy fats. Greek yogurt totally works here too, just know that you'll need to add a little bit of water to the dressing (2 teaspoons should do) to thin it out.
What fruit is best in fruit salad?
Truly, any fruit combination is great in this recipe! Berries (any kind), tropical fruits (think: mango, pineapple, papaya, kiwi fruit, etc.), and any non-season specific fruit would all be great choices. If you choose to add bananas to your fresh fruit salad, know that they may start to look a little bit brown and mushy ahead of the other fruit, but they'll still taste great!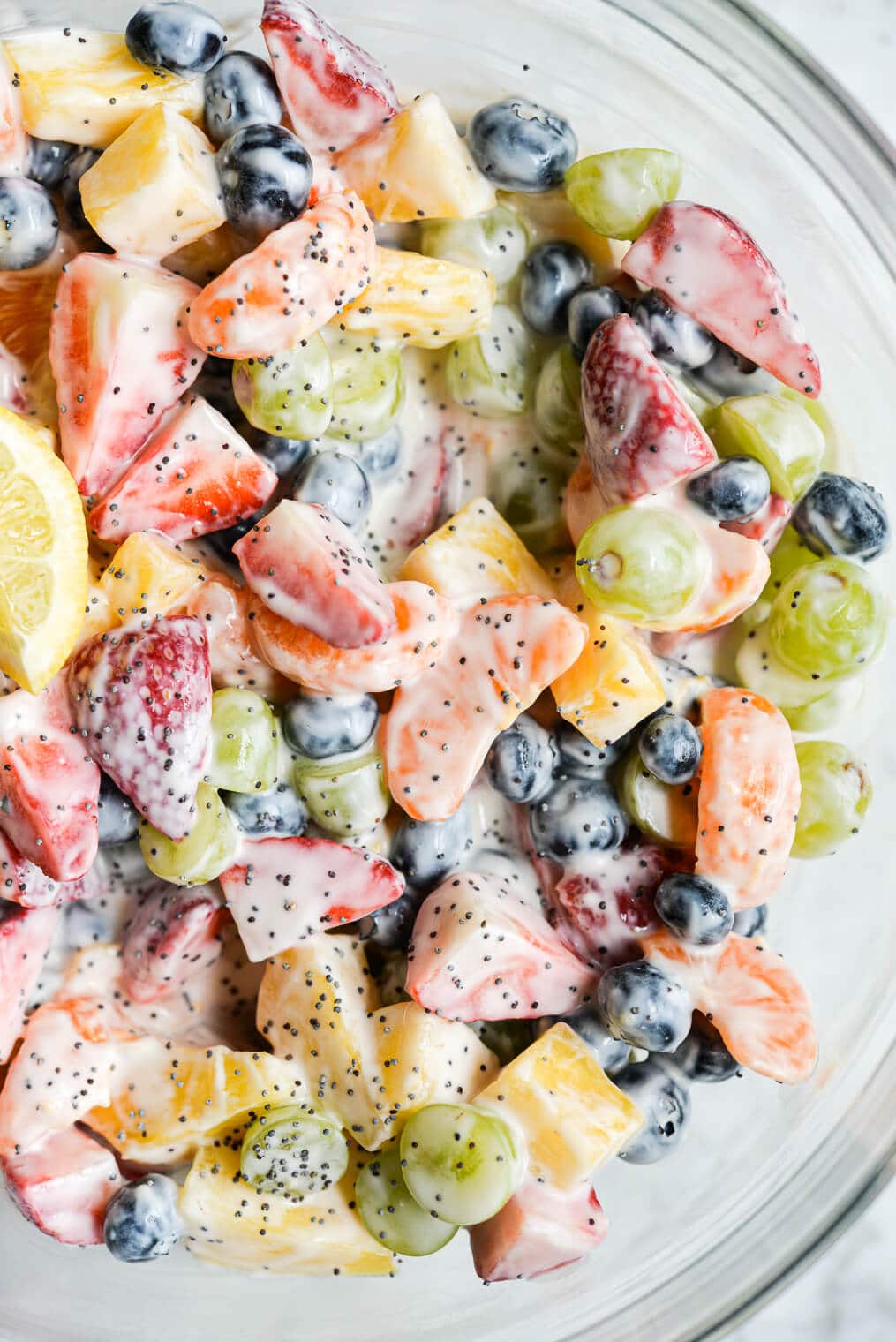 How to Make Fruit Salad
It's EASY! Are you ready? Here's how to make this delicious summer side:
Whisk the Dressing – in the large bowl you'll be serving your fruit salad in (one less dirty dish if you do it this way!), whisk together the yogurt, lemon juice, honey, and poppy seeds.
Add the Fresh Fruit + Toss – add the fruit to the serving bowl with the whisked dressing, and toss it all to combine.
Chill + Serve – keep the fruit salad in the fridge until you're ready to serve. Enjoy!
How to Serve Yogurt Fruit Salad
We think this yogurt fruit salad makes for an exceptionally fresh and tasty picnic or cookout side! It would be super delicious next to any of these cookout recipes (beef sliders, German potato salad, yogurt fruit salad, and white wine sangria sounds like the cookout party of my dreams!).
Another great way to enjoy this fruit salad is as a breakfast option! Scoop your desired amount of fruit salad in a bowl, top with a sprinkle of granola and shredded coconut flakes, and enjoy!
Can I make this recipe ahead of time?
You can, but if you're bringing it to a potluck, we recommend making it the day-of for optimal freshness. If you're okay with your fruit looking a little bit less fresh (it'll still *taste* great, though), you can make this up to 3 days ahead of time. Once made, your fruit salad should stay good in the fridge for up to 5 days! Know that the yogurt may separate a bit (seeming a bit wet at the bottom of your bowl) and your fruit may look a little sad, but the flavor won't be compromised, and a quick stir should incorporate everything back together again!
Does lemon juice keep fruit salad fresh?
It does! In addition to the brightness that lemon juice adds to the dressing, it'll also keep your fruit fresher longer by protecting it from oxidation.
More Warm-Weather Side Dish Recipes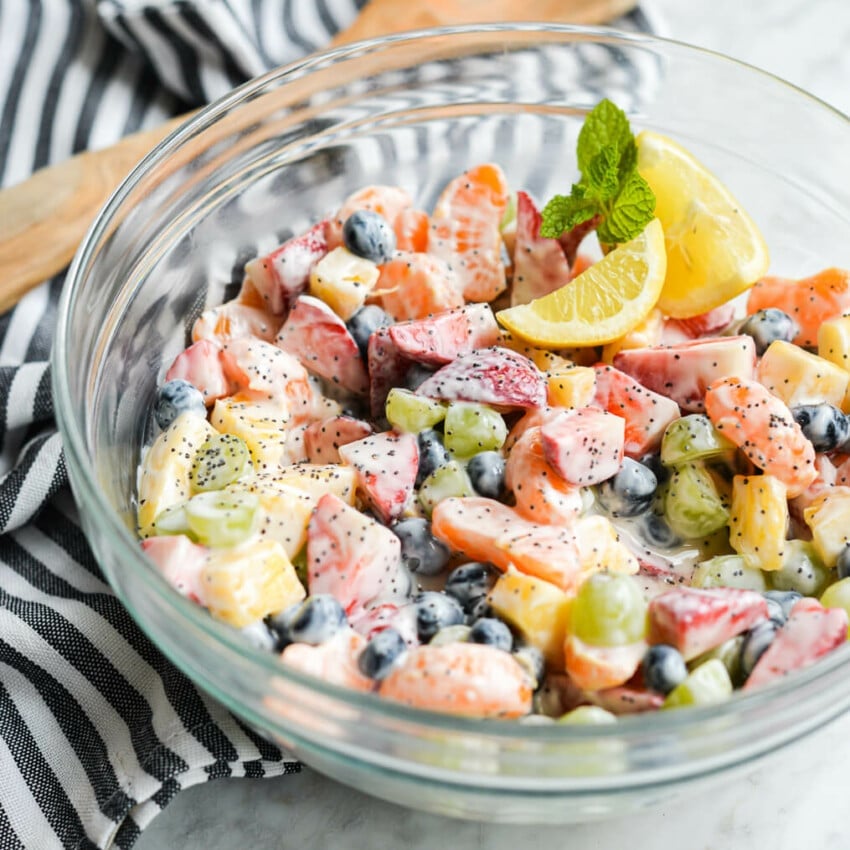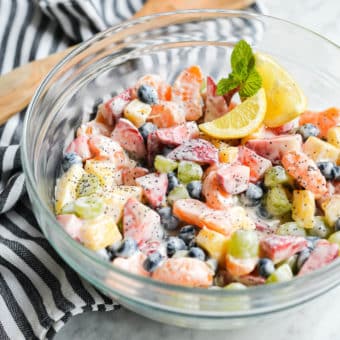 This fruit salad has the most luscious yogurt honey dressing and is the perfect summer side dish!
Ingredients
For the Dressing:
1

cup

plain yogurt

1

lemon juiced

about 2 tablespoons

2

teaspoons

honey

1

teaspoon

poppy seeds
For the Salad:
1

cup

blueberries

1

cup

green grapes

halved

4

mandarin oranges

peeled and sectioned

1

cup

pineapple

cut into 1/2-inch pieces

1

cup

strawberries

trimmed and quartered

Fresh mint

for garnish, optional
Instructions
Whisk together all of the dressing ingredients in a large bowl until fully incorporated, then toss in the fruit and stir to combine and fully coat the fruit.

Serve immediately or cover and let chill in the refrigerator until you are ready to eat.
Nutrition
Calories:
120
kcal
|
Carbohydrates:
26
g
|
Protein:
3
g
|
Fat:
2
g
|
Saturated Fat:
1
g
|
Polyunsaturated Fat:
0.3
g
|
Monounsaturated Fat:
0.5
g
|
Cholesterol:
5
mg
|
Sodium:
22
mg
|
Potassium:
307
mg
|
Fiber:
3
g
|
Sugar:
20
g
|
Vitamin A:
489
IU
|
Vitamin C:
49
mg
|
Calcium:
90
mg
|
Iron:
1
mg