ButcherBox Review
jump to recipe
Today we're chatting all about one of my favorite easy button solutions: ButcherBox! ButcherBox delivers grass-fed and pastured proteins directly to your door to make it easy to find high-quality, ethically raised proteins.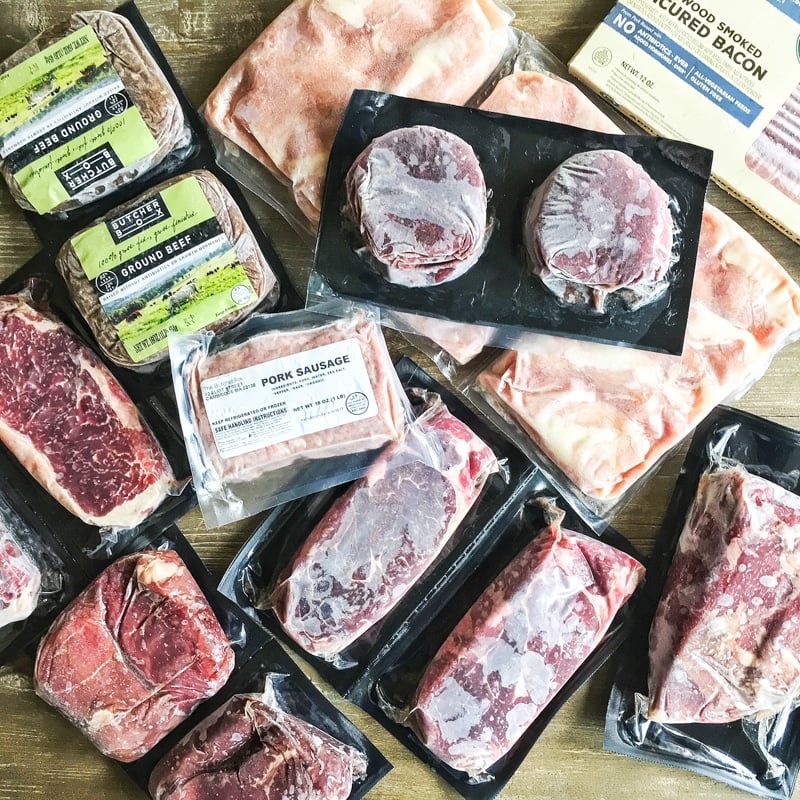 Here at Fed & Fit, we are all about finding solutions to make pursuing wellness easy. It's our personal mission to direct our friends and family (that's you!) to brands, companies, products, and people that we know, love, and trust, and that have impacted OUR health stories in a positive way. One of the early struggles we encountered in our wellness journey was the never-ending quest to find quality, ethically raised, grass-fed protein options that didn't break the bank and were easy to access!
We longed for the days of walking down to your friendly neighborhood butcher, chatting with him about what cuts of meat you wanted, and learning more about the meat you were eating. Though those days may be long gone, we have found a solution that gives you quality, affordable grass-fed beef, heritage breed pork, and organic chicken that you can trust – in a model that makes it convenient.
About ButcherBox
Enter ButcherBox.  This incredible idea was the brainchild of founder Mike Salguero, who began his love affair with grass-fed beef after experiencing a tremendous shift in his personal health after purchasing his first $400, 100% grass-fed cow share from a farmer in a parking lot back in the day. After experiencing the taste difference and health benefits, Mike continued to order more and more meat, share it with his friends and family, and dive deeper into the benefits of grass-fed vs. grain-fed meat. At the time, Mike already had a company that connected consumers to custom made items like furniture and jewelry, allowing them to tell the story of the item throughout the purchase process. As his business evolved, he realized the demand for quality grass-fed meat was growing, especially in locations like New England where harsh winters can impact supply. He realized that awareness of quality resulted in consumers wanting to know the story of the things they were buying, and being able to have easy access to high-quality meats was a problem that didn't yet have a solution. From this need, ButcherBox was born and has since been the leader in grass-fed meats delivered to your door.
Why grass-fed & pastured proteins?
You may be wondering WHY opting for grass-fed, pasture-raised, heritage breed, organic, wild-caught, etc. is something to consider in your own personal journey to wellness, and we think it's important to understand the why behind every decision that impacts your health! We can talk at length about the health benefits of responsibly sourced meats, and we did do a whole feature article HERE about the why behind grass-fed beef if you want to REALLY deep dive into the nitty-gritty!  To keep this short and sweet, here are a few key points about why quality sourcing of meat is key.
Conventionally raised meats can contain certain things we might want to avoid, like:
Trace hormones
Trace antibiotics
Trace pesticides
Grass-fed, responsibly raised meats typically avoid the above, while also provide extra benefits not normally found in conventional meats, like:
A great profile of saturated fats (fats beneficial to health)
A great source of polyunsaturated fats and conjugated linoleic acid (more healthy fats and increased antioxidants)
Higher amounts of vitamins and minerals
Oftentimes animals are raised in a more humane environment
To explore the above details and learn more, be sure to visit THIS article for more information.
How Does ButcherBox Work?
The ultimate vision of ButcherBox is that it will serve as your monthly source of meat. So instead of going to the local butcher (which may or may not exist near you), you customize and order a monthly delivery of meat from the comfort of your own home. The website allows you to order pre-set boxes, or customize your own mix of beef, chicken, pork, and salmon based on your family's unique needs. The box is shipped out frozen and pre-portioned and arrives at your doorstep at the same time every month. Then, you can either stockpile it in your freezer or defrost it for immediate consumption. The meat is frozen and packed at the peak of freshness, and having it frozen helps to eliminate food waste as you only have to pull out and defrost what you need!
How much does ButcherBox cost?
The really amazing thing about ButcherBox is that it presents several options in terms of cost, quantity, and frequency based on your family's unique needs! Most of the boxes range from $129 to $270 for 8 to 22 pounds of meat, with the option to add-on select products for an additional cost.
Can you choose what meat you get?
There are so many ways to customize your box if you choose! ButcherBox offers standard boxes that contain pre-selected cuts of meat, with the following meat sources to choose from (each of these can be further customizable for size, i.e. 24 or 48 meals per box)
Mixed (beef, pork, chicken)
Beef & Pork
Beef & Chicken
All Beef
You can also choose the Custom Box option, which costs slightly more but allows you full control over what cuts you'd like in your box.  Your selections can be changed monthly, and you can choose from a 9-14 lb box or an 18-26 lb box depending on your family size and needs!
Can you cancel at any time?
YES! Initially, you can choose a monthly or every other month subscription dependent on your timing needs. You can also pause your subscription in 1-6 month increments (perfect for vacation or budget needs), or you can stop the subscription indefinitely and resume on your own time.
Where does ButcherBox deliver to?
Currently, they deliver to all 48 contiguous states (no Alaska, Hawaii, or Canada just yet!).
Our ButcherBox Review
Now that you know the WHY behind choosing high-quality meats, and the HOW behind the logistics of getting said high-quality meats delivered to your door, let's chat about some of our honest pros and cons for this service!
Pros
Convenient – there is one giant PRO to getting high-quality grass-fed meats delivered to your door, and one that may trump any cons we might offer, and that is the convenience factor! The convenience of the delivery service is that we can order meat we love and trust from the comfort of our couch in our pajamas. We don't have to use gas and drive our cars to the nearest butcher or farmer's market, and best of all, we don't have to use our precious time.
Trustworthy – this one is huge for us. We love the story, the mission, and the people behind ButcherBox. We value their dedication to humane sourcing, and love that they guarantee to always provide meat from ranchers they trust, meat that is humanely raised, uses no antibiotics or hormones (EVER) and is of the highest quality. ButcherBox cattle range on grass their whole lives, graze year-round, are never fed grains or kept in feedlots, and never cut corners. They only use heritage breed pork, and free-range chicken as well. You can read more about their sourcing HERE for more details.
Cost-effective – this may be THE most cost-effective way to get high-quality meats on the table. ButcherBox partners with a collective of small farms that allow families to consume grass-fed meat at less than $6 per meal! Not to mention free shipping, which is an incredible value in and of itself.
Variety – this is truly a powerful consideration when we're comparing other options (like cow shares, grocery store shopping, etc.) ButcherBox has expanded its selection to include not just beef, but pork, chicken, and seafood, becoming a true one-stop shop for the best meat available. No driving to multiple stores, ordering from multiple sites, or being limited to one type of protein – you truly get to experience a wide variety of proteins, cuts, textures, and health profiles which makes keeping dinner interesting a breeze!
Cons
Cost compared to conventional meat – there is a definite cost difference when you're comparing conventional to grass-fed meat. It's much cheaper to feed animals cheap, mass-produced grains, and to accelerate their growth through various tactics in order to increase weight gain, and therefore decrease the amount of time you have to feed them overall. All in all, it's a much less costly process to raise conventional meat than grass-fed, so the price will typically be reflected in that. When you choose grass-fed beef, you're not only getting more nutrient-dense protein, you're also choosing to support better animal treatment and farming practices!
Not enough to feed larger families for a full month, so you'll need to supplement – most of the boxes will tell you approximately how many meals you will get out of the cuts included, so for example, a box with 24 meals might be enough meat for 10-12 dinners for 2 people or 5-6 dinners for a family of 4. This, of course, will depend on how much meat you're consuming, how many times a day, etc., but you'll want to be mindful of your needs and what each box will get you, and then potentially supplement accordingly.
You'll need freezer space – be advised that most of the boxes run in the range of 8-26 lbs of meat, so you need adequate freezer space to accommodate your frozen meat. If you have a small refrigerator freezer compartment, you may need to account for this before ordering!
Packaging Concerns – while this used to be more of a con (think lots of insulation, not fully recyclable or reusable packaging, etc.) recently ButcherBox has made a huge shift in their packaging, focusing on sustainable and eco-friendly materials! They've now created a box that is 100% curbside recyclable AND made from 95% recycled materials! That's a huge positive shift! While there is still a lot of packaging required to ship pounds of frozen meat, this might just be a con turned pro in our book!
Overall Impression
Our overall impression of ButcherBox is that it's been our favorite, most convenient, and most cost-effective option to source grass-fed and high-quality proteins delivered straight to our door.  The flavor of the meats is unparalleled, and the fact that we know and trust the owners and founders is a huge thing for us. Shipping is fast, the packaging is becoming more efficient over time, and we love having control over the selection and timeline of our deliveries. If you can work a small (or large) monthly box into your budget, and have ample freezer space to keep your meat preserved, we highly recommend looking at ButcherBox as a solution to sourcing high quality meats for your family!
ButcherBox's Current Promotion
Check back here for the latest cost-saving promotions from ButcherBox!  Currently, new box members have the option to get free GROUND BEEF FOR LIFE! That's 2 lbs of 100% grass-fed ground beef in every box for FREE for the lifetime of your subscription!  This is an incredible deal as we routinely use ground beef in some of our most favorite easy, weeknight recipes! Visit HERE to sign up and take advantage of this incredible deal!