Carne Asada Tacos with Adobo Lime Marinade
jump to recipe
Carne asada tacos with a flavorful adobo lime marinade and a fresh corn and kale slaw are perfect for summertime!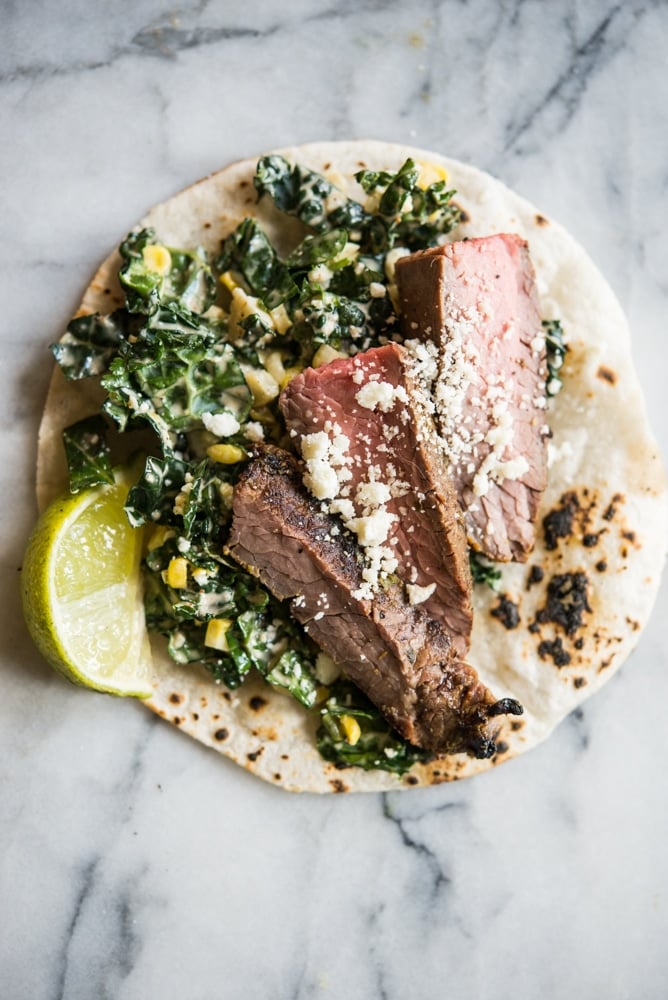 These carne asada tacos may just be one of my favorite tacos ever – and that's saying a LOT as a Texas girl. First, there's the steak that's tenderized by lime juice, seasoned with zingy adobo, and grilled until it's charred on the outside and juicy on the inside. Then, we top it off with a grilled Mexican street corn and kale slaw with a little chili lime dressing, and wrap it all up in a corn tortilla. Let me tell you – it's taco perfection.
What is carne asada?
Ok, first things first – what exactly IS carne asada? Literally translated, carne asada means "grilled beef." While you can make carne asada with just a simple seasoning of salt and pepper, you'll most often find that it's marinaded first to infuse it with flavor before it is grilled. After grilling, the steak is thinly sliced and can be served on its own or in a taco, as we've done here.
What kind of steak is best for carne asada?
We recommend using skirt steak for carne asada, but flank steak will work, too! Skirt steak and flank steak both come in long strips, taste best when allowed to sit in a slightly acidic marinade, and are best cooked quickly over high heat where they can take on a delicious char. However, skirt steak is our favorite choice for these tacos because it has a slightly beefier flavor, and it's higher fat content leads to a melt-in-your-mouth texture when cooked properly. Speaking of which – one caution when cooking skirt steak is to make sure you don't cook it past medium, or it will become tough and chewy.
What type of marinade should you use for carne asada?
For this recipe, we decided to keep the marinade relatively simple with lime juice, coconut aminos (you can also sub soy sauce), and adobo seasoning. The lime juice helps tenderize the beef, the coconut aminos give it a bit of saltiness, and the adobo seasoning packs a punch of flavor with oregano, garlic, and onion. With these few simple ingredients, you'll have tender, flavorful beef every time.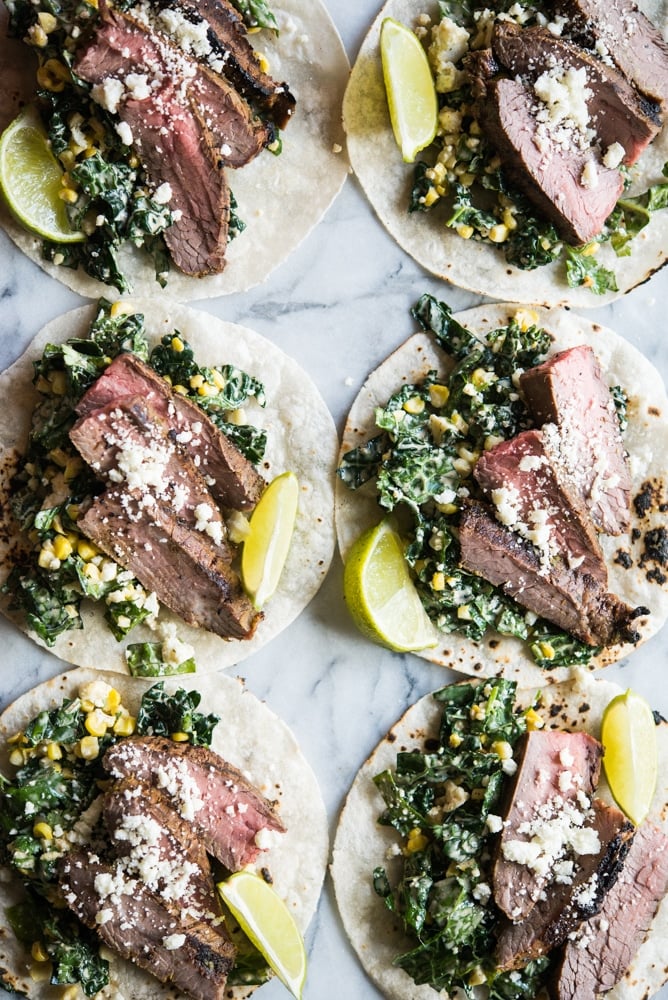 How to Make Carne Asada Tacos
Now that we've talked about the ingredients, it's time to get cooking!
Marinate the beef. To make the marinade, you'll whisk together the lime juice, coconut aminos, avocado oil, and adobo seasoning. You can either make your own adobo seasoning or use store-bought (our favorite is this one). Then, you'll pour the mixture over the beef and let it sit for at least an hour, though if you have time it's best to marinate overnight so the beef has plenty of time to tenderize!
Grill the steak. Once you've let the steak marinate for a while, it's time to grill! Preheat your grill to medium-high heat, then cook the steak for 5-7 minutes, until browned, then flip it and cook for an additional 5 minutes, until it's reached medium-rare (140 to 145 F) to medium (155 to 160 F) temperature, then remove it from the grill.
Slice the steak. The next key to perfect carne asada is making sure you slice it properly. You'll first want to let it rest for at least 10 minutes, so the juices don't run out when you cut into it. Then, you'll slice it thinly, against the grain. Slicing the beef against the grain helps ensure that it isn't tough or chewy.
Assemble your tacos. Now that you've got perfect carne asada, the final step is to assemble your tacos! We served ours with a delicious roasted Mexican street corn and kale slaw (bonus: you can grill the corn at the same time as the steak), corn tortillas, and a little extra cotija cheese plus some lime wedges.
There you have it, perfect carne asada tacos! We hope you love this recipe as much as we do.
Print
Carne Asada Tacos with Adobo Lime Marinade
Amazingly tender and flavorful beef is the star of these carne asada tacos that are simply marinaded and topped with a fresh grilled corn & kale slaw!
Author:
Prep Time:

01:15

Cook Time:

00:10

Total Time:

1 hour 25 minutes

Yield: Serves

5

1

x
Cuisine:

Mexican
Scale
Ingredients
For the adobo seasoning (or buy your own here):
For the tacos
Instructions
Add all of the seasoning ingredients to a small bowl and whisk to combine.
Season the flank steak on both sides with the adobo seasoning, then place it in a bowl or Ziplock bag. Whisk together the lime juice, coconut aminos, and avocado oil and pour it over the steak. Let sit for at least one hour up to 24 hours.
When you're ready to grill the steak, preheat the grill to medium-high heat.
Place the steak on the grill and cook for 5-7 minutes, until browned. Then flip the steak and and cook for an additional 5 minutes, until the steak is browned and reaches 135 F (medium rare).
Let the beef sit for at least 10 minutes while you warm the tortillas and prepare the remaining taco toppings, then thinly slice the steak against the grain.
Assemble your tacos and enjoy!
Notes
If making the grilled corn and kale slaw, we recommend grilling the corn alongside the beef.